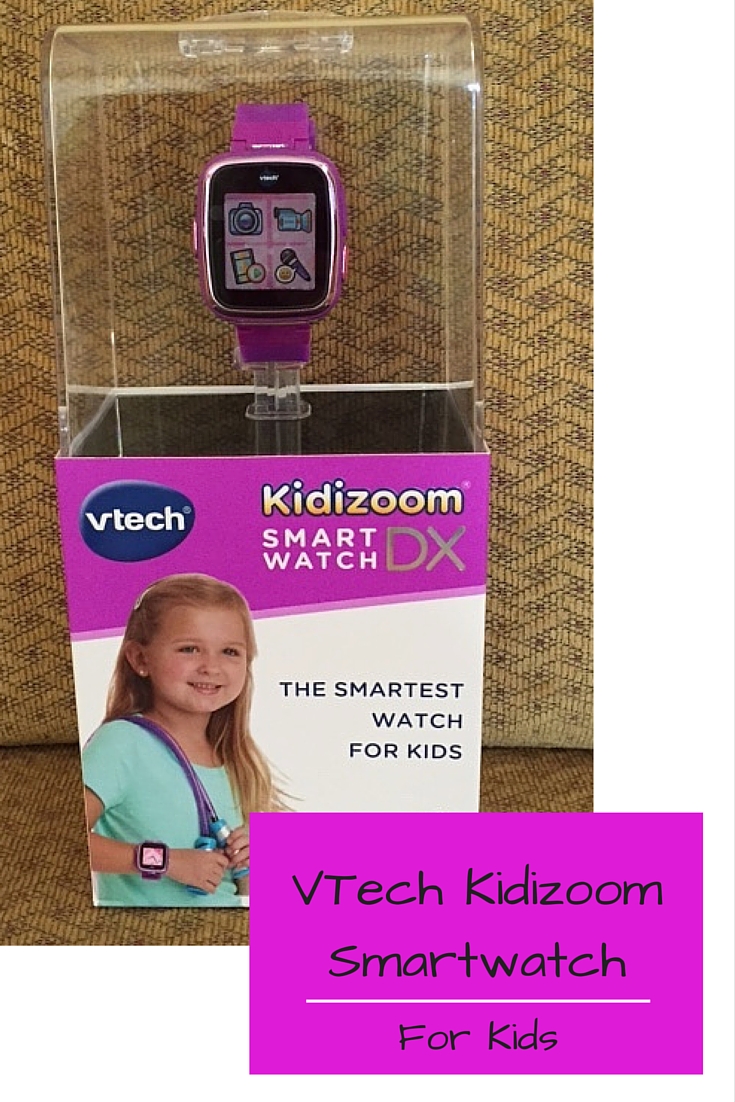 Wearable technology seems to be the newest trend these days. And not just for adults!  More and more brands are creating kid-friendly products that can teach our kids how to stay up to date on technology like digital cameras, tablets (my 4-year-old knows how to swipe an iPad like a ninja), toys and clocks just to name a few.
The newest product to hit the market is Vtech's Kidizoom Smartwatch. Vtech has always been in the forefront of innovation and their newest watch shines with impressive features.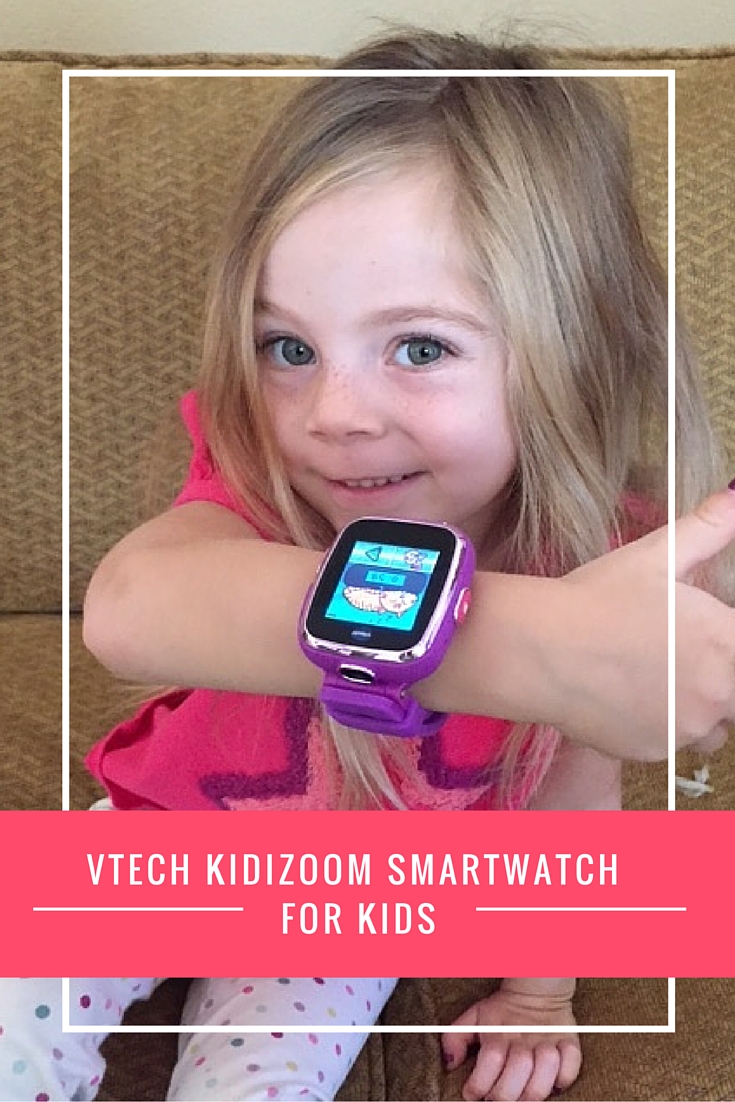 Vtech Kidizoom Smartwatch Features
Built in Camera– My daughter has a blast going around taking pictures of her brothers or her dollies and then showing us her work. In a way, it has built up her confidence.
Video Recorder – Kids can make mini videos and then play them back to watch. This has passed a lot fo time on our daily car rides.
Touch Screen– Similar to an iPad, the touch screen is easy for little fingers to navigate, If you child knows how to use a tablet this will be a piece of cake for them. They can also use the touch screen to explore their creativity with fun photo effects, frames and filters. The watch helps kids learn how to tell time by letting them choose between digital and analog displays.
50 clock face designs – The kidizoom watch has 50 fun face designs kids can choose from. They can change it up daily or hourly!
Timer and alarm (with a variety of fun animations to choose from). This has been huge for my daughter. She is always asking me what time it is, and instead of telling her to look on the microwave she can now just look at her watch. One less question for this mama!!
A voice recorder – This is probably the most fun feature on this watch.  Kids can record their voice and play with five voice-changing effects.
Four learning games with the ability to download more from Learning Lodge™ using the included micro USB cable, which can also be used to upload photos and videos as well as recharge the battery.
Splash proof – We all know kids make a mess and sometimes those messes involve water. The kidizoom watch is perfect for everyday play.  (not suitable for showering or bathing).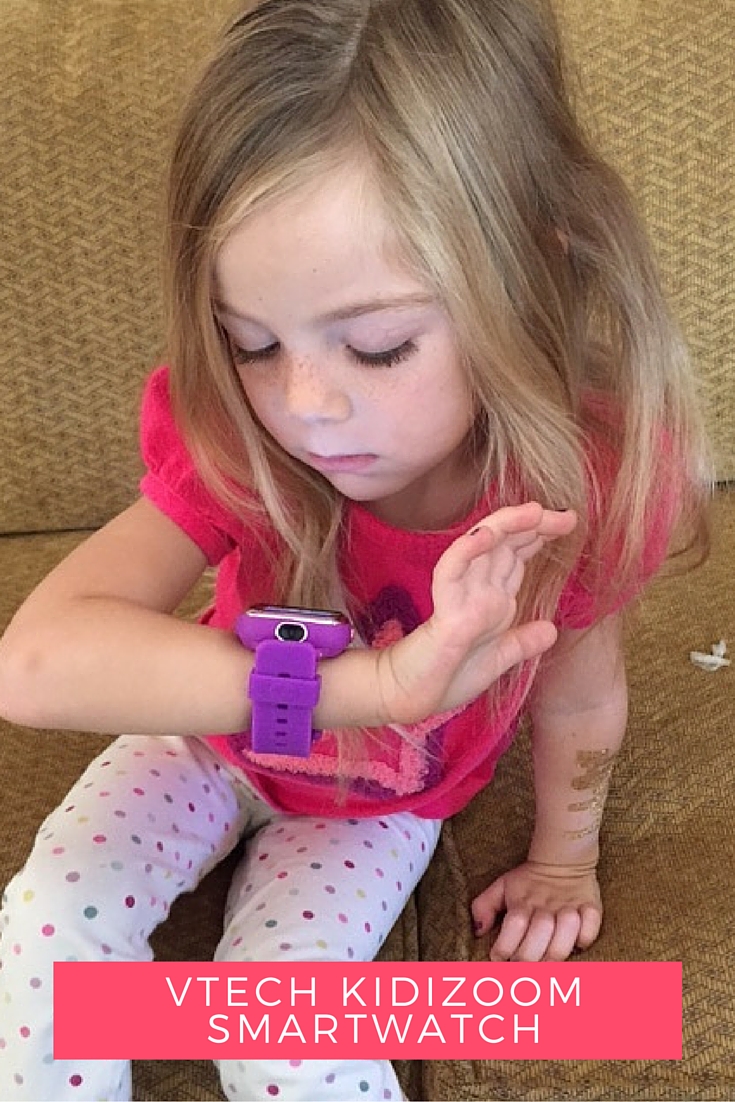 Video of  Vtech Kidizoom Smartwatch
Did you know that this watch is rechargeable?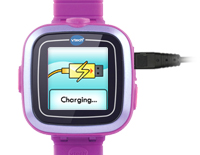 All watches come with a built-in battery that can last up to two weeks with a single charge! pretty impressive if you ask me!
Where can I buy a Vtech Kidizoom Smartwatch?
The Kidizoom Smartwatch is available now at www.vtechkids.com, Amazon.com, Target.com, ToysRUs.com and Walmart.com.
Get Social
For more information visit Vtech on Facebook and Twitter.
Win a Kidizoom Watch