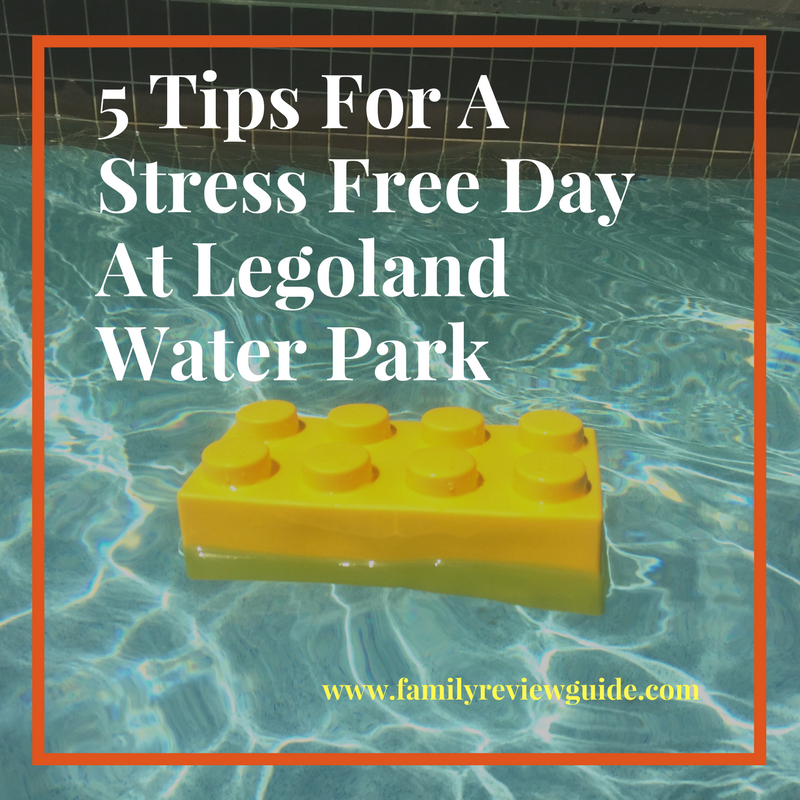 Want to have a stress-free day at Legoland water park? Just follow these 5 easy tips and you will be prepared and relaxed knowing you have done all of your research ahead of time! So let's dive right in!!
Tip #1: Arrive Early To Claim Shade
Listen, I know it can be tough to get out of the house with an army full of kids but I promise you that arriving early at the water park when it opens will do wonders for you. So pack your bags the night before and take into consideration the time that it will take to park, get your tickets and walk to the water park. The line at opening can be long but if you get there in time you will have top pick for SHADE!!!! Glorious shade!!! Turn to the right  after you walk in and you will see a sandy area with umbrellas in front of the lazy river and in front of the new Surfers cove.
Here is a list of stuff you might need if you are coming with toddlers.
credit: www.lifewithheidi.com
Tip #2: Get a Locker
At a recent visit we claimed our seats using a variety of towels, flip flops, and bags. I thought for sure I was safe but someone took it upon themselves to move my stuff because they wanted one of our prime seats. The stuff that they "moved" were my sons new Cobian flip flops. Obviously when I say "moved" I mean they became the possession of the people who were sitting next to us who claimed they were theirs. Long Story short we got our flip-flops back but next time I will definitely be getting a locker. Here are the prices:
LEGOLAND Water Park: Single size: $10*, Family size: $14**
11″ x 14″ x 17″ deep
13″ x 23″ x 17″ deep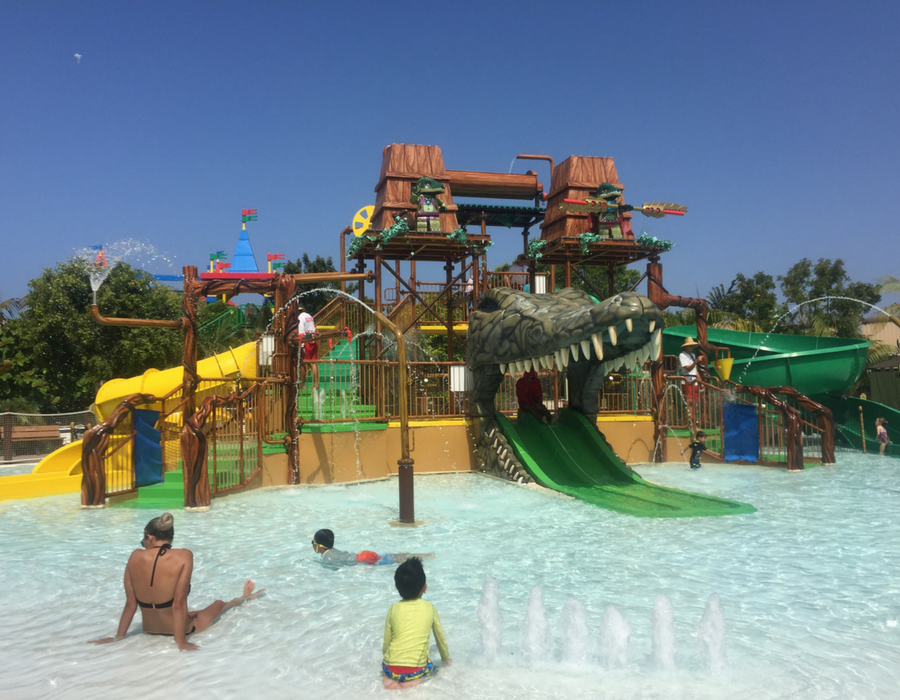 Tip #3: Check Height Requirements BEFORE You Go
Avoid tears if at all possible. Here are the height requirements: Riders must be at least 42 inches to ride Orange Rush, Splash Out and Twin Chasers. The DUPLO Splash Safari slides require that a child under six years old must be supervised by a responsible adult. For Pirate Reef Rider must be at least 36″ inches, riders between 36″ – 42″ must be accompanied by a responsible rider of 42″ or taller. Here are height requirements for the rest of the rides.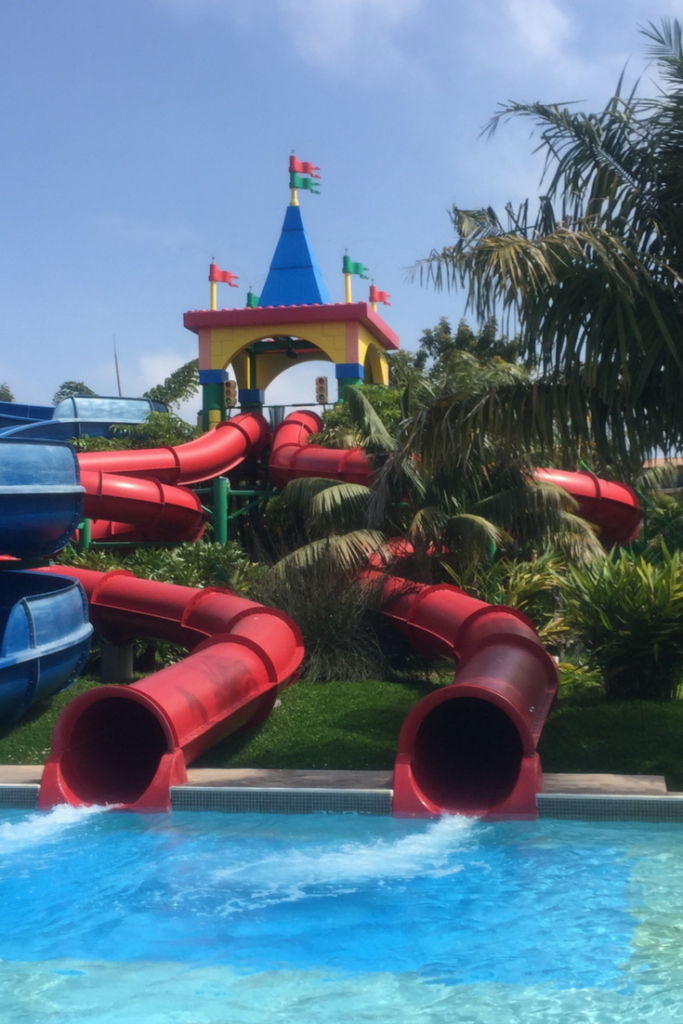 Tip #4: Bring A waterproof Case For Your Phone
There is so much excitement to capture at the water park and having a waterproof case can make your day less stressful because you don't have to worry about it getting lost or water logged. Plus you can have your phone, cash and credit cards with you all at once in the water. We like this one from Amazon.
Tip #5: Use the CHIMA Locker Area and Restrooms
Guests that need to change and store personal items should use the Chima locker area and restrooms. They are a lot less busy than the lockers and restroom areas at the front of the Park.
Watch A  Day At Legoland Water Park
Sneek Peek At Surfers Cove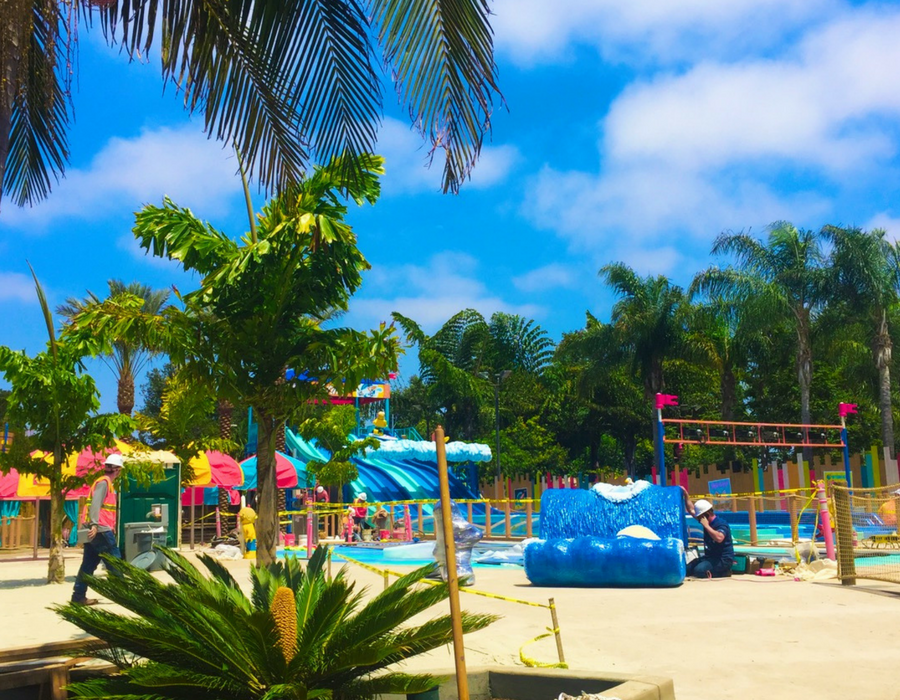 Surfers' Cove is the newest California beach-themed expansion of LEGOLAND® Water Park and features six water slides extending 100-feet where guests can jump on mats and race against each other for the fastest time on Riptide Racers water slides. After competing, racers can pose with a LEGO® winner's trophy for a photo opportunity to prove they won the race! Kids can enjoy Wipeout Lagoon — an epic "spray ground" where multiple water jets splash on and off creating a wave effect. Plus, LEGOLAND Water Park's culinary team has created Beach Street Tacos to enlighten taste buds of water racers of all ages. And, of course, cool LEGO models add to the beach theme including LEGO surfers, LEGO seagulls, LEGO crabs and a LEGO lifeguard. A surfing dog model sits on top of a wave at the peak of Riptide Racers perhaps as a "judge" to see which racer reaches the bottom quickest!
For more information visit Legoland on Facebook.