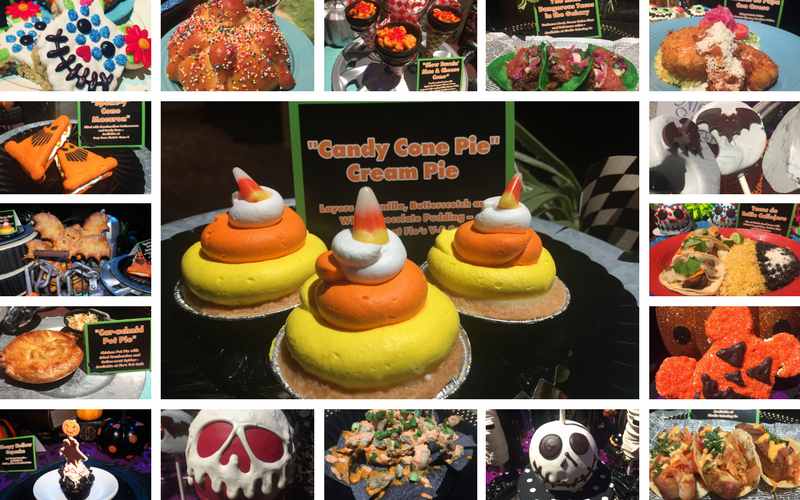 Get into the Halloween spirit with spooktacular eats, treats and sweets at The Disneyland Resort. From September 15-October 31 guests can taste everything from cone shaped shaped macarons to ice cream sundaes with bat wings. Disney has all of the delicious and indulgent food offerings to please your palate. Here is a list of 20 items  you can get at California Adventure during Halloween Time.
20 Spooktacular Treats To Eat in California Adventure During Halloween
The deserts are amazing. You may have to come back for several visits so get that sweet tooth ready!
Bat wing raspberry sundae (Clarabelles's hand-scooped ice cream). White chcolate-raspberry swirl ice cream with raspberry splatter, blood-red sprinkles, whipped cream and a bat cookie.
Spidersilk ice cream sandwich (Clarabelles's hand-scooped ice cream). A black macaron with charcoal-tart cherry spun ice cream topped with popping candy and drops of raspberry sauce.
Sleepy Hollow Cupcake (Fiddler, Fifer & Practical Cafe).  Red Velvet cupcake with cream cheese frosting, raspberry drizzle and headless horseman decoration.
Pan De Muerto – A bread of the dead with rainbow sprinkles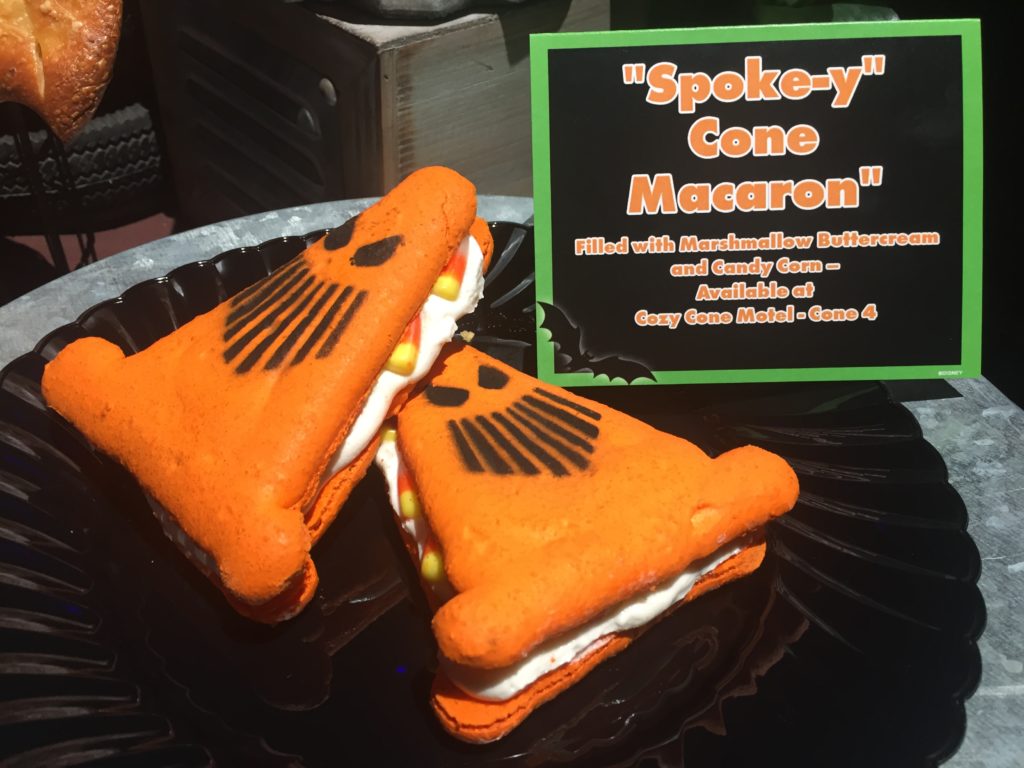 Spoke-y Cone Macaron (Cozy Cone Motel) – Cone shaped macaron filled with Marshmallow buttercream and candy corn.
Can Cone Pie Cream Pie (Flo's V8 Cafe) – Made with layers of butterscotch and white pudding
Tres Leches Parfait (Paradise Garden Grill) – Made with rum and vanilla bean chantilly, drizzled with dulce de leche and garnished with a white chocolate skull.
Pumpkin Raisin bread Pudding and Anchor Blood Orange Blondie (Pacific Wharf Cafe)
Slow Burnin' Mac & Cheese Cone – (Cozy Cone Motel) Fresh-cooked pasta with spicy red pepper cheese sauce, topped with crushed chili cheese puffs.
Monstermallow Donut (Schmoozies) – flaky, croissant donut in the shape of Mike Wazowski.
Marshmallow Moons with Bats – Crescent shaped marshmallows dipped in white chocolate with bats.
Jack Skellington Candy Apples – a granny smith apple dipped in white chocolate and dark chocolate for Jack's face. Served on a stick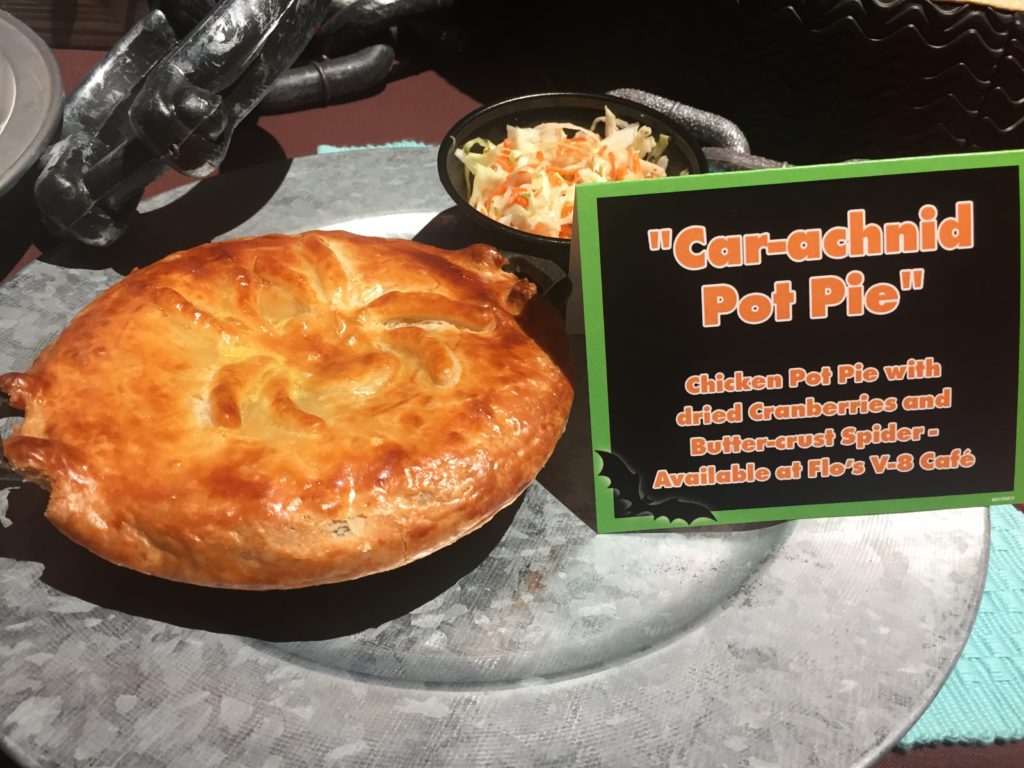 Dia De Los Muertos Rice Crispy Treats – Mickey shaped rice crispy treats with white chocolate and vibrant decorations.
Tortitas De Papa Con Queso – Crispy potato cakes with oaxaca cheese, ranchero salsa, golden rice, pickled onions, tomatoes and cabbage.
Junkyard Popcorn  – Custom made popcorn made with candy corn, M&M'S  pretzels
Car-achnid Pot Pie (Flo's V8 Cafe) – Chicken pot pie with dried cranberries and spider butter crust.
Skull Candy Apples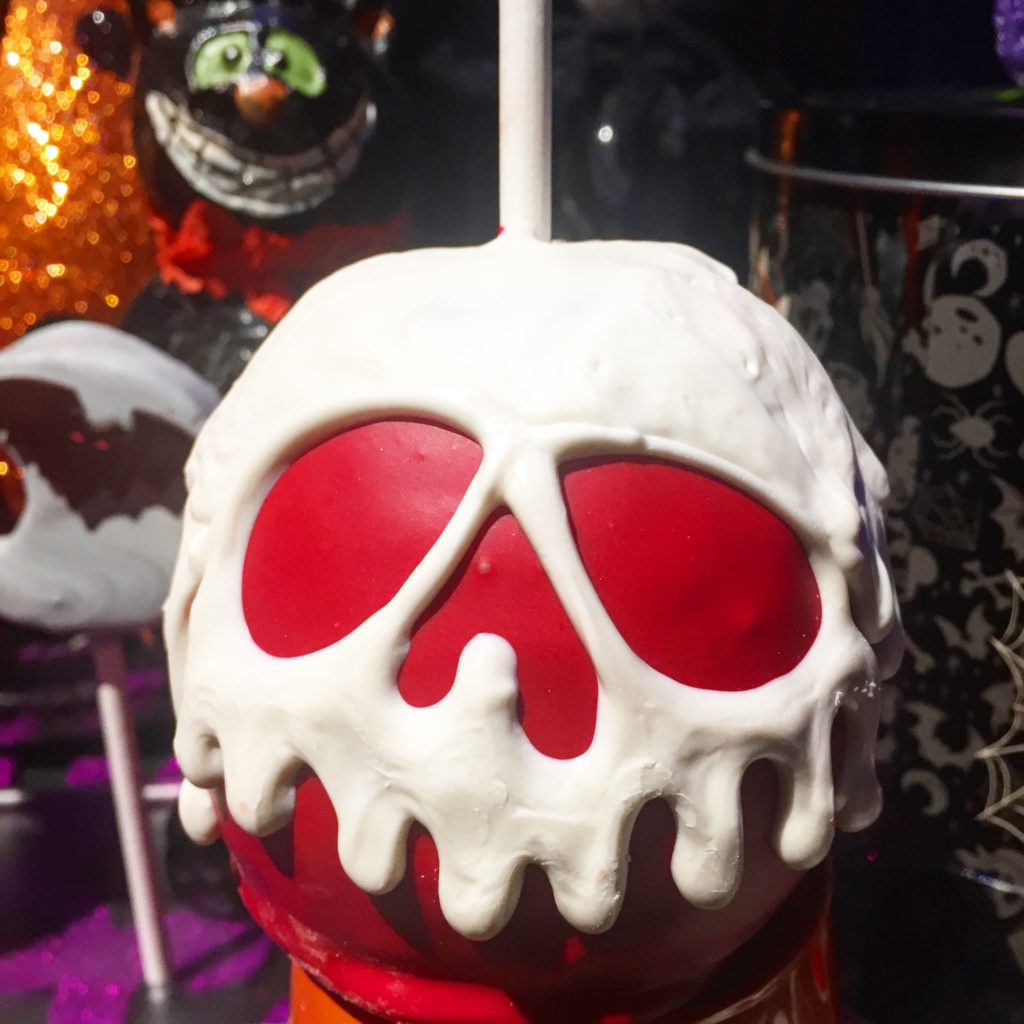 The most dangerous tacos in the galaxy- (Studio Catering Co.) Barbacoa beef, green onion slaw and habanero salsa.
Fire Dragon Tacos – Pork Belly Tacos made with korean BBQ sauce, Kim Chi Slaw, and sriracha Aioli,
Obviously Nachos (Studio Catering Company) -Red/Blue corn tortilla chips, mojo chicken, red pepper cheese sauce, chipotle crema and green onions.
Tacos De Estilo Callejero – Trio of sirloin beef tacos with pickled vegetables, golden rice and black beans.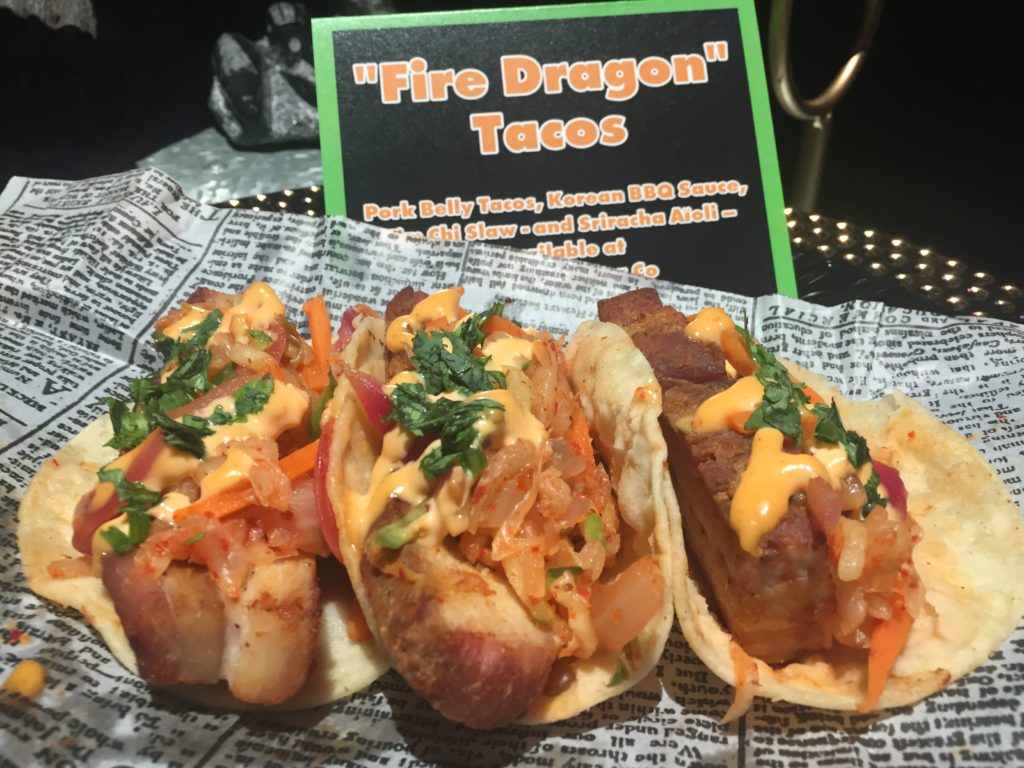 For more information visit Disneyland Resort on Facebook and Twitter.