Six months ago my daughter sustained a severe injury on her foot from a piece of jagged metal. We ended up taking her to the ER where they were able to stop the bleeding and put her skin back together. Unfortunately though this left a major scar. I have spend months researching alternative ways on how to reduce the appearance of a scar and I found 3 easy treatments.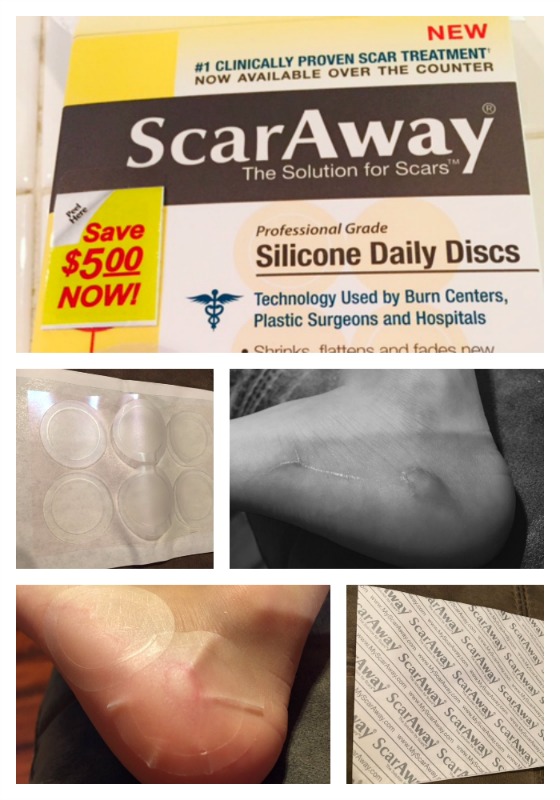 Silicone Daily Discs
Silicone daily discs – this is a new avenue for us and I was recommended the brand "Scar Away". ScarAway helps restore raised and discolored scars to a more natural color and texture, using the same technology trusted by burn centers and plastic surgeons. Using ScarAway on newly healed wounds helps prevent the formation of unsightly scars. Even scars that are years old from burns, surgical procedures and injuries show significant improvement with ScarAway.
The regimen is about 4-8 weeks to see full improvement and since we are just starting this we do not have any before and after photos to compare. I am hoping for positive results though. Here are some of the benefits to using "Scar Away":
An effective, at-home, non-prescription way to treat and prevent the formation of small, abnormal scars, including hypertrophic (red and raised) and keloid scars.
Professional grade silicone discs use advanced silicone technology, previously available only through hospitals, burn centers and plastic surgery offices
Disposable clear, matte discs measure 1.375" and are perfect for scars one inch or less in diameter
Delivers slight pressure directly to the scar and mimics the natural barrier function of healthy skin, diminishing the scar's appearance and restoring skin to a more natural texture and color
Specialized, ultra-thin material provides a unique combination of flexibility, durability and adhesiveness
Convenient once daily application and low profile is ideal for optimal comfort and protection, day or night, even under clothing
Scars may feel softer in just a few days, with visible results seen in as little as 4-8 weeks.  Individual results will vary
Doctor recommended; numerous clinical studies support the safety and efficacy of silicone sheeting for the reduction and prevention of scars
Suggested retail: $24.99 for a box of 30 Daily Discs
ScarAway Daily Discs are now available at CVS and Rite Aid.  Also available at Walgreens and Harmon
Manuka Honey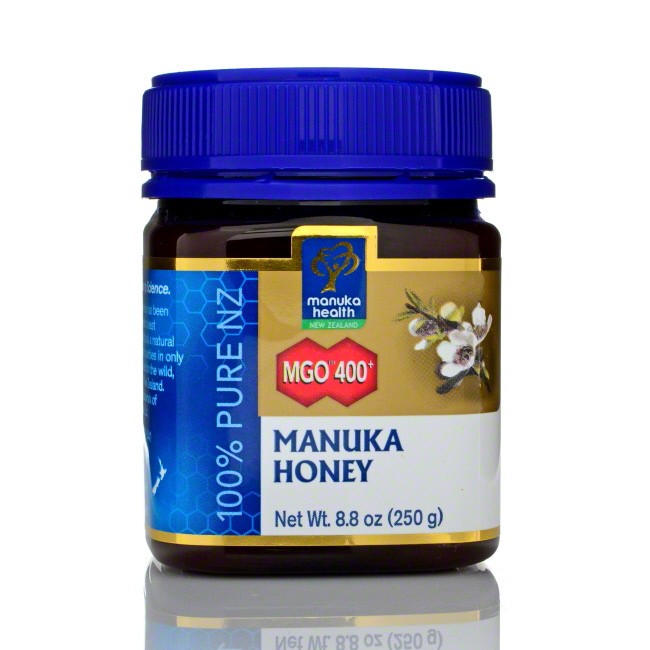 Manuka Honey– Most people are unaware of honey's wound care capabilities, a trait that can help an infected wound properly heal in orderly fashion. It is important to understand that you cannot go around squeezing regular store bought honey on every wound or infection you encounter. Instead, try using manuka honey, which possess numerous therapeutic qualities. Manuka honey was approved by the U.S. Federal Drug Administration in 2007 as a recommended option for wound treatment.One of the biggest antiseptic features manuka honey has is its ability to release hydrogen peroxide that is essential for helping eliminate bacterial activity. The pollen collected from the manuka bush and transformed into honey has been known to effectively treat serious infections, ranging from skin rashes, boils to scalded skin. Remember do not attempt to use regular raw honey as an option for wound care. The high-fructose corn syrup that is abundant in raw honey is actually more likely to help spread infection rather than prevent it.
Essential oils

Essential Oils– Our pediatrician is a huge advocate for Essential oils and recommends using them for almost everything. When we brought our daughter to him to have him look at her foot he immediately said to start using essential oils on her, specifically lavender.Essential oils and several carrier oils can hasten the process to help scars become less noticeable.
Several essential oils can help the process of healing of any wound. Helichrysum works great when used around new wounds, especially when there is bruising also present. It has properties to help the cells regenerate quickly and also will help with pain relief. Although it works on old scars too, it does its best work on fresh ones.
Lavender once diluted, can also be used around new wounds, it helps to fight infection and helps the body to heal quickly, again, by helping the body to regenerate new cells. The more quickly a wound can heal, the less likelihood of scarring.