School is almost back in session, have you gotten a family vacation in yet?  The entire month of August is national Family Fun Month which means it's the perfect time for bonding, relaxation and of course, family fun. If you need some suggestions, here are some great family-friendly properties with kid specific programming!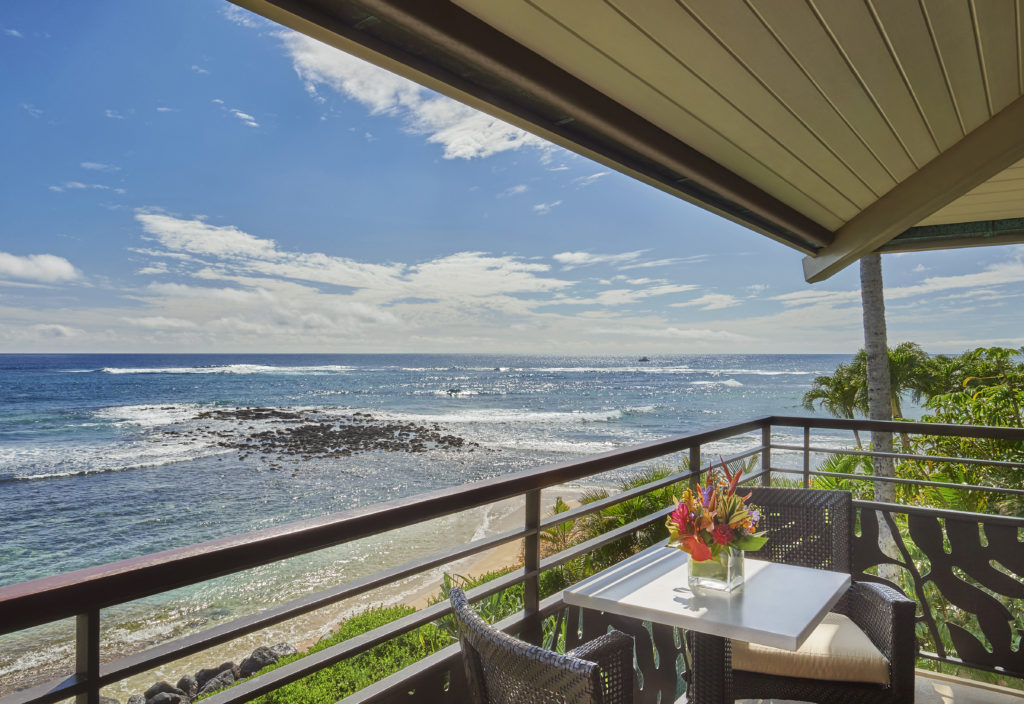 Ko`a Kea Hotel & Resort | Kauai, HI
Ko'a Kea Hotel & Resort is Kauai's premier boutique hotel located on the "sunny side" of the island at Poipu Beach. With unrivaled oceanfront views, renowned adventure programming throughout the island's lush tropicale and countless water sport activities on Kauai's most swimmable beach, Ko'a Kea immerses families into the spirit of the Garden Isle. Families can bond in the spirit of island life while relaxing in Ko'a Kea's saltwater pool and hot tub, on the beach or near beachfront fire pits, or while exploring natural surroundings through surfing, snorkeling, scuba diving, zip lining, helicopter touring and more. With plenty of integrative programming and several packages for booking, families can explore Kauai at Ko'a Kea in a number of unique ways.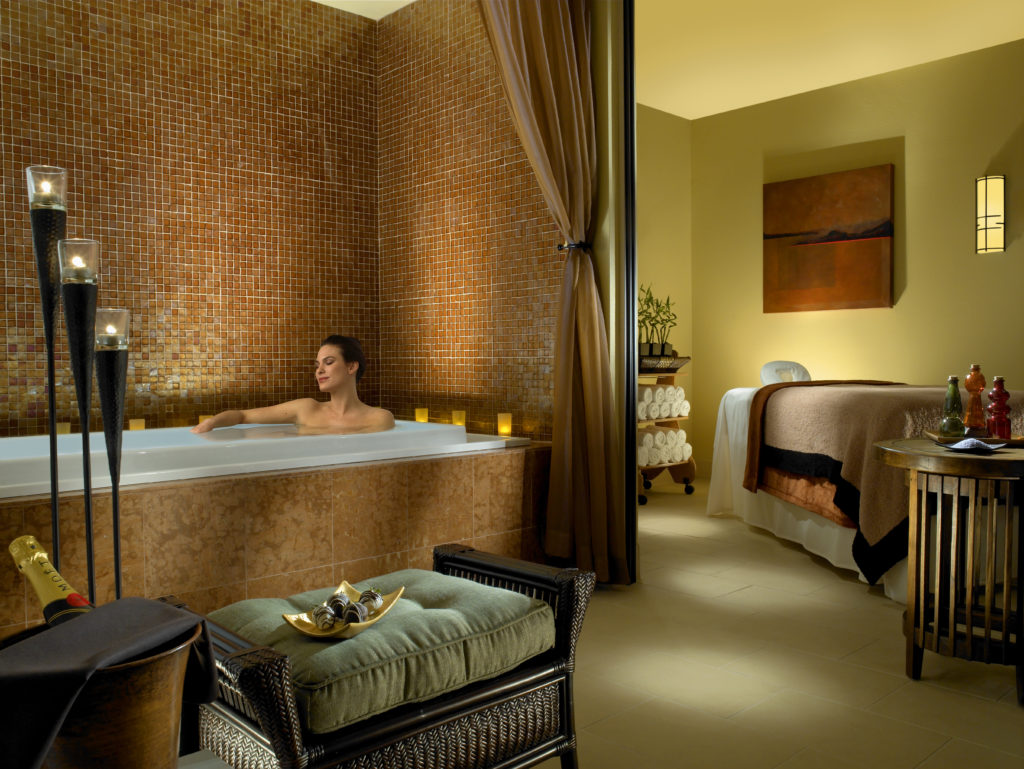 Keystone Lodge & Spa | Keystone, CO
Kidtopia in Keystone is back and bigger than ever this summer with activities for kids taking place daily. Summer fun entails Wild West Nights with bike in movies, crafter-er-noon programs, Strider Balance Bike Race Series and outdoor learning opportunities. Where to stay? Keystone Lodge & Spa is surrounded by the majestic Rocky Mountains and thousands of acres of national forest, and boasts easy access to a host of activities. The alpine-style ski lodge boasts a wide selection of rooms as well as The Spa at Keystone, which is ideal for continuing relaxation of mind and body.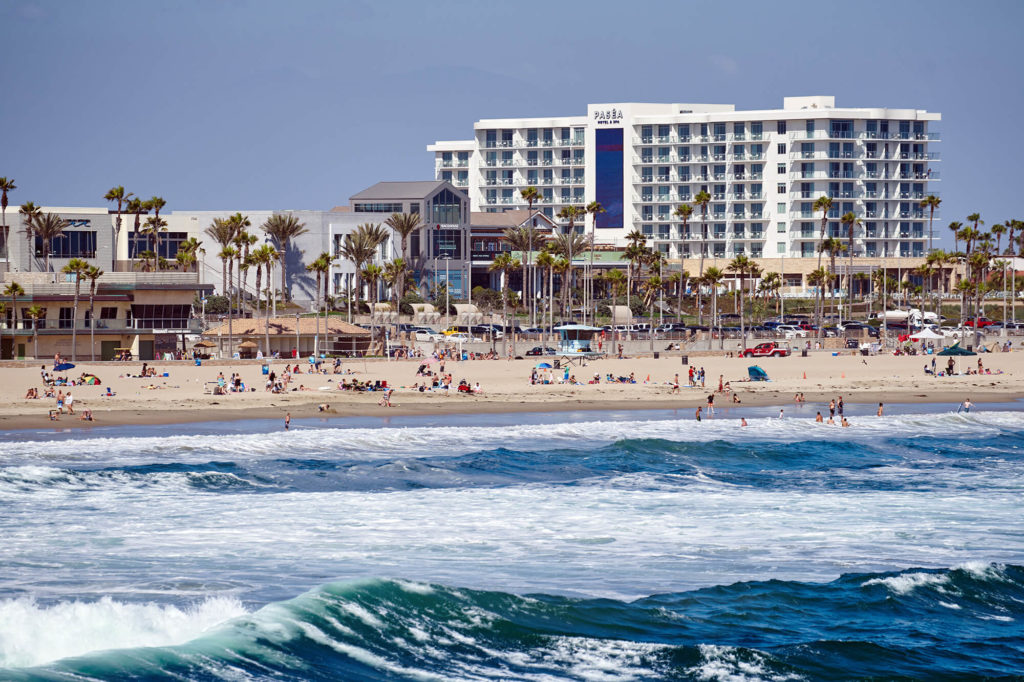 Pasea Hotel & Spa | Huntington Beach, CA
Families can make the most of a classic California vacay when perched at the edge of the Pacific Ocean at Pasea Hotel & Spa. The state-of-the-art hotel is inspired by the surf lifestyle born out of Huntington Beach, California aka "Surf City, USA". Paséa guests can take advantage of the beach just steps away or enjoy the luxurious pool with oceanfront views — as if they were on the beach. From the pool, guests will take in the best of Surf City's famous beaches, the buzz of the Huntington Beach boardwalk and pier along with brilliant sunsets offering a beautiful end to the day. After a day on the beach assisted by the resorts' accommodating beach butlers and complimentary beach equipment, families can indulge in social dining experience at Tanner's: Paséa's signature restaurant with exhibition cooking and communal dining.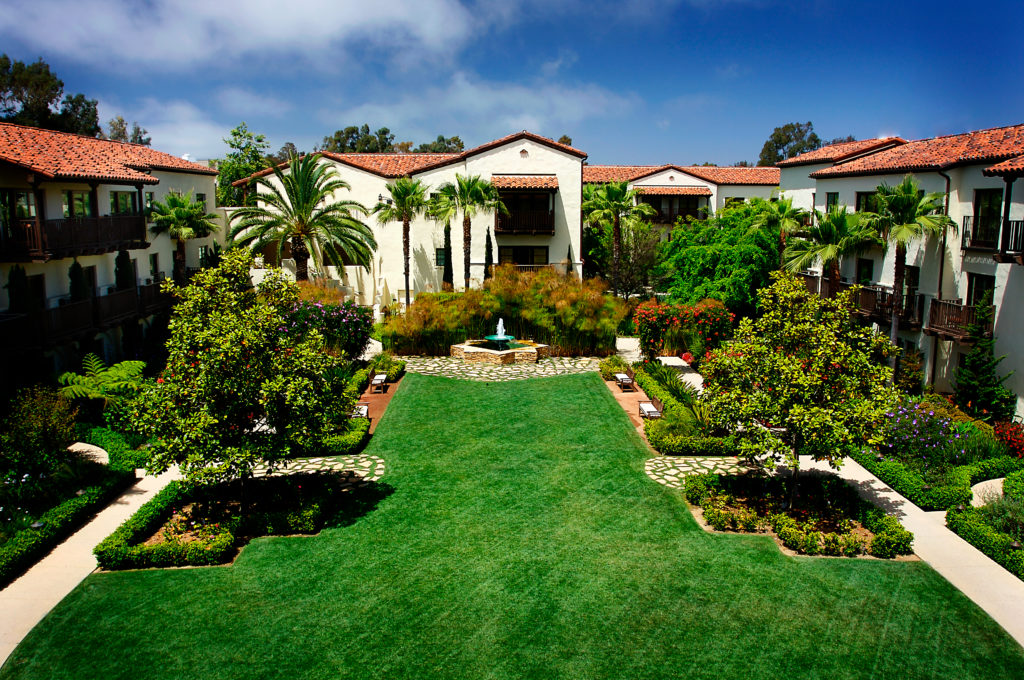 Estancia La Jolla Hotel & Spa | La Jolla, CA
Under Southern California's golden rays, Estancia La Jolla Hotel & Spa, a hacienda-style resort, is nestled between San Diego's seaside villages of La Jolla and Del Mar. Exuding warm service and the sun-drenched charm of its premiere location, Estancia offers easy access to the top sights and recreational activities found in Southern California with complimentary shuttle service within 5 miles of the hotel, including Torrey Pines and several landmark beaches. Families can spend a day poolside in Estancia's lush cabanas, hiking near ocean vistas, exploring San Diego beaches, or enjoying world-class attractions such as the San Diego Zoo, Seaworld, and pair it with a fun family dining experience at the on-property, baja-inspired Mustangs and Burros restaurant.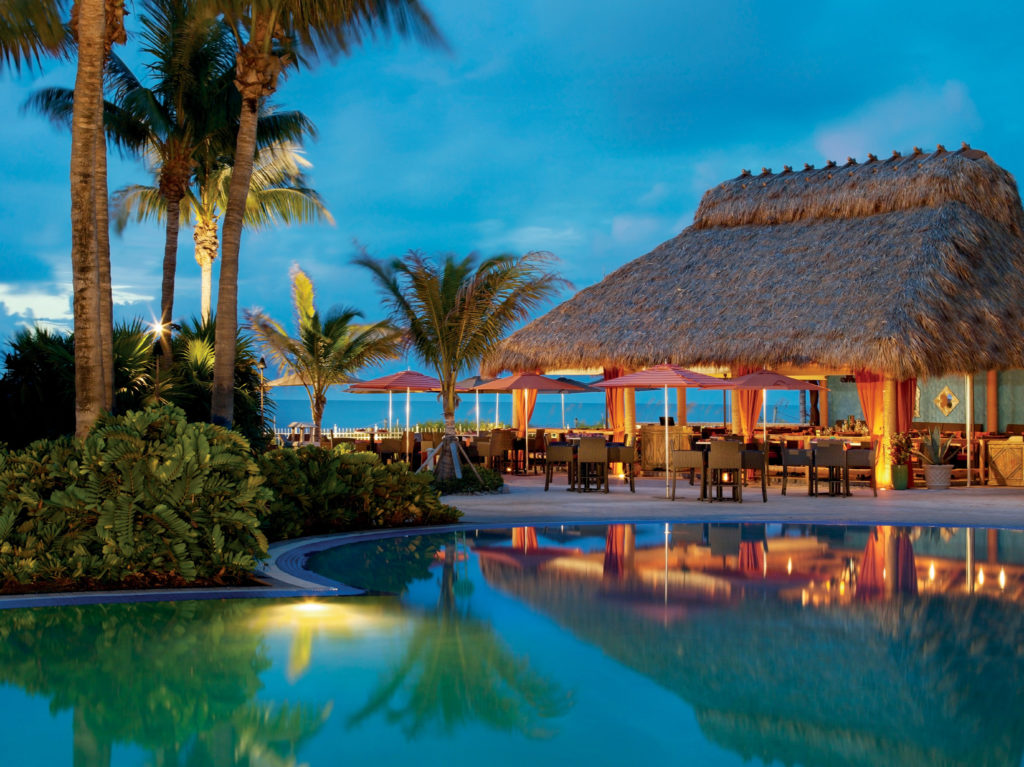 The Ritz-Carlton Key Biscayne, Miami | Miami, FL
The Ritz-Carlton Key Biscayne, Miami is just minutes from the city's cosmopolitan center, yet feels like a secluded island getaway with its lush tropical gardens and infinite ocean views. The resort is home to two swimming pools, a secluded stretch of white sand beach, and a luxurious spa, as well as an expansive tennis center, designed by the legendary Cliff Drysdale. With offerings for the whole family, parents can indulge with a craft cocktail from one of the property's many F&B venues or hit the spa while the kids embark in an educational journey with the property's Ritz Kids program in partnership with Jean-Michel Cousteau's Ocean Futures Society and his unique environmental expertise.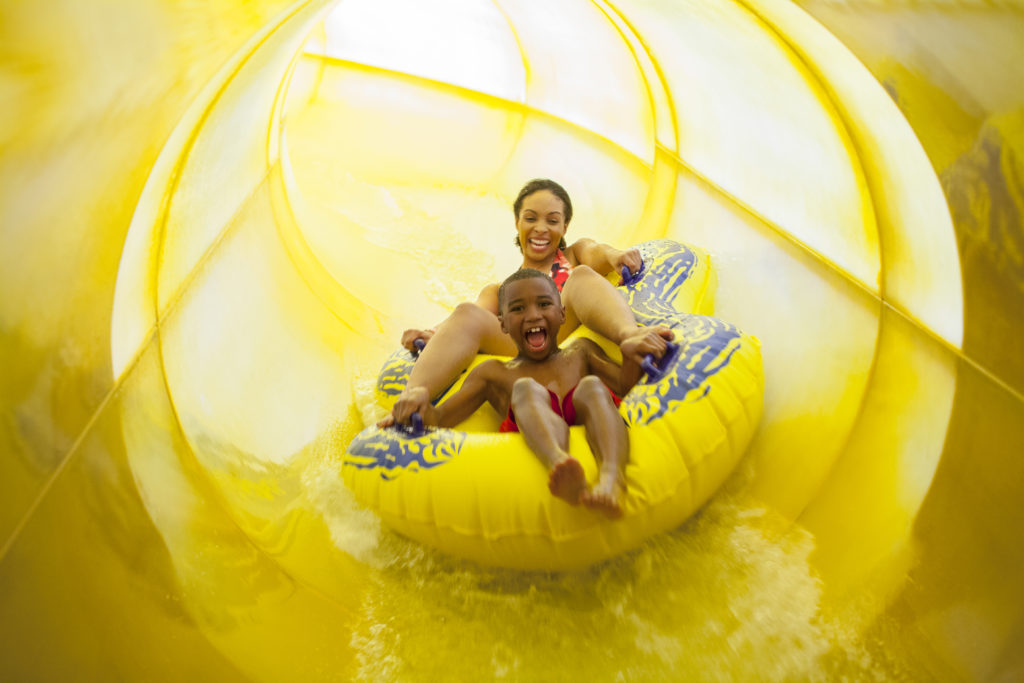 Great Wolf Lodge | Anaheim, CA., Colorado Springs, CO., Grapevine, TX., Grand Mound, WA.
The ideal vacation to swim, splash and slide year-round, Great Wolf Lodge is best known for its indoor waterpark, complete with water slides and attractions perfect for young children that enjoy splashing in interactive pools and high-thrill rides. The resort offers fun for the whole family from PJ parties and nightly story time for kids to spa programming and evening "wine down" packages for adults. Guests can also find Yoga Trails kids fitness offerings, and a multitude of dining options, including character breakfasts, allergy-friendly dining and a nut-free kitchen to accommodate every guest's needs. Families can escape the the high summer heats across  at the resort's indoor waterpark, which no matter the season boasts 84 degrees year round. Great Wolf Lodge is perfectly primed for families to disconnect and reconnect, can't take your phones down a waterslide, can you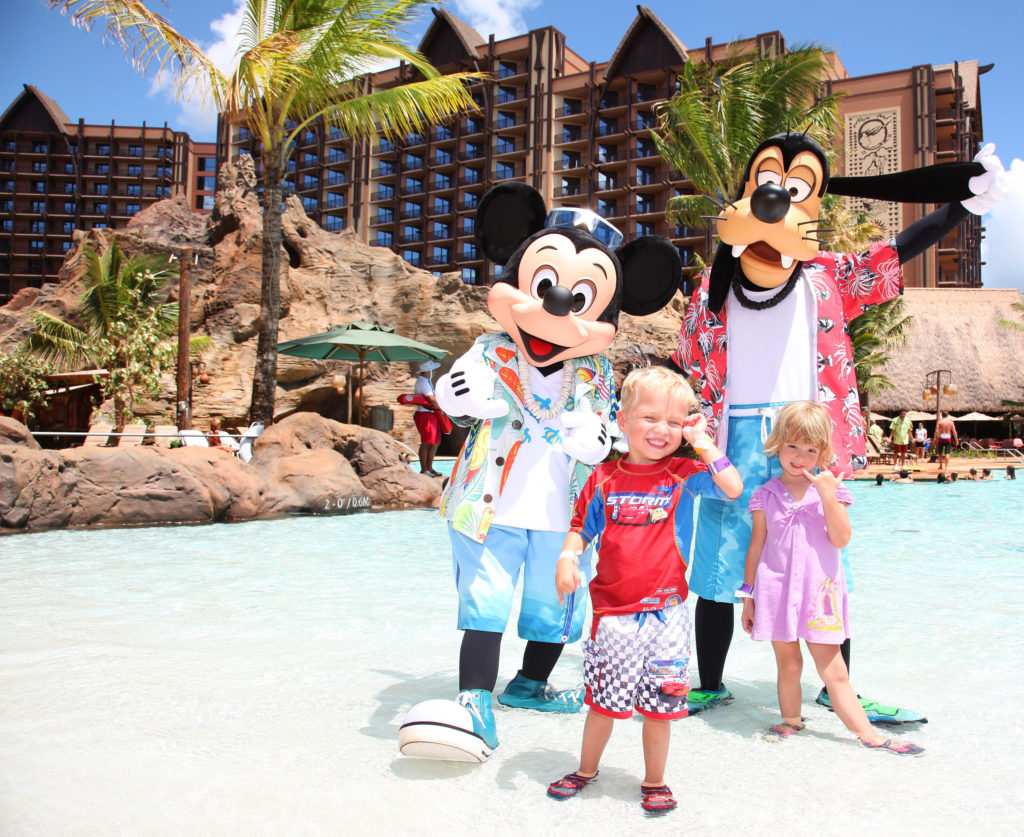 Aulani, a Disney Resort & Spa | Ko Olina, Oahu, HI
From energizing, fun adventures to soothing relaxation at Laniwai, there's something for the entire 'ohana (family) at Aulani, A Disney Resort & Spa. While visiting Aulani, guests can surf in crystalline waters, ride horseback through lush valleys or kayak through protected offshore islets. Each excursion is entertaining, educational and fun, so the entire family can take home a greater appreciation and understanding of the Aloha State—along with unforgettable vacation memories. New family activities on property include Paddle Fitness and Disney Group Spin. Trainers provide a wide variety of workouts catered to athletes of all levels, as well as beachside workouts that the entire family can enjoy, including ocean-Flow yoga, boot camps, and Palm Tree TRX workouts. The Pana Hana room also offers multiple family-friendly offerings, including a wide selection of classic and new Disney movies and activities such as ukulele lessons.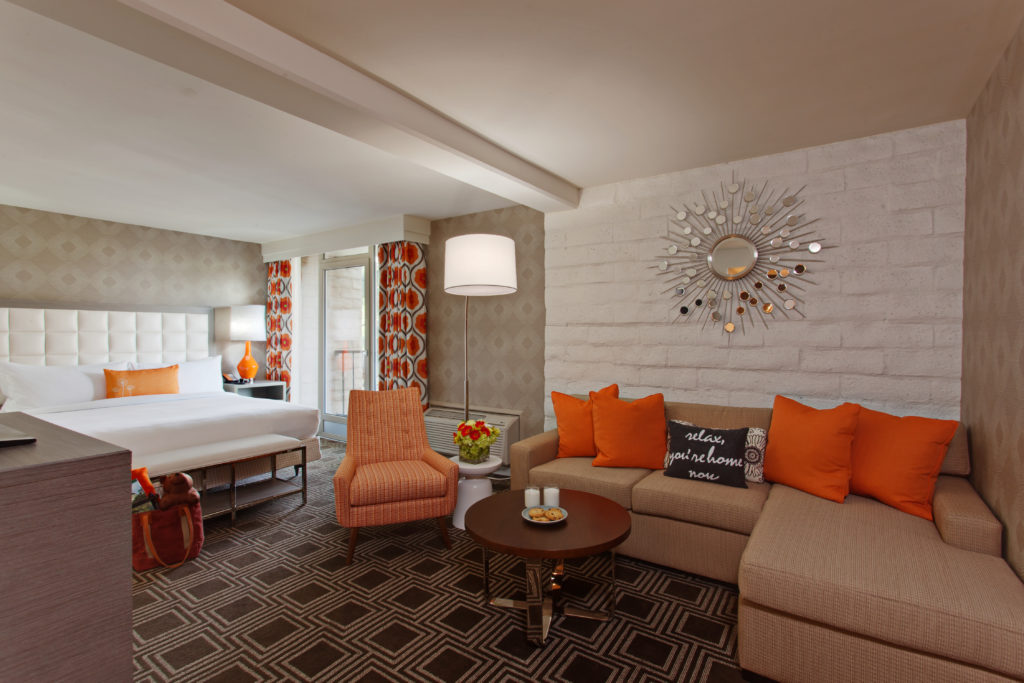 The Garland | North Hollywood, CA
The perfect way to unite the family this August is by taking a trip to The Garland. Located in North Hollywood, take advantage of the resort's prime location next to many of Hollywood's most popular and notable entertainment as the hotel provides a swanky trolley service that transports families to and from popular destinations like Universal Studios, Universal CityWalk, Hollywood and the Hollywood Walk of Fame. Bonus: reserve a Family Suite! The Family Suites have two separate areas, a nook with bunk beds for the kids and the main room with a king-size bed and living area for the parents. The bunk beds offer one full-size bed with a lofted twin bed, allowing plenty of space for the children. Additionally, each separate living area has a flat screen TV, with a DVD player also located in the kids' nook.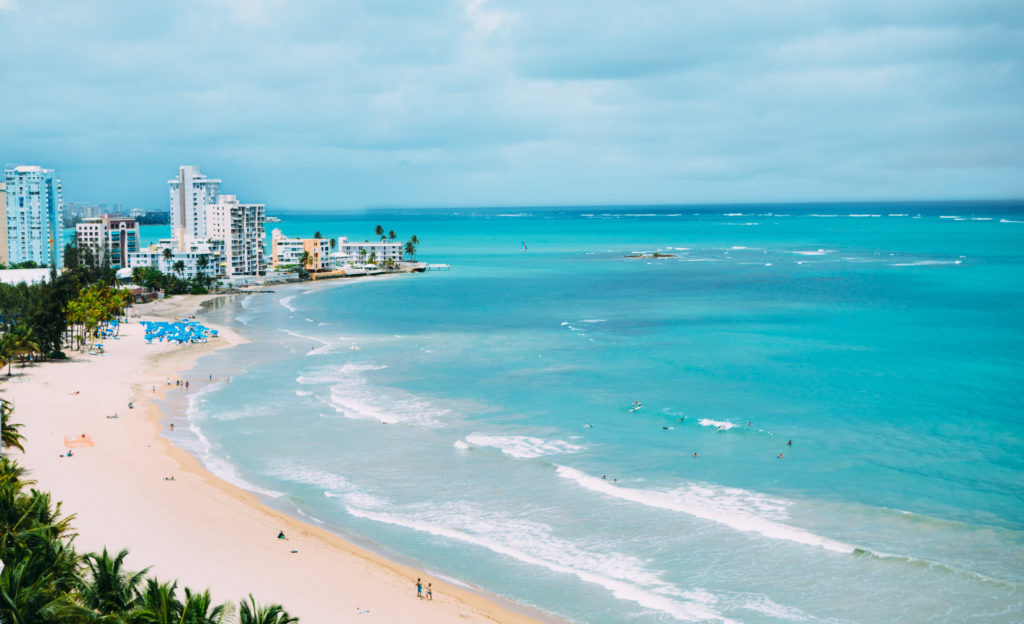 Courtyard by Marriott Isla Verde Beach Resort in San Juan, Puerto Rico.
The property is the perfect family-friendly destination, set on the beautiful Isla Verde beach, which is the only Blue Flag beach in the city. The water is calm and shallow, allowing children to play on their own without parents worrying about rip tides or other dangerous circumstances. Flagged for its impeccable water quality, safety, and environmental and quality standards, the beach is truly stunning with clean, soft sand and bright blue, crystal clear water. The property itself has surf classes and other beach activities that are fun for the whole family. Lastly, summer is the low season for the destination, so prices are lower, but the property's close proximity to the water helps regulate the temperature to feel more manageable than other areas.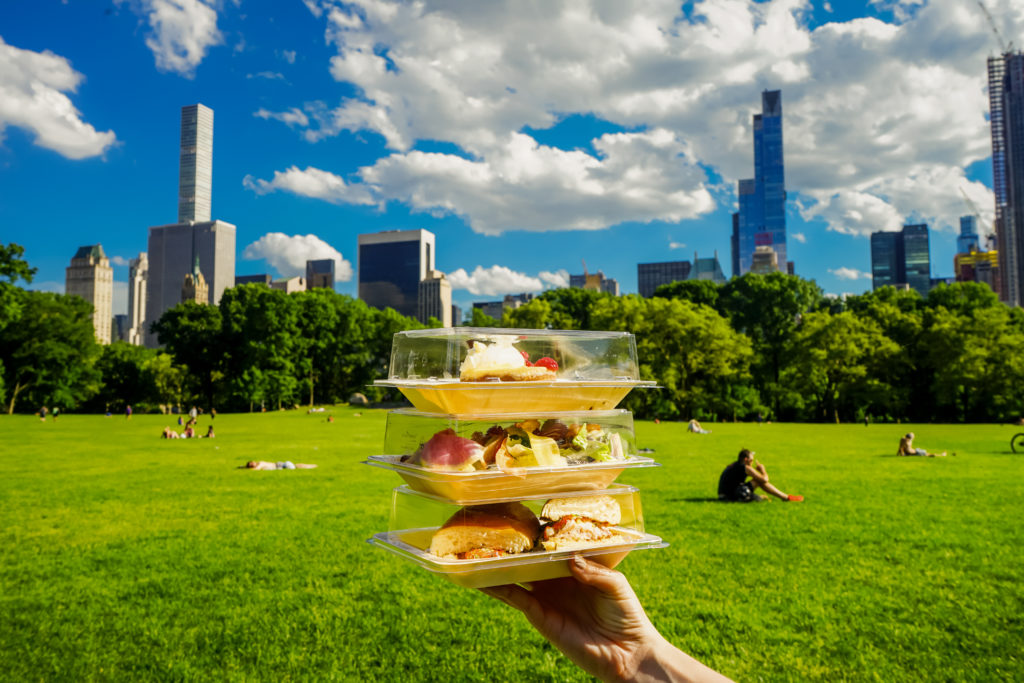 The Ritz Carlton New York, Central Park | New York, NY
What better way to end the summer than by being surrounded by family and floral blooms in the center of New York City's iconic Central Park. At The Ritz-Carlton New York, Central Park, guests have direct access to the iconic, 843-acre New York City park, just steps from the front door of the hotel. This summer, special programming further brings the season to life through the 'Picnic in the Park' package, which includes overnight accommodations, a four-course picnic lunch infused with fresh, local and regional ingredients, a Ritz-Carlton tote bag and waterproof fleece blanket to keep as a memento, an insider guide to picnicking in Central Park from hotel's expert Concierge, Ritz-Carlton kite and Frisbee, and a Central Park map. Exposing young travelers to Manhattan's culture and environment the family-friendly hotel also offers a "Family-Fun" package, consisting of overnight accommodations, a signature kids welcome amenity from The Pastry Kitchen, a Central Park Scavenger Hunt, tickets to the Central Park Carousel and a discount at the La Prairie Spa, at The Ritz-Carlton, for parents to relax and rejuvenate during quiet, alone time.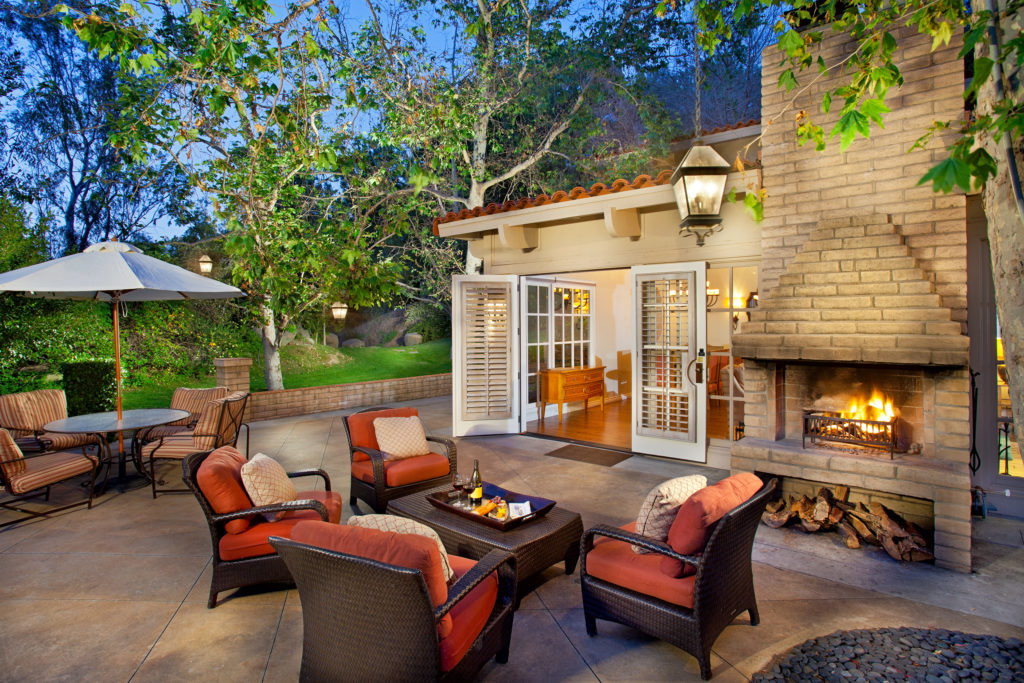 Rancho Bernardo Inn | San Diego, CA
Located in San Diego, CA, Rancho Bernardo Inn offers beautiful sprawling grounds explore, an exquisite golf course, and exceptional cuisine the whole family is sure to enjoy. Families can take advantage of the $261 per night Family Fun Package to squeeze in one more family adventure before the kids go back to school. Welcomed by milk and cookies amenity and goodie bucket, kids can explore the resort through a treasure hunt and fountain walking tour or stay in with a unique s'mores and snores in-room camping experience. Parents can unwind with the luxury spa or join the kids at the summer Dive-Inn movies, sure to provide fun for the family. 
The Family Fun Package includes:
One-night stay

$50 nightly resort credit

Milk & cookies welcome amenity

S'mores & snores (in-room camping for kids)

Kids welcome goodie bucket

FREE kids breakfast

Kids treasure hunt & fountains walking tour

Summer Dive-Inn movies

Paradise Point Resort & Spa, A Destination Hotel | San Diego, CA
Located on the sparkling waters of San Diego's Mission Bay, Paradise Point, A Destination Hotel offers families the ultimate Southern California beach getaway for one more family summer adventure before school starts. The resort which recently completed a renovation to all 462 bungalow-style guest rooms offers a private, full-service marina where guests can enjoy aquatic fun, including sailing, jet skiing, motor boating and kayaking. Additionally, learn to shred the waves like a local at the Paradise Surfing Academy, open to all ages, or stick to the mainland and explore the tropical grounds in beach cruiser bike rentals. Kids can have fun with creative activities offered at the Island Adventure Club, and the whole family can enjoy s'mores and stargaze at one of the resort's 12 beach bonfires.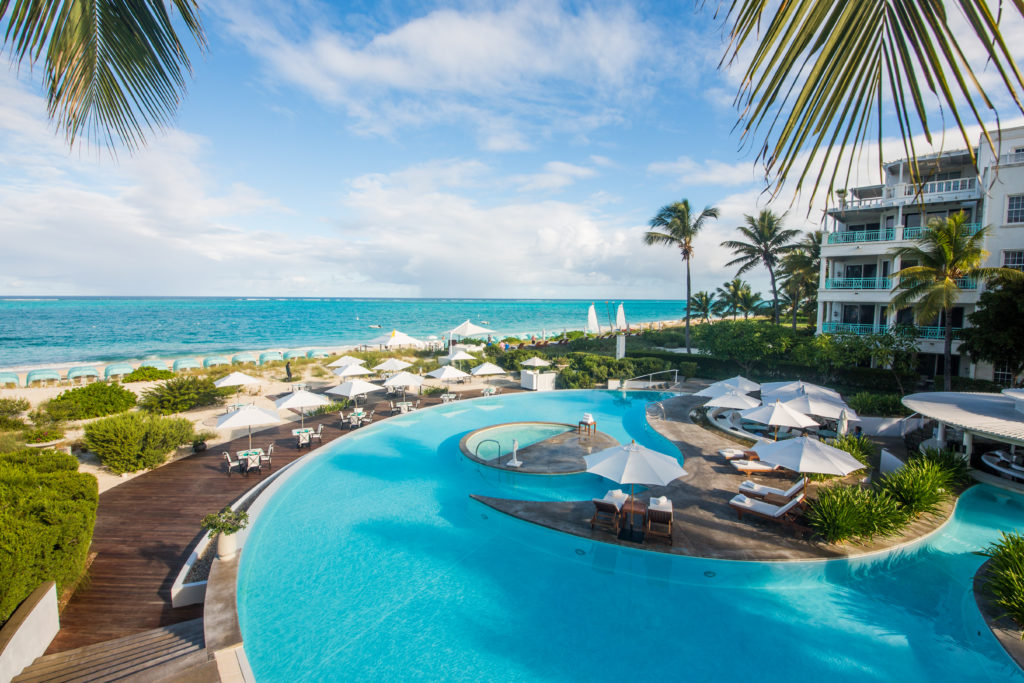 The Palms Turks & Caicos | Turks & Caicos
The Palms Turks & Caicos, the 72-suite resort just steps away from the flawless white sands of Grace Bay Beach, is the perfect spot for kids and adults alike. Families will feel comfortable in the spacious one, two or three-bedroom suites with full living areas, kitchens, laundry facilities and terraces. They offer complimentary lessons including paddle boarding, kayaking, windsurfing and snorkeling. Lessons are also provided using the resorts two 'Hobie Cats Waves,' an easy-to-sail, easy-to-rig speedster that will quickly have the whole family smiling. Additionally, the Conch Kritters Club offers complimentary half day and full day activities with a clubhouse and a range of beach toys and floats for indoor and outdoor activities.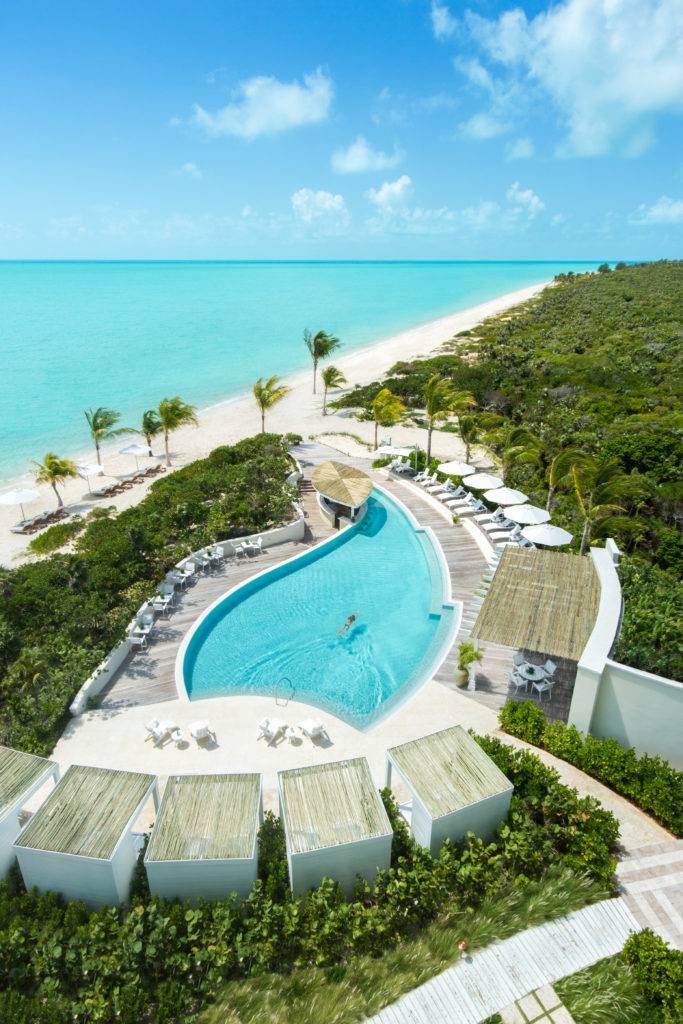 The Shore Club | Turks & Caicos
Bring the whole family to Turks and Caicos' most anticipated luxury lifestyle hotel project, The Shore Club, recently opened its doors to guests in January 2017 where you'll find something for all ages. Situated on Providenciales' most pristine stretch of oceanfront real estate, The Shore Club is a soulful place with an active energy that transcends throughout the entire resort, easily combining the Caribbean lifestyle with a vibrant collection of individual experiences. Guests will have the option to learn locally cultivated activities such as kite-boarding – not to mention there are four pools, direct access to the 2.5-mile secluded Long Bay Beach and a wide range of water activities geared for kids looking to challenge themselves while on vacation. In January 2018, the resort unveiled three new luxury oceanfront villas adjacent to the property, offering resort amenities to guests. Located on 850 feet of beachfront on Long Bay Beach, each of the 8,800 square foot villas will offer total privacy for families of all sizes in a relaxed atmosphere of a curated Caribbean experience, while a personal concierge is on-hand for every need. With six-bedrooms, five in the main house and one detached, each villa boasts its own heated pool, private courtyard, expansive terraces, spacious guest rooms with large baths and a master suite with the most enchanting ocean views imaginable. Exquisite, hand-crafted tiles and bespoke elements grace the sophisticated villas at this stylish retreat – seemingly in a world of their own, but only steps from the exceptional amenities The Shore Club has to offer.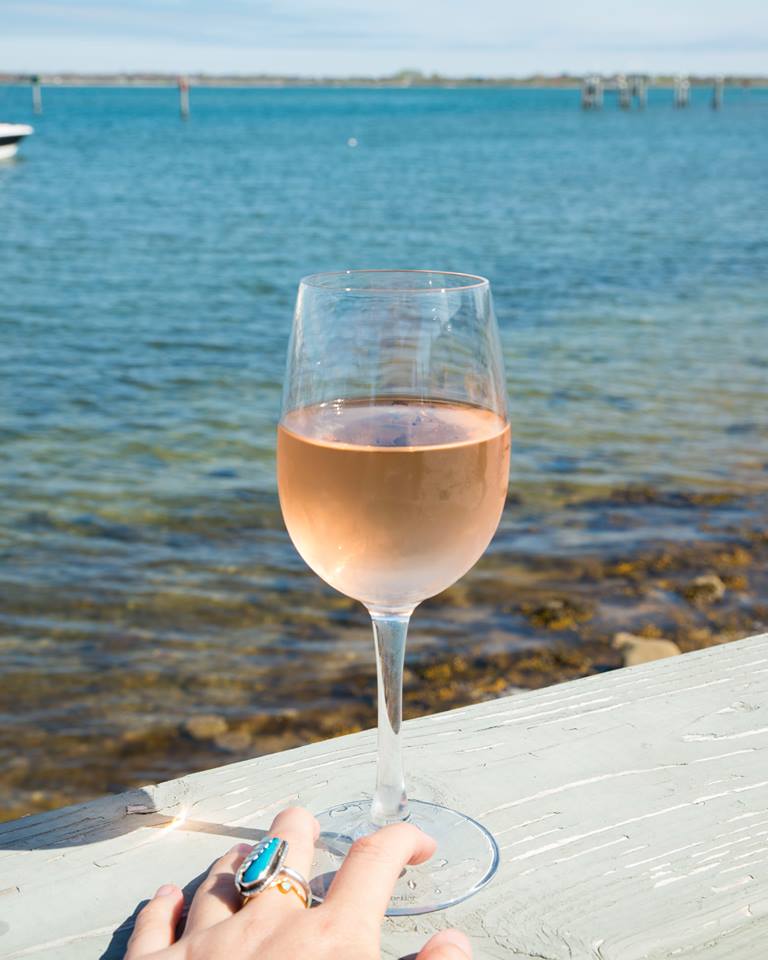 Gurney's Resorts | Montauk, NY + Newport, RI
Newly introduced this summer 2018, the Gurney's Kids Club is the perfect addition to the family vacation no matter the destination — from the iconic Hamptons institution Gurney's Montauk Seawater Spa & Resort to Goat Island at Gurney's Newport Resort & Marina and back to Montauk for the property's third and newest brand expansion, Gurney's Yacht Club. The fun-filled programming allows the younger guests to make new friends and enjoy a range of activities in the destination, while parents get a chance to unwind and relax. Led by teachers and CPR-certified counselors, Gurney's youngsters can learn about the local environments, play games and work on creative projects to take home with them at the end of the trip – the perfect handmade vacation souvenir. All kids' programming is complimentary to overnight Gurney's guests at each of the three locations. Situated on Montauk's most pristine stretch of oceanfront real estate, the flagship property Gurney's Montauk Resort & Seawater Spa is a Hampton's institution and the only four-season resort on Montauk, providing guests with direct access to a 2,000 ft. private sand beach. Gurney's Newport debuted in 2017 with 257 renovated guestrooms, four restaurants, pools, spa, fitness center and the largest meeting and event space in the region. And last but not least in 2018, Gurney's acquired The Montauk Yacht Club, expanding its footprint in the Hamptons, now known as Gurney's Montauk Yacht Club & Resort. Under ownership led by George Filopoulos and Lloyd Goldman, the multi-phased updates to each of the properties have led them to be market leaders and year-round destinations for families and children of all ages.
Four Seasons Resort Lanai | Lanai City, Hawaii
Disconnect in paradise and reconnect with family at the luxurious Four Seasons Resort Lanai. Offering one-of-a-kind experiences across the island's diverse topography, families can embark on epic activities from hiking to snorkeling in a marine sanctuary teeming with colorful fish. The Island Adventure Center is the perfect home base for adults and children to enjoy a range of activities. For those looking for a sky-high adventure, learn to fly and perform basic maneuvers with the Maui Flight Academy, or embark on a helicopter tour for an aerial understanding of the island's history, culture and beauty. Guests can also choose from horseback riding and adrenaline-filled UTV adventures in the green upcountry lands, or go off-roading across red dirt roads, colored from volcanic rock. Play a few rounds and enjoy ocean views on every hole of the Jack Nicklaus Signature Manele Golf Course, or jump in a 4×4 and head to Hulopoe Beach for an afternoon of sunbathing and swimming in secluded bliss.
The resort also has their signature Kids For All Seasons Program for children ages 5-12. The program is complimentary and includes fun activities for children to participate in – from exploring the tide pools to art classes to cultural activities to learn more about the island of Lanai and the Hawaiian culture, while mom and dad indulge in a relaxing treatment at Hawanawana Spa.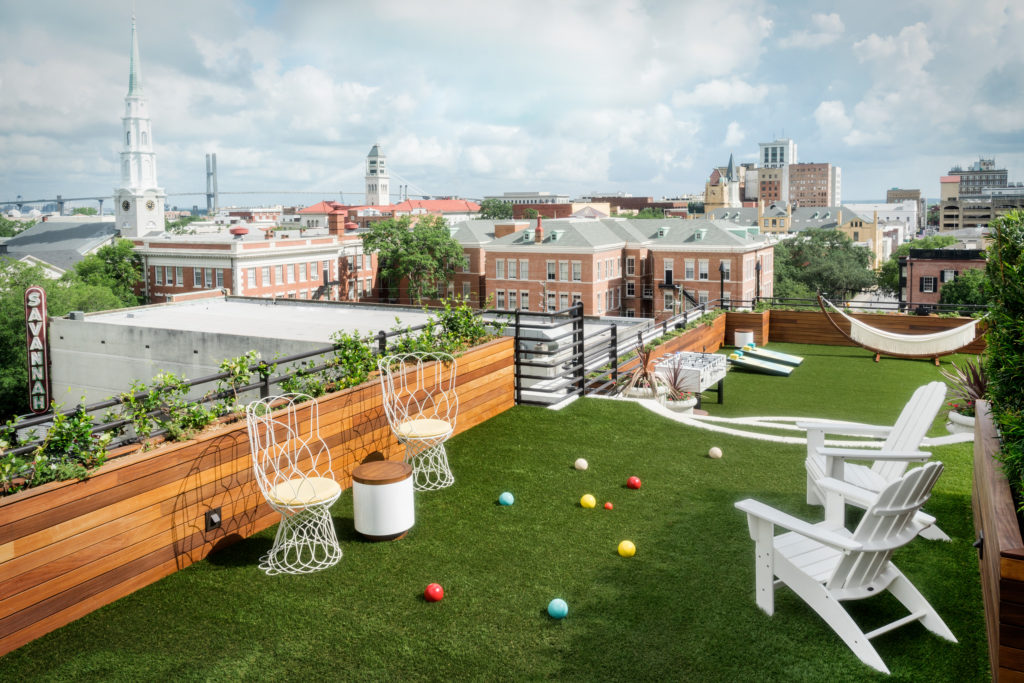 Perry Lane Hotel | Savannah, GA
This summer, families can escape to the up and coming destination of Savannah, Georgia to unwind and relax at the recently opened Perry Lane Hotel. Perfect for families, Perry Lane Hotel offers many amenities ideal for children looking for a fun summer vacation, including a rooftop pool to dive into to cool off from the Southern heat, while parents can sip on a hand-crafted premium cocktail from Peregrin Rooftop Bar. Families can also indulge in a friendly competition with the multiple yard games available on the rooftop, such as cornhole and bocce ball, or take a visit to the hotel's fun-filled arcade. After a long day of fun, families can sit together to enjoy a delicious meal in the hotel's restaurant, Emporium Kitchen + Wine Market, where kids can order a hot plate of house-made spaghetti or a decadent grilled cheese, as parents delight in Blue Hill Bay Mussels and Frites, Wood-Grilled Spring Trout, or BBQ Wagyu Brisket dish.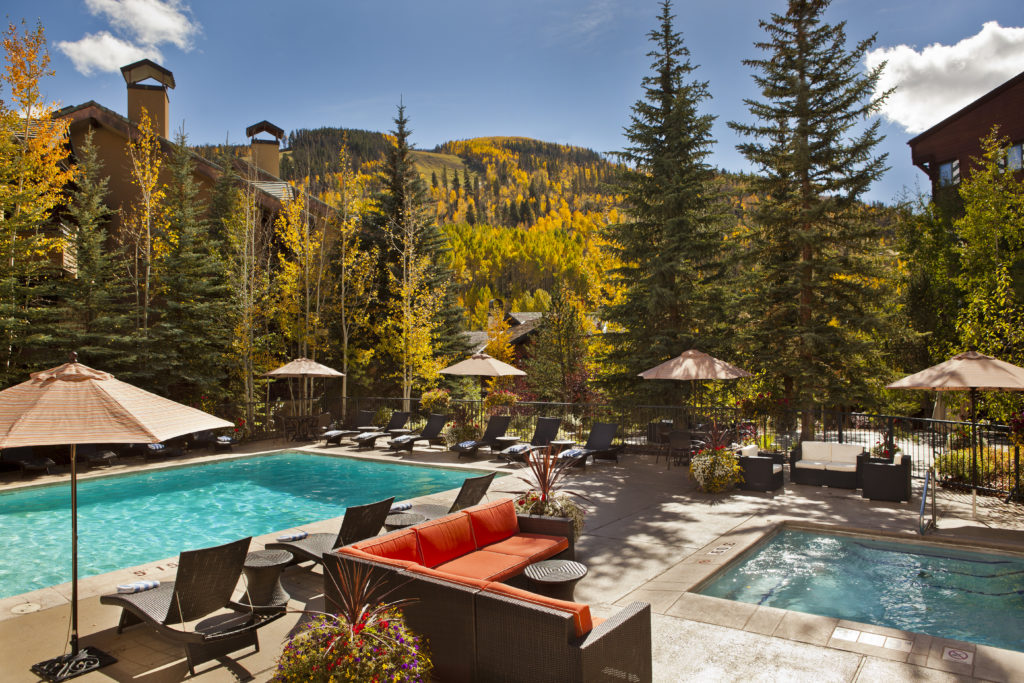 Vail Marriott Mountain Resort – Vail, CO
Check-in to the endless beauty of Vail Marriott Mountain Resort for a memorable family vacation in the Rocky Mountains in the four-bedroom penthouse suite that boasts top-tier finishings, appliances, decor and cozy media rooms. In addition, the open-air private rooftop deck has a putting tee, indoor/outdoor hot tub and grilling space. Ideally located at the base of Vail Mountain, just steps from the Eagle Bahn Gondola, families can enjoy countless activities together from biking to taking a Scenic Gondola Ride up to Colorado's highest mountain point, or exploring the cobblestone streets of Lionshead and Vail Village, offering hundreds of shops, boutiques and art galleries. With renovations underway, the resort is launching its NEW Mountain Mindfulness program this summer season from August 18-29, 2018. Tapping into the wellness trend, families can choose from different wellness activities that connect to the destination, such as outdoor spin classes (facing beautiful Vail mountain), meditation classes (breathing in the fresh mountain air), mountain top yoga, guided hikes, etc. Additionally, families who participate in Mountain Mindfulness will receive a Vail Marriott yoga mat, Fitbit and water bottle (take away gift), daily homemade kombucha bar and pre-loaded tablet with in-room workouts, foam rollers or exercise bands by request.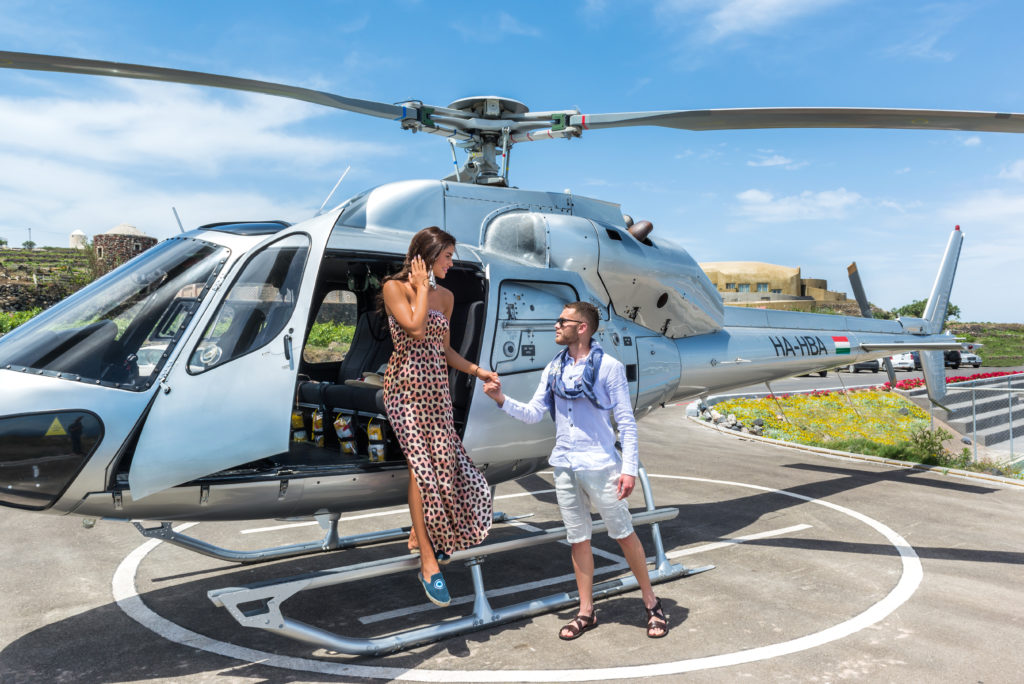 Andronis Concept Wellness Resort | Santorini, Greece
Andronis Concept Wellness Resort— the most recent addition to the collection of six boutique family-run properties across Greece— is bringing a new meaning to the integration of wellness and family-fun. Located in the country's most photographed island, Santorini the resort features plenty of family-friendly programing including a Daily Catamaran Sail where the entire family can enjoy a full day on the water. The well-equipped catamaran will stop at all major sights including the rejuvenating Hot Springs. The stand-out resort also offers Cooking Classes where both children and adults are able to experience the secrets of Greek cuisine and prepare a unique meal under the guidance of Throubi Restaurant's executive chef. Additionally, as parents unwind at the luxury Kallos Spa, the kids can enjoy an authentic Greek movie at the Cave Cinema.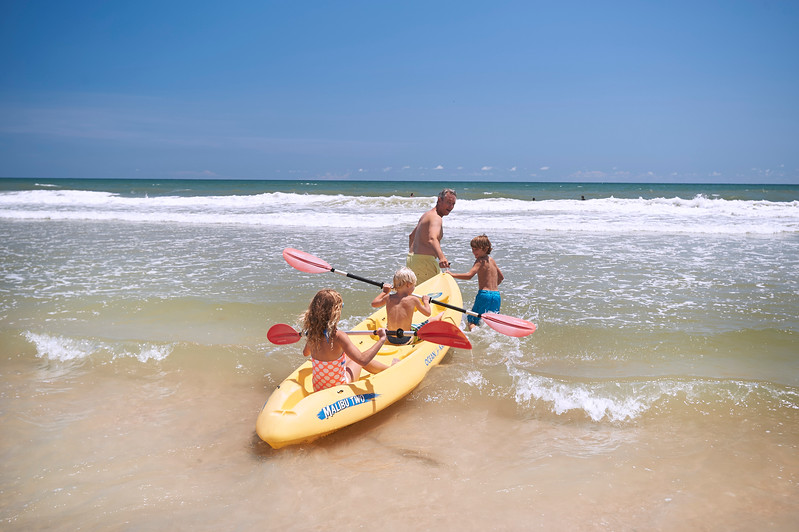 Ponte Vedra Inn & Club | Ponte Vedra Beach, FL
Ponte Vedra Inn & Club is located on sprawling North Florida beachfront, boasting picturesque views of the North Atlantic. Prized as one of the most family-friendly properties, guests can enjoy a range of activities fit for all-age groups both at the resort and through the destination. From daily recreational activities and weekly events such as kid golf clinics and yoga workshops, to dive-in pool parties and zoo outings, the amenities are endless. The entire family has access to bike rides along the coast, sunset pony rides and cooking classes geared toward the tiny toques (where kids make and serve dinner to their parents for a change!). On-site tennis and beach rentals such as kayaks and paddleboards are also available for guests. The family resort features a daily summer camp program (May 30 – August 4) that offers a different theme each week. Themes include food network's foodies, ESPN wins, Travelocity and animal planet, to name a few. 

the ART, a hotel | Denver, Colorado
Located in the heart of Denver's vibrant cultural scene, the ART, a hotel is the perfect family destination that offers a multi-sensory experience. Walking distance from many of Denver's top museums, including the Denver Art Museum that offers free admission for children under 18, families can explore the cultural hub filled with imaginative happenings from the centrally located hotel. Alternatively, families can spend the day exploring the hotel's in-house art collection of more than 50 captivating pieces of contemporary art. For an active twist, adults and kids can ride through Denver's Cultural District in style with custom-designed bikes, each painted by local student artists from Denver's Rocky Mountain College of Art & Design. These artistic bicycles are available for guests to check out for day to pedal through the city for an urban ART Ride. Or, enjoy Denver's warm weather with a nice ART Run/Walk, an urban public run with a curated map, guiding them through all of downtown Denver's best public art pieces.Families can cap off the night with a delightful dinner with the view at the hotel's signature, elevated restaurant FIRE, before the little ones discover their very own "night at the museum"  with the property's complimentary TeePees which can be set up for the kids to play or sleep in.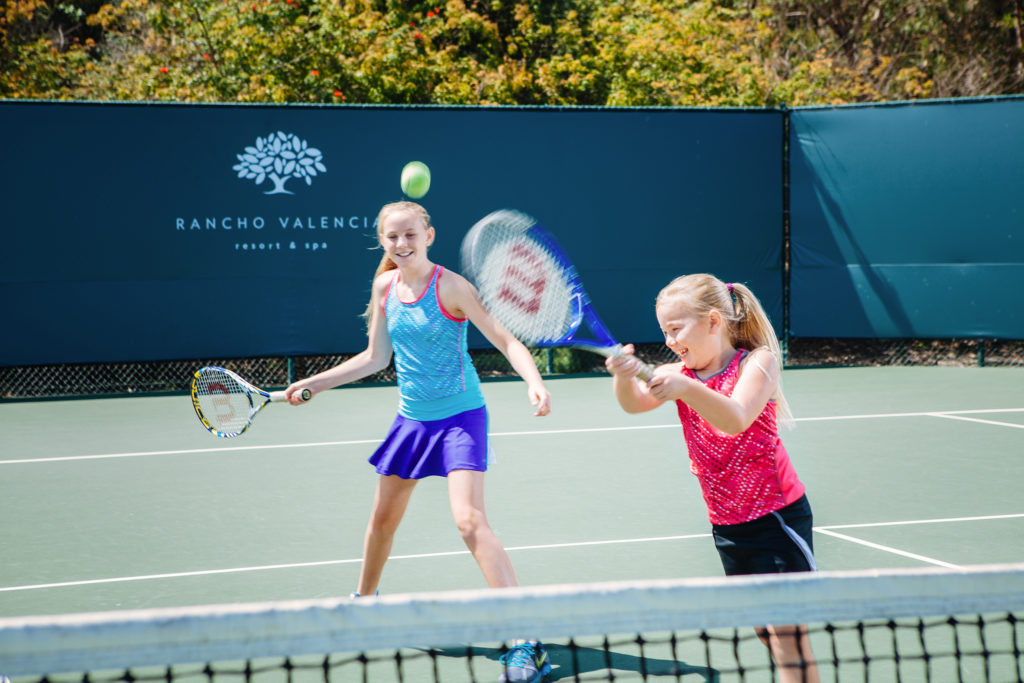 Rancho Valencia Resort & Spa | San Diego, Calif.
Tucked away among 45 lush acres of gardens, trails, olive groves, casitas and more, Rancho Valencia is located 90 miles south of Los Angeles, 30 minutes north of downtown San Diego and a short drive from the warm and sunny beaches of Del Mar and La Jolla. The Mediterranean inspired, all-suite property is the perfect place to unplug and unwind with family and loved ones. The year-round destination resort offers a variety of activities including badminton, bocce ball, croquet, basketball, paddleball, ping pong and complimentary Pinarello bicycles in addition to an award-winning tennis program.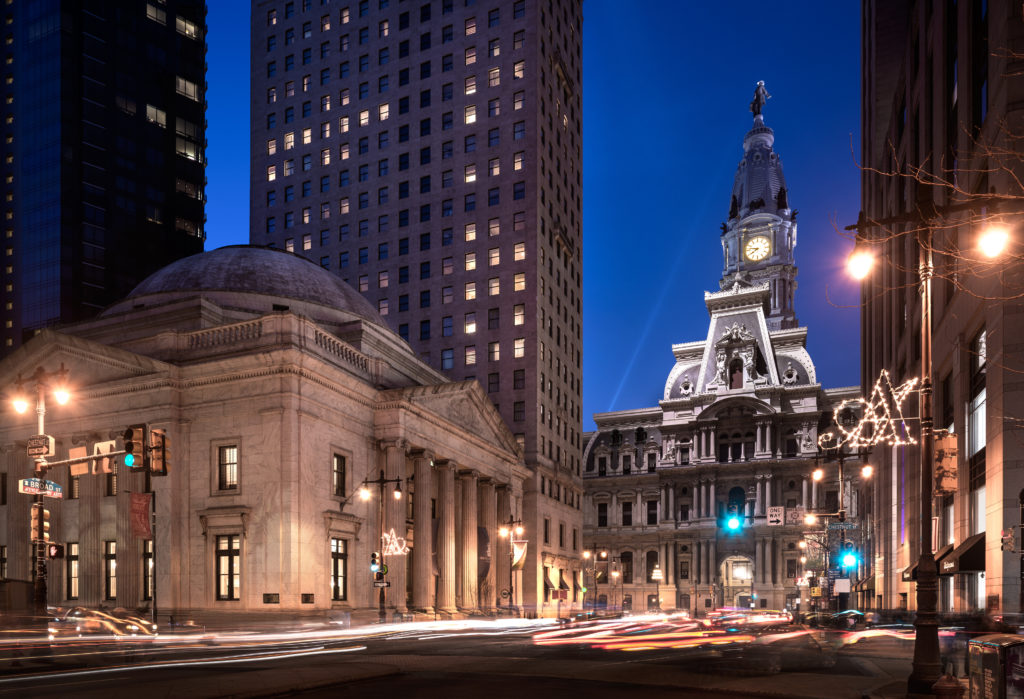 The Ritz-Carlton, Philadelphia I Philadelphia, PA
In The City of Brotherly Love, families that stay at The Ritz-Carlton, Philadelphia can enjoy the new VIK (Very Important Kid) package and enjoy a standout indoor camp full of fun. Upon arrival, campers are treated to an indoor tent complete with luxe amenities, like Ritz-Carlton linens and feather beds, as well as a special camp light, a Ritz-Carlton Teddy bear, an activity book and crayons, and a Peanut Chews/sweet treat kit. The hotel also offers tours of the historical building (built in 1908 as the Girard Trust Bank and designed to replicate the Pantheon in Rome, making it once the largest dome in the Western Hemisphere) with the in-house "historian" highlighting the historic elements / artifacts in the hotel for families who request the experience. Kids are given a scavenger hunt to find historical artifacts throughout the hotel, and once completed the child will receive a prize, which is a free in-room movie and popcorn.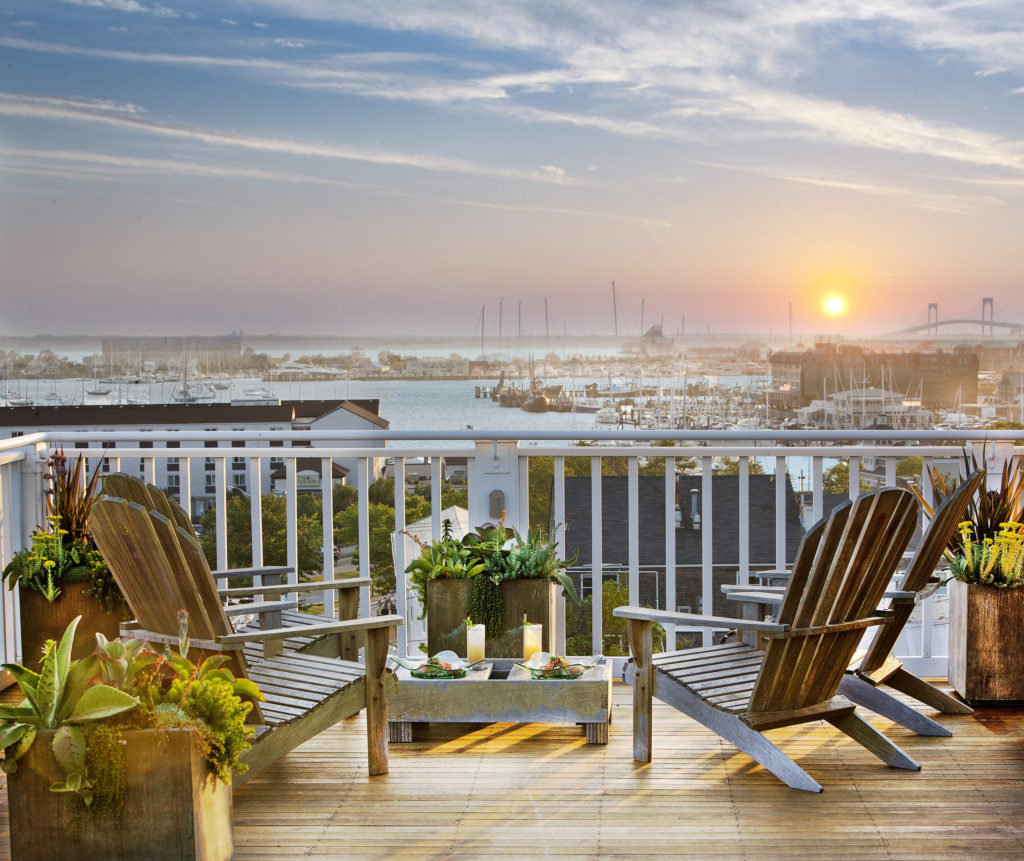 Grace Vanderbilt I Newport, RI
Grace Vanderbilt, a member of the exclusive Grace Hotels collection, boasts spacious family-sized suites and adjoining rooms, and an unbeatable location that is walking distance from Newport's downtown area with must-see attractions, shops, and the waterfront. The property's brand new Executive Chef Anthony Theocaropoulos has created special children's menus (as well as delectable Mediterranean forward menus for the adults!) along with a bedtime snack cart that's rolled to the rooms for the kids to choose from cookies, popcorn, fruit, and cereal. There are also tons of activities to do around Newport including The Breakers mansion kids tour and tennis lessons at the International Tennis Hall of Fame.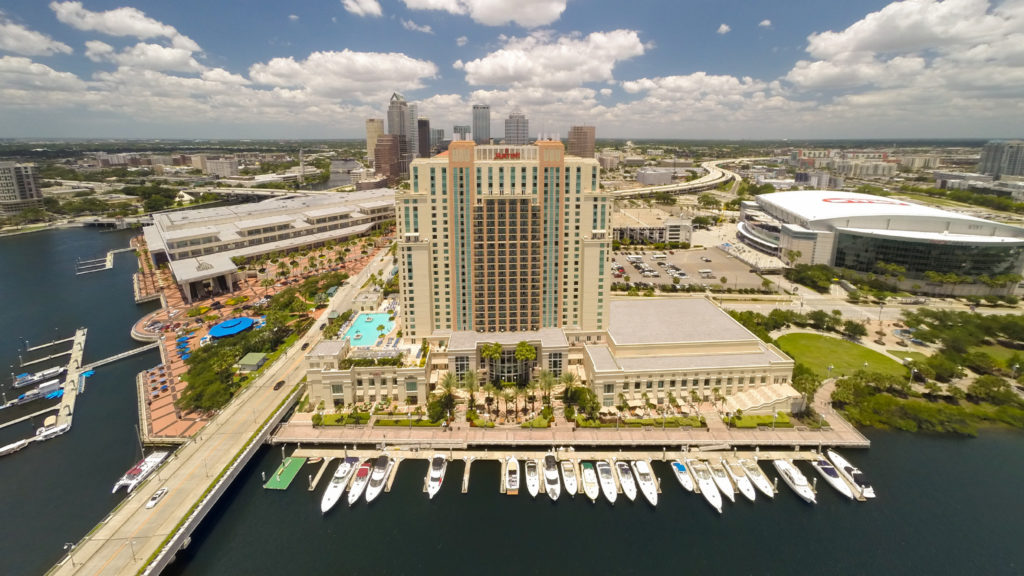 Tampa Marriott Waterside Hotel & Marina I Tampa, FL
Located on this scenic waterfront of Tampa Bay and just steps away from some of these coveted Tampa attractions, the premiere accommodations at the Tampa Marriott Waterside Hotel & Marina provides families with a home away from home, offering a comfortable atmosphere and an unbeatable location. To assist in providing endless family fun, the hotel brings a variety of seasonal programming on-site, specifically tailored for family members of all ages. Select days throughout the week will feature live music events, poolside cookouts, craft beer tastings, and kids crafts, not to mention, the hotel has ample poolside space to soak up the Florida sun. Instead of Disney World, guests and their kids can go to Busch Gardens instead and do other fun activities such as water sports and hanging out along the fun and bustling Riverwalk.

Chewton Glen I Hampshire, UK
A five-star luxury country house hotel located on the edge of the ancient New Forest in Hampshire, Chewton Glen is a top family destination and just a few minutes from the sea. The award-winning hotel is known for its family-friendly facilities and activities including tennis, croquet, mountain biking, archery, falconry, duck herding, outdoor swimming, beach walks and woodland trails. Here, kids stay free throughout the school holidays and have their own Busy Bee's Children's Club, offering complimentary supervised fun in the morning and afternoons so parents can relax in the spa and explore the hotel's lavish facilities. The kid's club offers everything from painting and puzzles to train-sets and story-time. Of course there's also The Kitchen, Chewton Glen's restaurant and state of the art cooking school, that offers children cooking classes from the art of Tortellini & Truffles, the origins of Japanese sushi, and more (classes from £45). Aimed at ages 8-17, the cookery school also teaches children how fruit and vegetables are grown sustainably in the hotel's gardens! One of the top family-friendly destinations in the UK, Chewton Glen's home to their famous Treehouse Suites including The Yews, new and made for family travel, which can sleep up to 14 people!  
The Ritz-Carlton, Amelia Island – Amelia Island, Florida
Nestled in the most North East corner of Florida, the quiet, charming city of Amelia Island is an ideal destination to travel with young children. Visitors and locals alike revel in the miles of palm-lined bike paths, quaint Southern charm and quiet, wide stretches of dune-bordered beaches. For the kids, a sample of programming and amenities include the Ritz Kids Center, storytime and tuck-ins with the resort's pirate and macaw, shark tooth hunts, stuffed animal making, and Courtyard S'mores with a Tour of the Night Sky with the Resident Astrologist. For the entire family, book the Indoor Pirate Campout Package, an add-on that starts at $125 and includes: Pirate-themed tent with porthole window; Double featherbed, Ritz-Carlton Signature Pillows, waffle blanket and Frette linens; How I Became a Pirate by Melina Long and David Shannon; Treasure Chest & Pirate Map; Battery powered camping lantern; Personalized welcome card; Plush animal. What's New: This summer bring the family to to The Ritz-Carlton, Amelia Island to build the ultimate sand castle with the Sand Castle Concierge or learn about the island's ecosystems with with the Naturalist. 
Mission Point | Mackinac Island, Mich.
Set on 18 acres of lakefront property where Lake Huron meets Lake Michigan, lies the seasonal Mission Point, which invites families to experience the timelessness and natural beauty of Mackinac Island beginning every May. With a ban on motor vehicles, Mackinac Island limits modes of transportation to horse-and-buggy, walking and biking on its traffic-free roads. While the island covers just 3.8 square miles in land area, more than 80% of that land is protected in a state park, making Mackinac Island and Mission Point the perfect getaway for a healthy, outdoorsy vacation with children. Mission Point offers bicycle rentals and will set up horseback riding lessons with Mackinac Horsemen's Association to explore the 70+ miles of hiking and biking trails. From kite flying workshops led by Mission Point's own kite master to the complimentary Kids Club or bedtime stories by Mac the Moose, Mission Point makes traveling with young children easy. The hotel's Mackinac Family Experience package is the best value for families looking to experience Mackinac Island, including a full menu of activities sure to create your most memorable family vacation yet. Rates start at $245.00 per adult.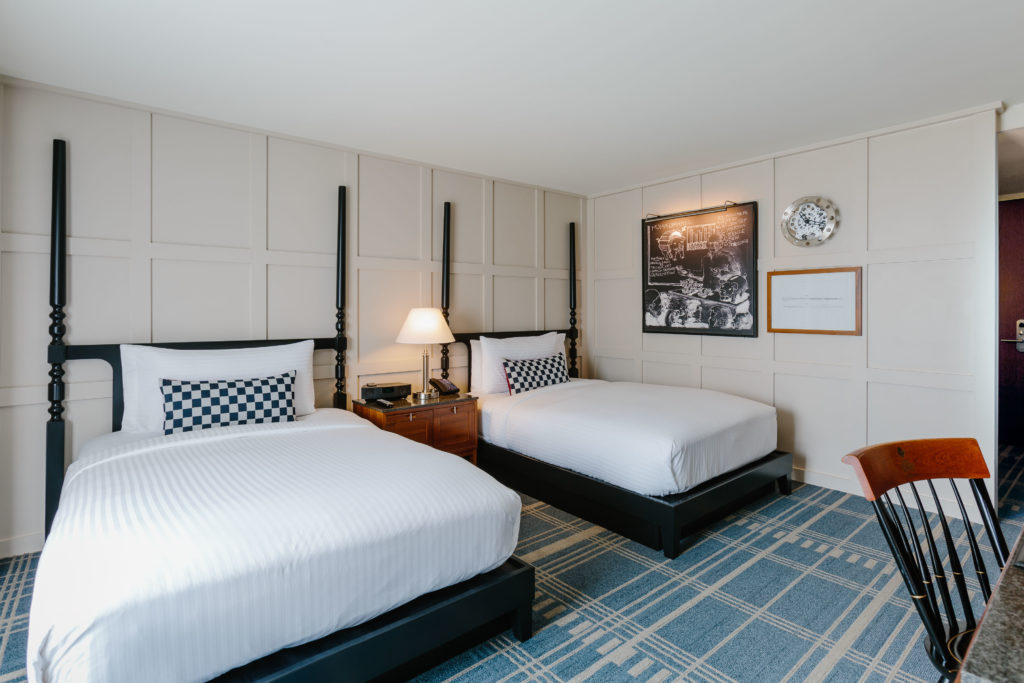 The Charles Hotel | Cambridge, MA  
The Charles Hotel is Boston's music destination this summer. Throughout July and August, Regattabar Kids' Summer Music Series can all be enjoyed by children of all ages. Bring the entire family and enjoy dinner at Henrietta's Table, followed by a kid-friendly jazz show at Cambridge's famous jazz club. Children will receive a free dessert in Henrietta's Table and tickets for the shows cost $12. Confirmed acts thus far include Mister G and Dan Zanes with Claudia Eliaza.