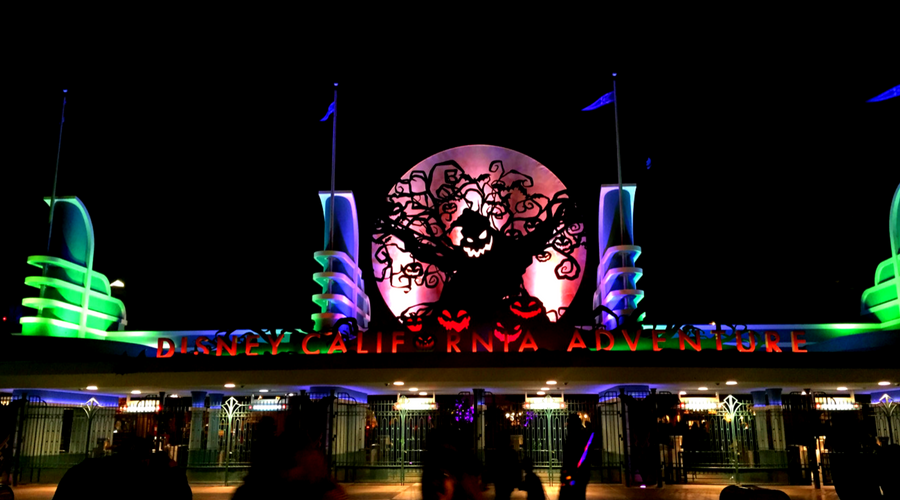 There is magic in the night when pumpkins glow by moonlight. Do you dare pass through while Oogie Boogie leers at you? The Disneyland Resort and California Adventure have been transformed into a spooky, yet frightfully fun attraction. Families can experience festive Halloween decorations, themed food, eerie merchandise, spine-chilling rides and more! Here is a guide showing you all the sights to see during Halloween time at California Adventure:
Buena Vista Street Decor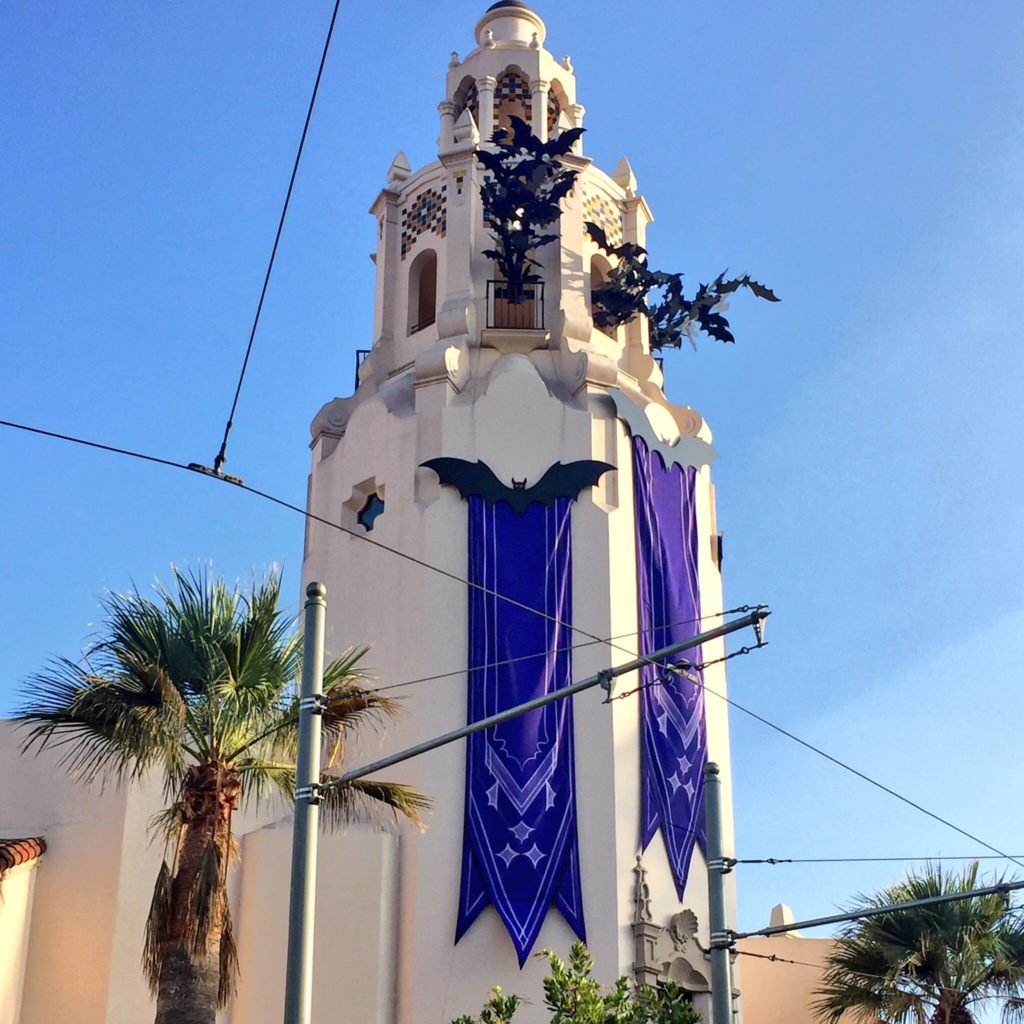 Be sure to look for the eerie bats circling the Cathay Circle theater. At dusk, listen for the bats fluttering right before the bells toll! The trees will be illuminated with a purple glow to signal the start of "witching hour". Do you recognize the music of Tim Burton and Danny Elfman?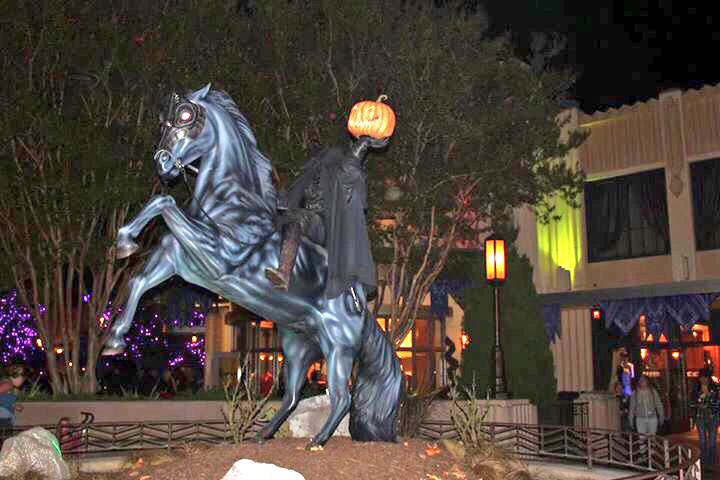 New this year is a 10-foot-tall statue of the headless horseman holding up his jack-o-lantern. The horse snorts and blows smoke out of his nose and the pumpkins eyes flash in the dark. While this is easy to photograph during the day we highly recommend you get a photo of it at night to capture the full effect.

A visit to Disney wouldn't be complete without a character meet and greet. Mickey and his friends will be roaming the area wearing their own special Halloween Costumes. Get ready for some hugs and high-fives! They might even do a boomerang for you if you ask!
Cars Land Haul-O-Ween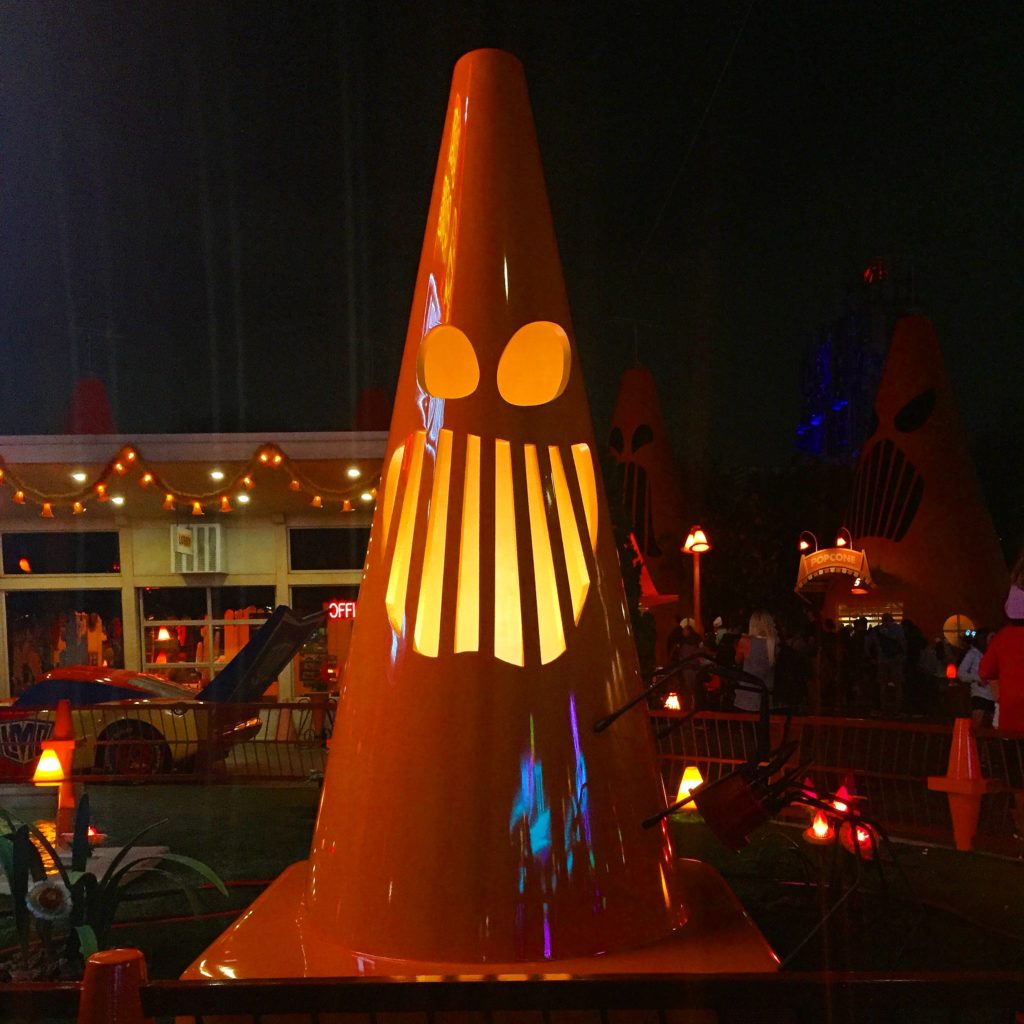 The town of Radiator Springs might not be recognizable anymore. There are giant gas can spiders, scary cones and spinning webs all throughout Cars Land. Radiator Screams sounds like a more fitting name.
Lightning McQueen and his pals are also partaking in the Halloween festivities. For the first time ever, Cars Land has turned into Haul-O-Ween! Guests will be in for a surprise when they see their favorite cars sporting their car-stumes as they greet you to go trunk-or-treating!
Things To Do:
Take a photo with Scary the scare car. (He's at the entrance of route 66)
See Filmore's Jack-oil-lanterns and ghostly folk art
Ride Mater's Graveyard JamBOOree (listen for new songs like "Monster Truck Smash" and "Welcome to "Radiator Screams")
Ride Luigi's Honkin Haul-O-Ween
Catch DJ's Dance and Drive –  The "ultimate party car".  DJ rolls on to Route 66 and blasts music, making multiple stops so that an accompanying dance troupe can teach dance moves to the crowd.
Look for the moving eyes in the courthouse
Take a photo of the candy display in the lobby of the Brake's (cozy cone) Motel.
Take a photo with the spider car. It is a repurposed Toadmobile from Mr. Toad's Wild Ride.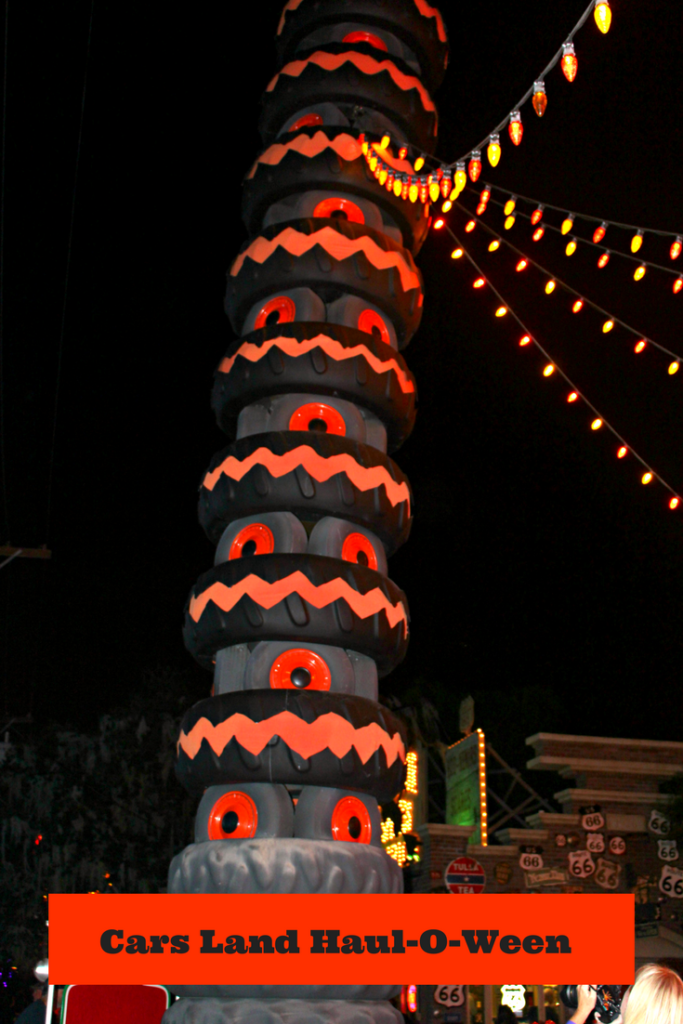 All eyes are on you. The leaning tower of tires is always watching!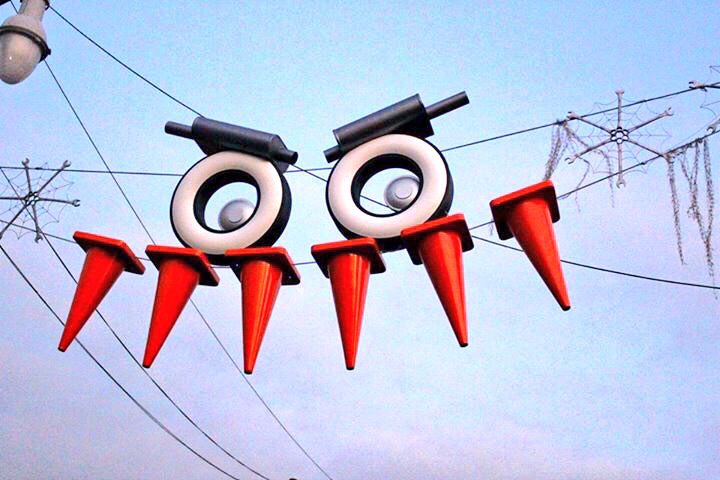 This has to be the cutest decoration in Cars Land! Two tires, 6 cones, 2 mufflers, 2 hubcaps and several wrench webs greet you at the entrance to Cars Land.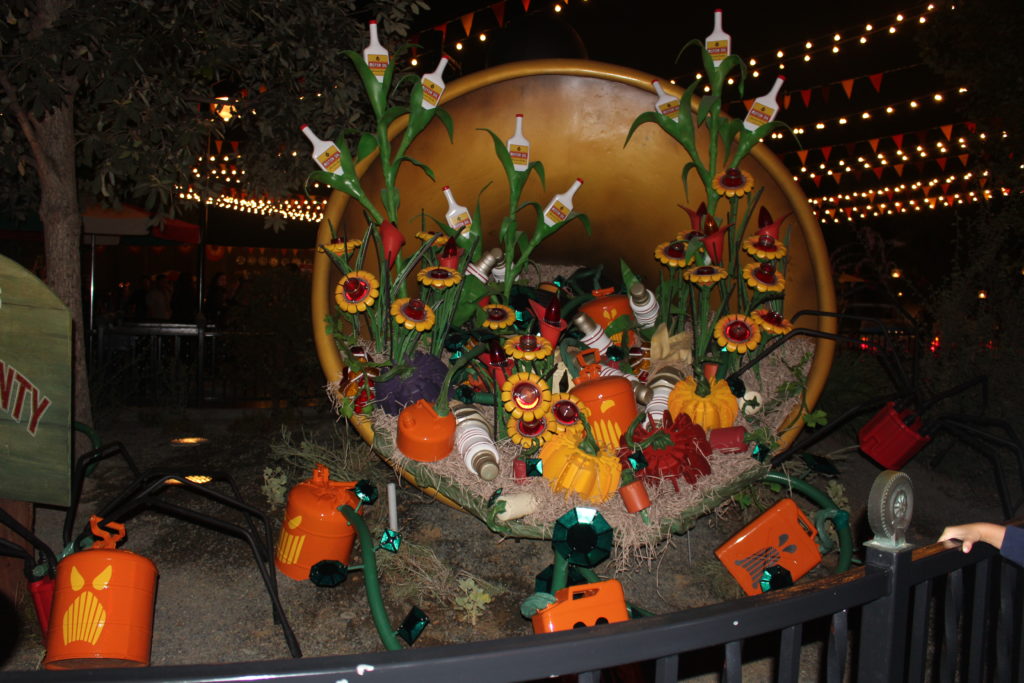 The horn-o-plenty was unearthed in 1936. Every year the residents bring it back to it's rightful home and adorn it with seasonal gifts. Can you spot the oil corn cobs? And the oil can pumpkins? There are also 30 car-achnids lurking around Radiator Screams.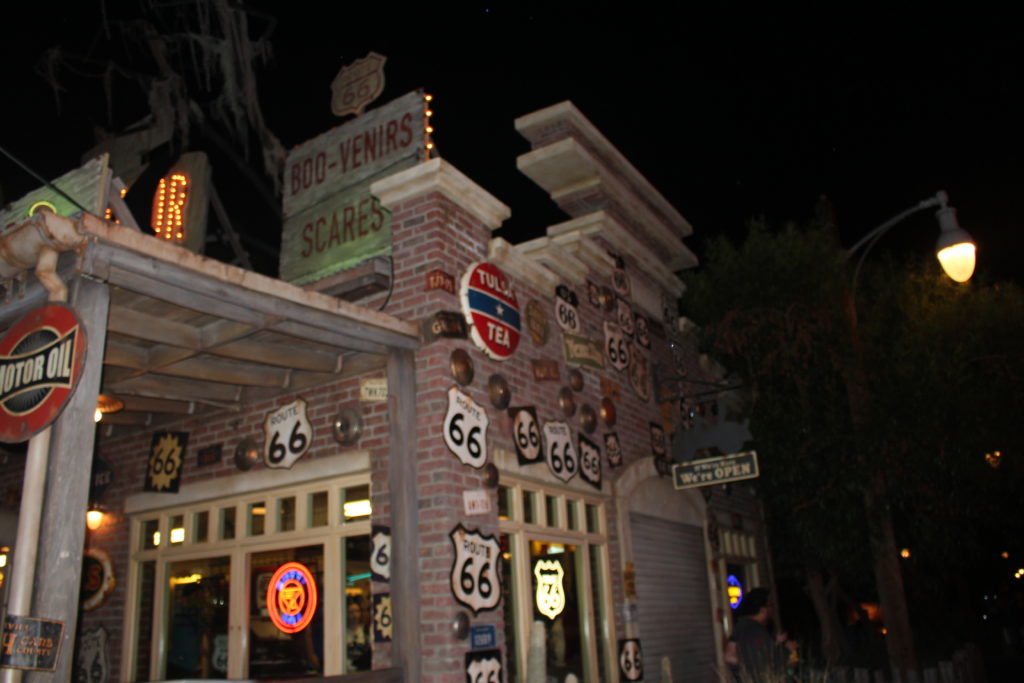 Don't leave without your boo-venirs! You can find them at the curio shop in Lizzie's Radiator Springs.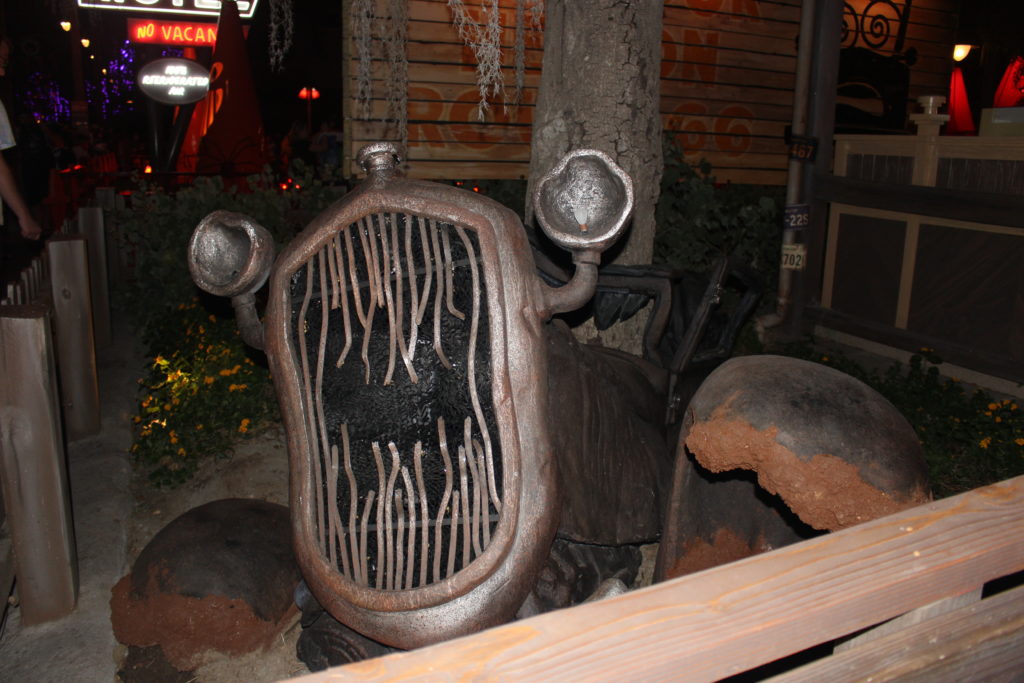 Witchy Miss Lizzy seems to have turned into a zombie. Her undead battery refuses to rust in peace. Look at the grill on that girl!
Guardians of the Galaxy – Monsters After Dark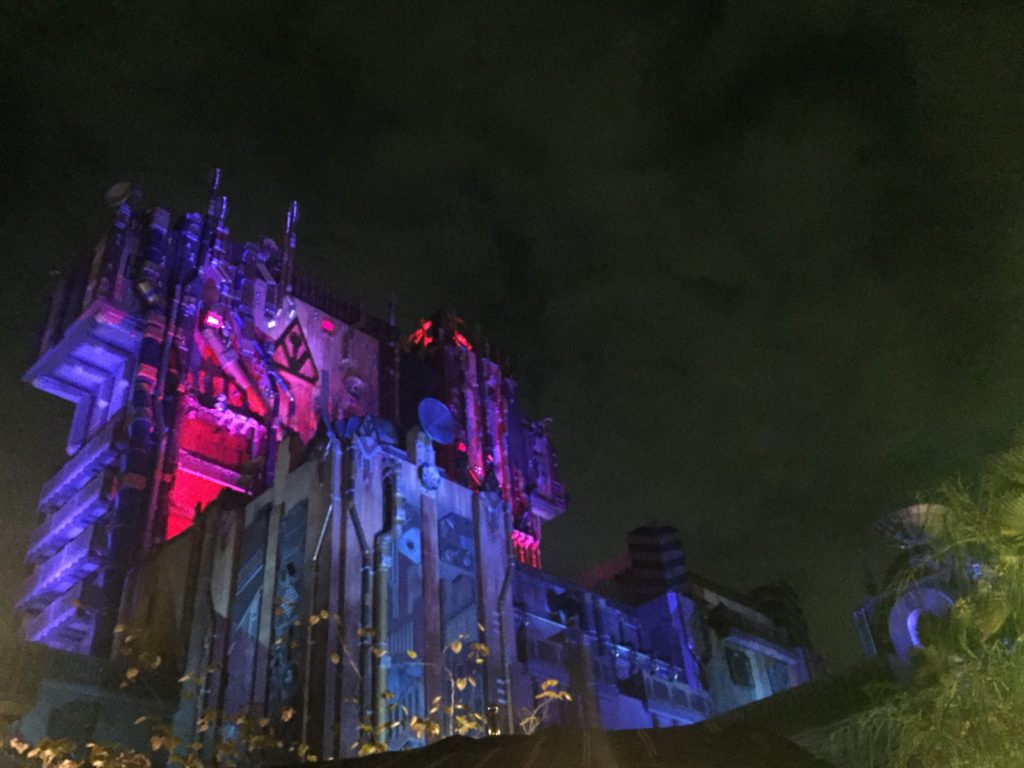 If you have ever ridden Guardians of the Galaxy, you already know how just how much of a blast it is. The drop sequence is anything but predictable and even though I was white-knuckled my first time, I loved it so much I decided to go on it a second time. During Halloween season the ride becomes Guardians of the Galaxy: Monsters After Dark. All new lighting on the exterior of the Collectors Fortress alert you that something inside has gone awry.
Things To Look/Listen For:
Look for artifacts from the Super Hero universe.
Listen for  the creepy sounds, flashing alarms and warning signs that the creatures have escaped
A new 1970 punk rock song called "Monsters after Dark will be playing. It was written by Tyler Bates, composer for the Guardian films.
Look for the best "Ragnarok"
Look for Rocket over head as he explains how he wants you to distract the monsters.
Halloween Themed Food/Drink