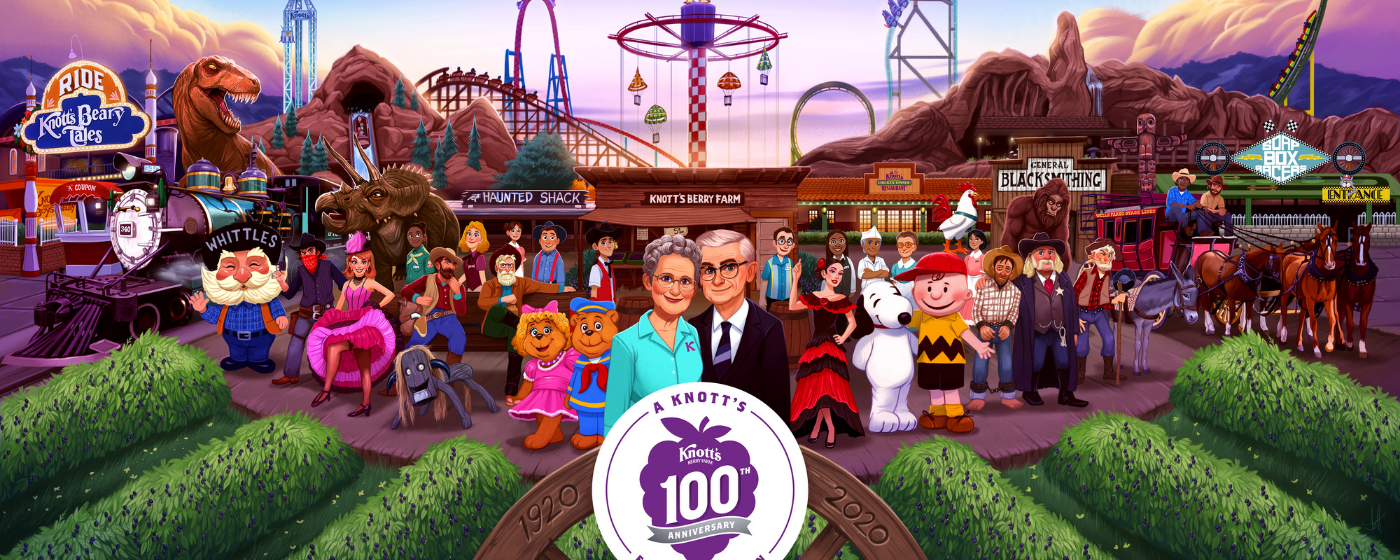 After 14 long months Knott's Berry Farm is back and better than ever!! Join the most wonderful family reunion as Knott's celebrates it's 100th Anniversary! This grand summer-long celebration is a tribute to the Knott Family's Rich History. It's a chance for friends and families to come together to relive their favorite Knott's remembrances while also creating unforgettable, exciting new memories. Guests will be immersed in a once-in-a-lifetime celebration featuring festive park décor, themed food items, unique entertainment, exclusive merchandise and special surprises along the way, all paying homage to the nostalgia that surrounds the historic theme park.
We attend the preview party and here is the opening ceremony! It was so fun to see all the celebrities that were including in the making of the video as well as hearing from Jon Storbeck (vice president and general manager of Knott's Berry Farm).
There is a lot packed into this anniversary event so we are sharing 10 things to know before you go as we believe it will help cut down on precious time and and allow you to feel more knowledgable about things through out the park.
Be Sure To Make Reservations

Make sure you have a reservations before you head to the park. No reservations, no entry.  (YOU NO LONGER NEED TO RESERVE TIMES, JUST NEED TO RESERVE A DAY). Until further notice, attendance is limited to California residents. Learn more about  park safety protocols and reservation requirements, and buy your tickets now. We have heard some chatter that if you show up on a weekday and it is slow at the park they could possibly try and accommodate you but there is no guarantees. Your reservations will show up in your Knott's app if you are using the e-mail address associated with the app when you signed up.
There is also a section where you can manage existing reservations. This is where you would cancel reservations and lookup which days you have reserved.
Tasting Card Price
In order to try all of the yummy foods from the different stands during Summer Nights you will have to purchase a tasting card. Tasting Cards are $45 and include 6 tastings per person.
2021 Summer Nights Tasting Card

We have personally tried jumbo chili cheese dog, the jerk shrimp and pineapple lettuce wraps, the kiwi watermelon agua fresca, the passion fruit macarons and the peach pound cake loaf. All are absolutely delicious and packed with flavor!!
Photo Ops
This is honestly one of my favorite things about the celebration. There are so many nostalgic photo ops throughout the park. It was like taking a trip down memory lane. Don't forget about the Haunted shack!!!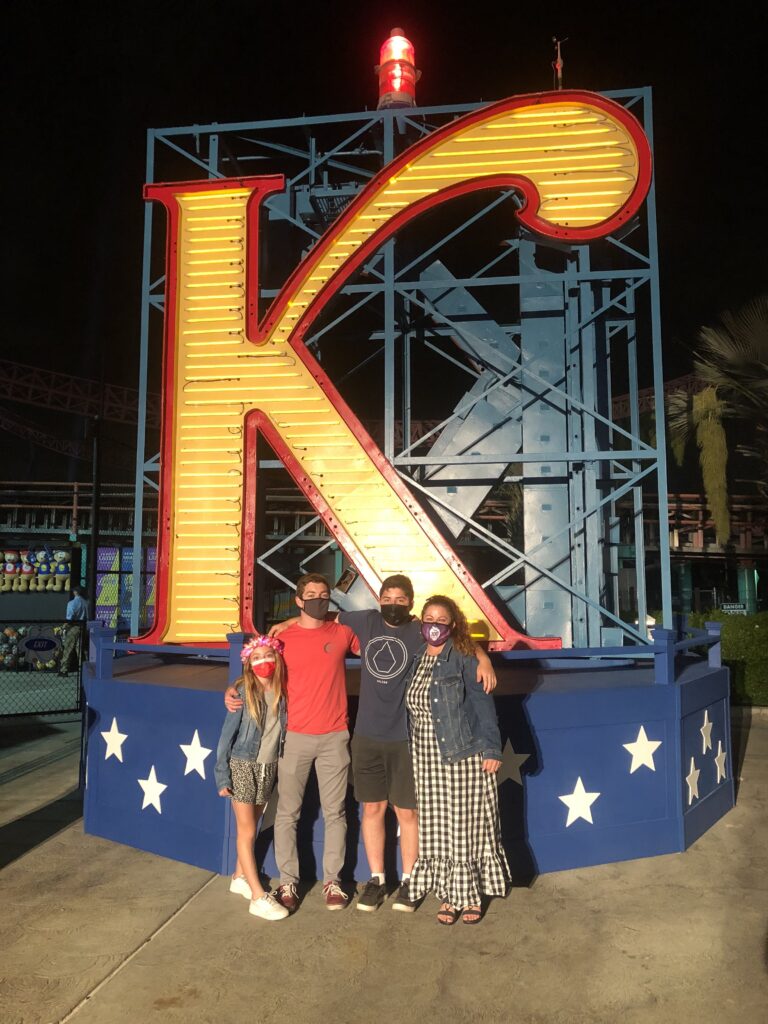 There is the the old K (it was replaced with a new and improved one). This is located directly in front of the boardwalk games and Xcelerator.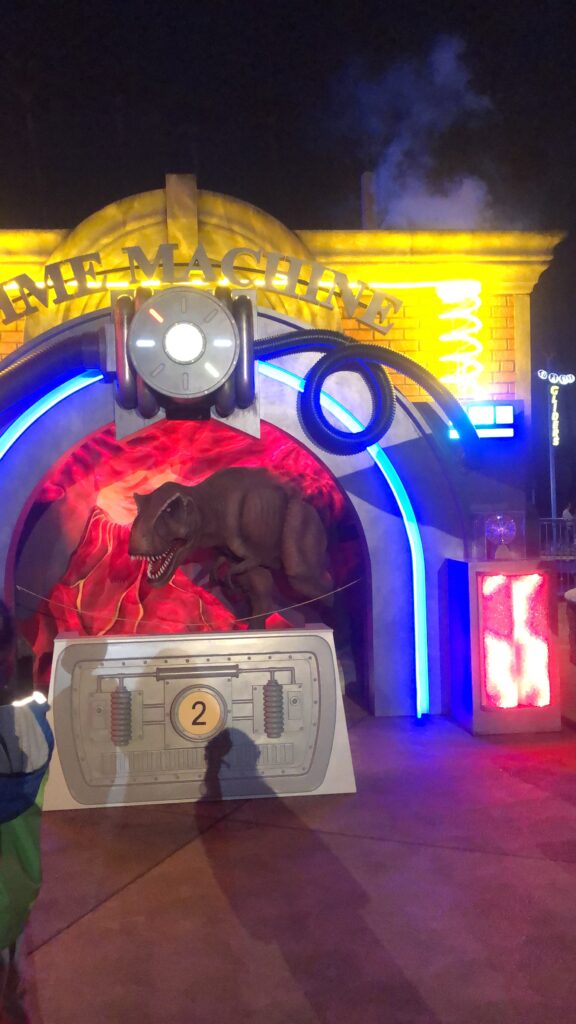 Kingdom of the Dinosaurs replica. This is located on the boardwalk near the scrambler.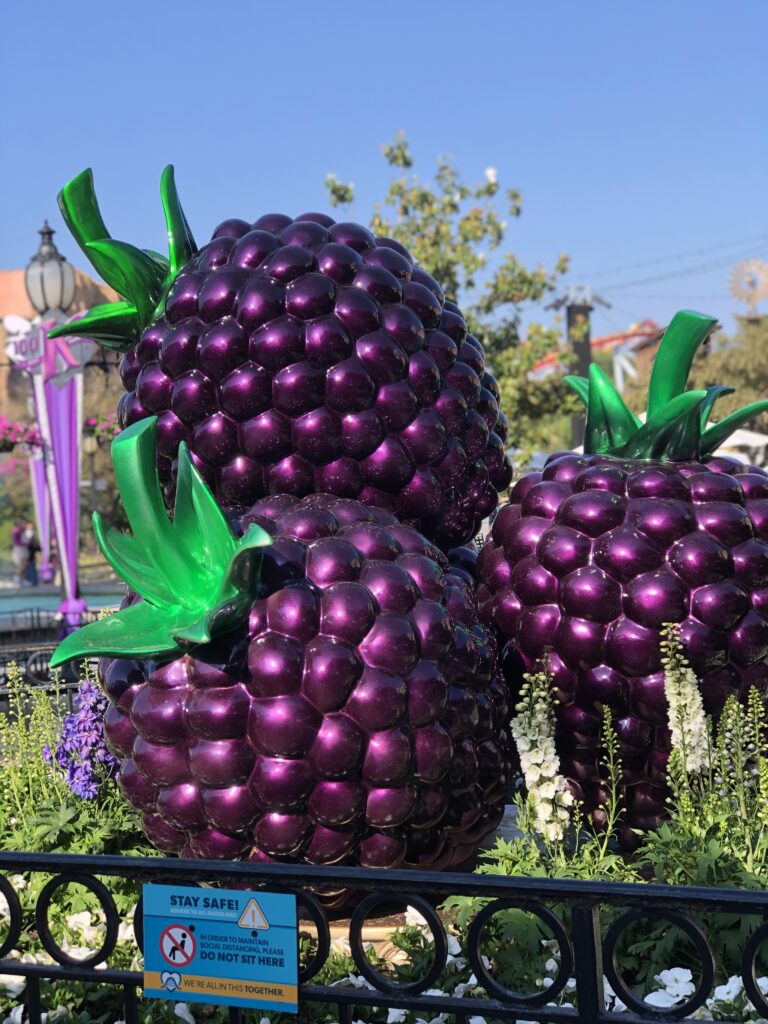 Giant Boysenberries. These are located near Johnny Rockets on the boardwalk.
Picture with Moxie. She is located near the Knott's Berry Line Trolly garage.
The Party Planning Committee Crew
You absolutely do not want to miss any of these characters. They are all an absolute hoot! The park already has friendly employees year round, but during Ghost Town Alive and Knott's Summer Nights the park comes to life with interactive characters that want to be your best friend and will keep you smiling all day and night long! I recently attended a media preview of Knott's Summer Nights and I was delighted to meet a handful of the funniest people in Buena Park. Hysterically known as the block party planning committee this rowdy bunch will mingle all night with you, dance with you, play with you and basically keep you giggling through the night. Here are a few characters from the party planning committee that you need to meet:
Dunkin Disorderly – Duncan has to be my ultimate favorite. He is the MC and has more personality in his pinky finger than I have in my whole body! He wears a BYOB hat and a snazzy coat jacket, a gold bow tie, burgundy shorts and sock garters! He is classy as all heck!
Anita Drink – This is Ivanna drink's sister. She too loves to dress up in cheetah print with her red wine and large black sun glasses.
Rudi Mentary- Rudi is terrified of germs and wears hand sanitizer strapped to his body.
Boardwalk Games Information
Guest can grab a stamp card at participating locations on the boardwalk for a chance to win a Brutus a squishmallow. You play any 12 games (you can play the same game 12 times) and you will win Brutus just for playing. There is also a new whack-a-mole game featuring the coyotes from the Bear-y Tales ride.
Games start at $3 but most start at $6.
K Tower Lighting & Fireworks
New and unforgettable experiences await in honor of the park's 100 years of history and family fun for all! During the 100th Anniversary Celebration, guests will have the opportunity to enjoy a special nightly ceremony featuring multiple attractions lighting up the evening and culminating in a special moment with the redesigned illuminated K-tower. The K tower lighting occurs on nights when Summer Nights is happening! Check the entertainment schedule for confirmed times.
Try The Xcelerator Burger

Coaster Diner on the boardwalk has a $56 burger called the Xcelerator burger. It is a 12 inch burger stuffed with cheese, bacon and fries!  It's a perfect snack before Xcelerator The Ride! 
Just kidding…. But it is big enough to share for a family of 4 or more. 
Whittles Meet N 'Greet

Known for his tall tales, Whittles was first seen at Knott's Berry Farm in 1973. The legend returns home for the 100th Anniversary Celebration in a character meet & greet. If he's not panning for gold nearby, the jolly prospector looks forward to meeting new friends in Ghost Town!
Bumbleberry Pies
Bumbleberry pies are specialty boysenberry (created in honor of the Bear-y Tales Ride) and are available at Charleston Circle Coffee next to the candy store. They are mini pies and perfect for a family dessert!
Mrs. Knott's Chicken Dinner Food Offerings
Let's be honest with ourselves. Is a trip to Knott's berry Farm even successful without a trip to Mrs. Knott's Chicken Dinner Restaurant? I think not. And this year the famous fried chicken restaurant has gone all out with the addition of a new Bar menu, a new lunch menu, a new dinner menu AND a new Tea party Menu!!
Check out the new menu offerings here:
100th Bar Menu_Mrs. Knott's Chicken Dinner Restaurant-combined-compressed

For more information visit Knott's on Facebook and Instagram.
Soak City Info
To learn all about Soak City click the photo below.