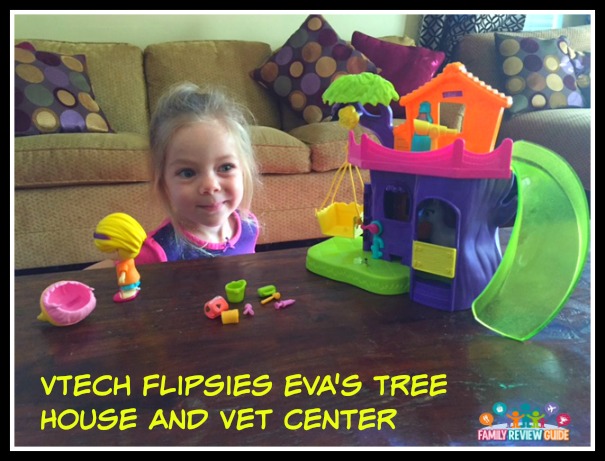 VTech has always been in my top selection of brands to choose from when picking out toys for my kids. All of their toys are very well made and I love how interactive they are.  I still have Vtech toys from when my son was a baby 13 years ago that my 4 year old daughter plays with.
Recently we received one of VTech's newest toys called "Flipsies". They are playsets that transform into different different scenarios. Each Flipsie has her own unique dream and personality that come to life through her playsets. These interchangeable toys empower girls to dream big and use their imaginations by magically transforming from their everyday life to their dream life.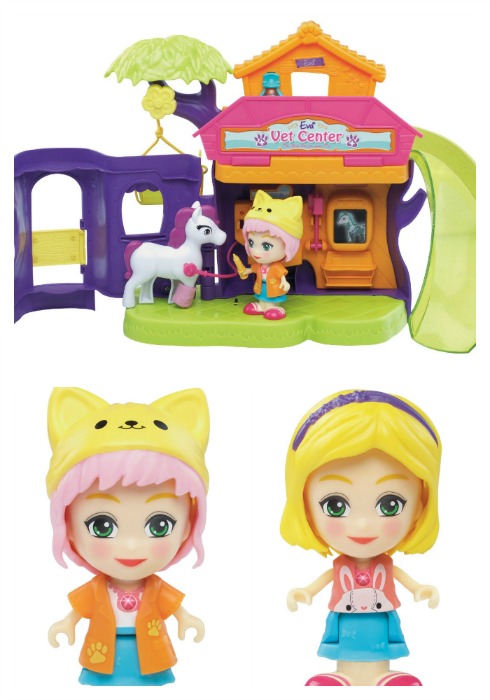 Our particular set is called Eva's Tree House and Vet Center and Eva comes with a variety of Features:
Flipsies Features
Flipsies Eva's Tree House and Vet Center is a 2-in-1 doll playset that transforms from a tree house where she can hang out with her friends to a vet center where she can take care of her pony Hazel and other animals
Place Eva on the two MagicPoint locations on the dollhouse playset or other MagicPoint locations on Flipsies dollhouse playsets (each sold separately), and she'll respond with playful phrases unique to her own personality
Eva magically gets to live out her dream of becoming a veterinarian through cute outfits, wigs and doll accessories that can be shared with all Flipsies (additional Flipsies sold separately)
2 MagicPoint locations trigger fun phrases; 11 fun doll accessories include wigs, clothes, a pony and more
Playset works with all Flipsies dolls, and Eva interacts with all Flipsies doll playsets (additional Flipsies and Flipsies playsets sold separately); let your dreams shine with Flipsies
Requires 3 LR44 batteries (batteries included for demo purposes only; new batteries recommended for regular use); intended for ages 4 to 9 years
Flipsies Video
How to Flip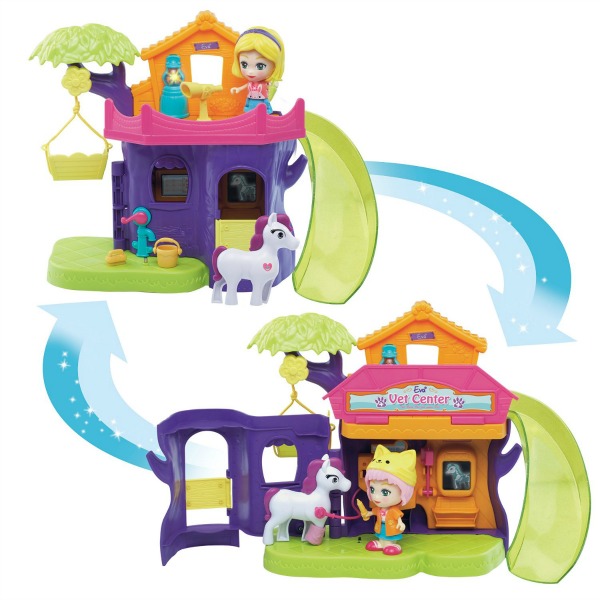 Just open the door and flip up the sign and you will magically transform your playset into a veterinarian office. Eva can put a bandage on her horses leg, or listen to its heart beat or feed it a carrot. She even has proper clothes to change into. This is a great toy for kids to use their imaginations with.
For more information visit Flipsies on Facebook.