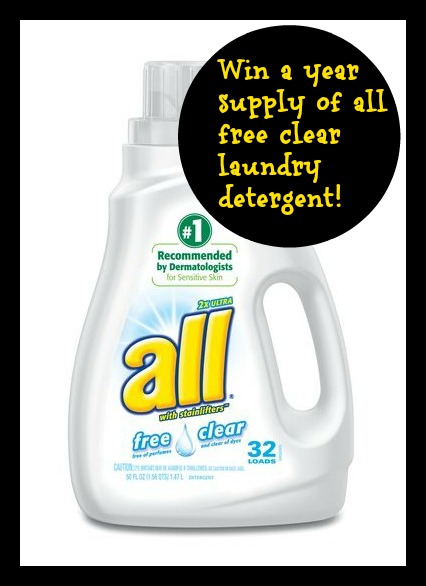 Enter the all free clear sweepstakes
Can you imagine not having to buy laundry detergent for a year? Especially if you have multiple children. All you have to do is upload a photo of your child's blanket. Don't forget to use the hashtag #withmyblanket.
NO PURCHASE NECESSARY TO ENTER OR WIN. A PURCHASE DOES NOT IMPROVE YOUR CHANCES OF WINNING.
Coupon for $1.00 off
However, if you do decide to purchase one of their products here is a coupon for $1.00 off
Sweepstakes may only be entered in or from the 50 United States and the District of Columbia and entries originating from any other jurisdiction are not eligible for entry.  This Sweepstakes is governed exclusively by the laws of the United States.  You are not authorized to participate in the Sweepstakes if you are not located within the 50 United States or the District of Columbia.
1. How to Enter.  During the Sweepstakes Period (defined below), upload a photo ("Photo") of your child's blanket via one of the following methods:
(i) Via Facebook: Log on to your Facebook account and upload your Photo with the hashtags #withmyblanket and #sweeps onto Sponsor's Facebook page, located at www.facebook.com/allfreeclear ("Sponsor's Pages").  You must have a Facebook account to enter via this method.  If you do not have a Facebook account, you can create one by visiting www.facebook.com.  Facebook accounts are free.
(ii) Via Twitter: Log onto your Twitter account and tweet your Photo with the hashtags #withmyblanket and #sweeps.  You must be an active holder of a non-private Twitter account (i.e., you must make sure your tweets are set to "public" and not "private"). If you do not have a Twitter account, you can create one by visiting www.twitter.com.  Twitter accounts are free.
If you choose to enter via Facebook or Twitter using your mobile device, standard data fees may apply.  You should consult your wireless service provider's pricing plan for details. You agree to incur any and all charges demanded by your wireless carrier. You should also check your device's features for capabilities and check the device manual for specific use instructions.
All entry information, tweets, captions, posts and Photos shall be collectively referred to herein as the "Submissions" or each as a "Submission."  Submissions must comply with the Guidelines and Restrictions defined below.
By entering, each entrant warrants and represents the following with respect to entrant's Submission: (a) entrant is the sole and exclusive owner of the Submission; (b) the Submission will not infringe on any rights of any third parties; (c) to the extent the Submission depicts any child/children, entrant is the parent or the legal guardian of the child/children depicted in the Submission and grants Sponsor the right to use the Submission in accordance with these Official Rules; and (d) any third parties appearing in the Submission have given entrant appropriate consent to be photographed and used as permitted herein. Sponsor reserves the right to request releases from any third parties appearing in any Submissions at any time.  Failure to produce third party releases upon Sponsor's request may result in disqualification, as determined by Sponsor is its sole and absolute discretion.
 Five winners will each receive a year supply of all Free Clear Laundry Detergent.   
Information you should know

You must share your
"blanket creations" before 

July 26th

 on the all Free Clear Facebook page with the hashtag #withmyblanket & #sweeps or on Twitter by uploading the image and using the hashtag #withmyblanket & #sweeps.