If you are a family that has lived in Orange County for many years, chances are you have probably been to all of the kid friendly and age appropriate family outings nearby.  So when something big like Cirque du Soleil comes to town its 100% OK to get very excited. Cirque du Soleil shows are packed with mind boggling acrobatics, awesome music and spectacular stunts.
This year, Cirque du Soleil returns to Los Angeles and Orange County with VOLTA, a captivating voyage of discovery! Inspired in part by the adventurous spirit that fuels the culture of street sports, VOLTA explores the themes of celebrating differences and unique qualities in a world where technology often isolates people from one another rather than freeing them.
Written and directed by Bastien Alexandre, with Jean Guibert as the director of creation, VOLTA weaves acrobatics in a visually striking world driven by a stirring melodic score, composed by Anthony Gonzalez from the international electronic group M83. VOLTA will perform under the Big Top at Dodger Stadium in Los Angeles January 18—March 8, 2020 and at the OC Fair and Event Center in Costa Mesa March 18–April 19, 2020.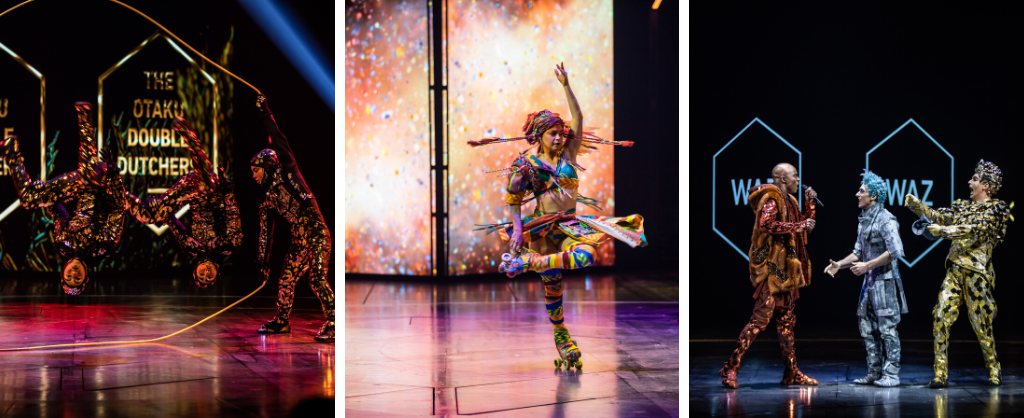 The San Francisco Chronicle gave VOLTA its highest rating: "A supercharged VOLTA soars!"  The San Francisco Examiner said, "Truly mindblowing … it's worth the price of admission."   Chris Jones in the Chicago Tribune wrote, "VOLTA is thrilling because of the acts.  Period. They're all totally fabulous."
Catey Sullivan in the Chicago Sun Times said, "VOLTA is one of the best Cirque shows in their repertoire.  A visually arresting extravaganza … a vivid reminder of the world's impossible beauty."
Volta Tickets
Tickets are now on sale by visiting cirquedusoleil.com/volta or calling 1-877-9CIRQUE (1-877-924-7783). Discover our Hennessy Black VIP Experience package, which includes a cocktail reception with open bar and hors d'oeuvres inspired by the show, access to the best seats for greater comfort, complimentary parking and more!
The show
Energetic, urban and contemporary, VOLTA is a captivating voyage of discovery that showcases never-before-seen under the Big Top acrobatics in a visually striking world. Driven by a stirring melodic score and inspired in part by the adventurous spirit that fuels the culture of street sports, VOLTA is a story of transformation. It is about being true to oneself, fulfilling one's true potential, and recognizing one's own power to make it possible. Ultimate freedom comes with self-acceptance, and with the liberation of the judgement of others.
The name VOLTA refers to a sudden about-face, a change in emotion or idea often used in poetry. It also speaks to the jolt of energy delivered through the show.
BMX & Street Sports
The creators of VOLTA drew inspiration from the spirit of adventure that pervades the world of BMX, street sports and acrobatics. Whether they are on a bike, hopping from rooftop to rooftop, or double dutch rope skipping, urban sports enthusiasts constantly challenge themselves and defy convention.
Sure to be a California crowd pleaser, VOLTA features a full-blown BMX park mounted on stage in front of the audience's very eyes for the breathtaking BMX finale as riders invade the stage to deliver a jaw-dropping, fast and furious performance of nonstop acrobatics on wheels. The riders go up the jump boxes and perform air tricks before landing and leaping off the ramps again, crisscrossing and spinning their bikes in midair in a spirit of brotherhood.
VOLTA Discount Code
USE CODE OC30 FOR 30% OFF SELECT TICKETS!
*Subject to availability for select performances through April 4, 2020 only. Not valid on previously purchased tickets. Restrictions and fees apply. Cannot be combined with other offers.
Win a family 4-pack of tickets to VOLTA

One lucky winner will win a family 4-pack of tickets to VOLTA on Wednesday, April 1 @ 7:30pm. Enter Below:
US Residents Only. No purchase necessary to enter. All readers have an equal chance to win, however, you must enter to win. A winner will be randomly selected via RaffleCopter and notified via email. I will attempt to contact the winner for 3 days. If the winner cannot be reached by email, a new winner will be selected the same way. There are several different ways to earn entries. One prize per household. The winner will receive, free of charge, the prize mentioned above. This prize has no cash value and is not available for exchanges. Prizes are not transferable or refundable and must be accepted as awarded. The winner is responsible for any and all other costs and expenses not listed above. Not liable for unclaimed prizes or fulfillment.