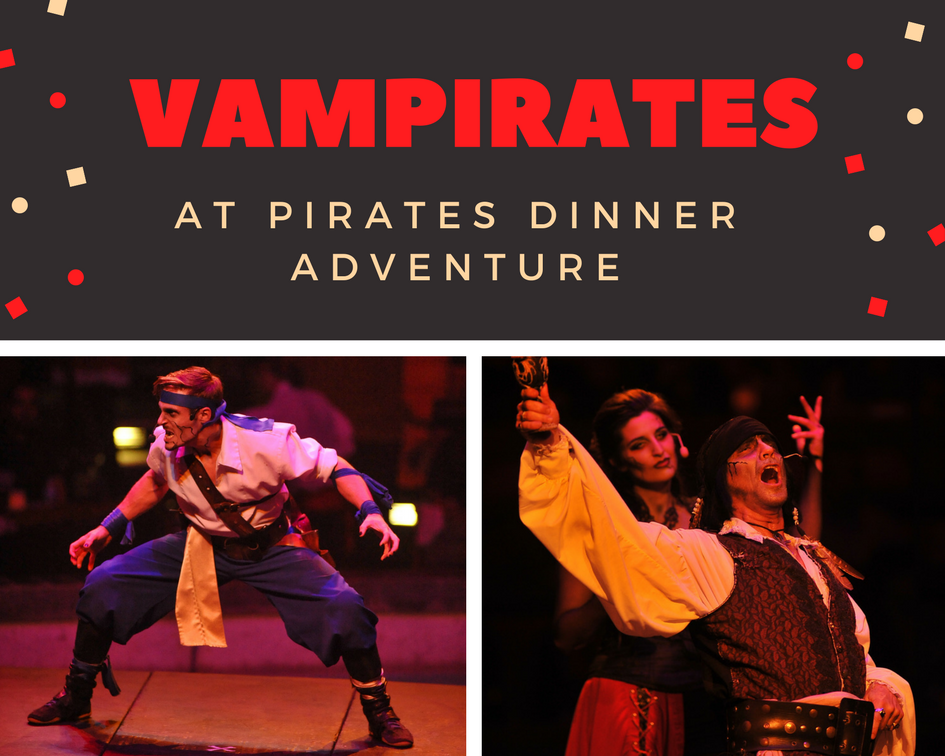 For the month of October, Pirates Dinner Adventure is transforming into a swashbuckling Halloween Spooktacular called Vampirates! 
Set aboard an authentically replicated 18th-century Spanish galleon measuring 46 feet long, 18 feet wide with 40-foot masts, the ship is anchored in a 300,000-gallon indoor lagoon with night sky lighting. Surrounding the lagoon is a six-sided showroom of six additional ships where the audience is seated. Voyagers on each of the six ships have their own fearless pirate mascot whom they cheer on as the adventure unfolds with a cast a dozen actors, singers and stunt performers engaging in a bounty of action-packed exploits, accompanied by cannon blasts, pyrotechnics and plenty of laughs.
During Vampirates you will board Captain Sebastian the Black's ship for a family friendly evening filled with amazing stunts, musical numbers and razor-sharp teeth that are sure to leave you and your youngsters howling for more!  In this interactive tale of love and adventure, can you join the Vampire Hunter in escaping Captain Sebastian the Black's crew of "Vampire Pirates" before becoming… their dinner? 
Pre-Show 
The entire attraction is decorated for Halloween with skeletons, cobwebs, pumpkins, chains and more. While you wait for the pre-show you can munch on appetizers and finger foods. Once the pre-show starts you will head into the bar where you will watch learn the storyline of the show. It is very entertaining, and you get escorted to your seating area by the pirate you'll be rooting for!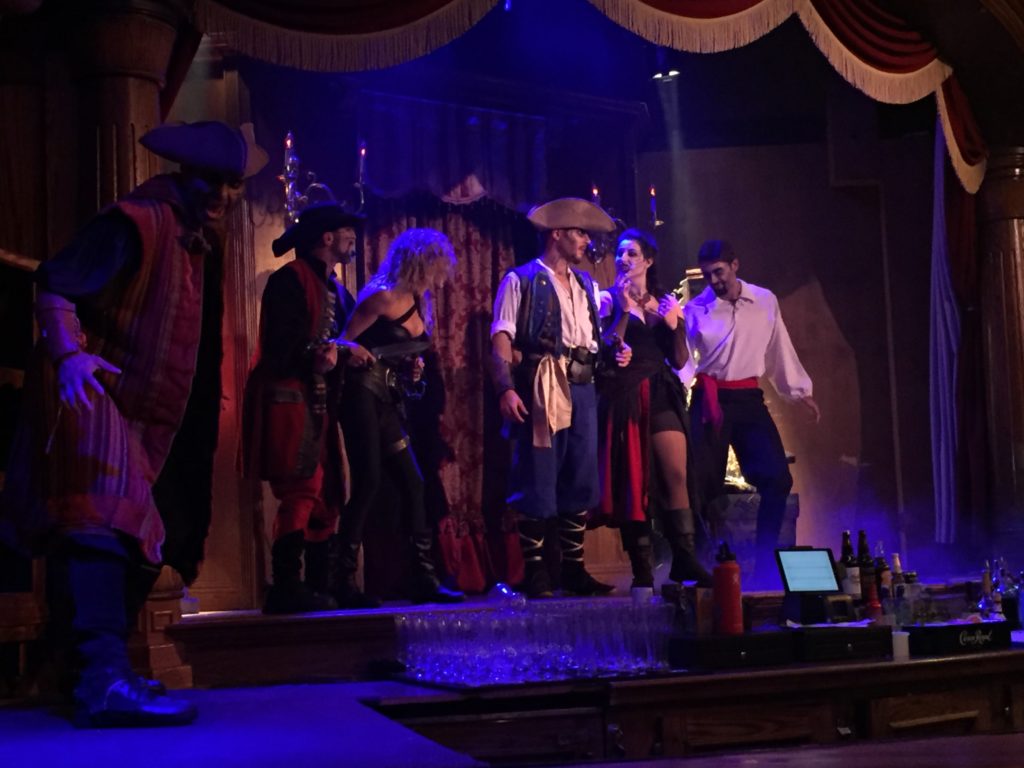 Costumes and Make-up
All of the costumes and make-up for the show are based around a vampire theme. All of the actors are wearing fangs and have elaborate face and eye makeup put on.
Feast & Drink
While you are watching the show your server will come around and bring you a feast! Here are your options"
Starter: Vegetable Soup or House Salad with Ranch or Italian Dressing (upon request)
Adult Meal: Roasted Quarter Chicken Leg & Thigh , Shrimp and Vegetable Skewers, Mashed Potatoes and Mixed Veggies (Carrots and Zucchini)
I found the food to be on the saltier side but they have gluten-free options as well as vegetarian options like ravioli instead of chicken.
The Show
Kids will love this show because they get to go up on stage and participate in one of the skits. There is so athleticism in this show I was just in awe of how fit and talented the actors were. Some of them did trampoline, aerial arts, the ladder spin and so much more. It was hard to take my eyes off any one particular part of the show because i felt like I was going to miss something.
Get a Discount Code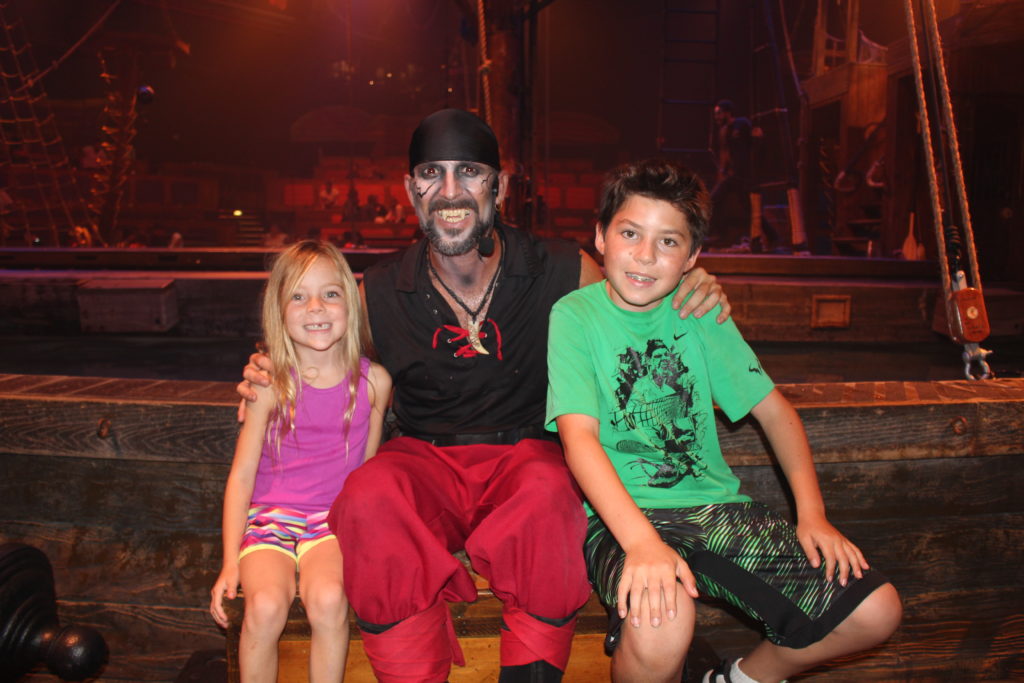 Don't miss out on the Vampirates show before it disappears!  Use the code: FAMILYREVIEW.  All you have to do is mention that code and you will get tickets for $32.95 for Adults, $26.95 for children plus tax and fees.  Groups of 10 or more will have gratuity added.  
For more information visit pirates Dinner adventure on Facebook and Twitter.