School is still out and that means there is still so much time to explore the Greater Los Angeles Area! If you like adventure and technology there are several new offerings at Universal Studios! We want to share all of them with you. Here is a family guide to get you started!
Alert: Los Angeles County has re-instated the mask mandate which means even if you are vaccinated you still must wear a mask on all rides and inside restaurants and parts of the tram ride. 
With so much to see and do outside the mask mandate really is hardly an inconvenience. It was not required at Water World,
Newly opened "Secret Life of Pets: Off the Leash!" ride
This ride is so cute and interactive! Not only is the queue fun to watch but the ride itself has optical-enhanced gesture-tracking technology. This tracking helps identify each person on the ride as a unique stray puppy. The ride also combines video mapping and animatronics. There are 64 animitronics on the ride and you can record the whole thing, just do not use flash! This ride utilizes a virtual line and there are two ways that guests can get this pass: Using the App or using the Using a Virtual Line™ Machine.
 

"Jurassic World—The Ride" featuring the new Indominus Rex

I have to say this was my favorite ride of the day! I loved riding through the Mosasaurus Aquarium Observatory, where we encountered a Mosasaurus. This aquatic reptile was super scary but fun to watch and the technology on the realistic screen "portals"  was super impressive. One thing that totally caught me off guard was getting drenched on the small drop ahead of the big 8-story drop which didn't get us even a tad wet.  And when I say drenched, I absolutely recommend you wear flip flops on this ride and bring a change of clothes as toy will be wet for hours and hours.
 

New Minion Café

 

A mischievous day spent in Super Silly Fun Land can work up quite an appetite. Luckily for you, a new dining location has arrived with an eclectic selection of sandwiches and more. Feast your eye(s) on some of the despicably delicious items you can enjoy at Minion Cafe!The decor here is so much fun! There is a giant mural on the wall next to some seating that is great for photo ops and inside the restaurant there is a giant lamp that is a minions eye looking down on you. The line at this quick service restaurant moves quickly and efficiently especially if you know what you want to order prior to arriving at the window. They also have the cutest popcorn holders you have ever laid eyes on! Watch our video so you can see! If you like deserts you will find all kind of cute minion themed sugar delights to satisfy your sweet tooth! But if you have a teen with a hearty appetite I recommend getting the loaded nachos! These were excellent.

Featuring:
Classic Grilled Cheese with Tomato Soup
Meatball Parmesan Grilled Cheese with Tomato Soup
Pulled Pork Grilled Cheese with Banana BBQ Sauce
Chicken Bacon Ranch Mac n Cheese
Nutella™ Banana Pudding
Ramen
And More!
 

NBC Sports Grill & Brew on CityWalk

 

One of the best parts of Universal CityWalk in my opinion is the plethora of restaurants! As a huge foodie I enjoy trying new restaurants on the regular. And if there is a bar in the mix that is an even bigger bonus! Luckily for me I discovered NBC Sports Grill & Brew,  an entirely new level of sports-dining.

Located adjacent to the recently opened Antojitos Cocina Mexicana, the all-new restaurant will be designed to reflect the excellence and excitement of NBC Sports' award-winning coverage, with a fresh take on pub menus and a stellar selection of regional and exclusive draft brews. With a complement of over 100 HD TV screens, broadcasting favorite sporting events, live stream sports content and in-depth sports coverage, NBC Sports Grill & Brew will offer guests the MVP treatment with the best seats in the house.

P.S. They have a shuffle board table there too!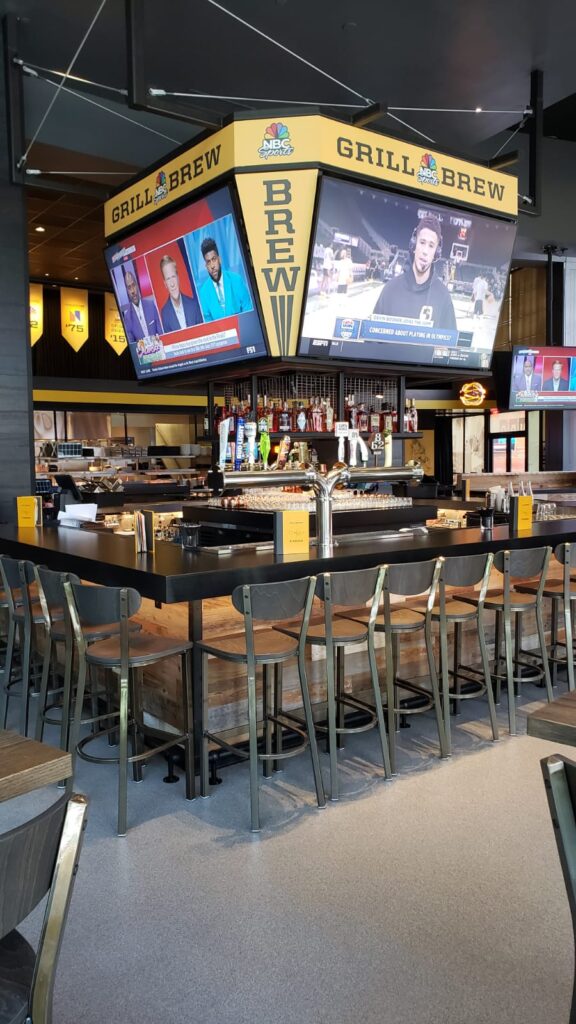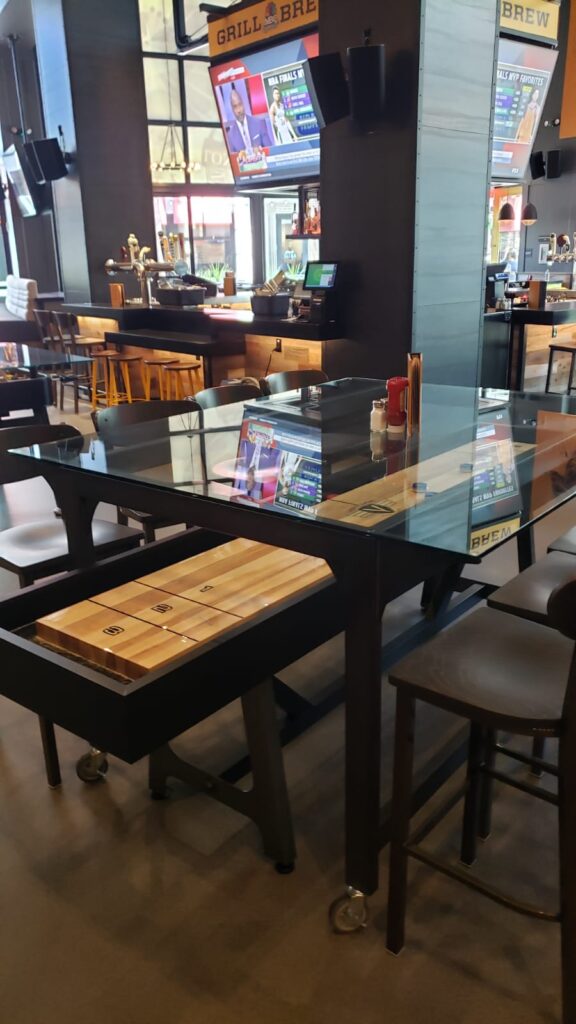 Tips on making your day at Universal flow smoothly
Be sure to download the Universal App. This will make your whole experience better as show schedules and wait times are on the app.
Get to the park right at opening.
Hit up the Harry Potter Forbidden Journey ride first as the line tends to get longer in the day. After the Harry Potter ride head straight to the lower lot of do Jurrasic World.
Pack extra clothes and flip flops if you do not want to walk around in wet clothes and shoes from the Jurrasic World ride.
If you have little one pack bathing suits and a towel for Super Silly Fun Land. There is a huge water playground
Try to eat early or late to avoid the mid-afternoon food rush.
Bring cooling towels to stay refreshed in the heat.
If you want a Lard Lad Donut, you can also get them at the Kwik-E-Mart if the line is too long at the shop.
If you don't mind not sitting together on the rides, go on the single rider line. You'll cut your wait time down considerably.
Crowds are high at every amusement park right now. Also all parks are understaffed so wait times are long for food and beverages. We suggest you pack accordingly. Pack waters and  pack snacks. The less hangry you get the more enjoyable your day will be.
If you can afford it get the express lane pass. This will eliminate wait times as you can almost walk right on to every attraction (exception: Simpsons and Harry Potter but the wait is very short)
How much Is Parking?
General Parking Before 5pm – $28
General Parking After 5pm – $10
Preferred Parking Before 5pm – $40
Preferred Parking After 5pm – $20
Front Gate Parking $60
For more information visit Universal Studios on Facebook and Instagram.