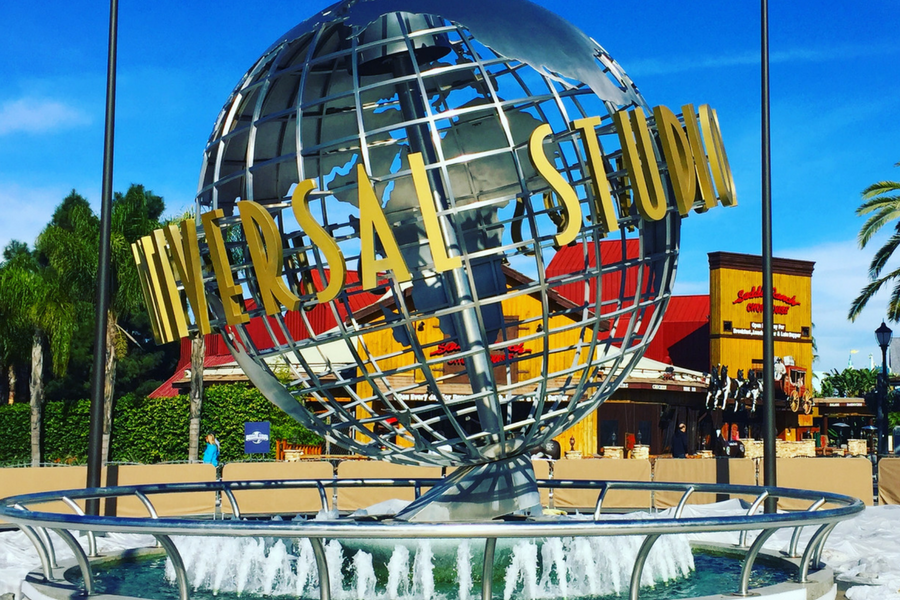 If you have a tween or even a teen, then you know that entertaining them can often be difficult at times. One of the best things I have found to connect with my tween is taking him out individually so I can focus on just him. It's amazing how much they will communicate when they have your undivided attention. Universal Studios in Hollywood is just the place to take your tween for a day full of fun and adventure. Maybe it's the intense rides, the characters or just the fact that Universal Studios is a thrill seeker's paradise, but we had the best day ever! Here's a summary of my tweens favorites (and not so favorites) from his point of view.
A Tween Guide To Universal Studios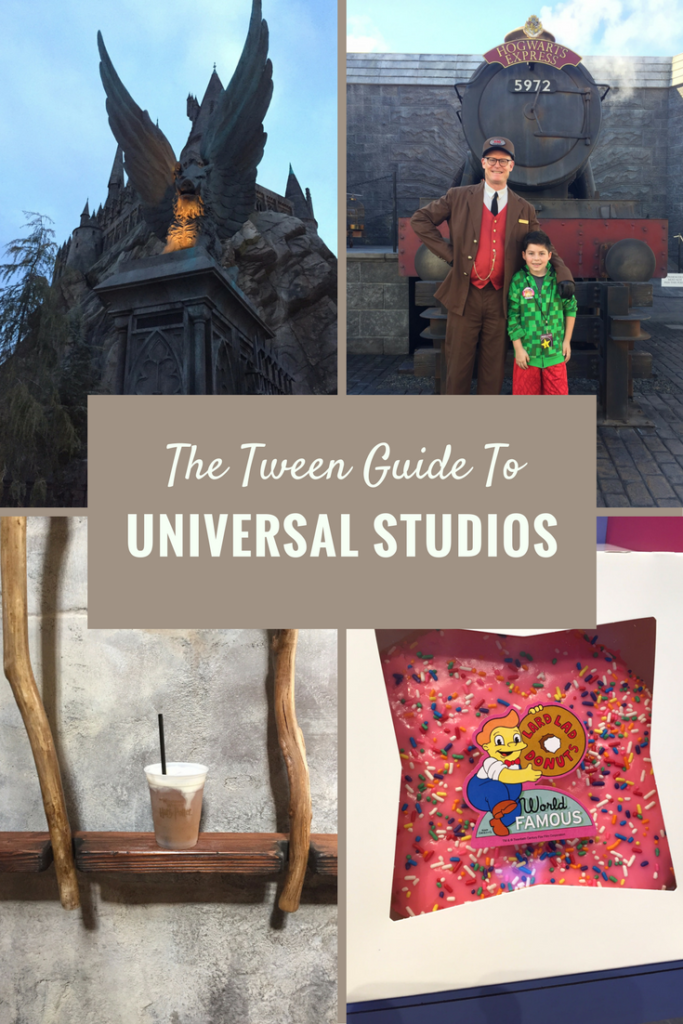 Harry Potter World

This is probably the busiest area of the park, and for good reason! Everything here was on point and consistent with the theme & ambience of the series. They absolutely engage you in this enchanting world and my son could not get enough of it. There is a small roller coaster called Flight of the Hippogriff that is smooth and over quickly but it's a lot of fun!
Harry Potter & The Forbidden Journey was his favorite highlight of the whole day. They give you lockers so you can store your bags and the line moves quick. This ride takes place at the Hogwarts castle and  leads you underneath Hogwarts and up through the garden area. It's a fun ride that mostly turns side to side and uses large screens to simulate speed and motion. It shouldn't be scary but might cause a little bit of dizziness.
Butter Beer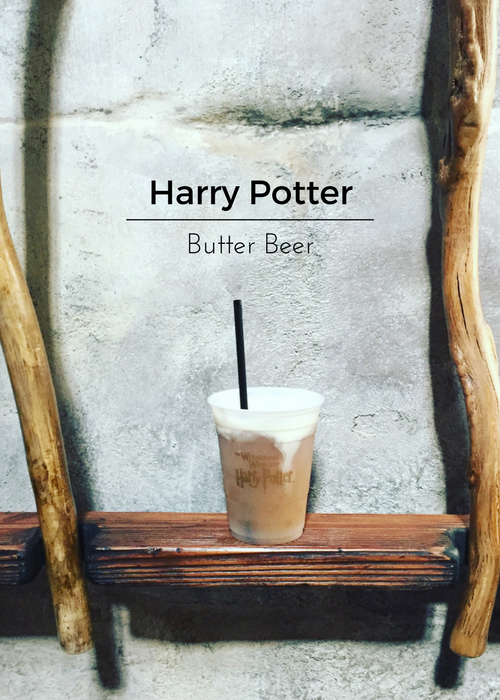 If there is one thing you should not miss when you visit Universal Studios, it is butterbeer! It's a non-alcoholic butterscotch flavored creme soda drink (like a root beer) with a whipped cream frothy top. The soda is basically a regular creme soda, very tasty and not too sweet. The topping which is added after it is poured, is a butterscotch flavored whipped cream. Butterbeer comes frozen or regular. My 10-year-old talked about this all day and we can't wait to make the home-made version.
The Simpsons Ride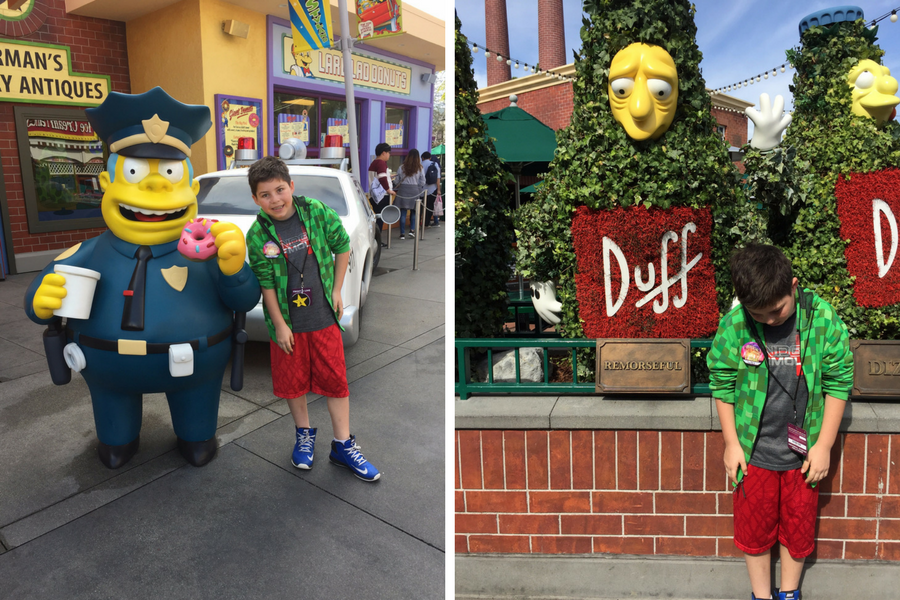 While my son has never watched an episode of the Simpsons, he is well aware of who they are. Tweens see the Simpsons everywhere and at Universal Studios there is an entire area of Simpsons memorabilia, food and even a ride! Everything from Mo's tavern to crusty burgers and Gigantic donuts that will send you into a sugar coma.
The ride is really fun and they use an imax screen and hydraulics to make you feel like you are really on a roller coaster. You even get a little wet from water that they spray on you.
Revenge Of The Mummy Ride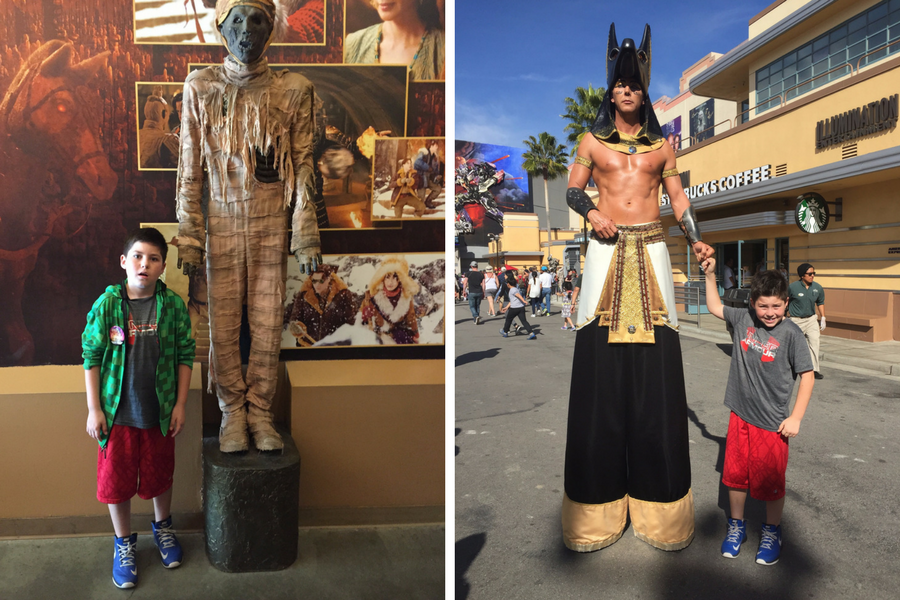 This by far the best roller coaster in the park. You walk through a dark temple being catapulted at speeds up to 45 mph in virtual darkness. The best part of the ride is in the middle when you feel creepy crawlies on your leg before the rides shoots backwards.
Interactive Megatron Transformer
Tweens will get a kick out of  the interactive Megatron Transformer who is very large, very angry, and extremely witty. Megatron throws insults at you faster than you can blink and the audience eats it up. It is right next the Transformers ride and you definitely do not want to miss it.
Jurassic World Raptor Encounter
Come face to face with a Velociraptor in: The Raptor Encounter at Jurassic Park in Universal's Islands of Adventure. A velociraptor walks around unleashed and interacts with guests. My son loved the way his handlers played into it, too. It's very entertaining so be sure to capture this on video.
Despicable Me Minion Mayhem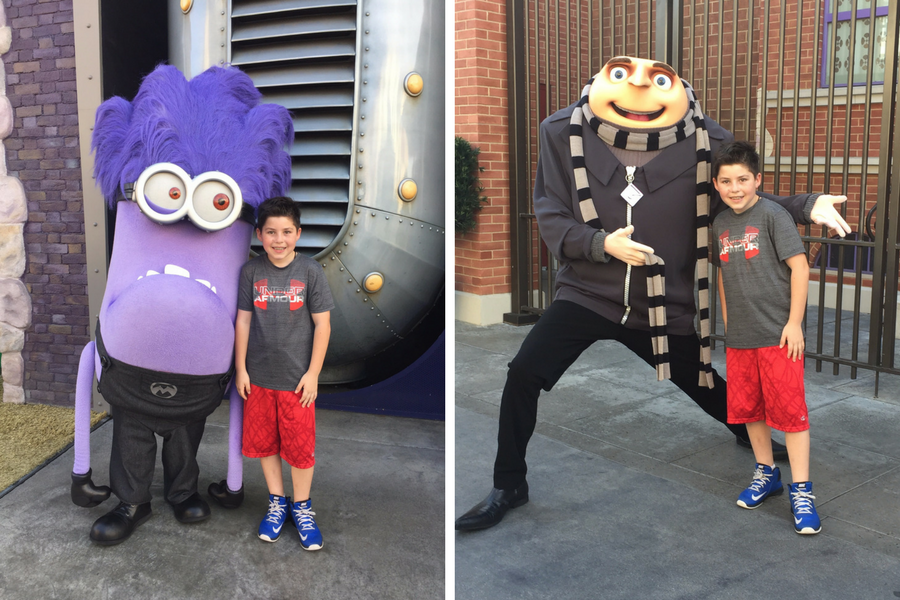 Join Gru, his daughters and the mischievous Minions on hilarious 3-D ride. Start your adventure in Gru's home, where you're recruited for his latest scheme – one where you'll become an actual Minion. After making it through "Minion training" things don't go as planned! Within moments, you're launched into an unforgettable trip through his super-villain laboratory. After the ride, there is an interactive, Minion-inspired dance party.
Animal Actors Show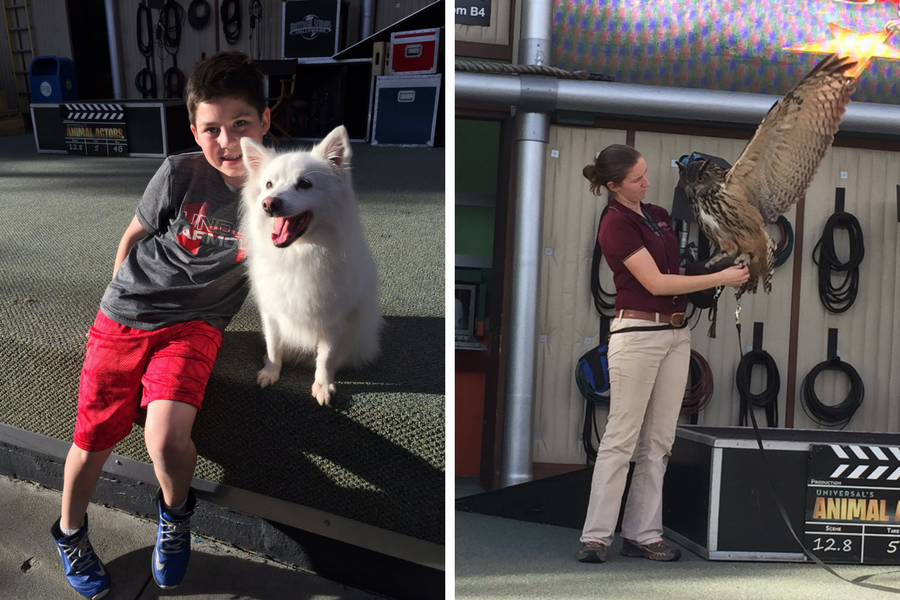 If you happen to get a front of the line pass, you will have special access to a behind the scenes viewing of the Animal Actors show. Here you will meet some animals up close and learn all about the training process. It a nice show to escape the heat and rest your legs after a long day of walking.
House Or Horrors
House of Horrors is a walk through haunted house. My 10 year was nervous and did not want to  do it, but i walked through myself and it wasn't super scary. Live actors jump out at you from behind corners, so if your tween likes to be started they will love this, otherwise you might have to  bypass this one.
Shrek 4-D
Here is another great place to rest your weary legs after a full day. Shrek 4-D is a 4D film with moving seats and interactive elements throughout the show. The auditorium is big and there is a pre-show holding area themed as Lord Farquaad's dungeon and he has the Three Little Pigs and the Gingerbread Man warning riders about the pains and tortures in store for everyone.
Favorite Tween Food
A day at Universal would not be complete without a giant Lard Lad donut. You can also mix and match with other delicious donuts like a s'mores, Oreo or bacon maple flavor.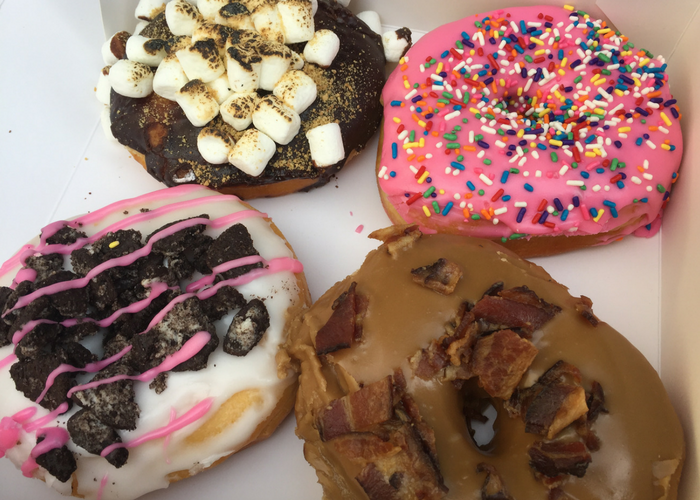 And lets not forget about a juicy slab of ribs from "Three Broomsticks" This rustic tavern  serves main courses as The Great Feast, Bangers & Mash, English Ale and Cheese Soup, Fish & Chips, Beef, Lamb & Guinness Stew, Shepherd's Pie and fresh vegetables. The potatoes are amazing as well.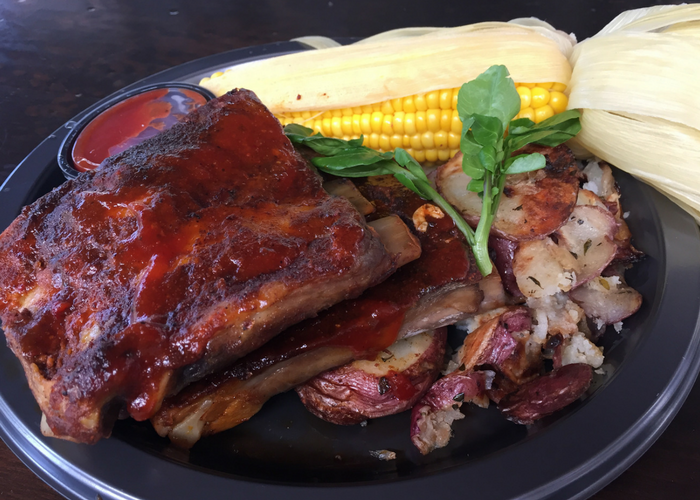 For more information visit Universal Studios on Facebook and Twitter.