Who'se ready to see some of the hottest new vehicles of 2019 all in one place? The OC auto show is coming to the Anaheim Convention Center October 4th-7th and Toyota will be debuting the Toyota 86 TRD Special Edition. This limited production performance model and the fifth-generation of Toyota's best-selling vehicle, the 2019 Toyota RAV4, will be on display at this year's show. In addition to several other all-new 2019 Toyota models, auto show attendees will find specialty concept vehicles featured at the booth, test drive opportunities at the Toyota Drive Center and a special appearance by a Los Angeles Angels baseball player. The show takes place October 4–7 at the Anaheim Convention Center.
I am currently test driving a Toyota XSE V6 for the week and I am madly in love with it so I cannot wait to see what else Toyota has in store!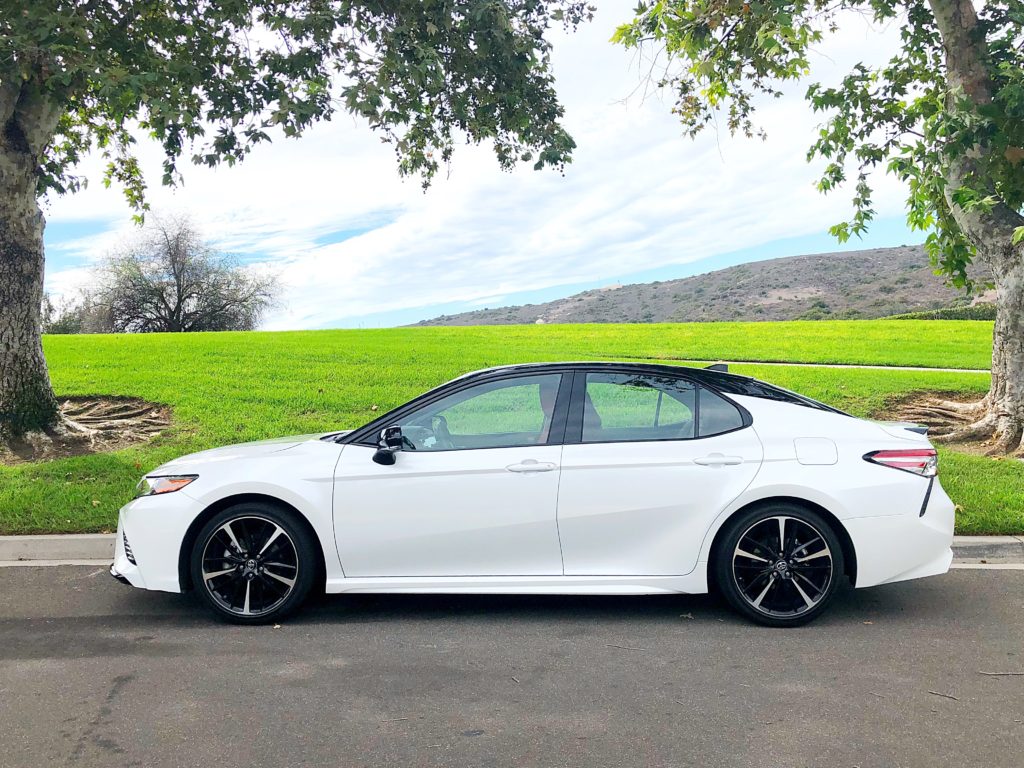 All-New 2019 Toyota Vehicles

Consumers will be able to learn more about the original small sport utility vehicle (SUV) that's now more powerful and roomier than ever before. The 2019 Toyota RAV4 has an entirely reimagined design and performance thanks to the implementation of the new Toyota New Global Architecture (TNGA) platform and two new powertrains.
A new hybrid grade, RAV4 XSE Hybrid, will be the sportiest and most fuel-efficient of all the trims. The 2019 Toyota RAV4 will be available winter 2018, with hybrid models available late 2019.
The Toyota 86 TRD Special Edition is the newest grade in the TRD (Toyota Racing Development) family, which comes exclusively painted in Raven and is accented by a classic TRD tricolor graphic and TRD body kit. Underneath its refreshed exterior, new performance upgrades and parts further enhance the vehicle dynamics of the 86's sportscar formula.
Speaking of TRD, the whole pack of rugged 2019 TRD Pro Series, Tacoma, Tundra and 4Runner will be making camp at the Toyota booth. For 2019, the new TRD Pro Series continues its legacy of off-road dominance with new high-tech Fox Internal Bypass Shocks and specially-tuned off-road equipment for each model. Visitors can even adventure in the Tacoma TRD Pro themselves with the interactive augmented reality experience.
Also on display, the 2019 Corolla Hatchback, which debuted earlier this year at the New York International Auto Show, offers a striking interior and exterior design along with enhanced performance capabilities that makes it agile, sporty and practical. One model will demonstrate Toyota Safety Sense with an interactive virtual reality experience. This suite of safety features, which is standard on every Toyota vehicle, is designed to support the driver's awareness, decision-making and vehicle operation.
Attendees will also get to jump in the driver's seat and test out the 2018 Toyota RAV4, Camry, C-HR, Prius and Highlander at the Toyota Drive Center. The Toyota Drive Center will be open Thursday, Oct. 4 from 4 p.m. to 9 p.m.; Friday, Oct. 5 from 12 p.m. to 9 p.m.; Saturday, Oct. 6 and Sunday, Oct. 7 from 9 a.m. to 6 p.m.
Future Mobility Concept + Specialty Vehicles
Additionally, attendees will be able to interact with Toyota's latest concept and specialty vehicles:
The Toyota 2018 SEMA Camry from Rutledge Wood that features state-of-the-art 3D-Printed Panels will be included on the floor with its eye catching never-before-seen-color that the designers refer to as "Blurple."
NASCAR fans will also have the chance to take their photo in the NASCAR Cup Toyota Camry 2017 Championship #78 vehicle.
Toyota's innovative, fun-to-drive three-wheel personal electric vehicle, the i-ROAD will be on display. The i-ROAD, equipped with revolutionary Active Lean technology that emulates the movements of a skier, is as agile as a scooter with the enclosed-canopy comfort of a car and ideal for congested city centers.
Special Activities on Saturday, October 6
For an extra special auto show experience, visit the Toyota Live stage on Saturday, October 6 to receive an autograph from a Los Angeles Angels baseball player from 3-4 p.m. In addition, Toyota also encourages attendees to bring in Hot Wheels donations for its non-profit partner: NEGU (Never Ever Give Up), The Jesse Reeves Foundation. This organization creates "Joy Jars" that contain toys, such as Hot Wheels, that are delivered to pediatric cancer patients in the hospital. Toyota has been a proud partner for four years and has donated a wrapped Toyota Tundra to help the organization deliver the "Joy Jars" to local hospitals.