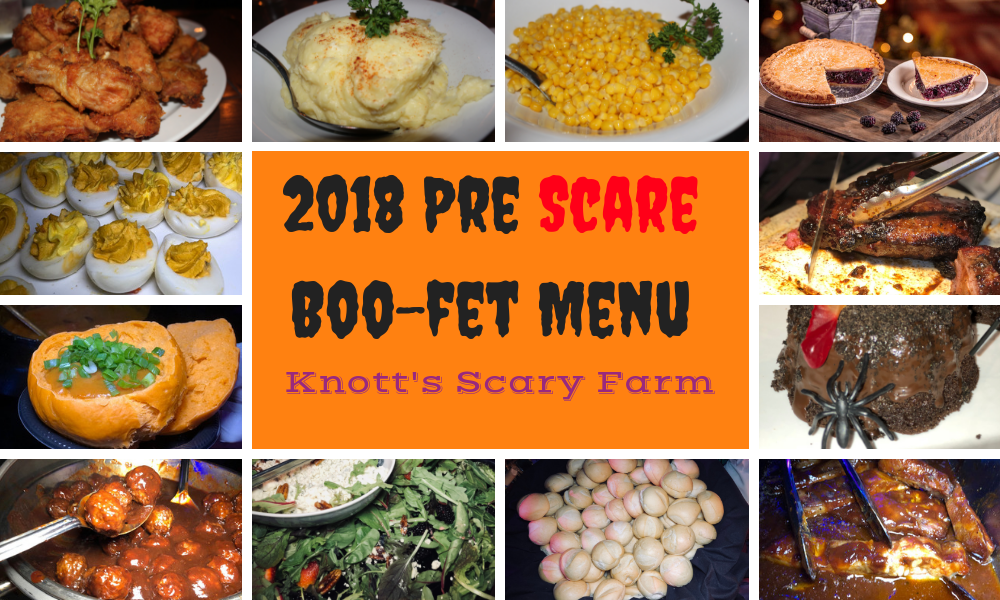 Heading to Knott's Scary Farm in the near future? Satiate your appetite at the Boo-fet before you mingle with the monsters. Tickets are $31.99 and dinner is followed by early entrance to select areas of Knott's Scary Farm. Boo-fet diners receive early entry to Paranormal Inc., Trick-or-Treat: Lights Out, plus the all new Dark Entities and The Depths. Boo-fet guests will also have exclusive monster photo opportunities before the park opens to the general public.
Boo-fet guests will be dining with many of the monsters who will be working hard to startle you during your evening. Watch out though because they will 'getcha' while you are eating! Another perk of the Boo-fet is that guests receive a souvenir cup, which provides you with free refills during your night at various food and drink locations in the park, and $1 refills for every night you return.
The Knott's Scary Farm Boo-fet dinner features endless portions of signature Knott's entrees and desserts with a souvenir cup. Menu includes Knott's classic such as Mrs. Knott's fried chicken, a chef carving station, boysenberry pie and more.
Friendly tip: Get there early early early so you do not have to wait for seating as it fills up very quickly. That can waste precious time and take away from the 30 minutes early you get  to go into the park.
Below is a list of all of the food items included in the buffet. Happy Haunting:
2018 Pre Scare Boo-fet Menu
Apple Pie
Assorted Cookies
BBQ Pork Ribs
BBQ Sauce
Boysenberry Pie
Brownies
Beef Barron (carved fresh )
Carrot Cake
Chips and Salsa
Chocolate Cake
Country Gravy
Cranberry Sauce
Turkey Gravy
Kernel Corn
Deviled Eggs
House made Dinner Rolls
Ghost Town Chili
Mac-N-Cheese
Mashed Potatoes
Meatballs with Boysenberry BBQ
Mediterranean Pasta Salad
Mixed Green Salad
Mrs. Knott's Fried Chicken
Oven Roasted Turkey (carved fresh)
Potato Salad
Pumpkin Soup
Ranch Dressing
Italian Dressing
For more information please visit Knott's Scary Farm on Facebook and Instagram.