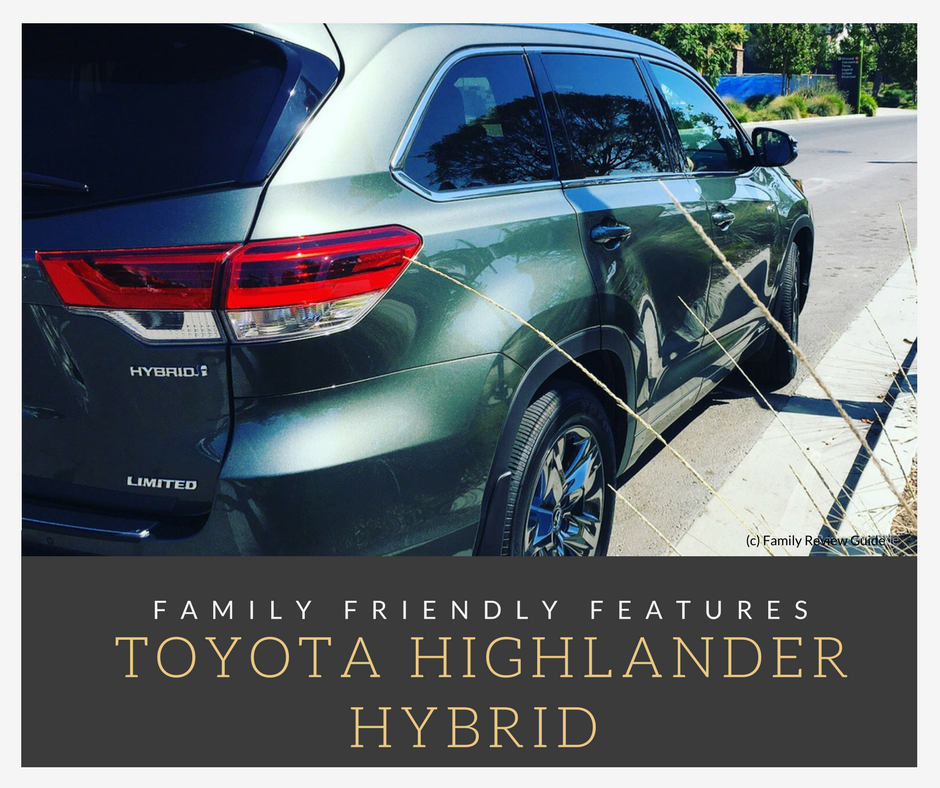 This summer was one of the most lucrative summers my family has had in years. It was the summer of road trips! We went to Colorado, Palm Desert, San Diego and New Jersey! Although a plane was involved in one trip we did rent a car and take long drives from shore to shore. What I realized was that with a family of 5  leg room and features was a huge necessity.
During our trip to San Diego we had a Toyota Highlander Hybrid vehicle loan where we got to test out the durability of the car. It was the most incredible color green.It was called Alumina Metallic Jade and it glistened in the sunlight.
Here are some of my favorite family features of the Toyota Highlander Hybrid:
Ample Cargo Room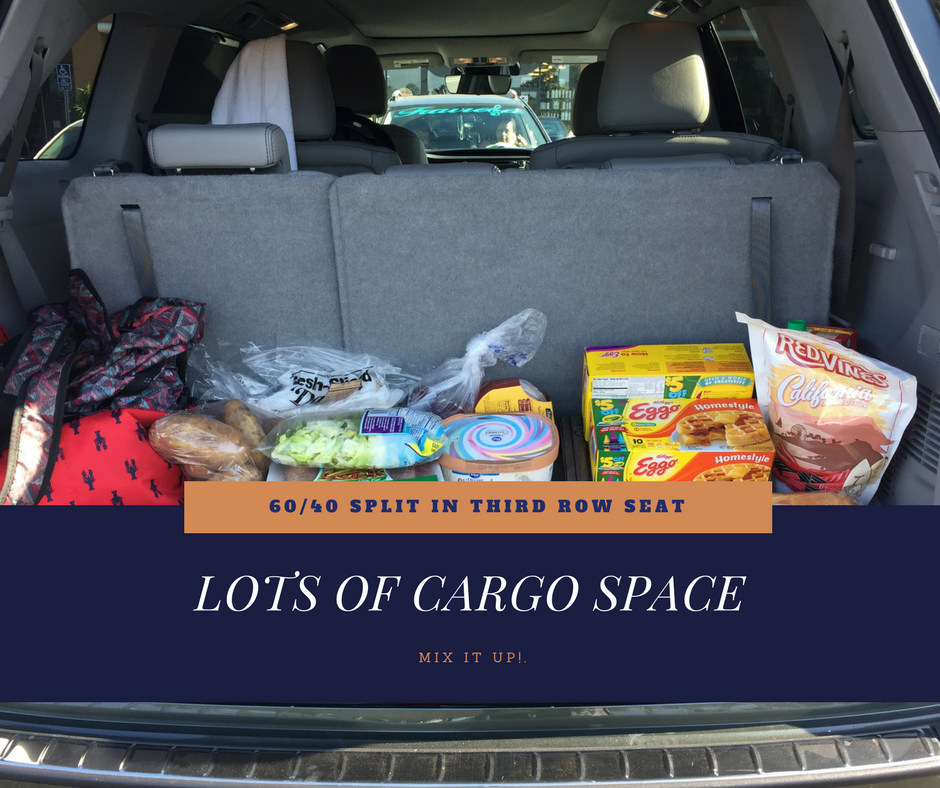 Lots of kids means lots of groceries! the Highlander has a 60/40 split in the third row seat which is perfect for road trips. We can keep one seat up and put our luggage and groceries on the other side still allowing for plenty of space. Or keep both seats up and there is still enough space for bags, towels, or whatever you may be carrying.
Rear Seat Functionality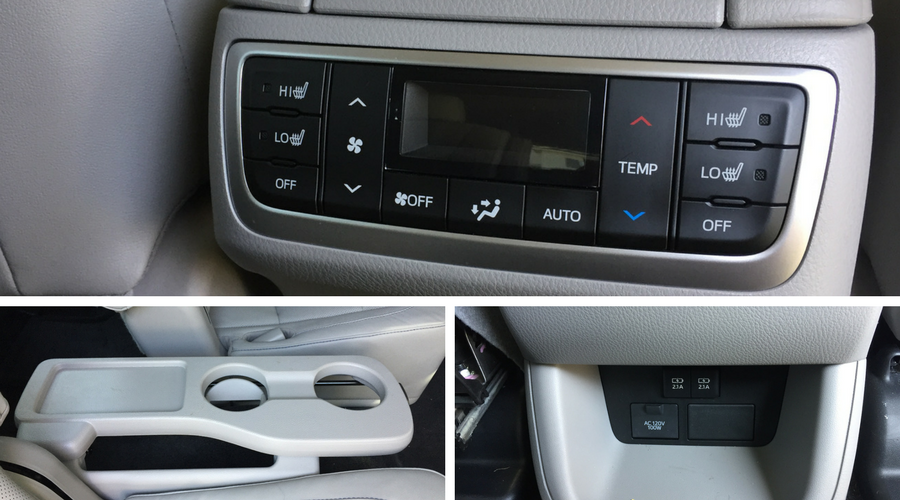 Part of a successful road trip is not having to listen to  "am I there yet" a million times. Thankfully the Toyota Highlander has great rear seat functionality.  Kids can control the temperature, plus there is seating for seven with leather-trimmed second-row captain's chairs and a folding side table with two cup holders. For gamers, it also has two 12V auxiliary power outlets (one front and one center console). No more dead electronics (yay)!
A one-step second-row sliding seat function on both driver and passenger sides makes entering the third-row easy. Third-row passengers get a standard recline function.
Puddle Lights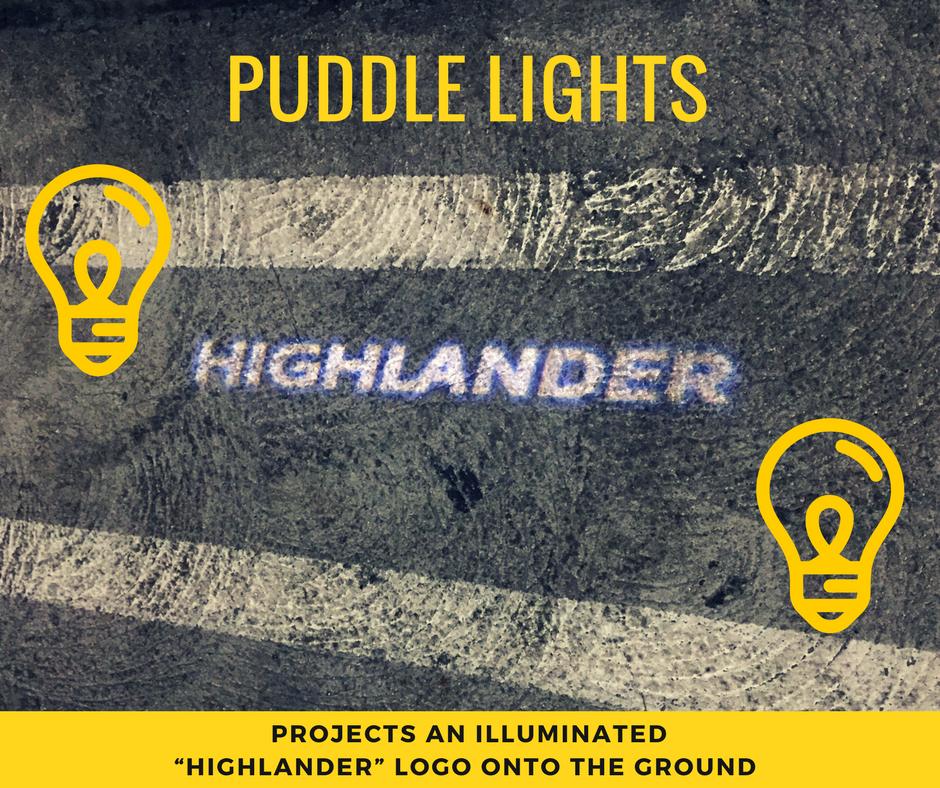 Night time can be tricky sometimes when you are trying to find your car in a dark parking lot. But Toyota has solved that with the use of puddle lights. Puddle lights now feature a Highlander Projection. Just walk up to your car and the illuminated lights will turn on. Pretty neat if you ask me!
Panoramic Moonroof
Kids in the back will have the whole sky to entertain them with the panoramic moon roof that is part of the platinum package. We enjoyed using it daily simply for the amount of light that was let into the car. Plus the fresh air felt great when it wasn't hot enough to use the air conditioner.
Efficient Hybrid Engine

Driving a hybrid has so many beneficial factors that much of the world agrees upon. Not only are you doing your part to help protect the environment but you will save money on gas and you'll set a good example for your kids. They are also very comfortable to drive.
So what makes the Toyota Hylander Hybrid so efficient? Well, it combines a 3.5 liter V6 and an electric motor to produce 280 hybrid system net horsepower. This produces an estimated EPA 30 city and 28 highway mpg. Therefore it has a super ultra low emission rating.
**Our model Highlander had a stop/start engine. That means the engine shuts down and puts you in standby when you come to a stop (like at a red light or stop sign). Releasing the brake will then start you back up again.
What are some of the safety Standards of The Hybrid?
Lane Departure Alert with Steering Assist.
This had to be the absolute coolest function for me.  Lane Departure Alert detects lane departure on roads with clear markings. It only activates when you're traveling at a speed of 32 mph or faster. Our Highhlander was also equipped with Toyota Safety Sense P (TSS-P)  and Electronic Power Steering (EPS) include Steering Assist functionality. When it's activated and senses that you're unintentionally drifting, the system will automatically make small corrective steering inputs to help keep your vehicle in its lane. In other words when I was driving the car it would move the car back into the lane by itself if I started to veer off.
Pre-Collision System with Pedestrian Detection
Using an in-vehicle camera and radar to help detect a vehicle or a pedestrian in front of you, the Pre-Collision System  with Pedestrian Detection can help you mitigate or avoid a potential collision. If the system determines that a frontal collision is likely, it prompts you to take action using audio and visual alerts. If you notice the potential collision and apply the brakes, PCS w/PD may apply additional force using Brake Assist (BA).  If you don't brake in time, it may automatically apply the brakes to reduce your speed, helping to minimize the likelihood of a frontal collision or reduce its severity.
This feature was designed to help you see more clearly at night—without blinding other drivers. Designed to activate at speeds above 25 mph, AHB rely on an in-vehicle camera to help detect the headlights of oncoming vehicles and taillights of preceding vehicles, then automatically toggle between high and low beams accordingly to provide the appropriate amount of light. By using high beams more frequently, the system may allow earlier detection of pedestrians and obstacles.
For more information on the Toyota Highlander Hybrid visit Facebook and Twitter.