Saving money is one of those things that is easier said than done. As a family of 5 living in one of the most expensive states in the U.S. couponing has become a regular occurrence in our house. I go to the grocery store more often that not and I find that if I am not prepared with a list and coupons that my bill gets really high. Over the years I have  found easier ways to save money as well. For instance, our local grocery store has a rewards program where you can load coupons on to your rewards card. No clipping required. You just slide your card at checkout and the coupons are applied.
There is another program that I really enjoy as well. It is called "Money Mailer" and they are celebrating their 32th year anniversary. I find that very impressive. Money Mailer provides an envelope full of coupons for all kind of businesses around your town. It comes in the mail and I am always so excited to open it and see what kind of savings there are.  The best part is that they also have a mobile app and you don't even have to bring the coupons with you. Just don't be like me and lose your phone =) If you do not yet receive Money mailer you can sign up right here. All you do is give your name, email and city and then you can start saving immediately in your area. If you would like to download the app you can find it here.
This week my own money mailer consisted of savings in the following businesses: Haircuts, new garage doors, children's clothing, car wash pet supply, tanning, carpet cleaning, new shutters, dentistry, skin care, overhead garage storage, TV service closet organization, car insurance, home security pizza, burgers car maintenance, plumbing, termite service, swim lessons and tutoring services.

Here are a few couponing tips to get you started:
Couponing tips to save money
NEVER shop hungry. Have a snack before you go or you will end up buying the whole grocery store because you are hungry and everything will look good.
Check out store circulars. I find that it makes my shopping trips so much faster because I know exactly what I want and where to find it.
Read the find print and know your stores coupon policy. Many stores used to double coupons but not all of them do it anymore. You don't want to be "that" person standing in line arguing with the cashier.
Take advantage of SMS offers.Many stores (especially restaurants) send text messages throughout the week that contain discounts.
Learn Coupon Lingo. Below is a chart of common types of couponing lingo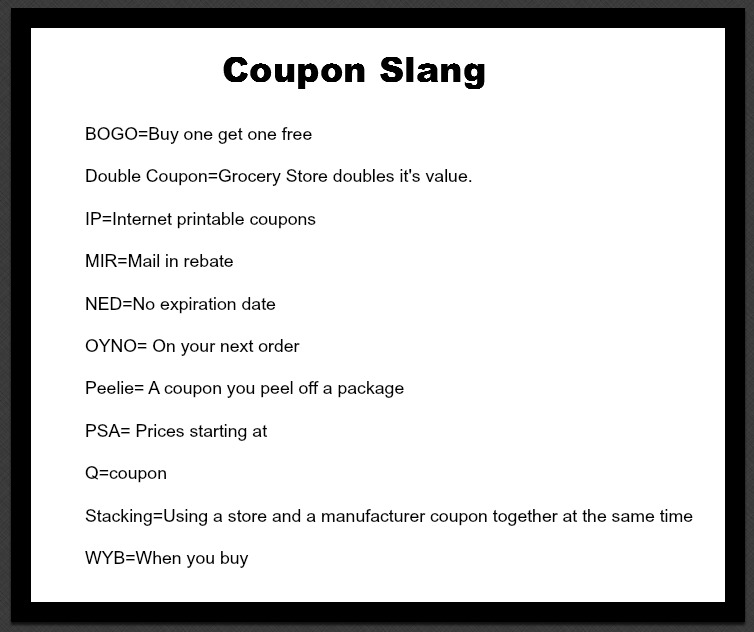 Most of all don't view couponing as a chore. Look at it as a competition. See how you can get a better price than others and then share!