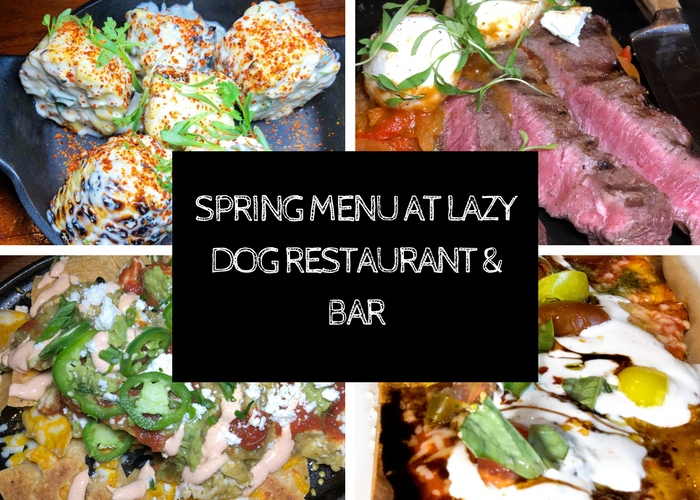 Dining out is a treat for many families. It's a wonderful way to spend time relaxing and catching up with each other but it also requires some planning. When my family goes out  I try to find a place that will accommodate a larger party (we are a family of 5) and a place that has something on the menu that everyone will eat. And, (if possible) something to entertain the kids like coloring or word searches. That is why I love Lazy Dog Restaurant and Bar! They cover all of that and more, PLUS they have a new spring menu out.
[gview file="https://familyreviewguide.com/wp-content/uploads/2018/05/Spring-Media-Menu-6-1.pdf"]
Kids Keep Busy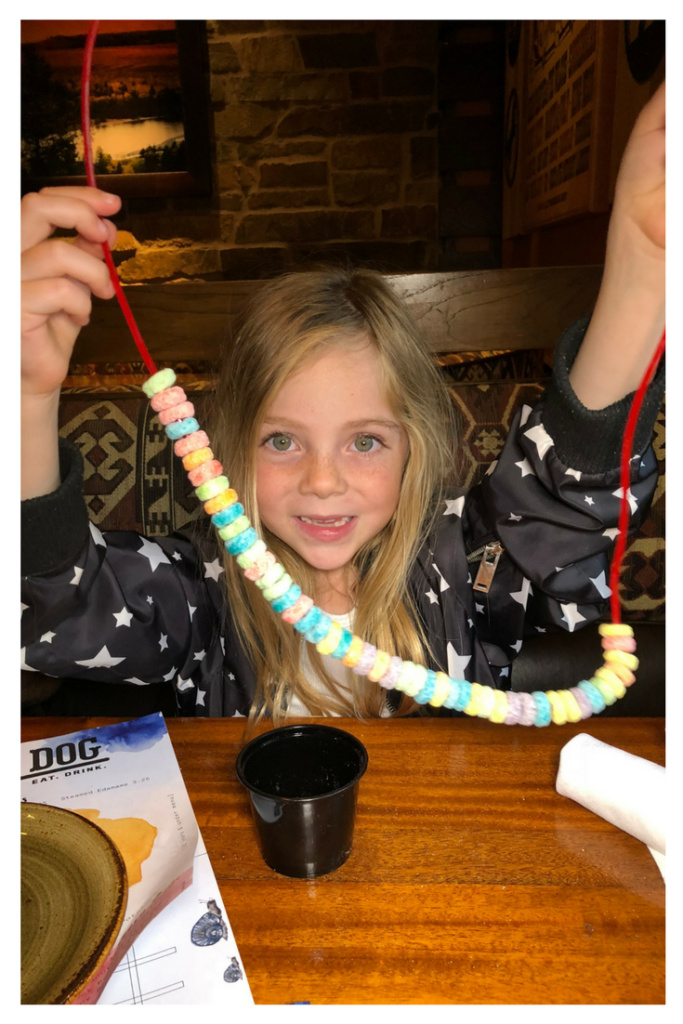 Lazy dog offers "dog collars" to all of their youngest customers. It's a complimentary cup of froot loop cereal and red licorice. The kids can thread the cereal onto the licorice and then tie it like a necklace when they are done. Then they can nibble on it later or before their meals.
Spring Cocktails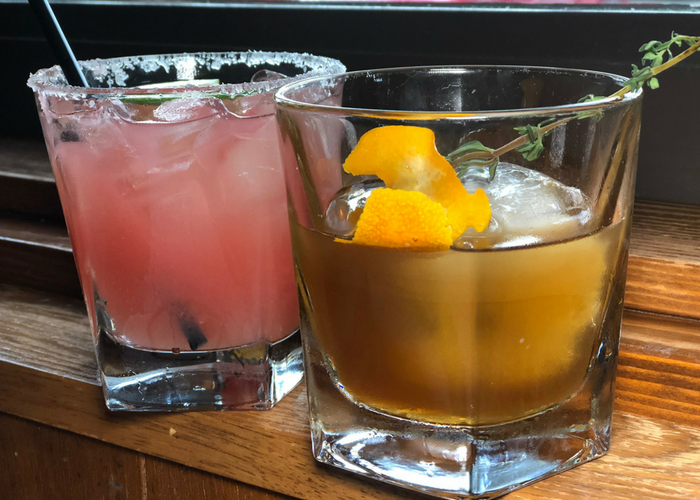 OK, lets face it…even moms enjoy a cocktail or a glass of wine every now and then. And Lazy Dog restaurant and bar makes a serious honey thyme old fashioned. Its made with buffalo trace bourbon, honey, fresh thyme, orange peel. Another great cocktail on the new  menu is the watermelon margarita. It crisp, refreshing and made with lunazul reposado tequila, fresh watermelon, and a salted rim. Kind of like a vacation in a glass!
Spring Appetizers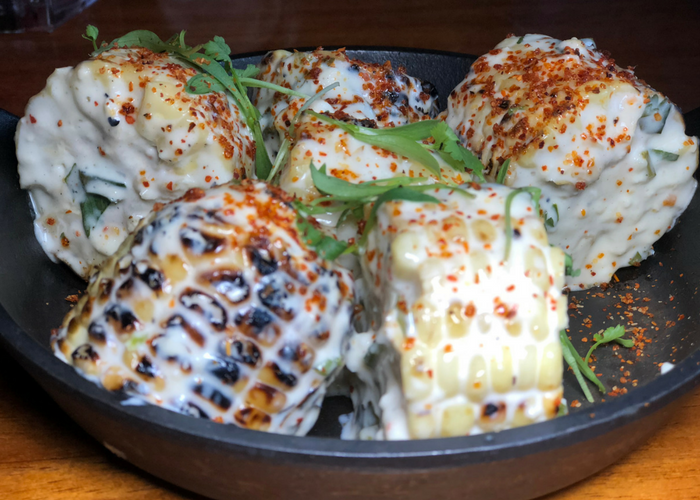 Street Corn Wheels
When I first saw this appetizer on social media I got all kinds of excited! I love street corn and these corn wheels are covered in mayo, lime, garlic, queso blanco, tajin, and cilantro. I would have ordered a 2nd dish if I didn't need to make room for dinner.
Lentil Soup
This savory soup hasslow-cooked lentil soup lentils, onions, celery, carrots, tomatoes, garlic, bay leaves, coriander, thyme, and curry crema. It definitely hits the spot.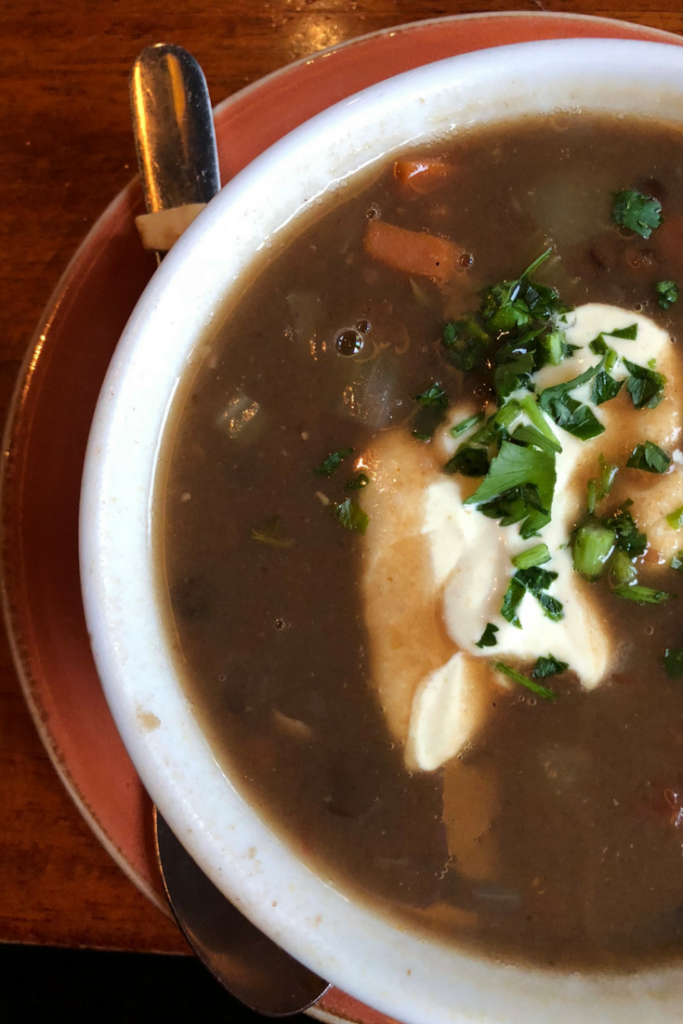 Chicken Chile Verde Nachos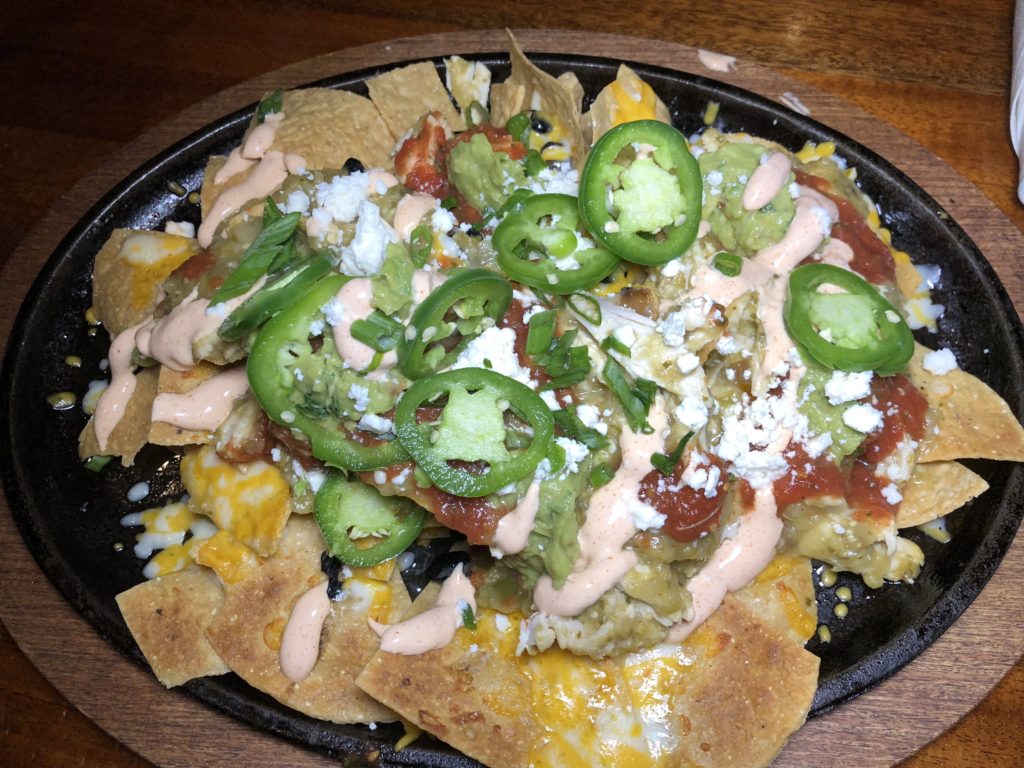 When you have a teenager, they eat mass amounts of chips . And what better way to satisfy that craving than with their chicken chili verde nachose. This starter has hand-cut chips, slow-cooked tomatillo chicken, black beans, jack, cheddar, guacamole, salsa, tapatio crema, pickled jalapenos, and queso blanco. I had one very happy teen.
Spring House Favorites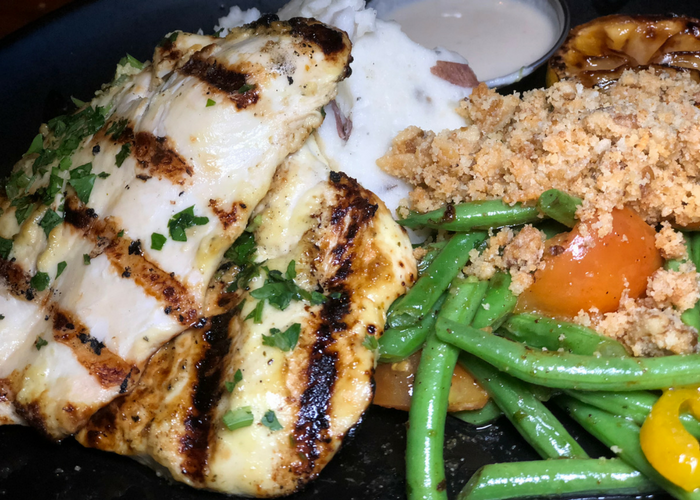 I love a lot of protein in my meals and the Grilled lemon chicken marinated breast hit the spot! It has cauliflower mash, sautéed green beans + heirloom tomatoes, almond-walnut crumble, tahini. They will also let you substitute the cauliflower mash for real potatoes.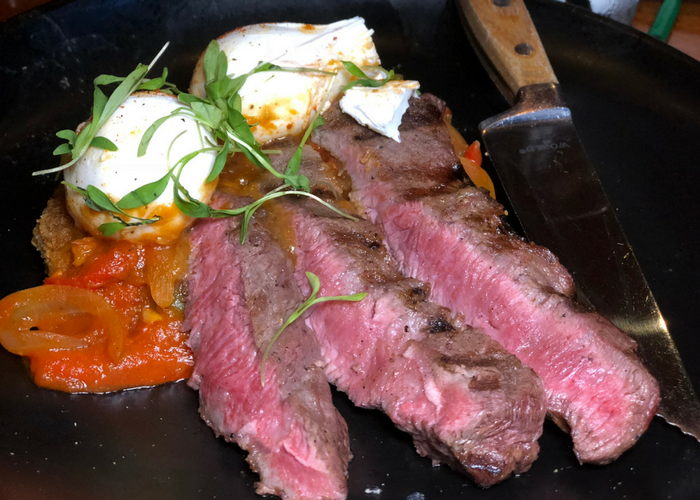 This one is for weekend brunch only but I highly recommend it. Certified angus beef® flat iron is served with poached eggs, sautéed bell peppers, onions, tomato, gravy, smoked paprika hollandaise, cilantro, and served on smashed hushpuppies.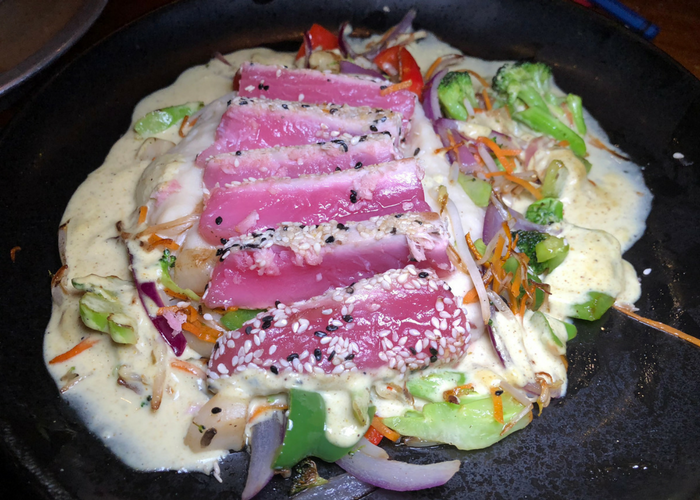 Sesame Crusted Ahi Tuna
This is not on the spring menu but it is on the regular menu. Seared medium-rare sashimi grade yellow fin tuna, cauliflower mash, seasonal vegetables, and a coconut curry cream sauce make for a light and healthy choice.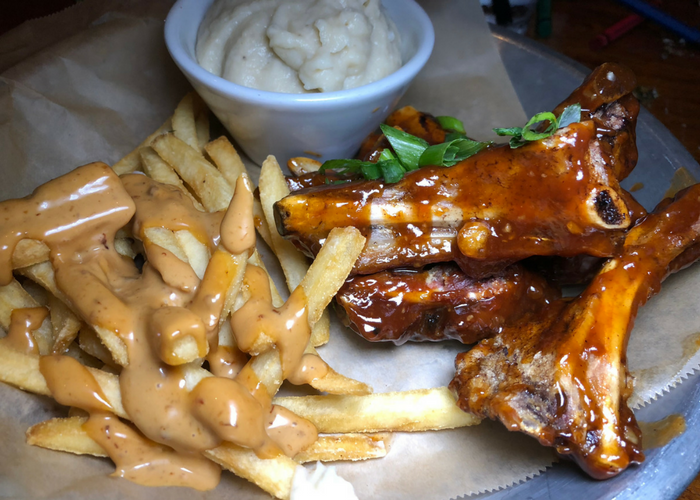 Sticky Ribs + Umami Fries
Also on the regular menu this is a great choice for tweens. Tender baby back ribs, flash-fried until crispy are brushed with honey plum sauce andserved with sesame slaw.
Spring Dessert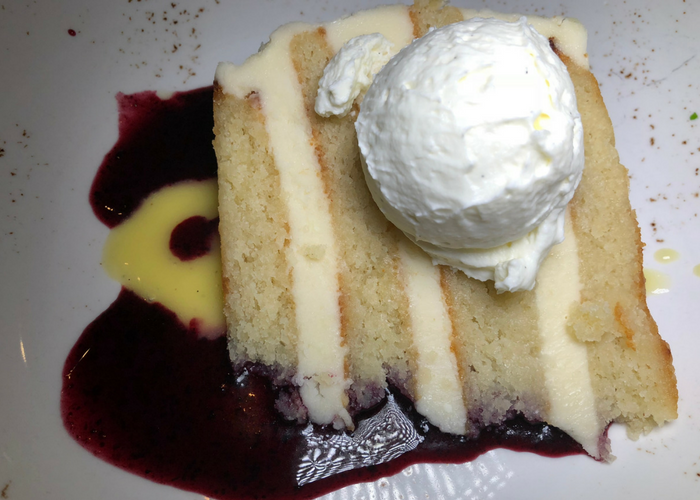 If you still have room for dessert the lemon cake which is gluten sensitive (it's made with almond flour vanilla cake) comes with lemon buttercream, huckleberry, lemon curd, whipped cream. Not a fan of citrus? Try  the peach raspberry hand pie made with raspberry purée, sweet peaches, cinnamon, sugar, salted caramel sauce,  and vanilla bean ice cream.
Kids can also order a sundae and make it themselves. a big bowl of vanilla ice cream is served with whipped cream and ides of chocolate and strawberry sauce plus sprinkles!! I love all the attention to detail they give kids.