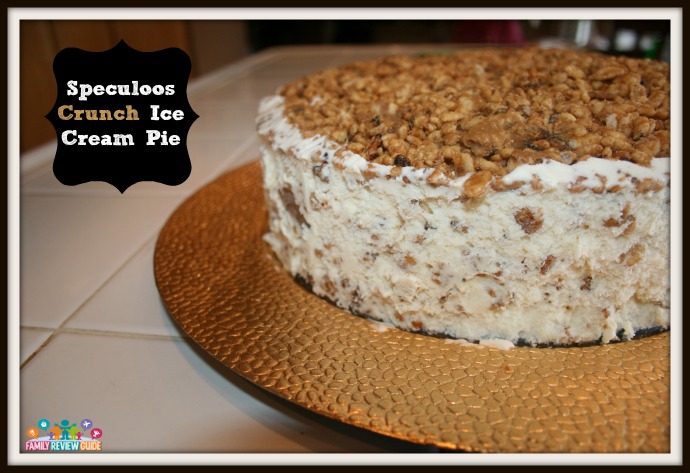 Speculoos Crunch Ice Cream Cake
There is one grocery store on earth that I simply cannot live without. "Trader Joe's". It's small,  unique, and they sell amazing food and drink from around the globe. They have great quality at great prices.  One particular product they carry makes my heart race every time I pass it in the aisle. It's called Speculoos. (you can also buy it on amazon). This amazing spreadable cookie butter is highly addicting and very dangerous as it has tendencies to make people do odd things like lick jars, and eat off knives. Also known as "cookie crack" Speculoos also comes in different varieties like ice cream, candy bars and cheesecake.
This week as I was spreading some of this magical cookie crack on a snack, I mean on some toast, it occurred to me that I could actually mix this stuff in with other things. So I opened my cabinets and saw the rice krispies and a light bulb went off in my head. I could mix the Speculoos with the rice krispies. But I didn't want to add marshmallows because rice krispy treats are so common. I thought of my favorite ice cream from Baskin Robbin's "Quarter Back Crunch" and realized I could make the same thing with rice krispies and Specaloos. The next thing I knew I was at the store buying a gallon of ice cream. So here is how you make The Speculoos Crunch Ice Cream Pie aka as cookie crack pie. This recipe was inspired by this recipe.
First gather all your ingredients. Rice Krispies, one jar of Speculoos cookie butter, 3 quarts  of ice cream and a large pot and a spring-form pan. Let ice cream sit out so it softens.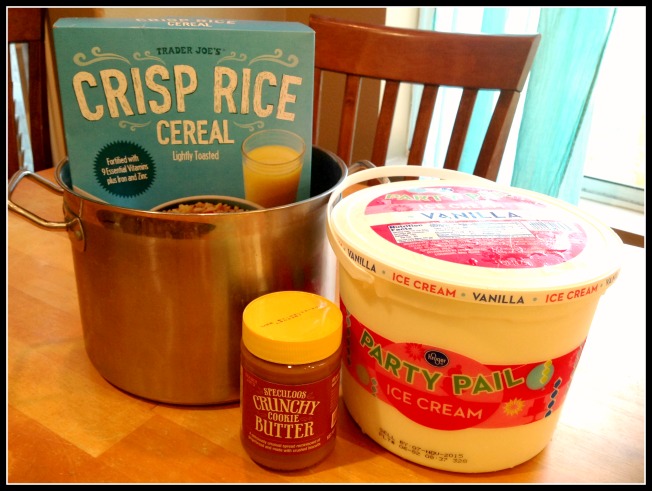 Then combine 5 Cups of Rice Krispies and a jar of Speculoos into a pot. Stir together on low flame until melted. Tip: Take off flame before fully melted or Speculoos WILL burn on bottom of pot.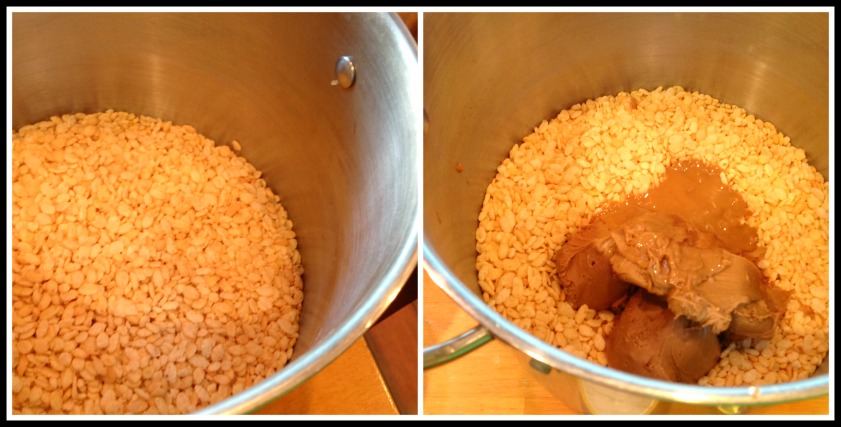 Once melted spread mixture on a cookie sheet lined with wax paper and freeze for 30 mins. You just want them stuck together, not quite frozen.
After the 30 mins take mixture out of freezer and cut into bite sized pieces. Reserve 2 cups of topping on the side.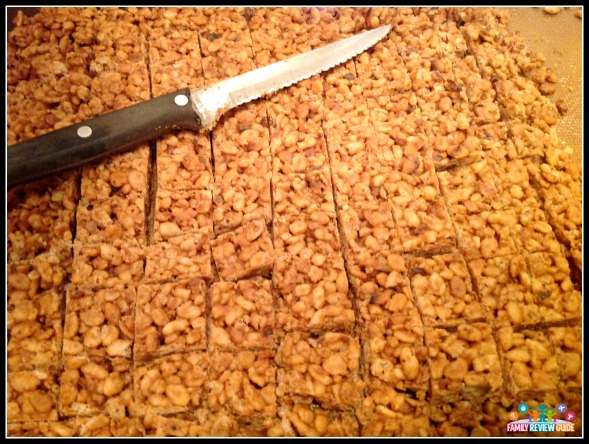 Then mix in the bite sized pieces into the melted ice cream and place mixture into the spring-form pan. Pack it down so there are no air pockets.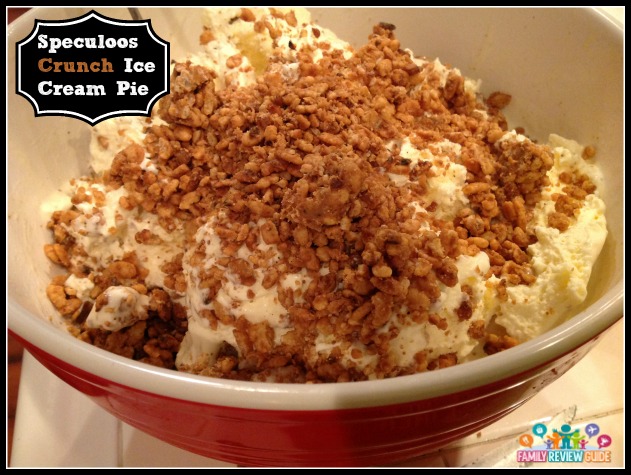 It should look like this. The ice cream should be soft but not runny.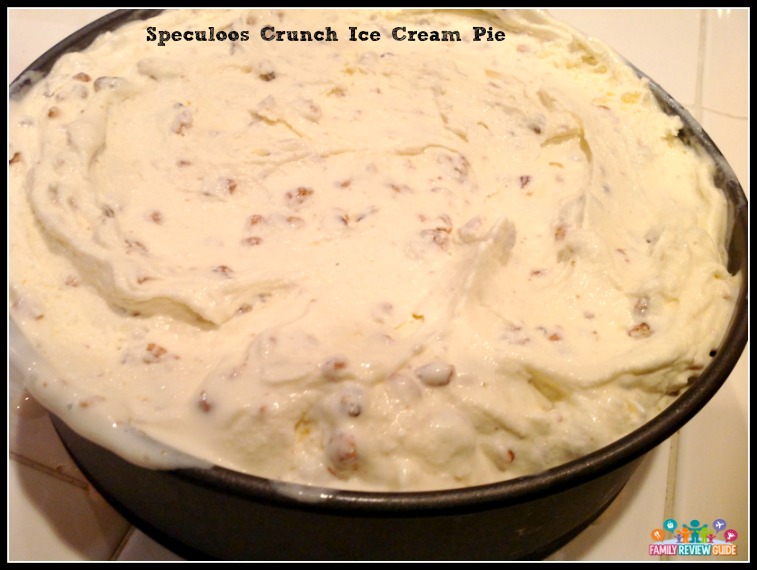 Use reserve crunch mixture to coat top of ice cream pie. Cover with Saran wrap and freeze for 4-6 hours or overnight.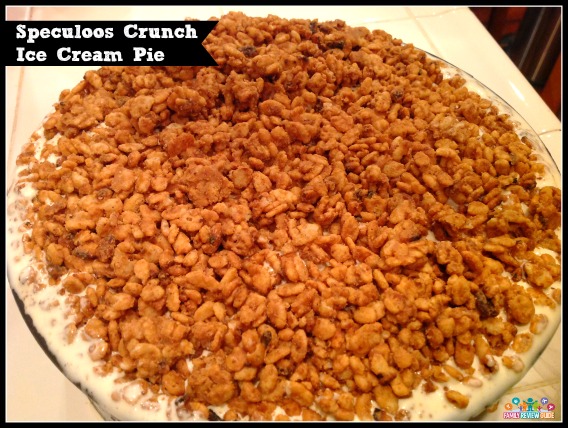 Once the mold is ready release the spring from around the cake and you will have a beautiful round ice cream cake.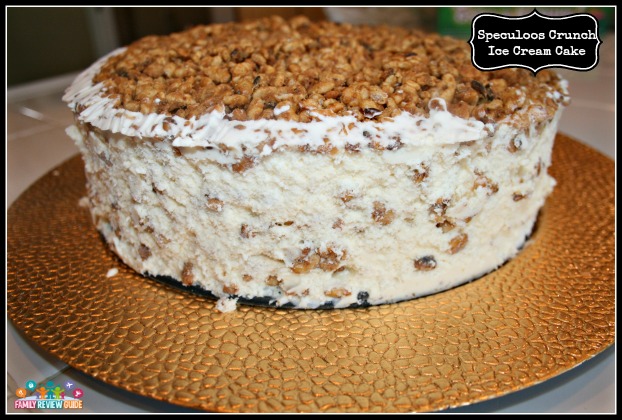 Dig in!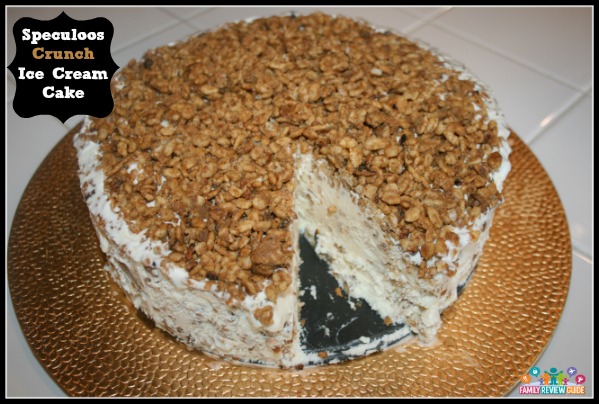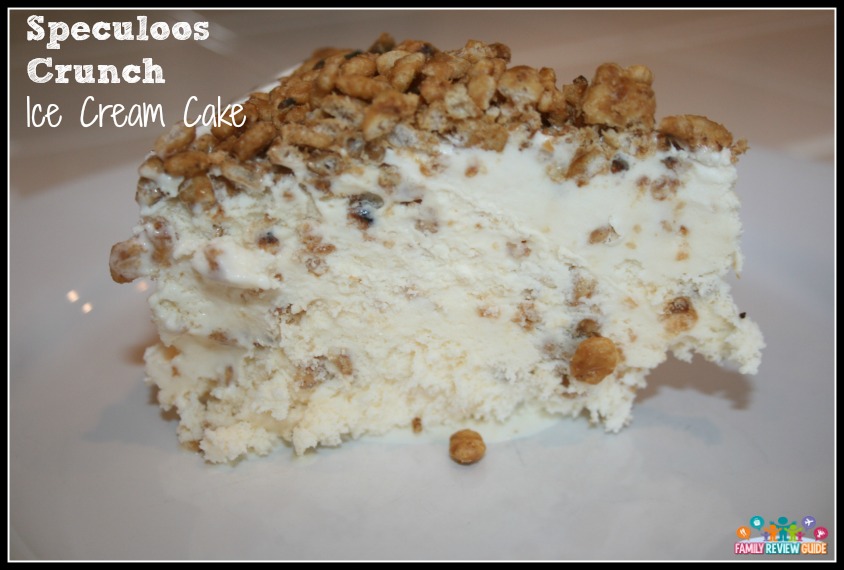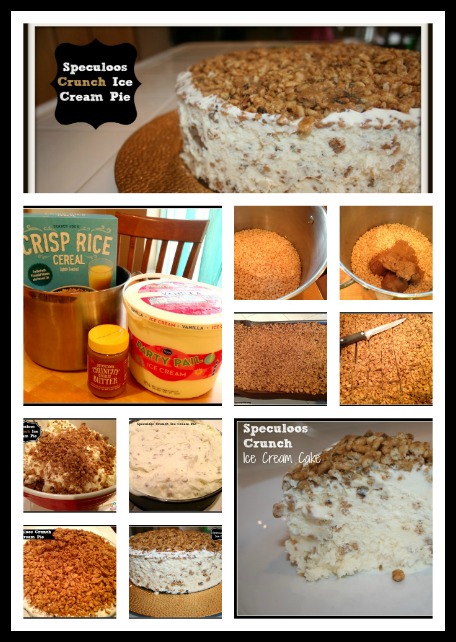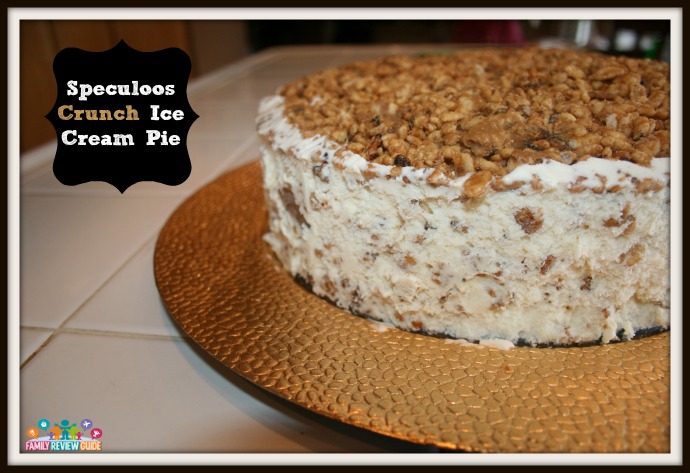 Speculoos Crunch Ice Cream Cake
Ingredients
1

jar of Speculoos Cookie Butter

5

Cups

Rice Krispies

3

quarts

of Vanilla Ice Cream

1

spring-form pan
Instructions
Place a 9 or 10 inch spring-form pan in the freezer to chill.

In a large saucepan over low heat, combine the Speculoos and Rice Krispies cereal. Mix well until the Rice Krispies are completely coated with the Speculoos. Remove from heat.

Line a sheet pan or cookie sheet with parchment or wax paper. If you have neither a silicon liner will do. Pour the Speculoos-Rice Krispies mixture onto the lined sheet pan and spread evenly. Then place in the freezer to chill.

While the coated cereal mixture is cooling, remove the ice cream from the freezer and place in the refrigerator to soften.

After about 30-45 minutes (you want the Speculoos coated cereal to be cooled and firm but not frozen at this point) – using a fork and knife – cut the coated cereal into bite sized pieces. Place back into the freezer, if necessary, until the ice cream is softened.

Once your ice cream is softened (it should be just softened enough to stir in the coated cereal but not so melted that it is runny), remove the Speculoos-cereal pieces, the large mixing bowl and the spring-form pan from the freezer.

Reserve 2 cups of the Speculoos-cereal mixture.

Quickly combine the ice cream and remaining coated cereal in the chilled mixing bowl, then pour the mixture into the chilled spring-form pan, packing it firmly so that there are no air pockets. Top the cake with the reserved Speculoos-cereal mixture.

Cover with plastic wrap and place the springform pan back into the freezer for at least 4-6 hours or overnight until completely frozen.

Remove the cake from the freezer about 30-45 minutes before serving and place in the refrigerator to soften a bit.

When ready to serve, place the cake on a platter or cake stand and remove the sides of the spring-form pan. Cut and serve immediately.