"This is a sponsored blog post. While the views expressed here were genuinely mine, consideration was paid to me by Bays English Muffins to review this product"​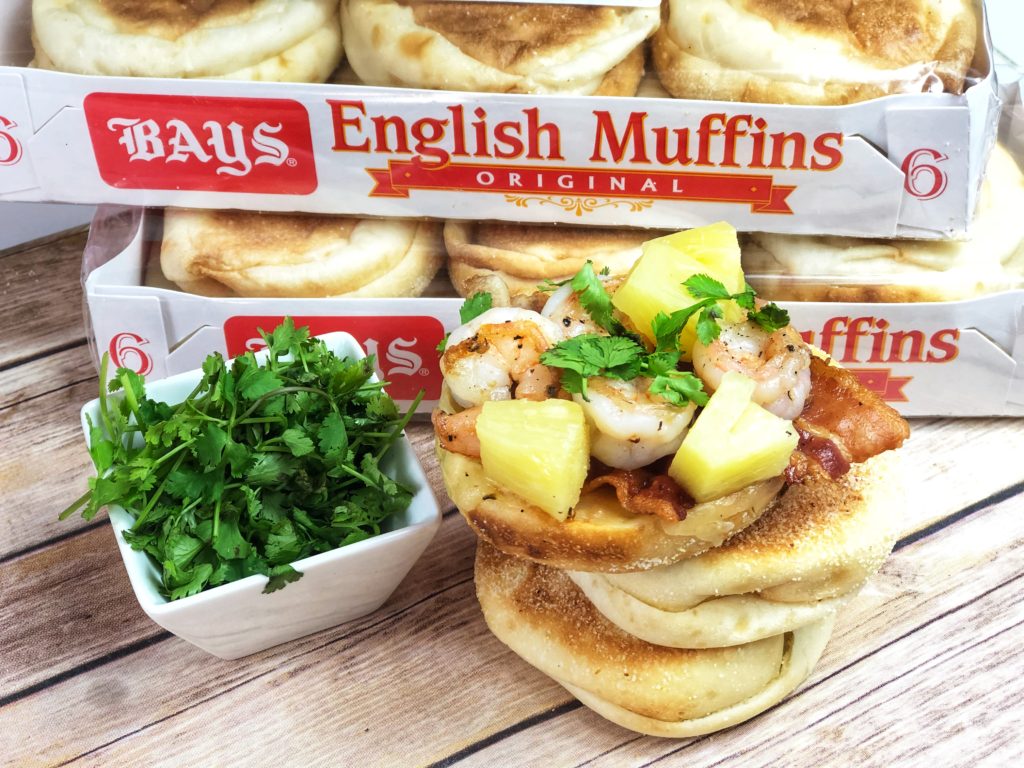 Southwest Shrimp, Bacon and Pineapple Pizza
Who says pizza has to be boring? This Southwest Shrimp, Bacon & Pineapple Pizza takes ordinary pizza and kicks it up a notch. Are you looking for a new after school snack for your kids? Pizza! Need a new lunch recipe? Pizza! On the run and no time to make dinner? Pizza! Feeling down and want to eat your feelings? The answer is always Pizza!  All you need is some fluffy Bays English Muffins, bacon, shrimp, pineapple, cheese and a few seasonings. Now you have a protein packed, nutritious meal that will make tweens, teens, husbands, foodies and seafood lovers happy any time of the day. Because Bays elevates any meal occasion!
You see, I have two teenage boys and they eat me out of house and home. So after school I am always scrambling to find something that will fill them up before work or sports. One of my favorite things to do is make breakfast for dinner and now I can use Bays English Muffins for more than just breakfast at home.
But, before I delve into the recipe, I just have to say that this week was the very first time I tried this brand of english muffin. All I can say is I am now a lifetime fan. Bays English Muffins are fresh, split easily, and toast up with a light crispiness.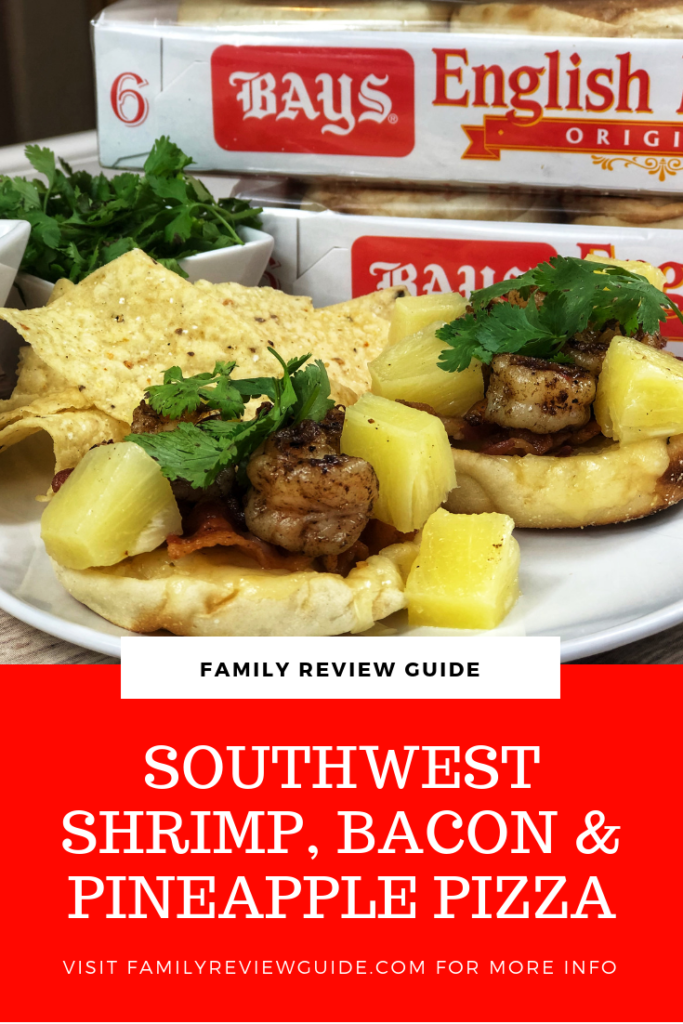 First you need to cook up some bacon. I have found that using a cast iron skillet creates bacon with the perfect color and crispiness. Drain the fat and return it to the stove. Sprinkle some chili powder on the shrimp and cook it until pink.  Meanwhile toast the Bay's English Muffin until they are toasty around the edges. Place a piece of pepper jack cheese on top of the two halves. Carefully broil them for 1 minute and then arrange bacon, shrimp, and pineapple and sprinkle with a bit of cilantro.
This sandwich has a a little bit if a bite and will keep you full for hours. Serve it up with some tortilla chips and guacamole or slice up some bell peppers for a low carb option.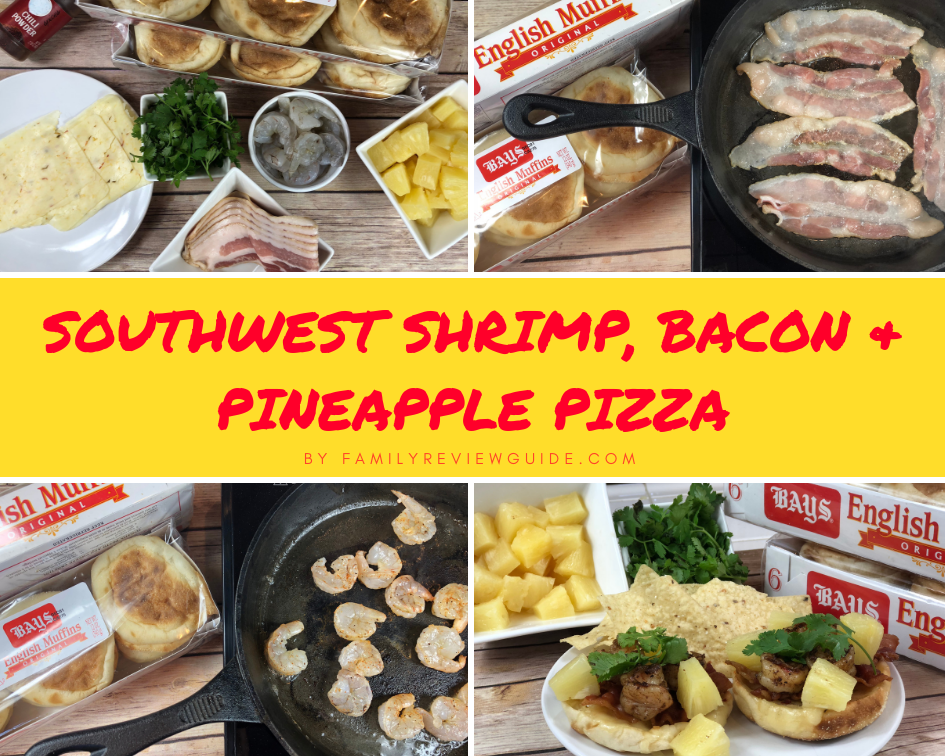 Watch The Recipe
SHRIMP, BACON & PINEAPPLE PIZZA
INGREDIENTS
4 slices bacon, chopped
1-2 teaspoons chili powder
1/2 Pound medium raw shrimp, peeled & deveined
1 cup fresh pineapple, chopped
4 BAYS English Muffins, any variety, split
8 Pepperjack cheese slices (1 ounce each)
2 tablespoons chopped cilantro or parsley, optional
INSTRUCTIONS
Cook bacon in large skillet over medium heat 4 to 5 minutes or until partially cooked, stirring occasionally. Drain grease; return bacon to skillet. Sprinkle chili powder over shrimp and add shrimp and pineapple; cook 3 to 5 minutes or until shrimp and bacon are cooked, stirring occasionally.
Meanwhile, toast muffins. Place on baking sheet; cover each muffin half with cheese.
Broil 2 minutes or until cheese is melted. Top with bacon-shrimp mixture. Sprinkle with cilantro. Serves 4.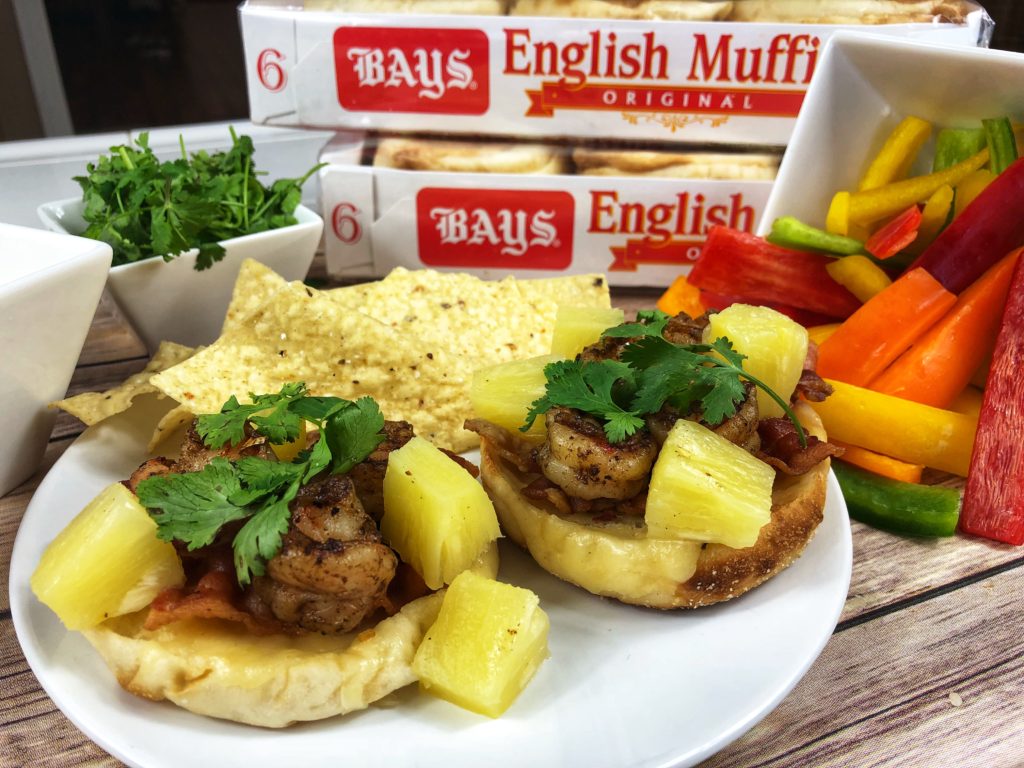 Fun Fact
Did you know that Bay's English Muffins are made from only the finest ingredients? This includes pure cane sugar, Minnesota spring wheat, whole milk, Wisconsin AA butter, and pure potato flour. And, Bays English Muffins are naturally low in fat; only 2 grams for the original flavor. So you can enjoy delicious, rich muffin flavor — without the guilt.
Where Can I find Bays English Muffins?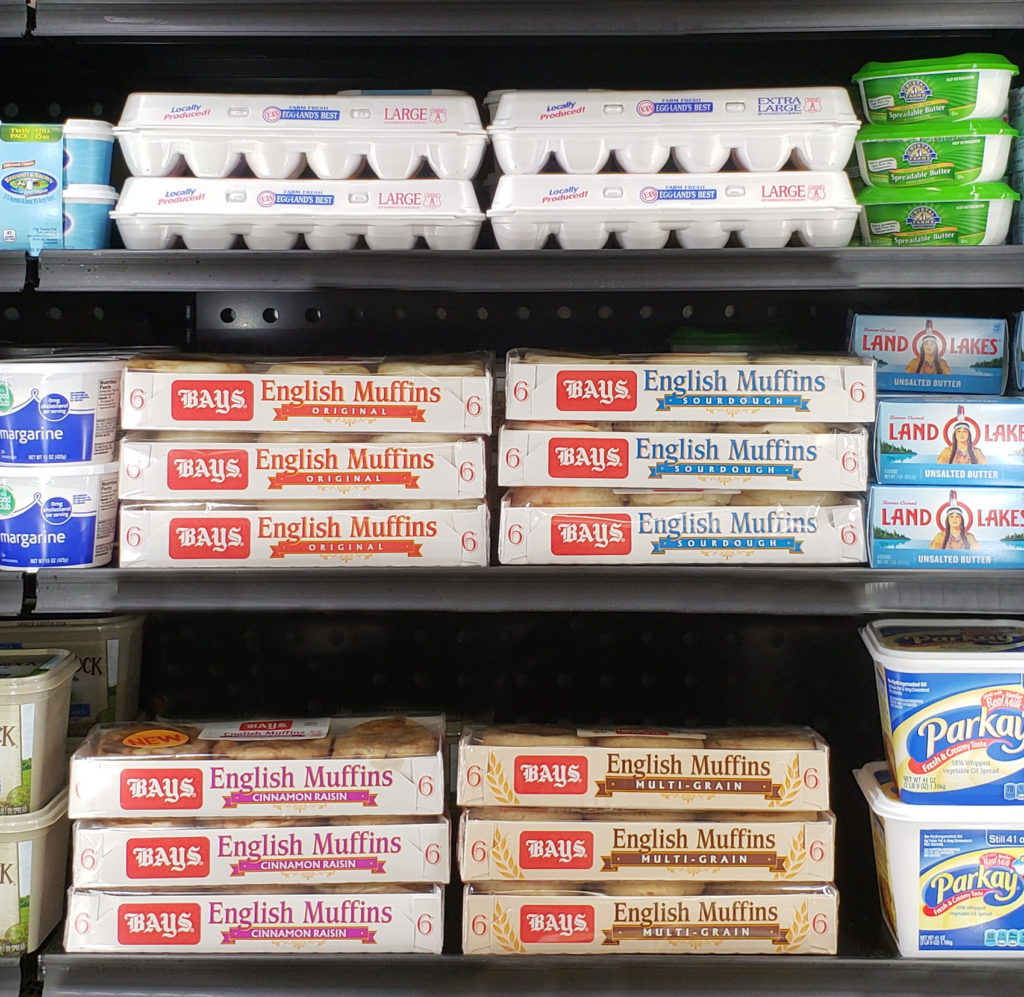 You can find Bay's in the dairy case (next to the eggs) of your local grocery store because they are carefully chilled for freshness.  There are four different varieties of Bays English Muffins. Cinnamon Raisin, Multi-Grain Original and Sourdough. Get them all and freeze some for later!
If you need some inspiration for mealtime, Bays has a huge selection of recipes for breakfast, lunch, dinner and snack time.
Stay up to date on Bay's English Muffins by Following them on Facebook and Pinterest.