Sharks are fascinating and very diverse animals. Getting to see them up close and personal can be very educational and rewarding. At Seaworld San Diego, you can experience a rare, fascinating, up-close look at these prehistoric predators whose ancestors dominated the sea more than a hundred million years before dinosaurs walked the earth.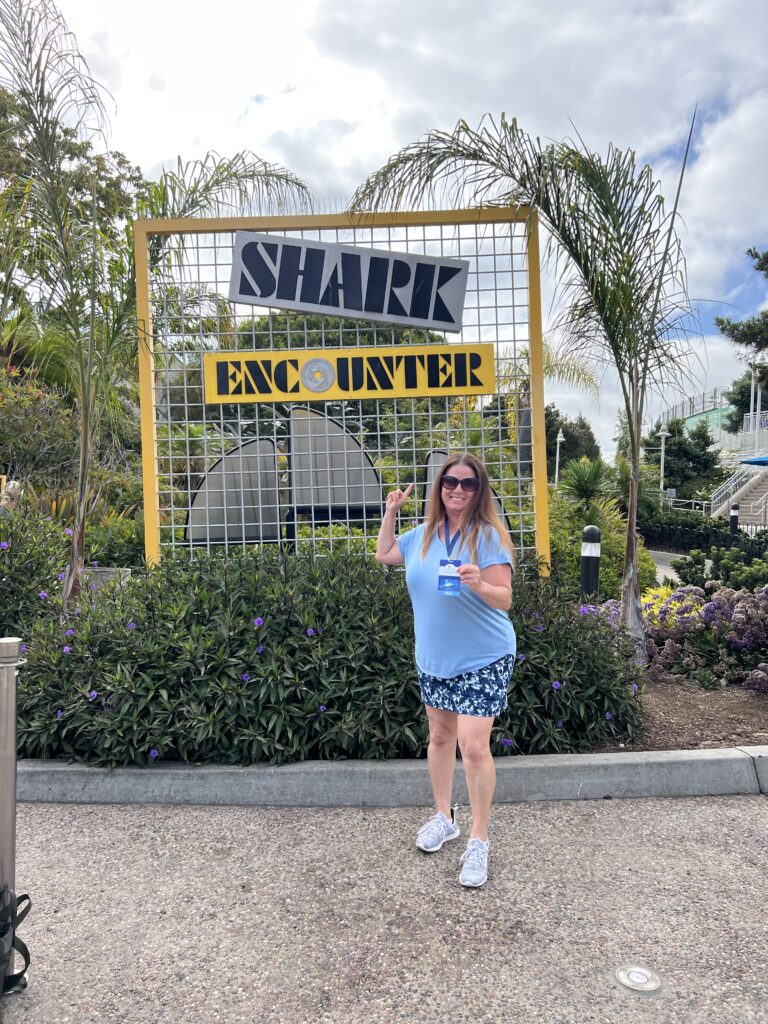 On a recent visit to the shark encounter for a JAW-some event, I had the unique opportunity to hear from shark experts, view sharks from below and atop the water, view the eating habitats of multiple species of sharks, and more all while learning about how this incredible animal is essential to keeping our oceans healthy.
Here is a bucket of chum they use to feed the sharks! Look at all those fish heads!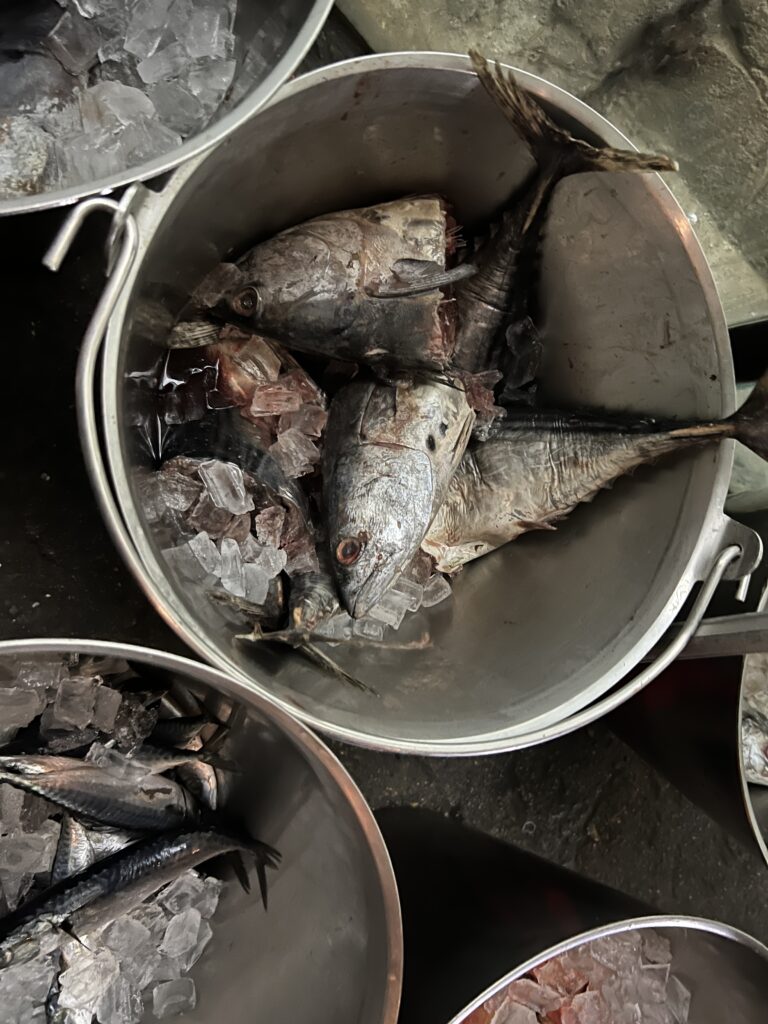 I also learned that the sharks in the encounter do not have names, they have numbers. And when they feed the sharks they record which shark ate how much food and so on. They use target feeding. Target training is the basis for most animal training, and it's easy to build off of that simple behavior. When a shark first comes in, it is easiest to establish this training before the shark is transferred into a larger exhibit with other animals. These techniques are successfully implemented with a variety of fish species. The first step is to get the shark eating. Sharks are food motivated and eventually, the shark will associate this sound with feeding. The second step is to establish a visual target. This is often a white triangle block. Once the shark is reliably eating, they move to only feeding them next to the specified target. Putting the first few training steps together; we start by tapping to let the shark know that a feeding session has started, then we put the target in the water, and from that point forward the animal will only be fed if they come to the target to get the food. The goal is to have the animal eating directly on the target every single time.
Here is a sample of some of the sharks you will observe.
They also have some grouper fish in the tanks too!
Shark Facts
Here are some eye-opening shark facts:
Female sharks have thicker skin
Some female sharks can reproduce independently
There are more than 500 different species of sharks
Sharks have electric senses
You can put a shark into a trance called tonic immobility by gently flipping them onto their back.
Shark spotters make beaches safer for swimmers and sharks
Whale sharks are the biggest fish in the sea
Some sharks can never stop swimming in order to breathe
Shark Tail Drink
If you want to cool off in this wicked heat, guests can get a refreshing "Shark Tail" drink. This is an alcoholic beverage, so only for adults but it's a must-have! Shark Tail is available at various locations across the park. However, the Shark Tail will only be available throughout the summer. The Shark Tail is a vodka-based drink (Titots) made with Chambord, lemonade, lime juice, blue raspberry juice, and coconut topped with a shark gummy.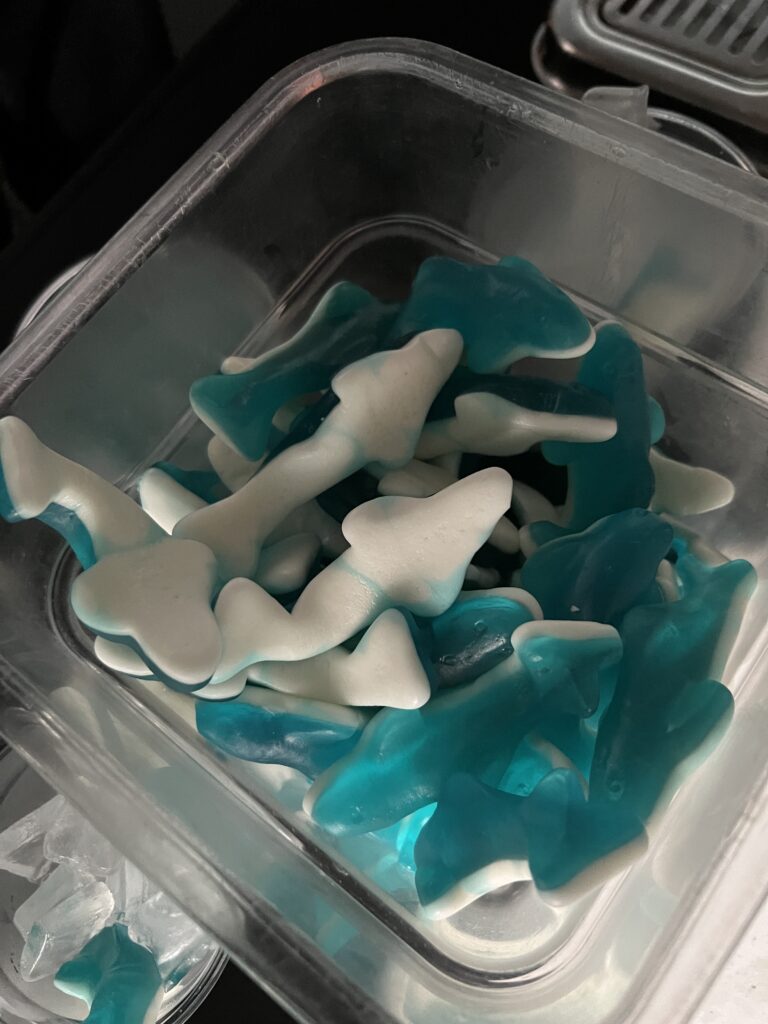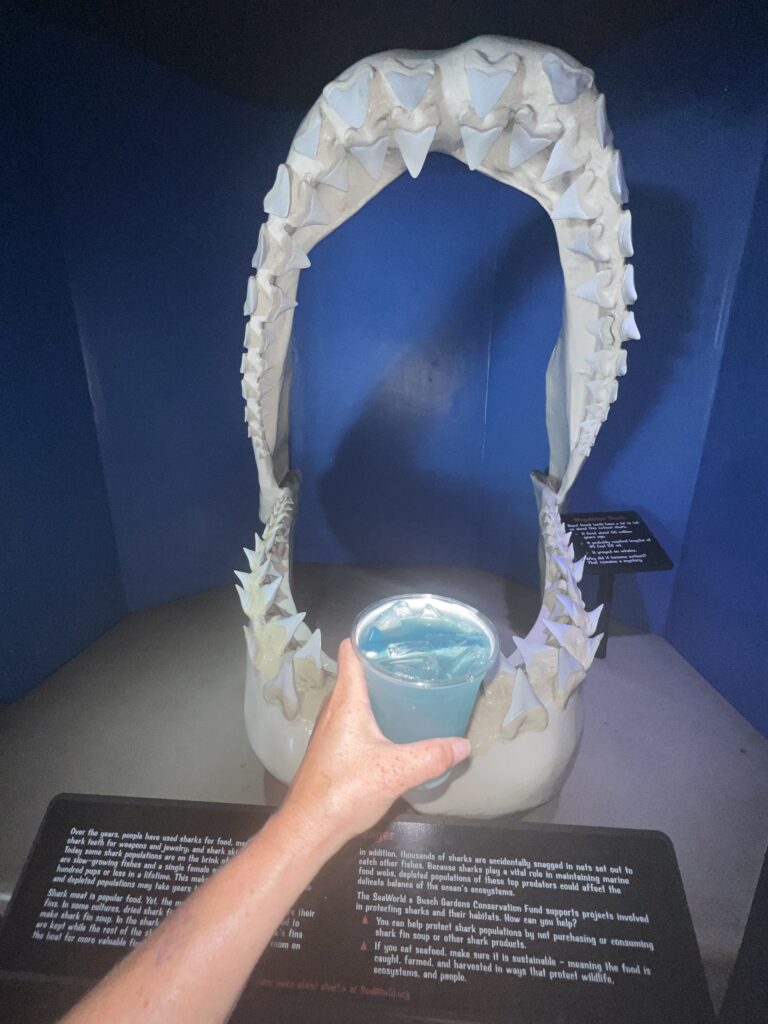 End of Summer Sale
Don't miss out on the chance for the SeaWorld SoCal pass where you can visit year-round. Seaworld is currently running an end-of-summer sale:
SeaWorld SoCal Pass