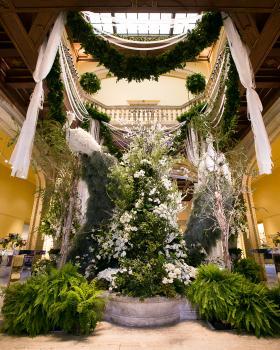 Looking for something fun and inspiring to take the family to this month? Head out for a fun daytrip to San Diego for a look at the Art Alive exhibit at the San Diego Museum of Art!
For the 35th annual Art Alive, more than 100 floral designers will transform famous works of art into exquisite floral displays. The Museum's signature fundraiser and a highly anticipated San Diego tradition, Art Alive 2016 brings works of art to life in a unique and beautiful way during three days of celebrations from April 29-May 1, 2016.
This year, Jim Lennox and Ben Lucero of Pacific Event Productions in San Diego will transform the Museum's central Rotunda into a lush and beautiful floral design and art experience reflective of the Brush and Ink: Chinese Paintings from The San Diego Museum of Art Selected by Pan Gongkai spring exhibition and the Museum's incredible Asian art collection. An exquisite floral designer with more than 20 years of experience, Lucero will add a new twist to an old Asian tradition with a Rotunda design encompassing the creativity, emotion and powerful energy embodied by the element of fire.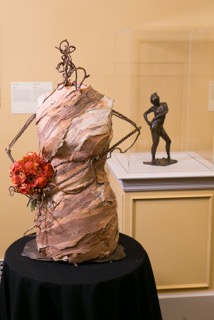 This year's floral exhibition will be open from 9:00 a.m. to 5:00 p.m. on Friday, April 29, through Sunday, May 1. General admission is free for members, $20 for nonmembers and free for children age 6 and under. In addition to viewing the annual floral exhibition during Museum hours, Art Alive 2016 offers three full days of events, activities and celebrations featuring:
BLOOM BASH
Friday, April 29, 7:00 p.m. – Midnight
For the third year in a row, Art Alive will kick off with the BLOOM BASH Opening Celebration.
Featuring artwork by sculptor and designer James Peterson, this magical, nature-themed party offers culinary creations from San Diego's top restaurants and chefs, floral-infused cocktails, live music and dancing, interactive entertainment and an exclusive after-hours viewing of this year's floral exhibition. Tickets to the BLOOM BASH are $200 for members and $250 for nonmembers.
Garden of Activities
Saturday, April 30 and Sunday, May 1, Noon – 4:00 p.m.
Great for families, the Garden of Activities features a Museum-wide flower hunt, a children's reading area complete with nature-inspired stories and a variety of floral-themed projects designed for children and families to enjoy together. Activities are free after Art Alive floral exhibition general admission.
Floral Demonstration
Saturday, April 30, 1:00 p.m. – 2:30 p.m.
A new floral demonstration will be led by Kika Shibata, a renowned instructor of Sogetsu Ikebana—the avant-garde form of the Japanese art of flower arranging. The demonstration will be a dazzling spectacle, highlighting the creative freedom of the art form and the relationship between humanity and nature. Shibata teaches ikebana classes throughout the Bay Area, in Sacramento, San Diego, Arizona, and Dallas, Texas. Tickets to this presentation are $25 for members and $50 for nonmembers.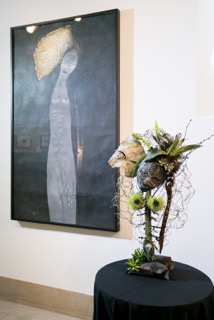 About Art Alive
As the Museum's largest annual fundraiser, Art Alive highlights its permanent collection to provide critical support for education, outreach programs and special exhibitions year-round. For more information or to make a donation in support of this San Diego tradition, call the Art Alive Hotline at 619-696-1999, or contact the Museum at [email protected]. Tickets are also available online at sdmart.org/artalive.
Support for Art Alive has been provided by Art Alive 2016 Presenting Sponsor: Conrad Prebys and Debbie Turner, Signature Sponsor: Audrey S. Geisel, Dr. Seuss Fund,The San Diego Foundation, and Supporting Sponsor: Valerie and Harry Cooper. The Art Alive 2016 Premiere Dinner Chairs are Valerie Cooper, Demi Rogozienski, and Sheryl White. BLOOM BASH chairs are Jacki Johnson-Widder, Lynda Kerr and Blanca Uribe.
About The San Diego Museum of Art
The San Diego Museum of Art is located at 1450 El Prado in Balboa Park, San Diego, Calif., 92101. General Information, (619) 232-7931, Group Sales: (619) 696-1935, Website: http://www.sdmart.org/art-alive-2016 Twitter: @SDMA
Instagram: @SanDiegoMuseumofArt Facebook: http://www.facebook.com/TheSanDiegoMuseumofArt
Enter To Win 2 Passes to Art Alive in San Diego
Tickets are valid from April 29 – May 1.