Salad Bars have always been a treat for me. While a few restaurants have them they are often times limited on ingredients and they aren't super common here in CA. At least that is what I thought! On a recent trip to Texas I was treated to lunch by an awesome new restaurant called "Salata". This place is a candy store for salad junkies like me. I also discovered there is a local one about 20 minutes from my house.
The Salata I visited was in Houston, Texas. It is nestled in the heart of The City Centre, a booming, hip entertainment center. The dining area is spacious and clean and you really get a fresh vibe when you walk in.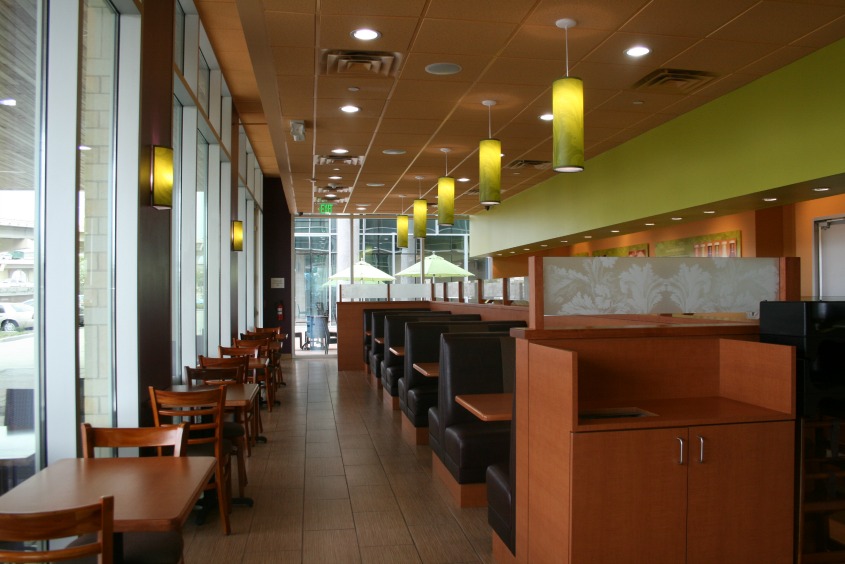 The concept behind Salata is quite simple. Customers can build their own custom-made salad at a flat price. They can choose as many toppings as they want without being charged extra (except for meats, and seafood).  A veggie salad is $8 and is $2 more with chicken and $3 more with seafood. Avocado is another dollar. Wraps are a little less. There are also a few soups like tortilla, broccoli and tomato basil soup.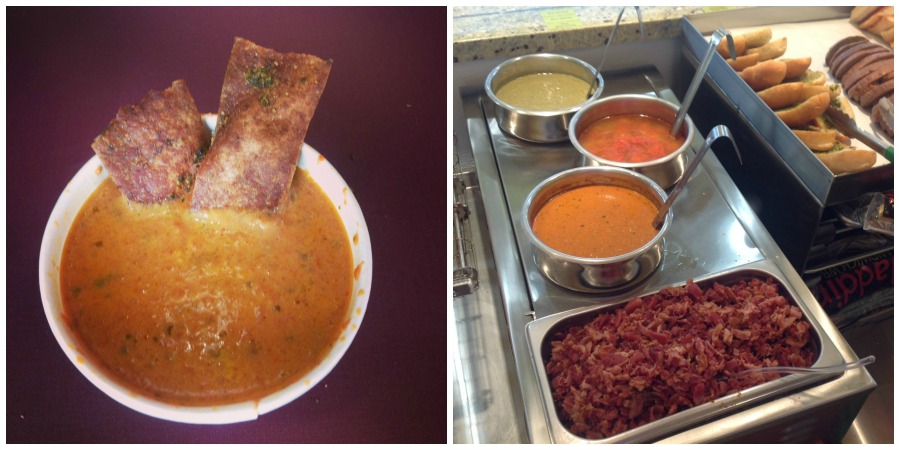 Tip: Ask for bacon pieces in your soup!
You start by choosing the type of lettuce you like. Your options are "A Salata Blend Mix, spring mix, or Kale. The lettuce is constantly being refilled so there is always fresh greens. Nothing looked wilted or soggy.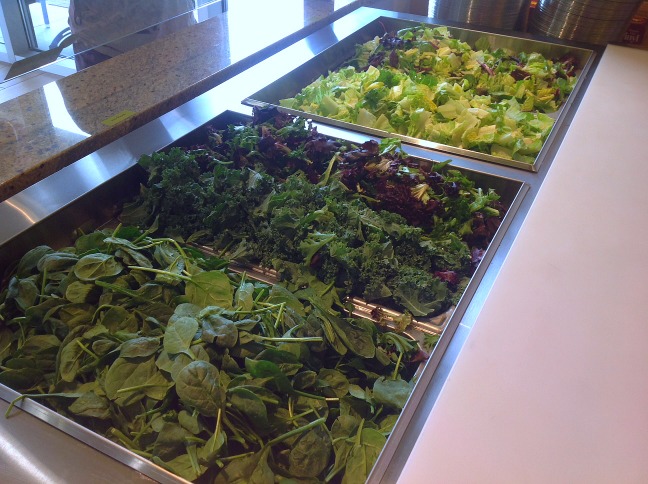 There are so many different toppings to choose from. Everything from sun-dried tomatoes and mandarin oranges, to pumpkin seeds and chickpeas. Whatever you like, Salata will probably have you covered. I liked that there was such a variety to choose from as I get bored with the typical carrots and cucumbers.

Next up is meat and seafood! Choose from Herb Marinated Grilled chicken, Pesto chicken, Spicy Chipotle chicken,  or Asian BBQ chicken. For seafood choose Herb Marinated or Spicy Shrimp, Baked Salmon, Krabmeat,  or Seafood mix. One thing I should note is that Salata is nearly Gluten-Free. That was a total bonus for us. There are stickers on the salad bar telling you what is gluten-free and what isn't.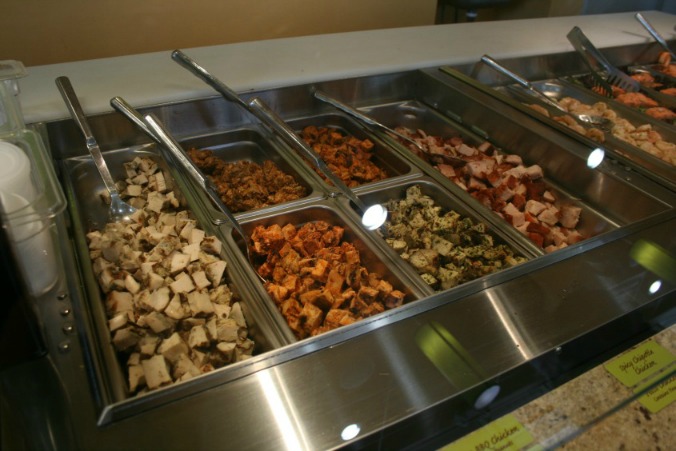 The dressings were also very plentiful. There are 10 dressings to choose from including: Fresh Herb Vinaigrette which was by far my favorite, Buttermilk Ranch, Classic Caesar, Honey Mustard, Ginger Lime*, Chipotle Ranch, Balsamic Vinaigrette, Fat-free Sun-dried Tomato, Fat-free Mango and Lemon Vinaigrette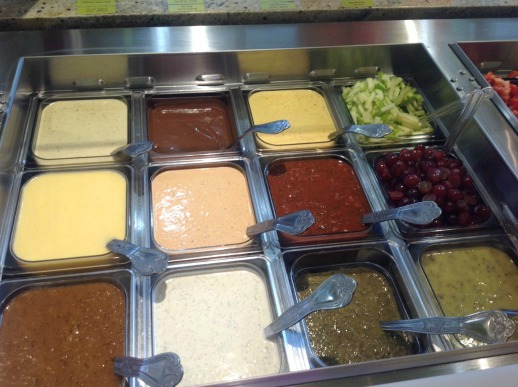 Lastly comes the crunchy stuff! Salata makes their own croutons and pita chips and they are delicious. You can also pick from 3 types of breads.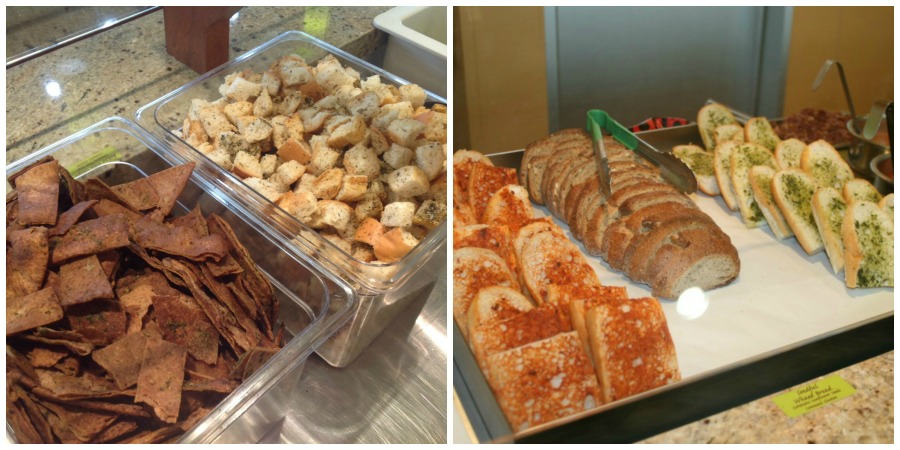 Here is the end result! A spectacular salad with everything but the kitchen sink in it. Team members at Salata will toss your salad at the end of the line for you giving your salad that perfect touch!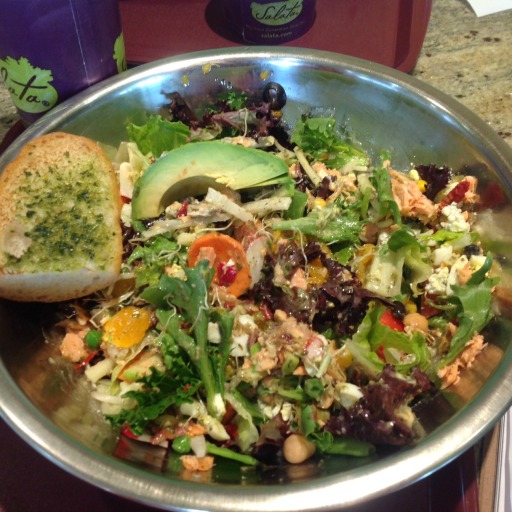 Salata Facts
Salata abides by the 3 F's – Fresh, Full and Fluffy. (All of their produce is constantly being refilled and turned giving it that fresh, full and fluffy look.
All of the veggies are cut fresh daily.
All soups are made fresh.
Nothing is frozen but soups and seafood.
Salata gets produce deliveries 6 days a week
There are 29 Salata Franchises
There are no coins on the menu. Everything is a flat rate.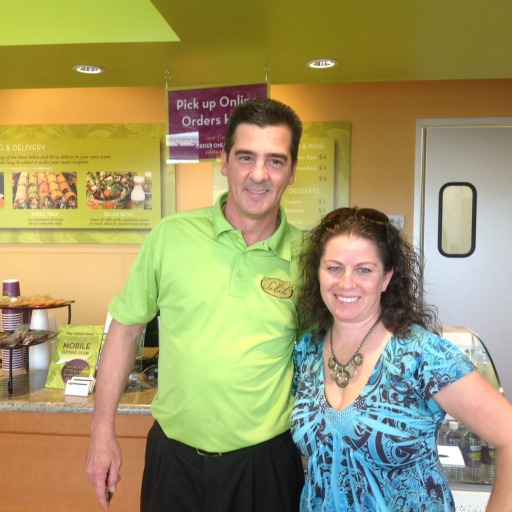 Me and Mark Baker
For a full menu visit http://www.salata.com and see if there in one near you!