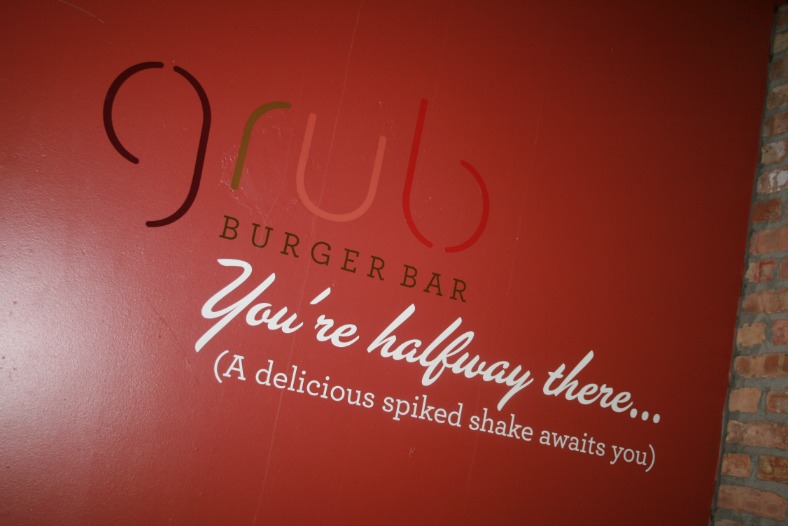 Grub [gruhb] noun: Good Food. That is the definition of Grub Burger Bar in Houston, Texas. On our recent trip to Texas this was the first stop we made after we got off the plane and man were we hangry! If you have never heard of the term "hangry" before just know it is a cross between being hungry and angry.
Grub Burger is located inside the City Centre next to the Sorella Hotel so it was just a walk, skip and a jump for us. It is upstairs so be prepared to climb a few steps. When we arrived around 6:30 the place was busy which is always a great sign. The restaurant has a nice modern feel to it and is well designed.
Drinks
My husband and I started off with some spiked milkshakes. What?? Spiked Milkshakes? Yes  you read correctly. I was so excited  because i have never seen these in CA. I had the Mint chocolate chip one. It had Vodka, Coffee Liqueur, Creme de Mènthe, Andes Mints and chocolate. My husband had the "Taxaz" which had tequila, coffee liqueur and chocolate. They were amazing but just keep in mind they will fill you up!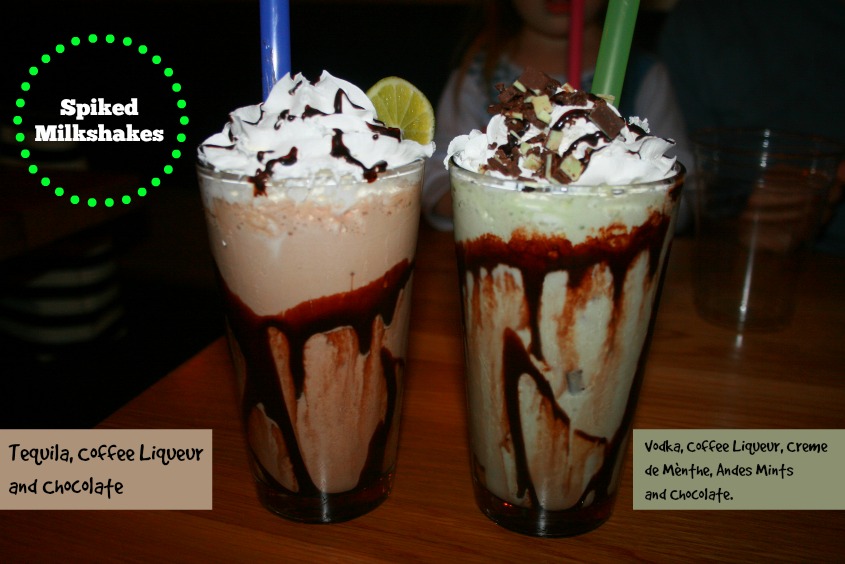 Appetizers
We also noticed this unique appetizer on the menu called Luau Fries that we had never had before so we split those with the kids. They had pulled pork , cheddar cheese, grilled pineapple,  jalepenos, Teriyaki and BBQ sauce. they were outstanding. I could have eaten that for my meal alone!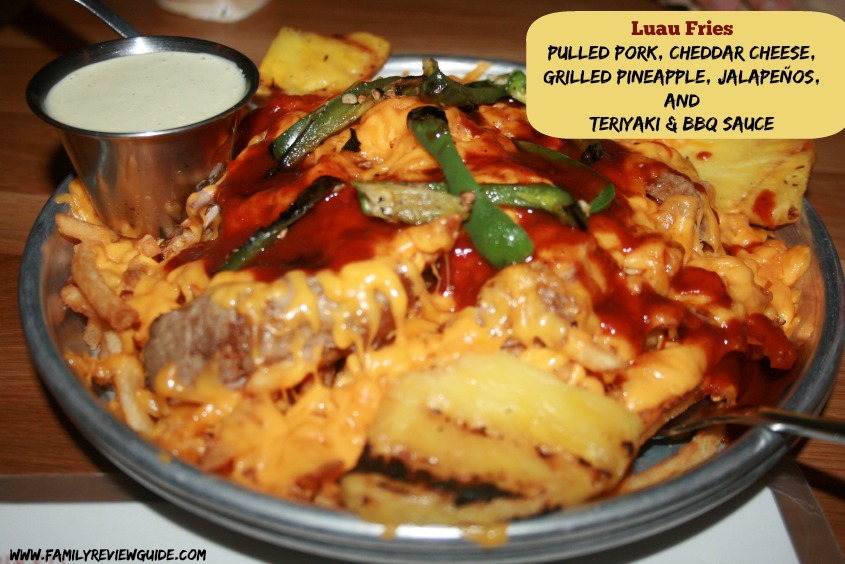 Grub Burgers
We couldn't come to a place called grub burger without trying their burgers so we all ordered something we liked. I got the Blue Cheese Burger because i love blue cheese and can smother it on anything. Let me just tell you these burgers do not disappoint. They are so flavorful and packed with so much protein. It was exactly what I wanted! Look how carmelized the onions are and how the blue cheese is perfectly molded to the patty. Yum!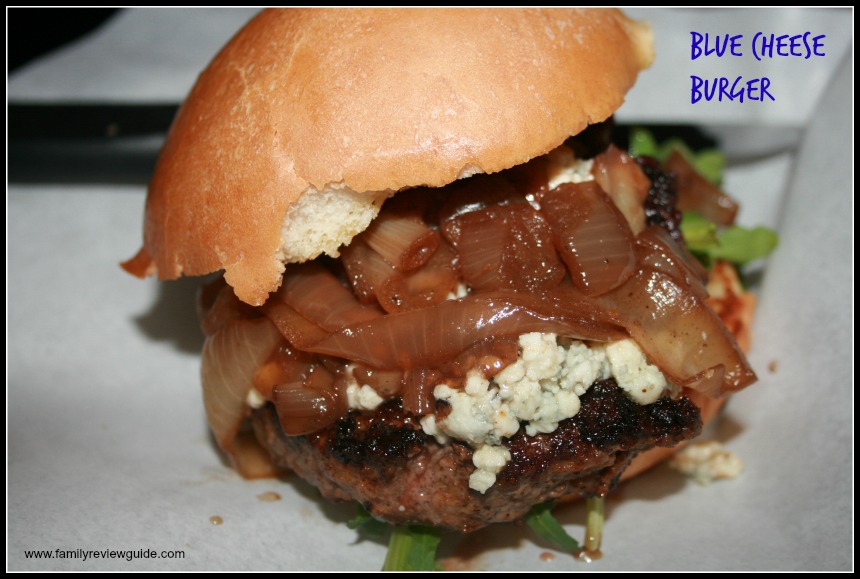 My husband is more daring than me so he ordered the Ghost Burger. It had Pepper Jack cheese, ghost chili sauce, grilled jalapeños, lettuce and tomato. You can also order it "inferno" style with an ice cream chaser. Good News-Since my husband eats gluten-free, he opted to choose the Gluten Free bun and he said it was just as good as mine. He couldn't even tell the difference.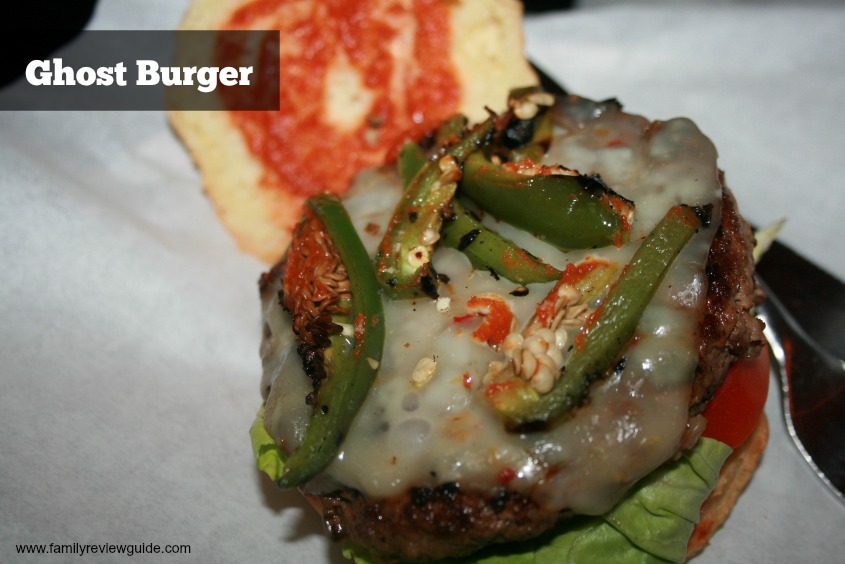 My oldest son has the appetite of an adult so he ordered the Lockhart Legend Burger. Applewood smoked bacon, cheddar cheese, house made Dr Pepper BBQ sauce, topped with two hand battered onion rings and sliced dill pickles. I had a bite and it was so good. The onion rings gave it a nice crunch and it was bursting with flavor. He also ordered the gluten-free bun and enjoyed it a lot.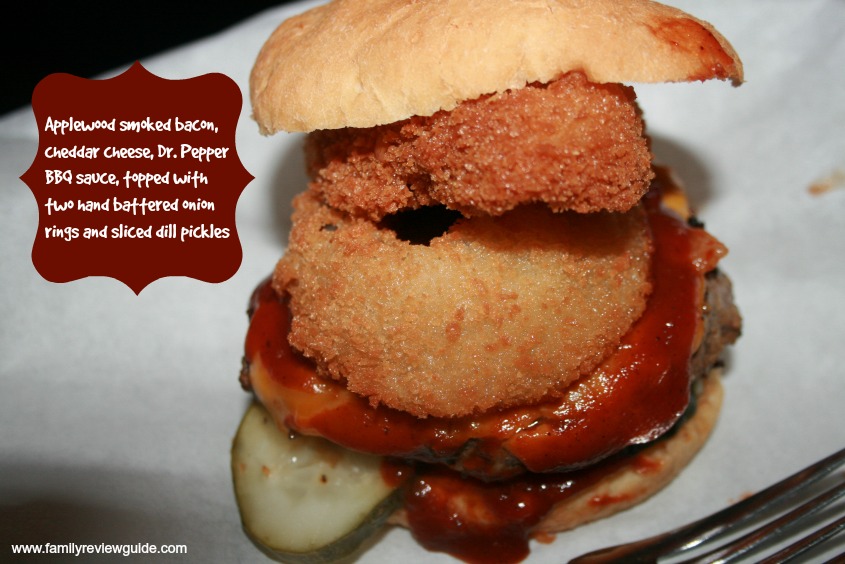 The two little ones ages 7 and 3 ordered off of the kids menu. The options a were grilled cheese sandwich, a burger or peanut butter and jelly. my daughter ordered the grilled cheese with french fries and it was a great size for her. she actually ate the entire thing which is rare. It was ooey and gooey just how she likes it.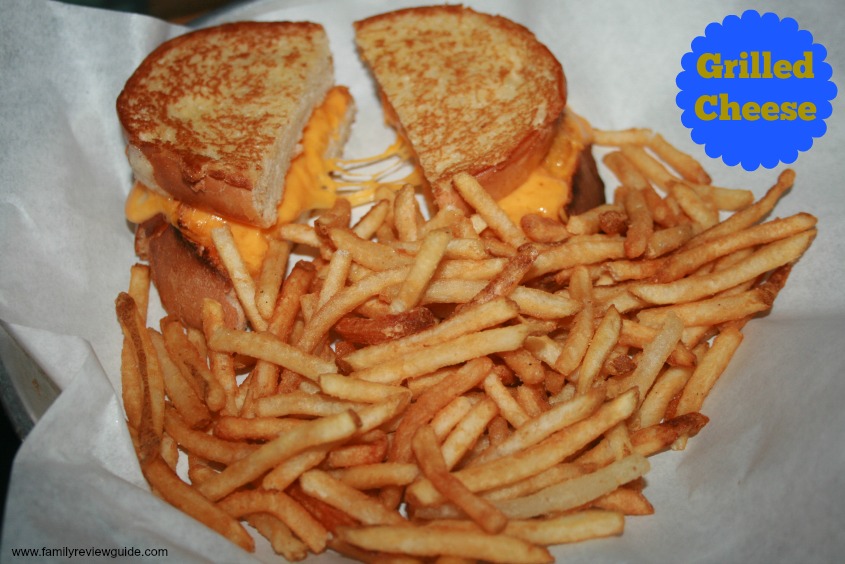 My son ordered the burger and it was also the perfect size for him. You can see it is a little larger than a slider and he did not leave anything over.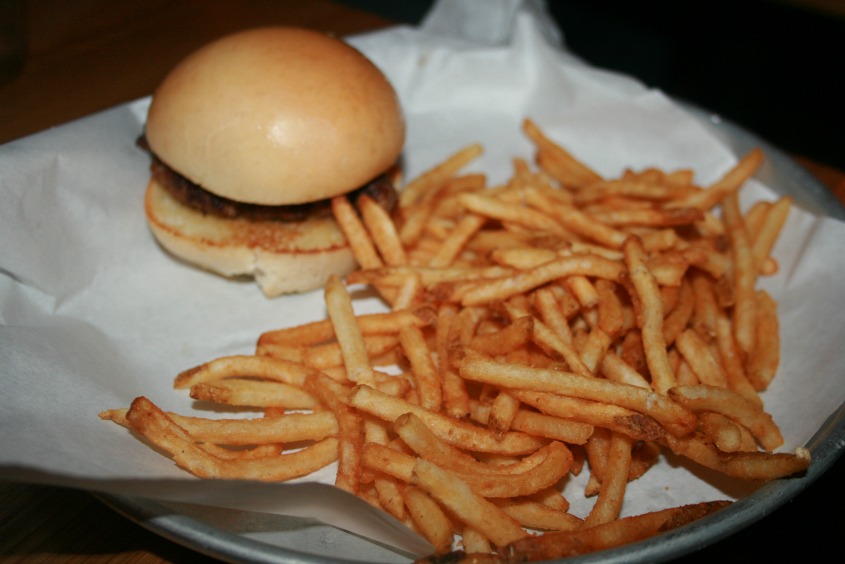 We were so stuffed after our meal that we literally sat in our seats for another 15 minutes because we couldn't move. We were really glad that we could just walk outside and walk off some of our grub. There is a huge grassy area for kids to run around on just outside of Grub Burger. It is such a great location. To see the entire menu click here.
Tips
You can add a cage-free egg to any burger for only a dollar
Their dressings for their salads are all made in house from scratch
Their produce is cut fresh daily.
Kids can order apple slices instead of French Fries
They offer Gluten-Free buns for an extra $2.00
They grind signature brisket and chuck blend every morning.
Grub Burger Bar is located at  799 Town & Country Blvd, Ste 200, Houston, TX 77024. (Upstairs from Urban Outfitters, next to Ra Sushi) Call them at: (713) 827-7157. Their Hours are: Sun. – Thurs. 11am-10pm | Fri.-Sat. 11am- 11pm
Email them: [email protected]