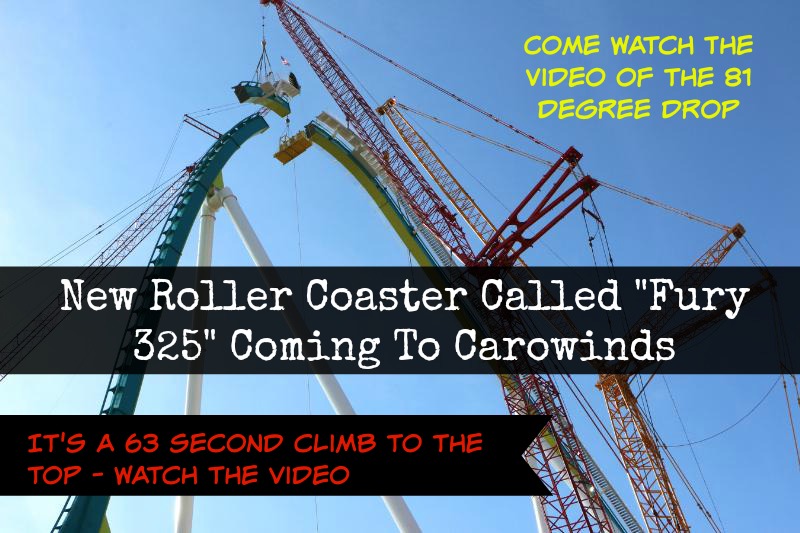 New Roller coaster coming to Carowinds
As the mother of a 12 adrenaline junkie out there who loves roller coasters herself,  I wanted to share this big piece of news with you. Carowinds, in N.C. installed the final piece of the 325-foot lift hill on their new roller coaster called "Fury 325".  It is the world's tallest and fastest giga coaster. After finishing work on the hill, which stands 20-feet taller than the Statue of Liberty, construction workers placed a Christmas tree at the peak, with the biggest holiday present for the Carolinas underneath.
Fury 325 Facts
400 – Trucks needed to haul the pieces for Fury 325 to Carowinds in Charlotte, N.C.
33 – Trucks needed just for the equipment to build the 350-foot crane that's erecting the Fury 325 lift hill.
140 – Tons needed to counter-balance the crane.
Here is a video of what Fury 325 will look like for anyone brave enough to board. Riders will begin an ascent that takes a terrifying 63 seconds to climb, then plunge down an 81-degree drop, reaching speeds of up to 95 mph as they race through a series of hills, curves and quick transitions. All told, it will take each of the three, 32-passenger open air trains nearly 3 minutes and 25 seconds to complete the 6,602-foot ride.
For more information visit Carowinds on Facebook and on Twitter.