This past weekend I was invited to see the show Disney Junior Live on Tour Pirate & Princess Adventure. I brought my 2 year old daughter  because she absolutely loves anything Disney. Being that she is my only girl this was a very exciting  adventure for us. It was her first time going to a theater and MY first time going to a girly show. I have 2 other boys so I am used to monster trucks and motorcycles.
Disclosure: I received complimentary tickets to the show in exchange for a review. All thoughts and opinions are of my own.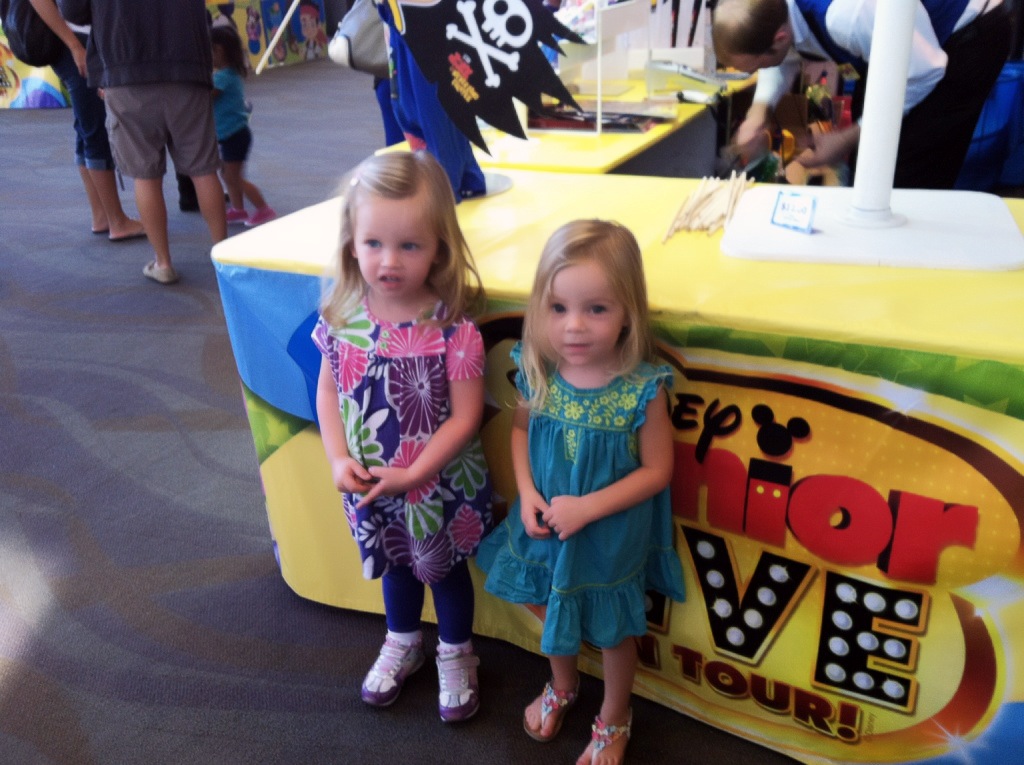 For a pre-show they had the loveable 6-year-old Doc McStuffins come out on stage to greet the audience. Then they had everyone sing "The Check-Up Song" along with Doc. I was amazed at how interactive the show started off. Everyone was on their feet and singing along.
Then we went on a journey to the magical world of Enchancia, where Sofia, her step-siblings Amber and James, and the entire kingdom are preparing for the annual friendship festival. We even got to see the fairy God Mothers and Cinderella!


After Enchancia, we traveled to Never Land where Jake and his Yo Ho pirate friends Izzy and Cubby were in a race against time to locate a mysterious treasure-filled volcano. Danger, thrills and adventure lurked around every turn while they battled Captain Hook for the ultimate prize. Peter Pan made a special appearance, aiding the team in their heroic quest, and with the help of Tinker Bell's pixie dust, Jake and his crew fly above the stage in their journey.

I loved how the actors voices were still the voices that you hear on the TV show. It really helped the kids relate to them. The masks and the wardrobe were equally as visually stimulating.
At one point in the show they had a bubble machine  giving off thousands of bubbles. It was fun to watch all the kids get excited about it.
Oh and there was a set in the show where Jake and his pirate friends were on a boat and they had a screen showing the boat in the water. And they had all the kids in the audience leaning to one side and then the other to control the boat and guide it from hitting rocks. Such a blast!

Here is a clip from the show:
At the end of the show the entire cast came out out and had everyone singing. Even Mickey and Minny changed their outfits and sang along with everyone. I loved how involved everyone was and when I looked to my left and then to my right all I saw was a pile of smiles. Such an awesome day!

To find out more about Disney Junior Live On Tour! Pirate and Princess Adventure and to purchase tickets, visit disneyjuniorlive.com, or visit us on Facebook at Disney Live! and follow us on Twitter @Disney Live!  For more information about Disney Live!, members of the media should visit www.feldentertainment.com.