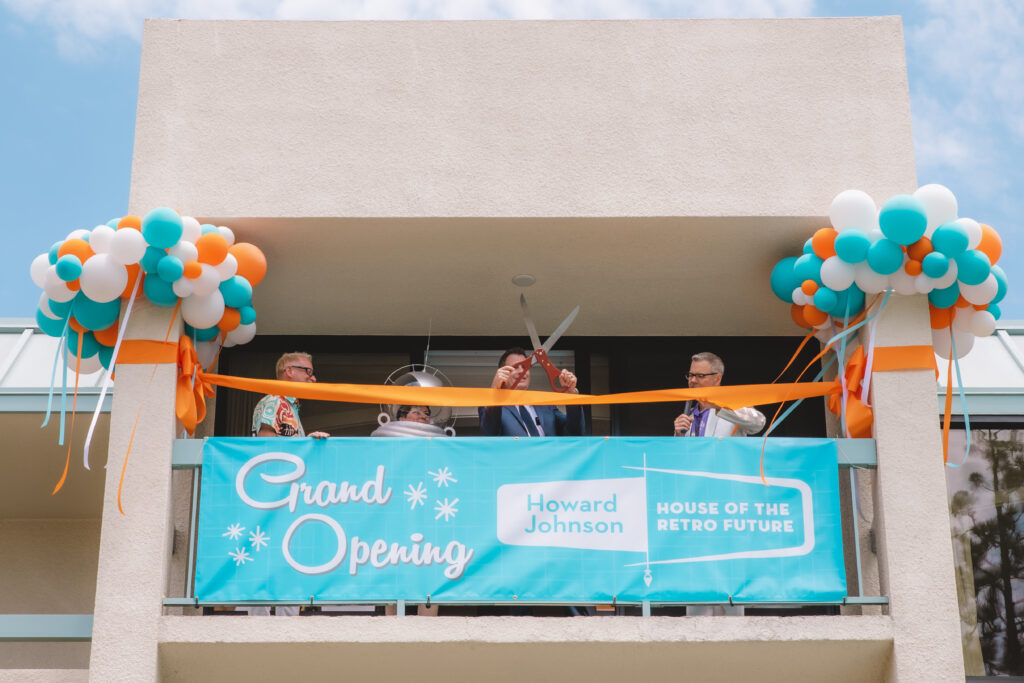 It's like nothing you have ever seen before- It's modern, yet vintage and it has throwback charm dating all the way to the 1960's. It's the House of the Retro Future Suite at the Howard Johnson Anaheim Hotel and Water Playground! This futuristic family vacation getaway is the highlight of the hotel's recent renovations, where guests can experience yesterday's tomorrow, today. The interior décor and design of the new suite were heavily influenced by the Monsanto House of the Future, featured in Tomorrowland at Disneyland Park from 1957 – 1967. The suite implies the mid-century modern design sensibilities of the Monsanto house (a melding of functional style and cutting-edge technology). Another décor/design inspiration came from examples of Googie and mid-century modern architecture once found in the Anaheim Resort District during the 1960s.
Features of the House of The Retro Future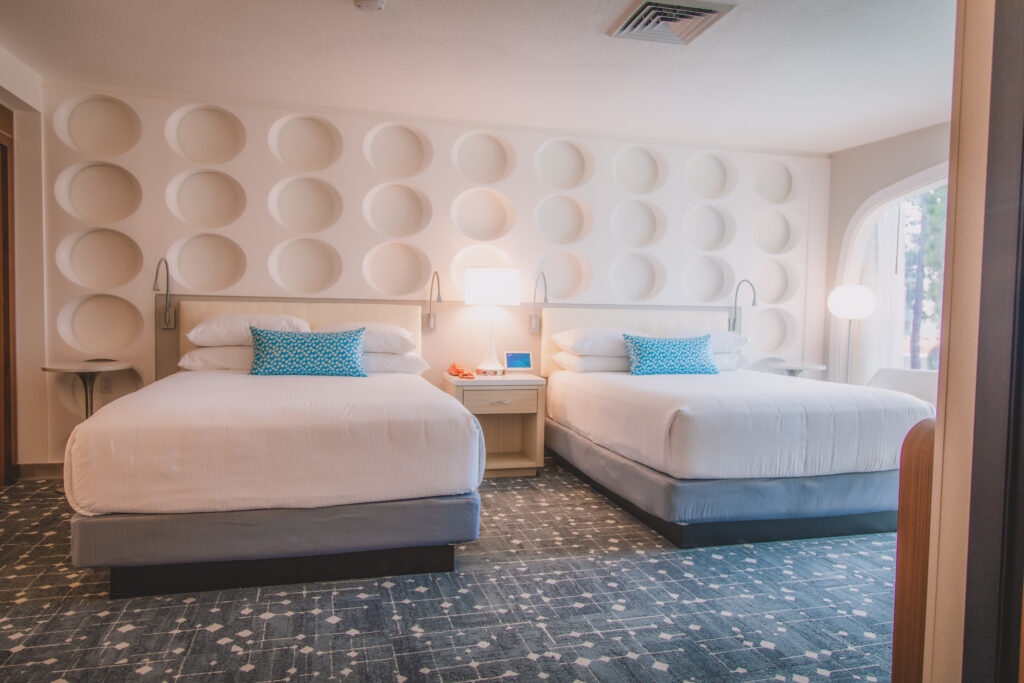 The suite features numerous design nuances that harken back to the Monsanto House of the Future, such as multi-paned window frames (providing glimpses of the futuristic Disneyland Monorail), a seemingly 1960s-era tube TV with round/curved framing, and vibrant color schemes. Custom artwork by popular artist Shag accents the suite along with retro seating by Modernica and Herman Miller, decorative panels by Modular Arts, appropriate era lighting by Restoration Hardware, and Amazon Alexa devices powered by Volara with voice-activated lighting and thermostat controls by Inncom/Honeywell.
Additional entertainment in the "House of the Retro Future Suite" is provided by a vintage-style record player with era-appropriate era record albums. The suite also comes with its own soundtrack (on Apple Music – Howard Johnson Jet Set) that features 1960s-inspired music that will put guests in a Swingin' 60s, Space Age, the mindset with touches of bossa Nova, smooth jazz, and ultra-lounge melodies.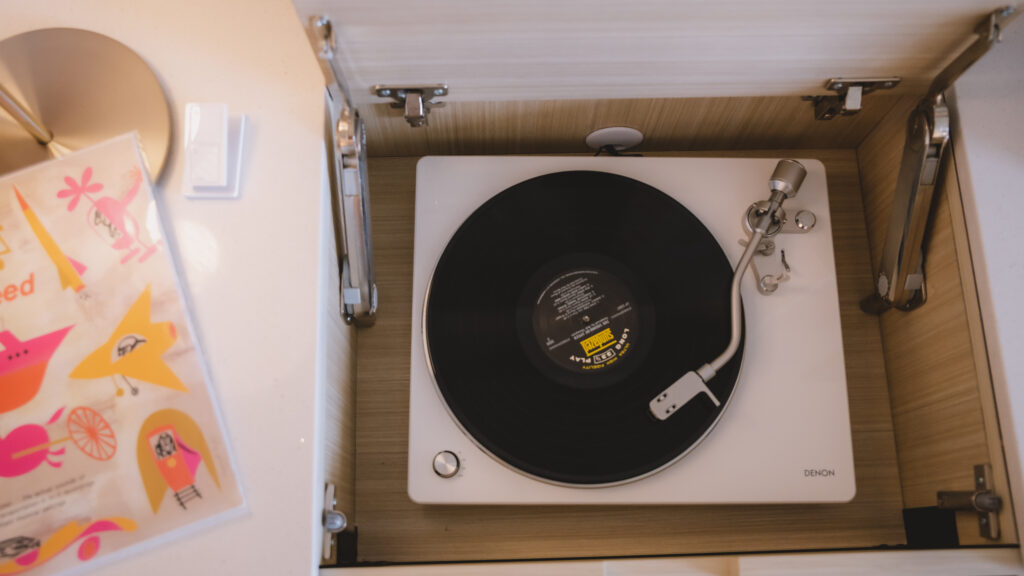 The addition of the "House of the Retro Future Suite" caps a multi-year and multi-million-dollar renovation of the Howard Johnson Anaheim Hotel. To reflect the hotel's mid-century past and brand, its familiar turquoise and orange color schemes have been preserved, resulting in a thoroughly retro-hip makeover.
Upgrades To Rooms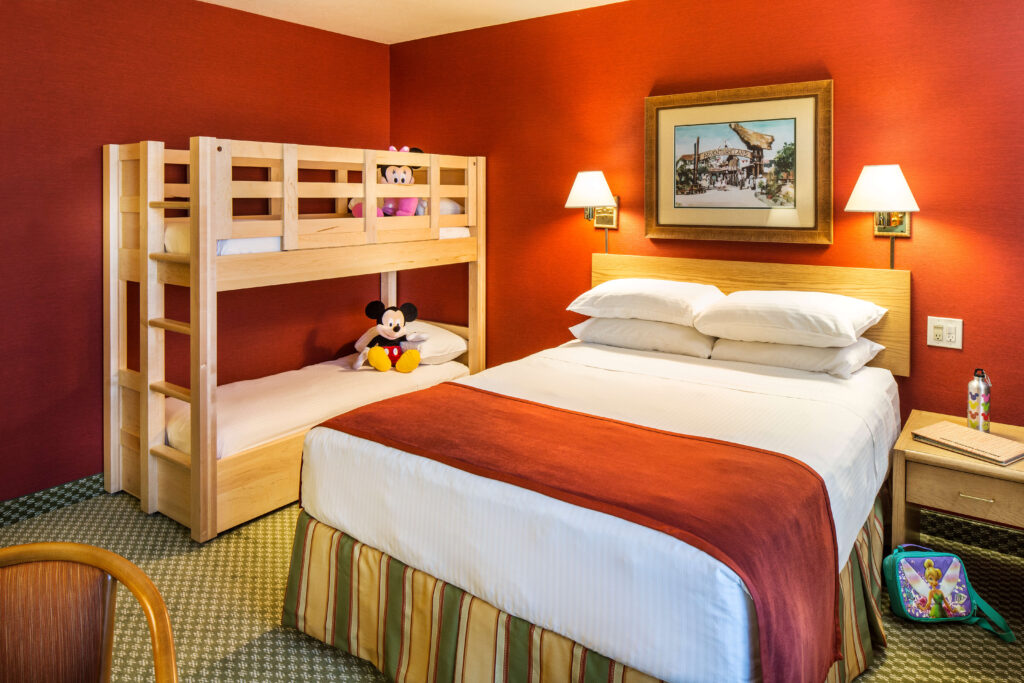 In addition to touches of turquoise and orange, all rooms now feature such 1950s/1960s décor era throwbacks as rounded mirrors inspired by George Nelson's Marshmallow sofa; desk chairs that echo the Eames desk chair, and a side table inspired by Eero Saarinen's pedestal table. The newly renovated Garden Pool features a newly re-imagined 1960s-inspired deck area surrounded by mature Canary Island Pines and lush landscaping, providing an ideal oasis for relaxation and fun in the California sun.
The Howard Johnson Anaheim Hotel is an authentic example of what is now known as Mid-century modern architecture, a design approach popular during the 20th century (primarily in the 1950s and 1960s). It is characterized by a contemporary, seemingly futuristic aesthetic emphasizing form and function. The hotel was designed by world-renowned architect William L. Pereira, one of the masters of the popular Mid-century modern architectural movement. Pereira's mid-century modern design style can be seen in the hotel's unique vaulted ceilings, barrel arch roofline, and charmingly futuristic lobby building.
Listen To Charles Phoenix Talk About Disneyland in The 1960's/1970's
Tour Of The House Of The Retro Future
View this post on Instagram
Around the Grounds
TheGarden Pool is like a secluded oasis surrounded by mature Canary Island Pines and lush landscaping.  This pool area is located next to Building #2 and is separate from our Castaway Cove Water Playground. The heated, outdoor pool is an excellent place to relax with your family and unwind from the fast-paced sightseeing experience. Enjoy the convenience of being able to come back in the middle of your jam-packed Disney day for a refreshing dip before heading back to the excitement of the Disneyland® Resort.
To maintain a safe and enjoyable experience, seating is issued on a space-available basis by a facility attendant. They only allow entry for the number of seats at the Garden Pool. Guests will be asked to queue outside the facility until seating becomes available.
There is also a giant Adirondak chair that is great for photos! My girl OnTheGo OC and I had a great time taking instagram photos on this chair.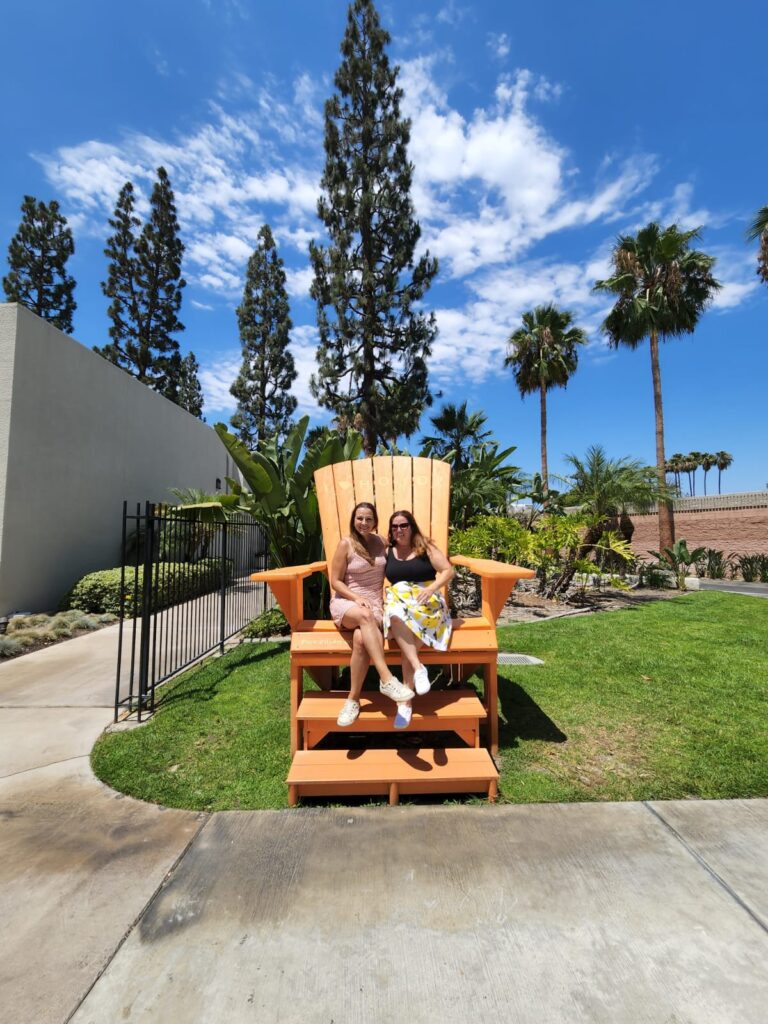 Castaway Cove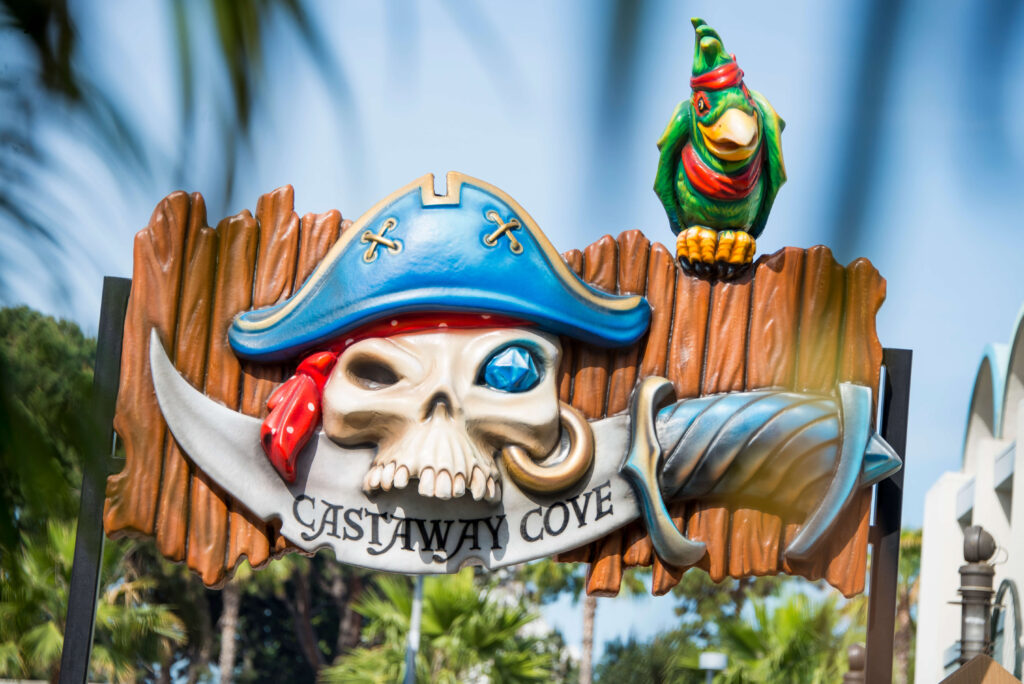 Kids young and old will love splashing around at Castaway Cove – a watery pirate playground featuring slides, water cannons and a pirate ship with a splash! Little swashbucklers will love "Speedy's Sprayground" featuring Speedy, the turtle, splash fountains, and a toddler pool with beach-style entry.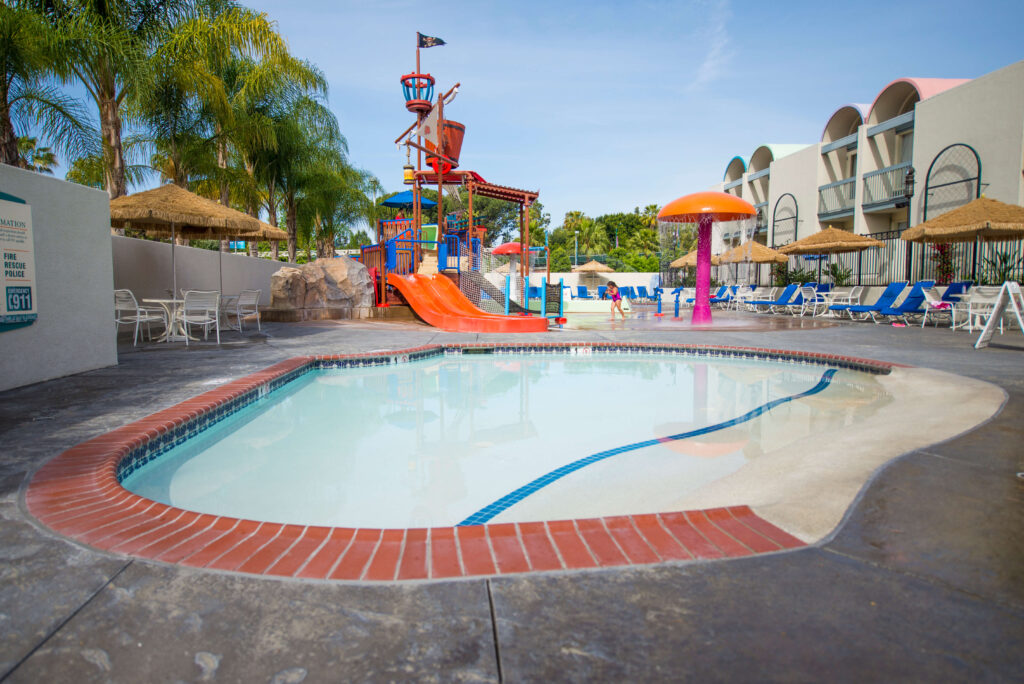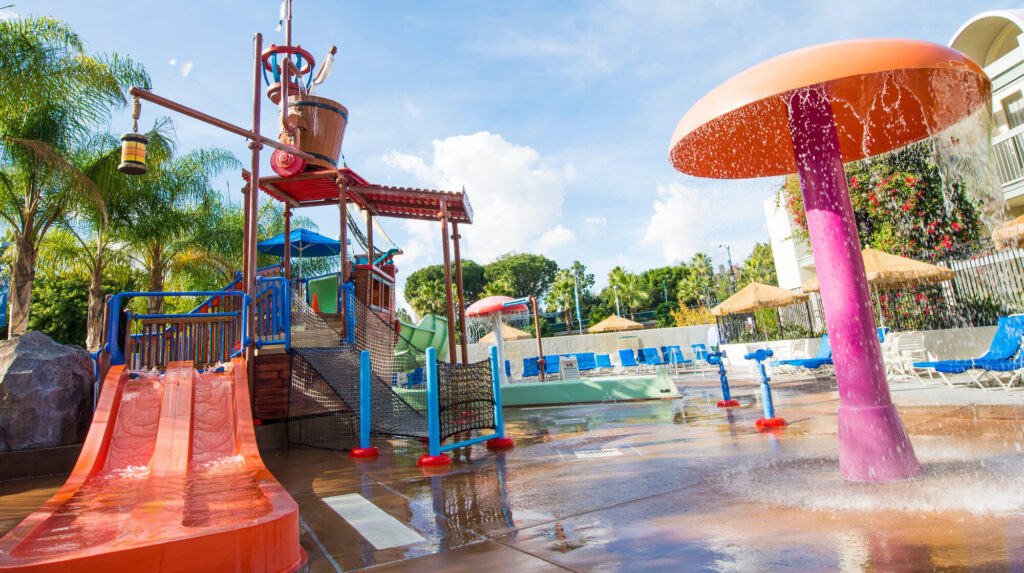 For more information on the Howard Johnson Anaheim Hotel & Water Playground visit them on Facebook and Instagram.