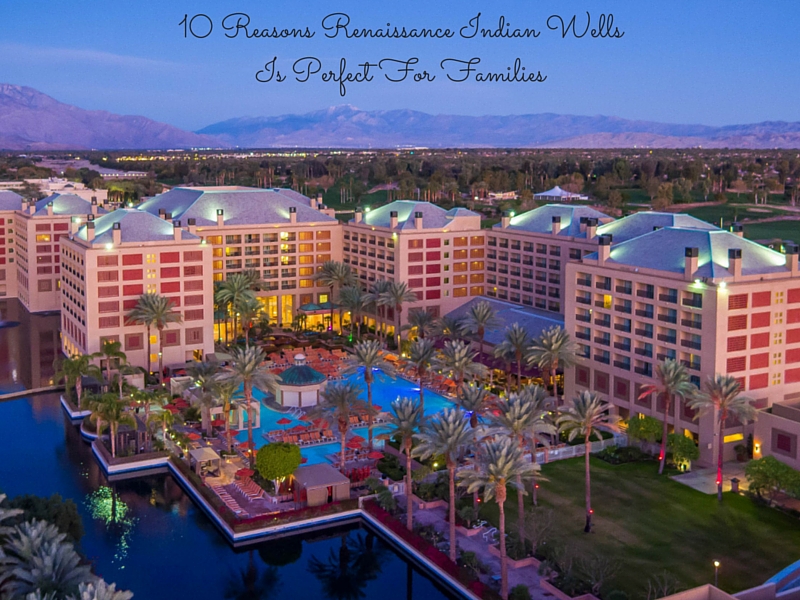 Reason #1: Giant Rooms
Last month my family and I spend a relaxing, and fun filled weekend at the luxurious Renaissance Indian Wells Resort.  If you didn't know by now, I am a hard core Marriott fan. I think the brand is superior in every aspect of the hospitality industry and the Renaissance Indian Wells certainly proved why. Everything at this resort from the staff, to the landscape to the amenities was amazing.
As a family of 5 we often are limited in where we can stay on vacation because most rooms only accommodate 4. It can get spendy getting a second room every time we go on vacation so often we choose to stay at extended stay hotels that have 2 rooms. However, one of the benefits of staying at the Renaissance Indian wells is they have corner rooms that can accommodate a family of 5.  At 640sqft, a roll away can easily be placed in the middle of the room with plenty of space to move around and relax. The windows are floor to ceiling giving it an even bigger feel.
With 5 people sometimes we worry about crowding but we did not need to in this room. There are two sinks, the toilet is completely separate, and there is a shower/tub combination in case you have littles who still like to take a bath!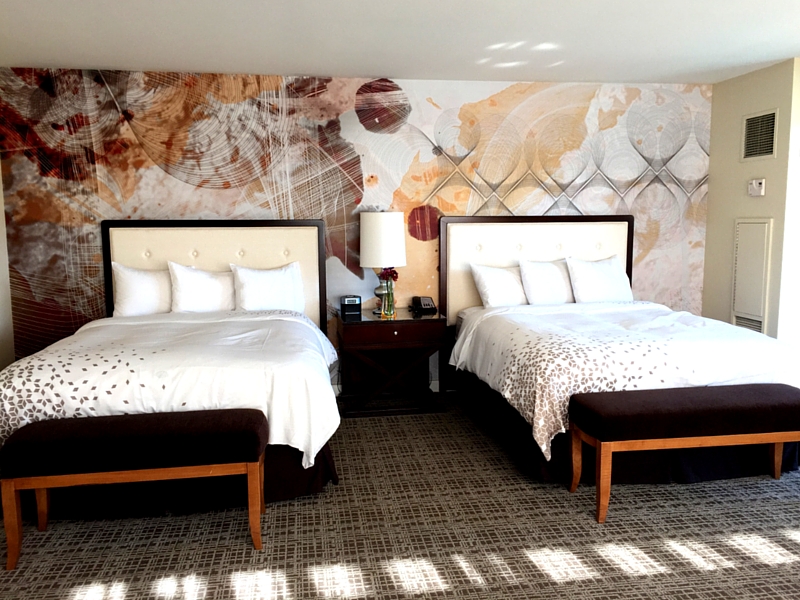 Let's talk about Marriott beds for a minute. I am obsessed with them. Did you know you can buy one? (I am extremely tempted). The Renaissance Indian Wells has the most comfortable beds you will ever find. The mattress cradles your body as if you were sleeping in a cloud. Plus, the fluffy, feathery down comforter and pillows are perfect for the warm nights in the desert because they are cool and light. If there is one thing I cannot handle it's a hot pillow that I have to keep flipping in the middle of the night. I have terrible insomnia and I slept like a baby both nights here.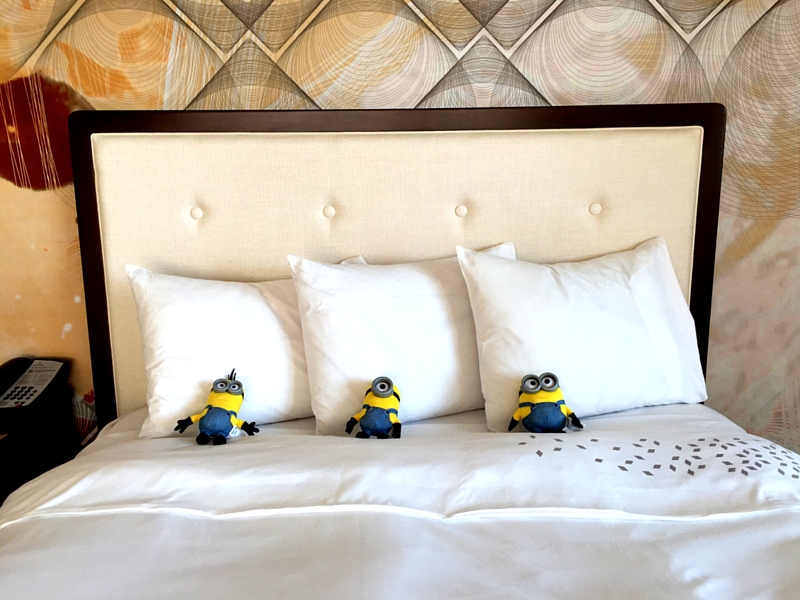 Even Kevin, Stuart and Bob loved them. They begged me for an early bed time because they just wanted to lay in the bed. The next morning they requested to order room service so they could be served breakfast in bed. Silly Minions.
My daughter and her unicorn obviously had no complaints either :)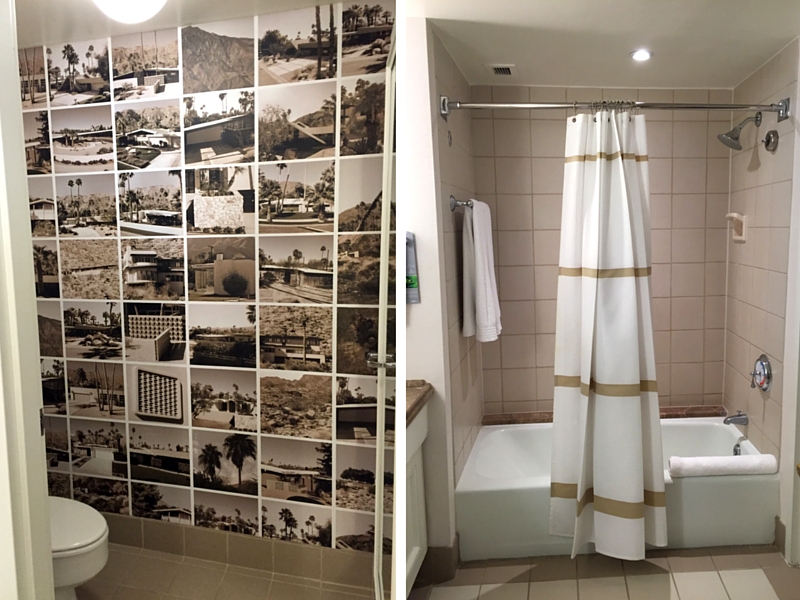 Check out how retro the bathroom is! I loved the wallpaper because it told a story. The water pressure was perfect which isn't always the case in hotels and they had top quality bath products like shampoo's and conditioners. This was great for my daughters super long hair after spending all day in the pool.
Want to know what the best part of the rooms are though? It's The Views! The views are breath-taking. You forget about all your worries when you step foot on this property. It's literally impossible to be in a bad mood when you are at The Renaissance Indian Wells. I know this for a fact because I tried it.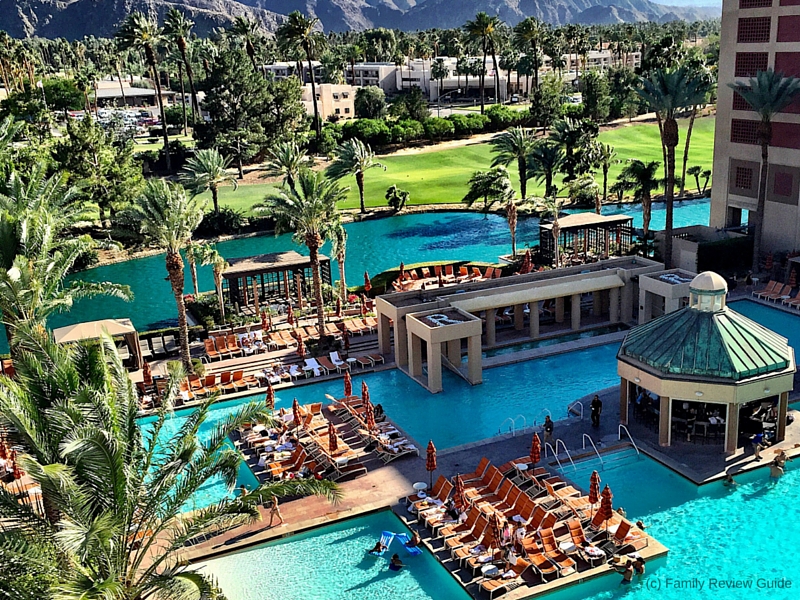 You can leave your sliding door open for the nicest breeze! Fresh air and vitamin D are so good for you!
Or you can just enjoy the scenery from your bed, or the many chairs in the room. They also place fresh flowers on your nightstand and in the bathroom during your stay.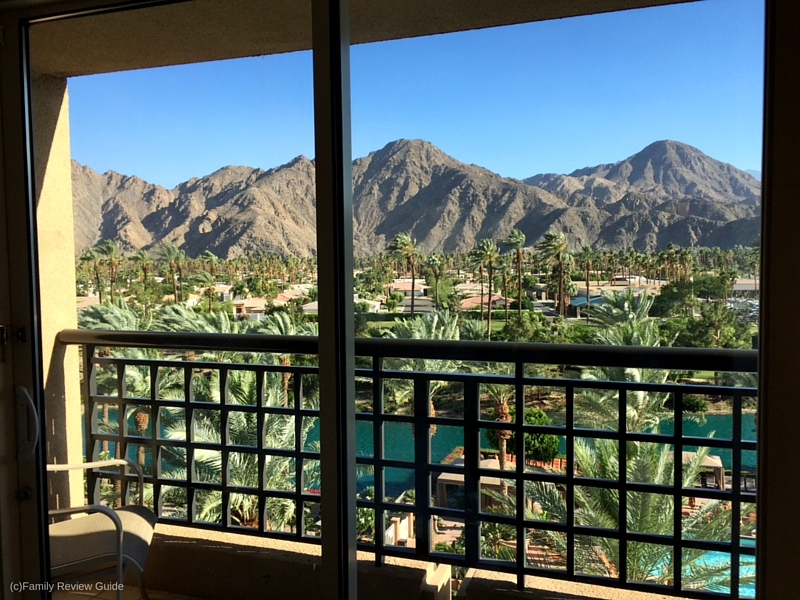 Reason #2
For more about The Renaissance Indian Wells restaurants, read about reason #2 here.