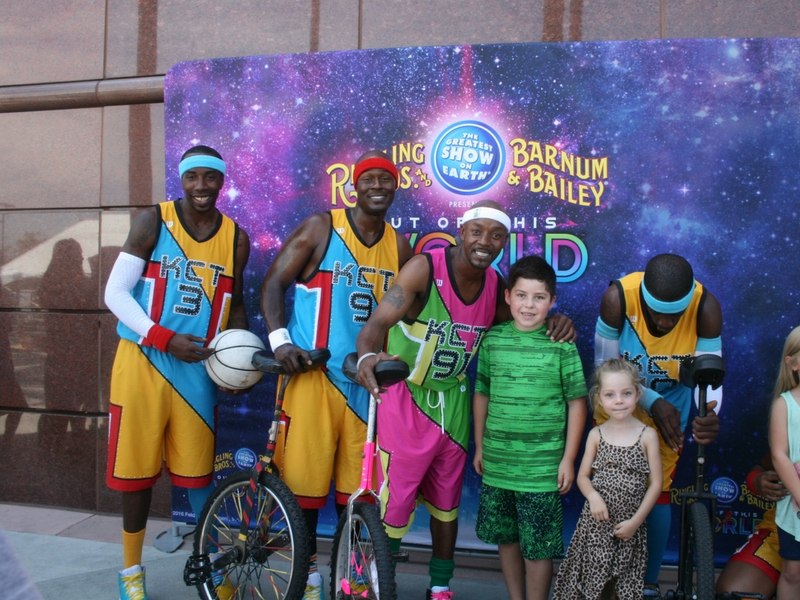 Last week, the kids and I had a unique opportunity to meet Alexander Lacey, the trainer for all of the big cats in the Ringling Bros Circus. We got to watch him brush the lions and explain to us how the tigers follow his lead using a guide  and a piece of meat when they are young. Cashmere the tiger and his father were both born into the circus.
Alexander Lacey has a special bond with these animals. Being a big cat trainer requires him to understand them on an intimate basis – to read their moods, body movements and temperaments. By knowing each cat's individual personality, Alexander is able to show off his relationship with the cats, along with their natural athleticism.
We also watched the King Charles Troupe. they are a group of young men (and women) out of the Southeast Bronx, New York, who play an unbelievable game of high-energy basketball on unicycles in a "Razzle Dazzle" style. It's a deft display of one-wheeled wonderment as they dribble, pass, shoot, and weave their way through the world's wittiest, wackiest game of basketball. The troupe has thrilled audiences all over the world with its high-jinx and comedic antics, and has been in existence for decades.
We watched them jump rope, do some double dutch and play catch with some of the younger kids in the audience.
Thanks, Ringling Bros, for a private meet-and-greet with Alexander Lacey and the King Charles Troupe! They just finished up their tour in Orange County and are headed to Northern California next. For more information about their Out of This World tour, please visit their website at www.ringlingbros.com. You can read about my show recap HERE.