Last week my husband and I went on a date to see the Beatles Tribute show "Rain". The show is currently on tour and you can find the list of performances here.
Before the show we headed over to SOCO, the collection of furniture stores and eateries, at Hyland and Sunflower in Costa Mesa.  We originally planned to eat at Arc which cooks everything over a wood fired grill.  But we hit traffic and felt a little pressed for time so we ducked into Iron Press.  Iron Press specializes in Chicken and Waffles served with a great selection of Microbrews.  This is a place that Eli and his work crew hit up for lunch about once a month and the first time for Sara.  The atmosphere is hipster with cement counters and about 30 legit microbrews on tap.  If this is your first time go for the classic chicken and waffle sandwich and feel  free to add on a slice of cheese, a fired egg or some bacon.  The sandwich is served with slaw and a side of jalapeno maple syrup.  Eli's ready to come back but Sara thought the chicken and waffles were good on their own, but found the combination a bit overwhelming. 
After Iron Press we headed over to Segerstrom for Rain.  Rain is a Beatles Tribute that is 75% concert and 25% theater.  The concert part consists of a historical romp through the Beatles history starting off with their American debut on the Ed Sullivan show and following their musical journey from the British Invasion through their transformation to psychedelic rock.   The theater component of Rain is a series of stage and costume changes that follows the bands musical transformation.  Rain was a performance suitable for three generations of Beatles fans and all three were there from original fans to their grandchildren. Whether a Beatles fan like Sara or like Eli enjoying a list of songs that you know Rain was a great time for all.  
Everything from the costumes to the back drops to the music was terrific. Some of the songs they played were:
"I Want To Hold Your Hand"
A Hard Day's Night"
"Sgt. Pepper's Lonely Hearts Club Band"
"Let It Be"
"Come Together"
"Hey Jude"
and more
It was so reminiscent of the Beatles Time Era and I highly recommend this show to everyone!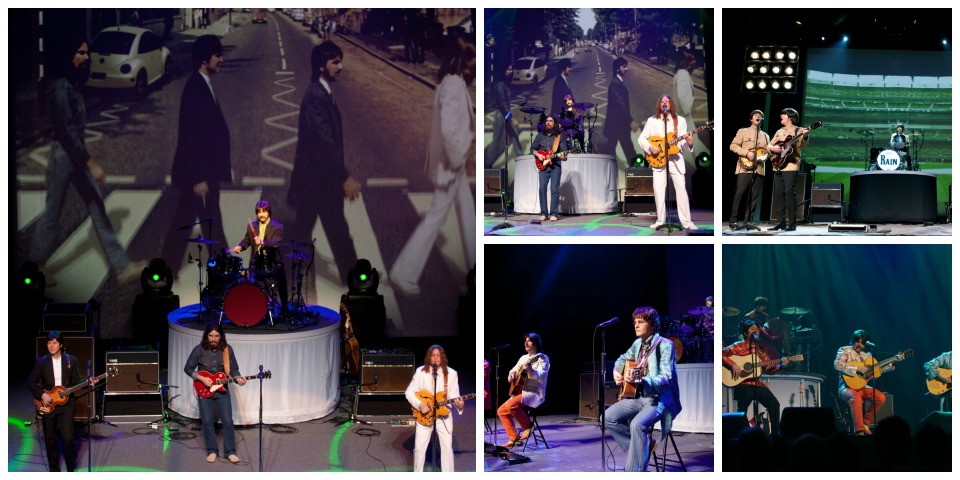 For more information please visit "Rain" on Facebook and on Twitter.
This article was written by Sara and Eli Marcus of Laguna Niguel.