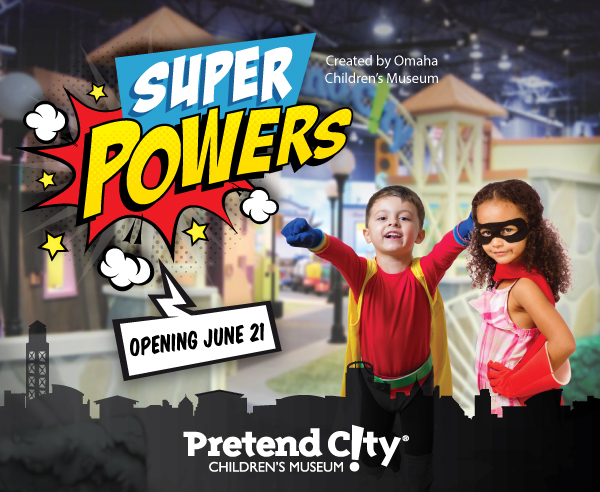 SUPER POWERS EXHIBIT OPENS AT PRETEND CITY CHILDREN'S MUSEUM
It's a bird, it's a plane, it's Superman!!!! Everyone has a super power, what's yours?
Pretend City's has a new summer exhibit, Super Powers, created by Omaha Children's Museum.  Starting June 21, 2016 kids can play on a zip line, ropes maze, wind tunnel, and much, much more.  Guests will be able to test their courage and bravery while accomplishing missions and earning badges toward their "Superhero ID".
Super Powers Exhibit Components:
Super Powers Headquarters: Suit up for missions by creating your own cape and mask, then accessorize with gadgets and gizmos to enhance your powers and help you on your quest for victory. Once you're geared up, receive missions from superheroes to complete throughout the exhibit.
Sky Slider: Soar across the sky on a zooming zip line that tests your valor and fearlessness. Grab the handles and take flight across the skyline from one building to another.
Comic Creation Station: Unleash your creativity powers by working with other superheroes to design a jumbo comic strip. Mix and match a variety of characters, props, and speech bubbles to compose an action-packed adventure. After that, construct your own superhero story by coloring and creating your own paper comic strip.
Wind Tunnel: Grab a cape and take flight with the whooshing wind tunnel! Watch yourself on TV flying up in the sky as gusts of wind simulate what it's like for superheroes to soar through the clouds.
Super Cycles: Put your super strength to the test by pedaling as hard as you can on the Super Cycles! These stationary superhero bikes allow you to pedal fast and watch a fuel cell charge up with your muscle movement energy. Challenge a superhero friend to see who can fuel the cell the most!
Ropes Maze: Show off your super swift powers by climbing under and over the tricky "laser beams" in our ropes maze challenge. Crawl across to the other side without letting the lasers get you!
Storm Shooter: Embrace your weather-changing powers as you create tornadoes, rain, lightning, and even snow with the storm shooter. Watch the different weather patterns appear right in front of your eyes after you use your super powers!
Mini Heroes: Let your superhero toddlers embrace their own powers in this super soft city designed especially for them. Roll, climb, crawl, and teeter through this tot-sized town and experience what it takes to be a superhero toddler. Puppets, soft play blocks, a reading nook, and other activities are some aspects that allow toddlers to unleash their powers.
Dress As a Superhero for $1 off admission
As part of our Superhero Summer, we're discovering and strengthening the inner superhero in everyone all the way through September. Every week at Pretend City, we're celebrating superheroes and providing special appearances by superheroes themselves! Anyone who whooshes into the museum dressed as a superhero during these weeks will receive $1 off admission to the museum. In addition, we're also highlighting real-live heroes that show bravery and courage every day to keep us safe. The following weeks are geared to spotlight different real-live heroes and teach our guests a little bit more about them:
Medieval Heroes with special guest Medieval Times: June 5-June 11 
*$1 off to those who come in medieval attire
Community Heroes: June 12-June 18 
*$1 off admission for those that come dressed as a Community Helper/Hometown Hero
Superhero Dads: June 19
Military Heroes: July 3-July 9 
*$2 off admission for those who come dressed in Military Heroes
Water Heroes: July 8
Olympic Heroes: August 7-August 20
Win Four Tickets to Pretend City
US Residents Only. No purchase necessary to enter. All readers have an equal chance to win, however, you must enter to win. A winner will be randomly selected via RaffleCopter and notified via email. No cash value. Winner will have 48 hours to claim their prize or a new winner will be selected the same way. Several different ways to earn entries (some can be done daily). Prize will be fulfilled by sponsor. One prize per household. Not liable for unclaimed prizes or fulfillment. Good luck!