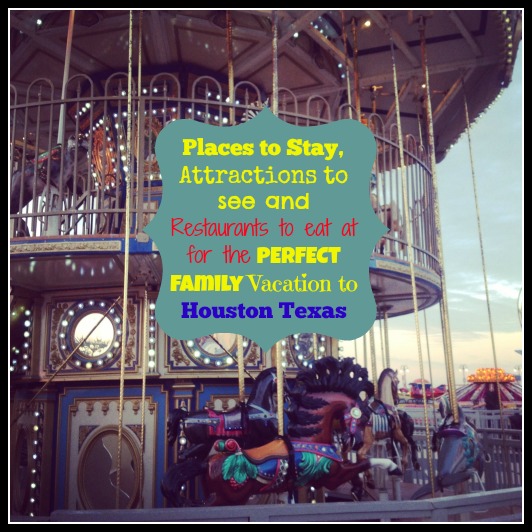 Disclosure
This past spring break my family of 5 went on a fantastic vacation to visit Houston Texas. We do not have any family there and do not have any friends there, so you might be asking why Houston?? Well, why NOT Houston?
Houston is the largest city in Texas and the fourth-largest city in the United States. So it's certainly isn't lacking in the fun factor. Our typical family vacations to a new city are usually very busy.  We love to visit  zoos, museums, local cuisines, interesting hotels and the occasional random festival. While we love to relax by the water we prefer not to sit by the pool on our vacations and Houston certainly provided us with a plethora of attractions to keep us busy. I am going to list a few hotels for you that are very family friendly and cater to kids.
We started out our vacation with a really cool experience with Southwest Airlines. While we were waiting for our flight we went to the food court to grab some lunch. We sat down next to a couple of pilots and struck up a friendly conversation with them. They asked us where we were going and we told them "Houston". It turned out they were our pilots for our flight. They gave us some nice tips and recommendations for family activities but the coolest part came when we boarded the flight. After everyone sat in their seats the pilots got on the intercom and asked for my two sons by name and said that they needed help in the cockpit and to please come up.  Once they were there they showed them around the cockpit and took their pictures with them.  My boys were beaming from ear to ear the whole flight! My husband flies on Southwest for business very often and really appreciates his ability to share his experiences with Southwest's customer-friendly attitude.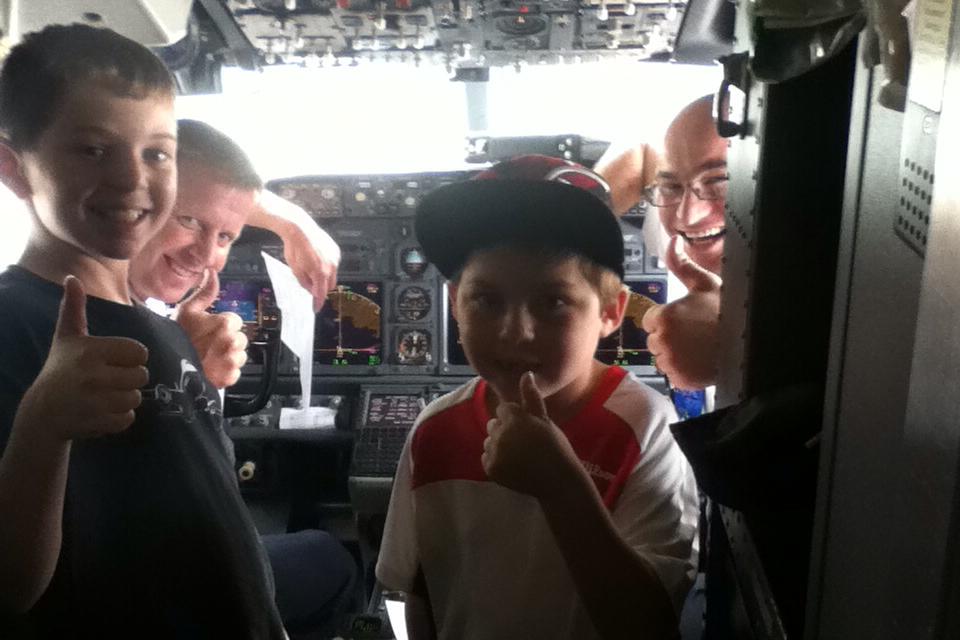 Family Friendly Hotels in Houston
During our vacation in Houston we stayed at three unique hotels. Each one had great amenities that suited our family just right. The first two nights we stayed at Hotel Sorella in the heart of Houston's CityCentre.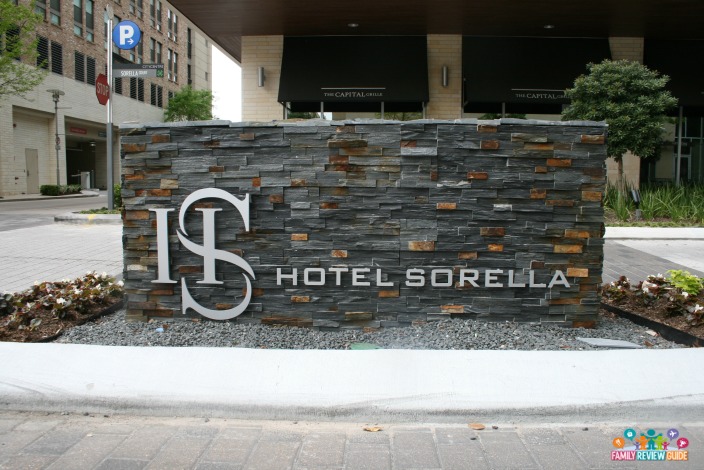 This charming and sophisticated hotel has the absolute perfect location you could ask for. When you walk out back you are directly in the plaza which has a giant patch of artificial grass where kids and families can run around, catch a ball, play tag, and get all of their sillies out. It is perfect for right after dinner or before bedtime. They also have weekly events that take place such as live music, parades, art series, food events, moonlight movie nights and more! Below is a video of the Plaza at dusk. For a full listing of events at the plaza click here.
The interior of the Sorella is amazing. There is a lot of Italian motif and cute chandeliers that hang throughout the property. The design is simple and clean with a sprinkling of surprising elements. It is definitely a four-star property within a three-star budget.

One of the perks of this hotel is they have a compact gym with TV's right in front of you. The gym also overlooks the plaza. Hotel Sorella also has a small but beautiful pool with cabanas and they light up the pool at night. The pool itself is not very deep and not meant for swimming laps but it is refreshing and enjoyable. Plus it is right next to the Mona Lisa Bar!
In the morning Hotel Sorella offers a complimentary continental breakfast. There is fruit, croissants, yogurt, oatmeal, and a few other things – even espresso drinks!  There is seating available inside, or you can grab a seat outside on the balcony overlooking the attractive CityCentre architecture.

The rooms are modern and chic. Our daughter slept on the L part of the couch and it was so perfect. Turn down service made a little bed for her with extra sheets and the blankets of hers we brought. The rooms are spacious and clean and we never felt like we were on top of one another. What I loved the most was there were hardwood floors all through out the room. No carpet at all. This was a very good hotel for our family.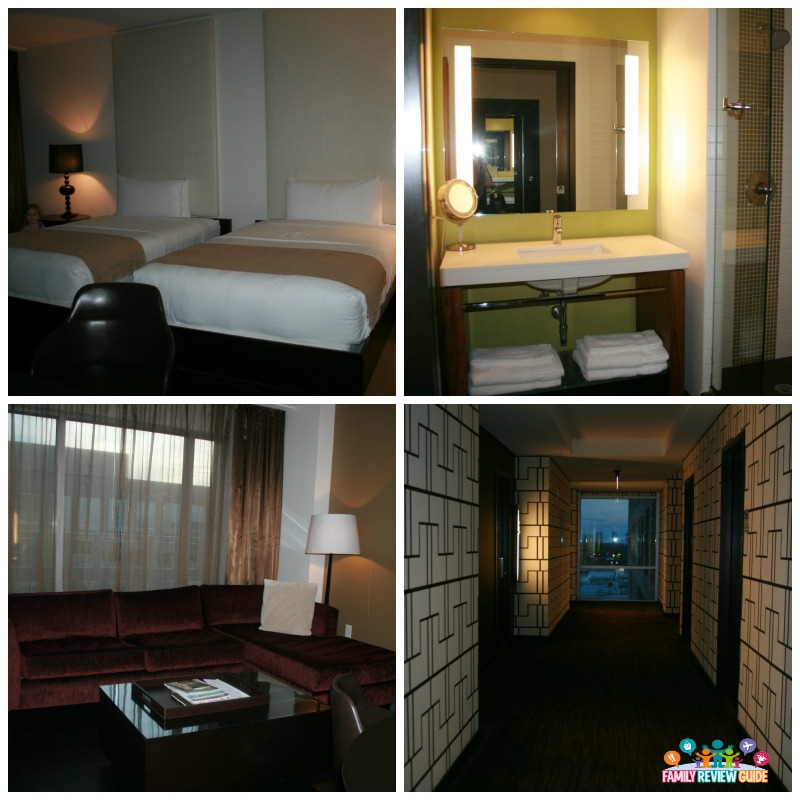 Tip: Valet parking is $21 per day. There is a free parking garage super close to the hotel but it is shared with the shopping complex and a movie theater. So if you self park just be prepared to spend some time looking for a spot.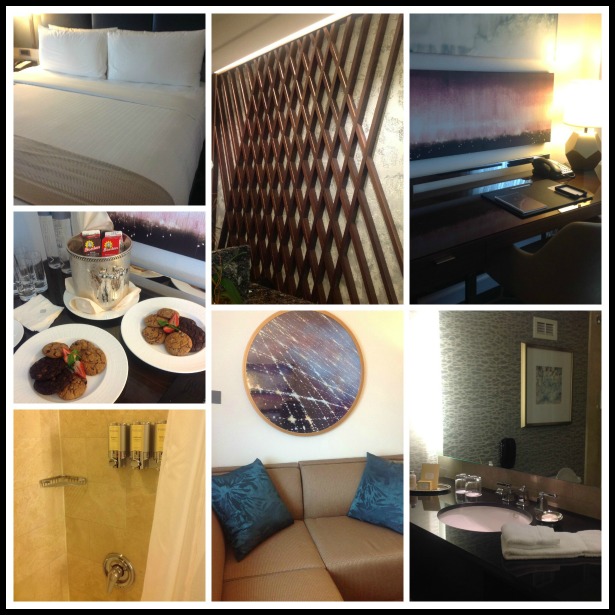 We stayed at the Royal Sonesta for our third night in Houston and I have to say the staff here was the friendliest of any hotel I have ever stayed at. The hotel recently underwent a 25 million dollar renovation that revamped its interior spaces, lobby, and food and beverage outlets. The hotel has a few really neat points I have listed below.
It's walking distance to the Galleria Mall
Has a rooftop Pool
Has free wi-fi
Nice Gym
Rooms Keys have a sensor in them so you just wave them in front of door.
Automatic night lights on the floor
While this hotel certainly caters to a business crowd it was still perfectly family friendly. As a matter of fact on the evening that we stayed we got a knock on our door and it was  the staff delivering ice cold milk and cookies to my kids!!! That was so thoughtful! Also on the day we left we checked out and started driving away and 20 minutes later and my husband realized he left his sunglasses and some money in the safe. We turned the car around and made a quick phone call to the Royal Sonesta and they had security meet me in the lobby and personally walk me upstairs to retrieve my items. It was easy and painless.
Tip: Self-parking is $16 per night. Valet is $27 per night.
This hotel is the most kid friendly of all the hotels we stayed at. It is not laid out like a typical business hotel but I think that is what I loved most about it.  It had such a charming feel to it and I felt like I was staying in a light house instead of a hotel. Everything from the decor to the location was great. The hotel itself is situated directly on the Kemah Boardwalk so there are endless activities for the kids and a ton of hip restaurants for mom and dad.   I will focus more on the restaurants and attractions in part 2 of this review but for now I am going to focus primarily on the Boardwalk Inn.
We were extremely spoiled at this hotel stayed in the presidential suite. If you can swing this I HIGHLY recommend this suite to everyone. At over 900 square feet, it had a marble entry that led to a lavish space, highlighted by three private balconies overlooking the Kemah Boardwalk plaza and Galveston Bay.  It had 1 1/2 baths, a king bedroom, wet bar, dining area with seating for six and spacious living room.  The adjoining room with two double beds, may also be reserved allowing the suite to sleep eight.
But don't worry, even if you can't swing the presidential suite ALL rooms have balconies and ALL rooms have a view so it is a win/win for everyone. One of the neat things about this hotel is the stairs are inside of the hotel and you can access every floor from the beautifully decorated and carpeted stairs. There was really no need for us to use the elevator, except for check-in and check-out with our luggage cart. Each floor has pictures and paintings of various lighthouses so it was fun to check all of them out. And the patterns they use on the furniture was so nice. There were lots of stripes mixed with circles and  very much a nautical theme.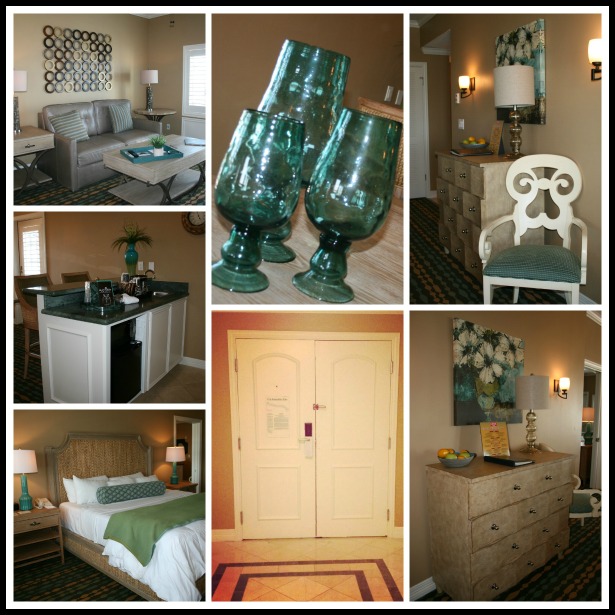 Not only are the rooms amazing but there is a playground very close by as well as an awesome HEATED pool on the 3rd floor. Plus the jacuzzi is attached.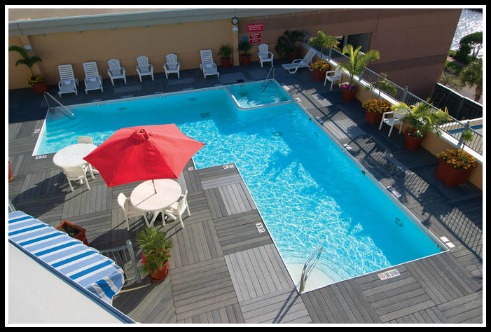 Pool Photo Credit: Kemah Boardwalk Inn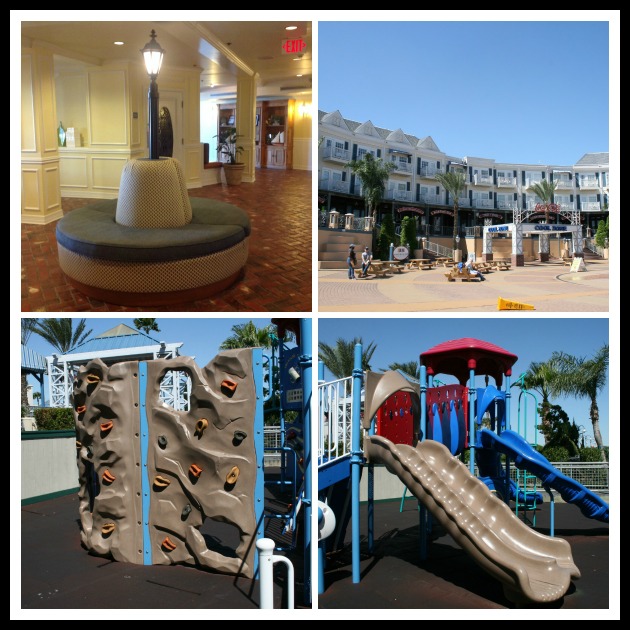 Tip: There is no valet parking but they have a parking structure on the property with complimentary parking. Also if you are looking for a nice sit down restaurant for breakfast you will need to venture off property.
Kemah is very close to the Johnson NASA space center so I would recommend this hotel if you have plans to visit there. For more information and a detailed list of family friendly attractions and awesome restaurants throughout Houston please visit PART 2 of my guide.