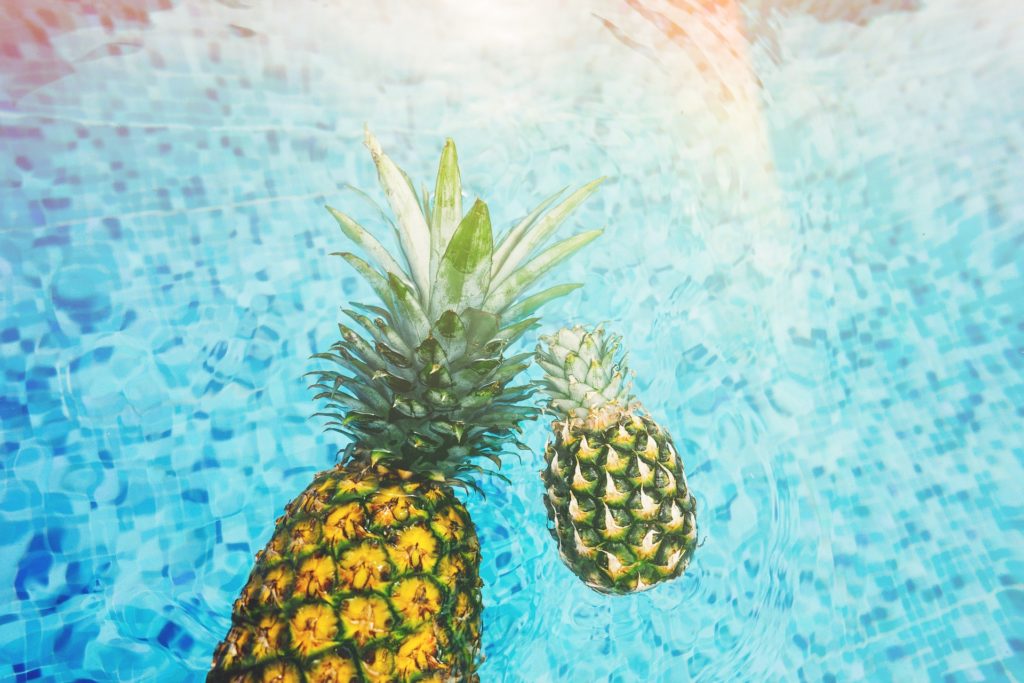 Living in California, we are lucky to have fresh Pineapples available to us all year-long, but the peak season is now through July! At Islands Burgers they know just how to cook with these sweet, tropical and fleshy fruits. The restaurant reminds me of being on vacation because you are surrounded by pictures of surfers, waves, a relaxed tropical vibe and food that will make you salivate.
Currently they are welcoming the return of their Makaha Maggie Margarita – made with Pineapple-Infused Tequila. The Makaha Maggie Margarita will be available through the end of May.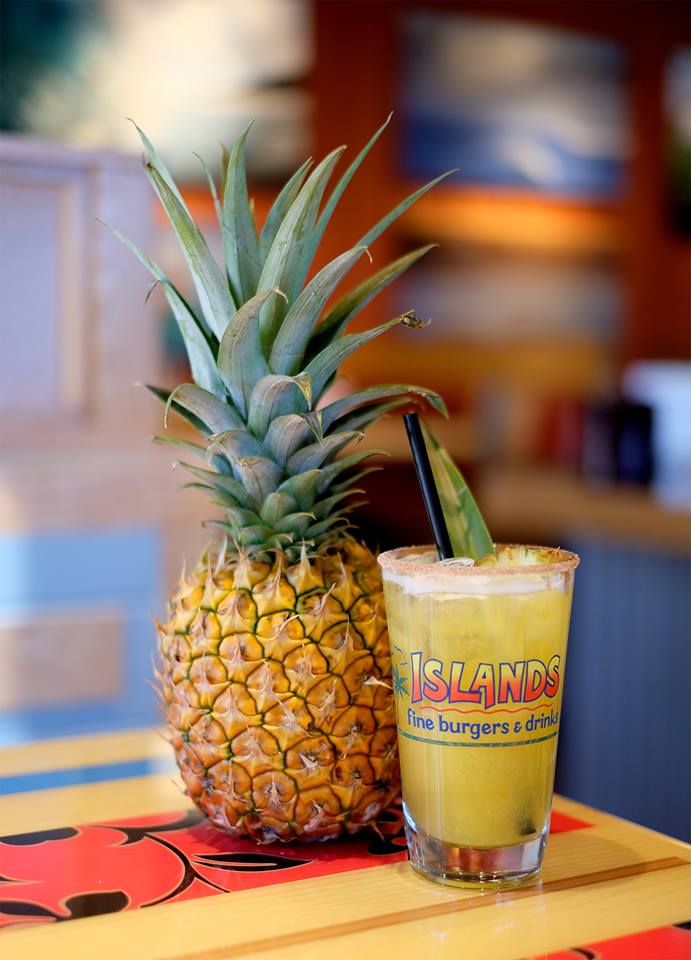 Pineapple lovers will also love the popular popular pineapple dishes from the main menu. One of the best ways to start off your meal at Islands is by ordering a big plate of bacon cheddar fries. Just watch the video and you will see why!
One of the items on the menu is a Hoisen Bowl, made with chunks of fresh grilled pineapple and grilled vegetables, served over brown rice with mahi mahi or chicken. This bowl goes great with a cold Pina Colada.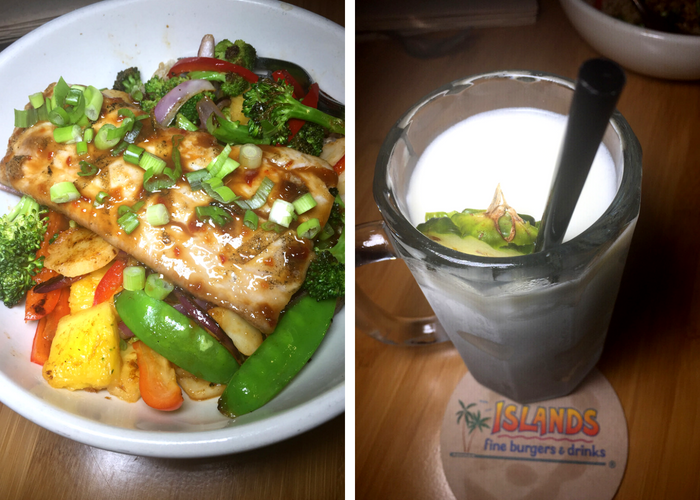 Another great combination is the Yaki Tacos, topped with a house-made grilled pineapple salsa, paired with a refreshing Mai Tai
Dessert
Oh, and don't forget dessert. Nothing says I love you like a huge slice of hula Pie and a warm brownie with Ice Cream! Your midsection might not thank you but your kids most definitely will!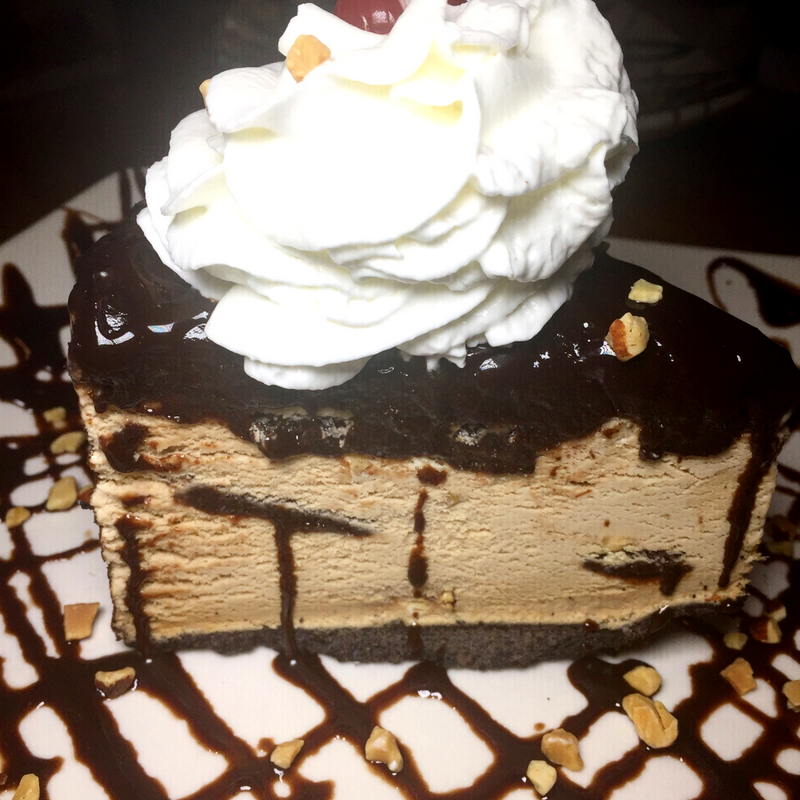 Pineapple Fact
Fact: Islands uses nearly 182,000 fresh pineapple per year, restaurant-wide
Coloring Contest
Kids can join in on the fun with a themed coloring contest, which will also run through the end of May. To enter, kids simply design and decorate the pineapple coloring sheets provided in restaurant, and parents or legal guardians post the colorful creations to social media using #PineappleParadise and #IslandsBurgers for a chance to win $50 to Islands. Ten lucky winners will be selected. For kids that love pineapple, Islands Gremmie Menu features a dish popular with both kids and parents, fresh pineapple spears with yogurt dip.
Islands Hawaiian Burger Recipe
Ingredients
Hamburger buns

Hamburger patty
2 fresh cut pineapple rings
1 slice Swiss cheese
1 slice tomato
1 slice onion
1.4 oz. shredded lettuce
0.8 oz. mayonnaise
1 oz. teriyaki sauce
 Preparation
Get the grill sizzling and well-seasoned with a light brush of cooking oil before you start so the pineapple doesn't stick 

Grill freshly cut pineapple rings for 3 minutes per side. Clear char marks should be visible – but not burnt.

Cook hamburger patty for 2 ½ to 3 minutes per side

Apply spices while the patty is on the grill, as your favorite spices are most easily absorbed when the burger is cooking

Flip the meat when the juices begin to pool on the top of the patty

Remember never to press down on the burger to keep it nice and juicy

Add Swiss cheese after the flip to achieve the perfect melt

Toast bun on oiled grill for 1 to 2 minutes – a well-toasted bun gives flavor and texture and helps the burger hold up to the condiments

Spread mayonnaise on the bottom bun – spread it from "coast to coast" to ensure you have an even layer (about the thickness of a dime)

Layer shredded lettuce, onion and tomato on bottom bun

Place hamburger patty with Swiss cheese on next – the build is very important to achieve the best mix of flavors

Top with grilled pineapple rings and teriyaki sauce, and top bun
Follow Islands on Twitter and Instagram at @IslandsBurgers and like Islands at www.facebook.com/IslandsRestaurants. Don't forget to share your favorite pineapple moments by using hashtags #PineappleParadise and #IslandsBurgers!  
Win a $25 Gift Card To Islands