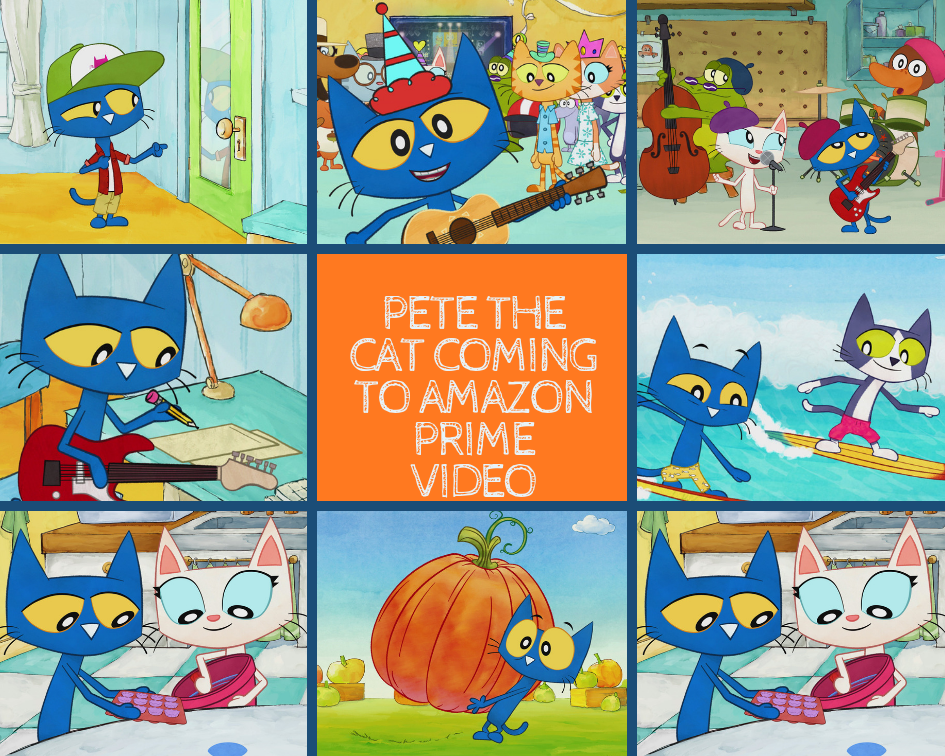 Everyone's favorite cool cat is coming to the TV screen on Friday September 21st! That's Right, Pete the Cat is coming to Amazon Prime video and we couldn't be more excited!
The series stars Jacob Tremblay (Room) as Pete the Cat, and musicians Diana Krall and Elvis Costello as his Mom and Dad. Pete the Cat features original music from Grammy Award-winners Costello and Krall, which will also be available to stream via Amazon Music. Jessica Biel (The Illusionist), Atticus Shaffer (The Middle) and internationally acclaimed musician KT Tunstall also star in the series.
Pete the Cat has positive messages of being true to oneself, curiosity, and creativity…all great for encouraging and empowering kids' self-discovery.
And, a special treat, not a trick!, coming your way…two Halloween-themed specials: "Pumpkin Pageant Pandemonium" and "Trick-Or-Treating Ghost". You and your little pumpkins won't want to miss!
Along with his pals – Callie Cat, Grumpy Toad, Sally Squirrel, Emma the Quebecoise Pug, Gustavo the Platypus, Pete brings you along on their adventures. Whether learning to conquer his fears of the waves, meeting the new platypus on the block, starting a band with his friends or chasing a trick-or-treating ghost, Pete and his pals always try to keep cool, keep kind and keep rocking.
For more information about Pete The Cat please visit him on Facebook, Twitter and Instagram.