Adventure Happens Rolling Suitcase
Recently, my family of 5 went on an exciting vacation to Texas over spring break. My youngest is 3 and she is very independent so this year I wanted her to have her very own suitcase. "Itzy Ritzy" the premier baby and kids company that sells trendy, hip and stylish products for families sent me an adorable suitcase that was perfect for my little jet setter.
Mommy has a love of whimsical owls so I was very excited to see just how girly and pink this suitcase was. When my daughter saw it she immediate ran over to it and pointed to the owls eyes! I love how big and dreamy they are. I knew this rolling bag was going to be the perfect accessory for my daughter to proudly tote her belongings in.

This suitcase has plenty of room for a toddler. In the front of the suitcase there is a large zippered pouch. I put her shoes in there so they would stay separate from her clothes. I also put things like her toothbrush, some headbands and hair clips and socks in there as well.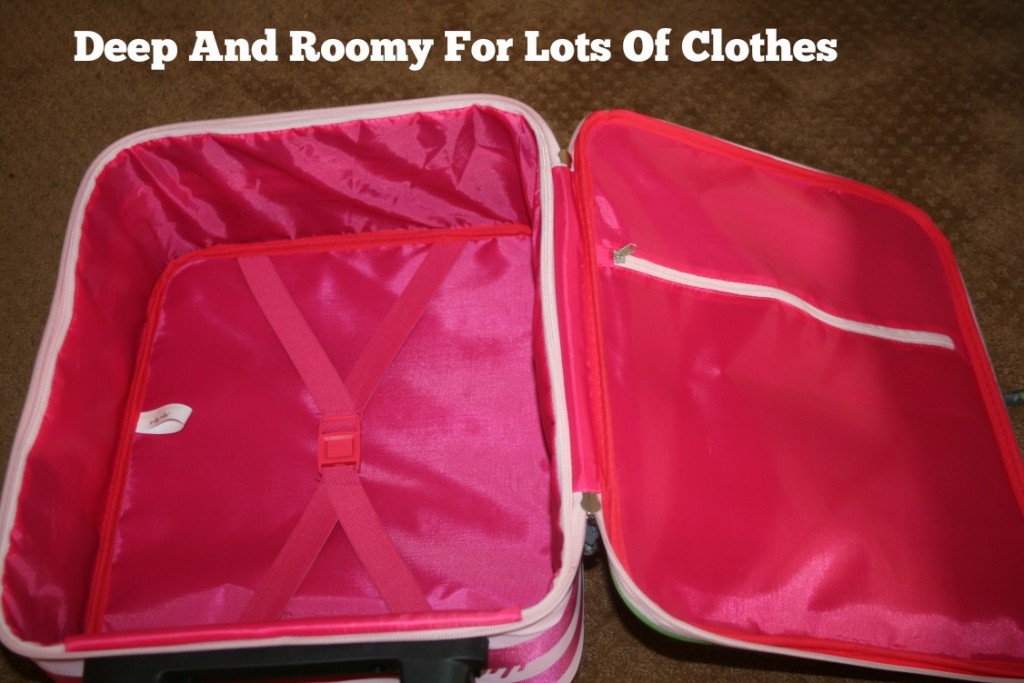 Look how deep and roomy it is! Anyone with a girl knows girls don't travel light so I was able to pack plenty of extra outfit changes, stuffed animals and even some of her blankets. I wanted her to have some familiar comforts from her own home so I might have over packed just a bit.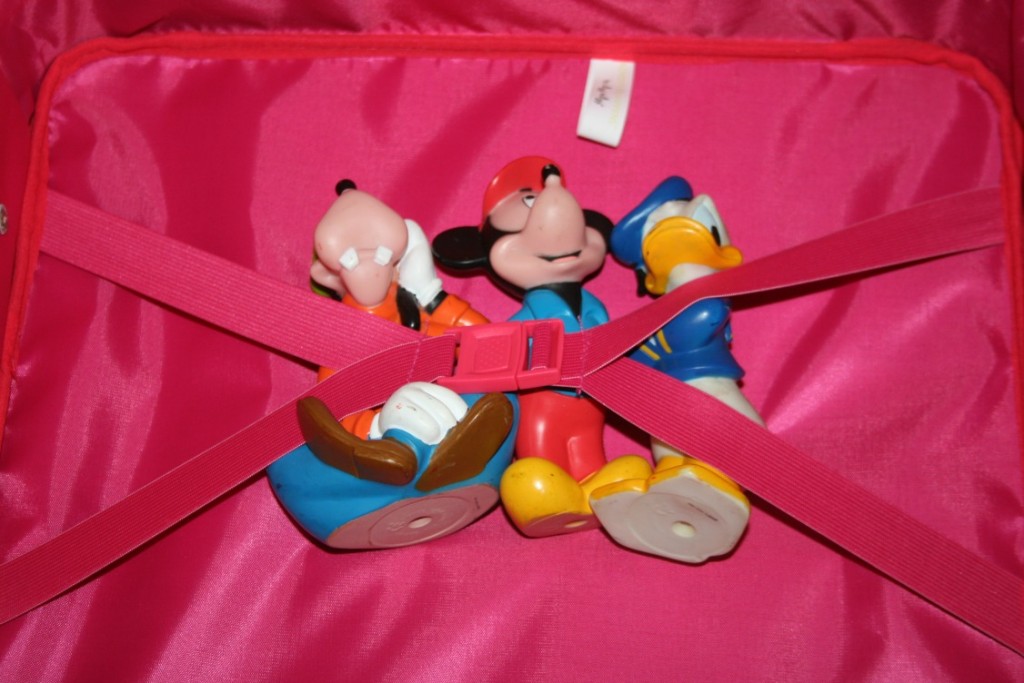 Even Mickey Mouse and crew made it on the flight thanks to the convenient elastic belt that holds everything in pace. I also like how the pink is carried throughout the interior of the suitcase and not just the front.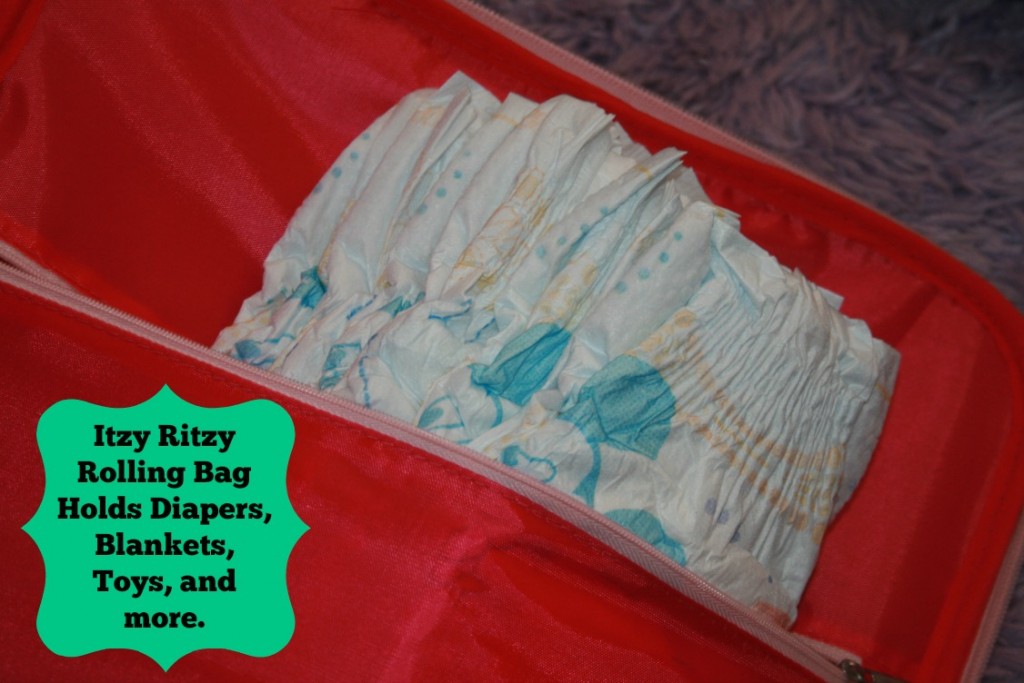 Still in diapers? No problem. Itzy Ritzy has you covered with another zippered pouch on the inside. I even put some small books in there for us to read at the hotel.
All Packed. We couldn't wait to hit the road! This suitcase also has an adjustable locking handle that provides the perfect height for children and can be raised when an adult needs to take over the job.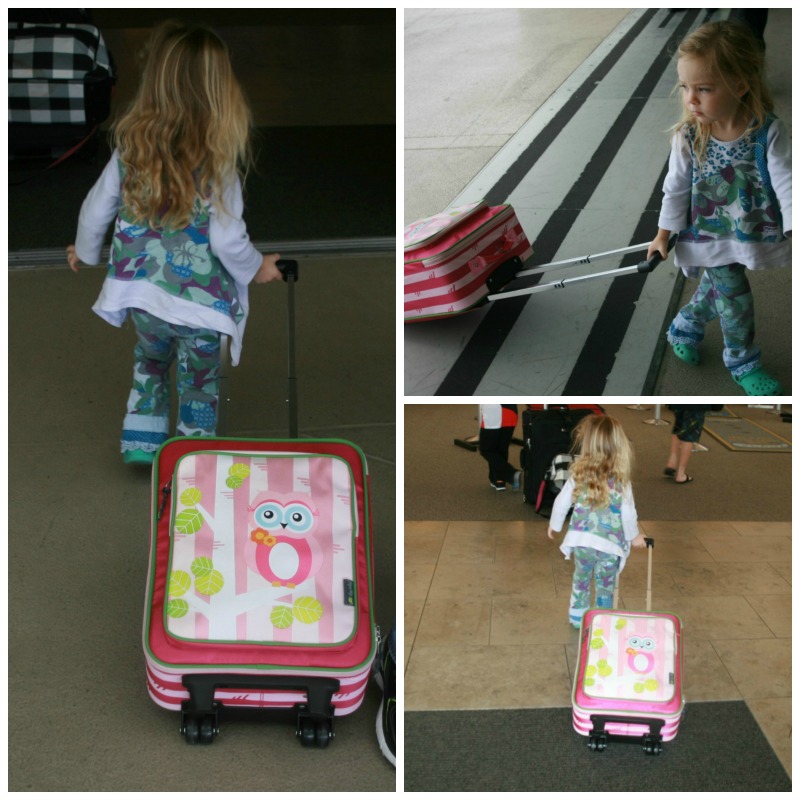 Here is an awesome description that highlights all of the features on the Itzy Ritzy Rolling Suitcase. As a mom it makes me really happy to know that Itzy Ritzy uses BPA-Free material. Don't forget that this suitcase is also available for boys in a cute blue monkey print.

Parenting in style IS possible and at Itzy Ritzy you can shop for tons of cute things for both boys and girls! They have lunch boxes, snack bags, car seat accessories, nursing products and more. So what are you waiting for? Go shopping!