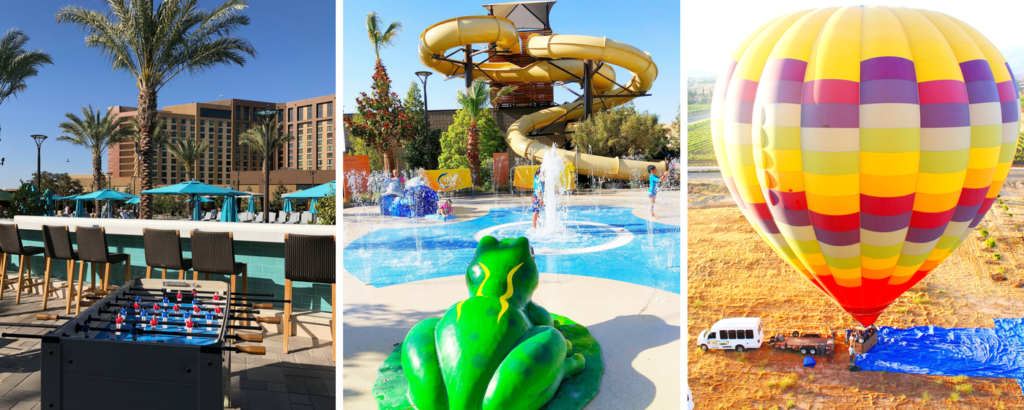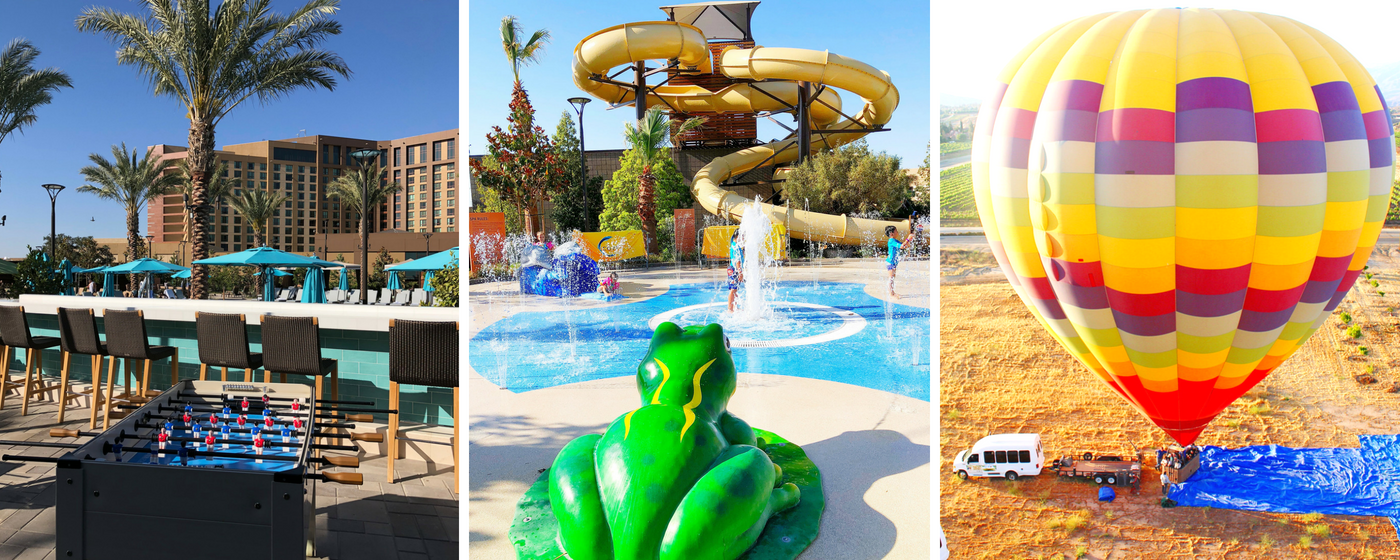 The words casino and kids don't exactly pair together like peaches and creme. So, when I learned we were taking our kids to Pechanga Resort and Casino for a family weekend getaway, I was a little reserved. But wow, was I ever wrong. I knew they had recently expanded but what I didn't know was just how glamorous and child friendly this resort really was.
Pechanga Resort Casino is now the largest resort/casino on the West Coast. It offers guests approachable luxury with subtle elements of the Tribe's Native heritage woven into architectural and resort experiences. This major expansion added 568 AAA Four Diamond hotel rooms and suites, a 4.5-acre pool complex, two additional restaurants, a two-level luxury spa with fitness and yoga studio, and another 68,000 square feet of meeting and event space including the 40,000 square foot Pechanga Summit.
Check- In
One of the most impressive memories I have from this trip is the check-in process. We have stayed in a lot of hotels and I don't think I have ever seen such a more efficient system, where a staff member is waiting at the front of the line to guide you to the next available person at the counter. If a person is not available right away someone will be ready to start your check-in process from a tablet while you are in line. It was very quick and I appreciated how swift everything came together. No whiny kids is a great way to start off a vacation!
Rooms
If you have a larger family like me (party of 5) Pechanga has the perfect sized room for you. We stayed in a Mountain View Junior Suite and it was so comfortable. They are 550 square feet  and come with one king or two queen bed configurations. They also have a 55" flat screen TV in the bedroom and 65" flat screen in the living room and many more AAA Four Diamond amenities, so you know you're staying in approachable, comfortable elegance. Pechanga's new tower suite bathrooms feature quartz countertops, indigenous and locally created artwork, halo-lit vanity mirrors, in-shower benches, and hand-held and rain dome shower heads.
One kid can also sleep on the comfortable pull out couch and there are very thick black out curtains so sleeping in is no problem!!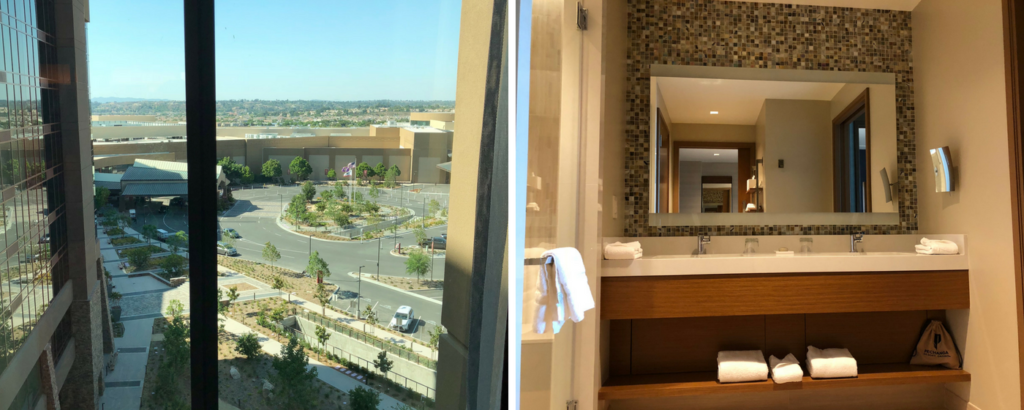 Blogger Tip: There were no sheets available for the pull out couch and we did have to wait quite a long time for them to bring them to us. I would recommend asking for some the minute you arrive at your room so you do not have to keep your kids up at night waiting for housekeeping to come. Also, ask for turn down service for an added touch.
Dining At Pechanga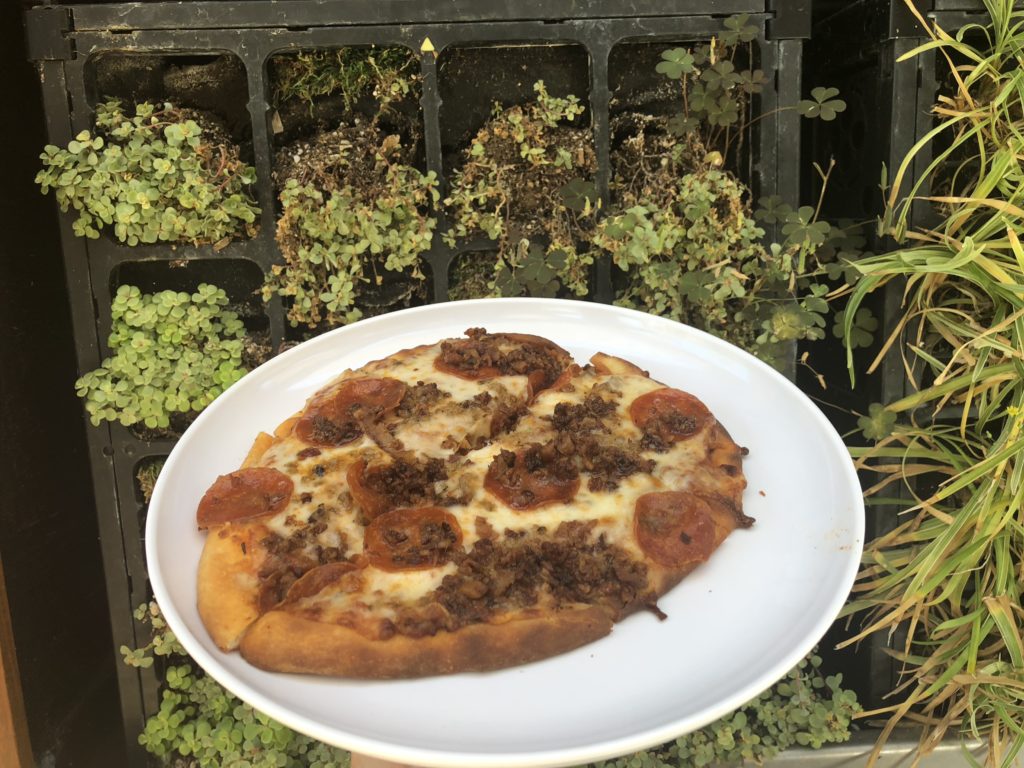 Dining with kids is always a little tricky. Who wants to purchase an expensive meal when you know your kids are only going to eat 1 bite and then be full? Fortunately there are 13 restaurants to choose from so the options are endless. There are plenty of choices like pizza, pasta,
Coveside Grill
Lobby Bar and Grill
The Great Oak Steakhouse
Buffet
Umi Sushi & Oyster Bar
Paisano's
Journey's End
Pechanga Cafe
Bamboo
Blazing Noodles
Kelsey's
Blends
Temptation Food Walk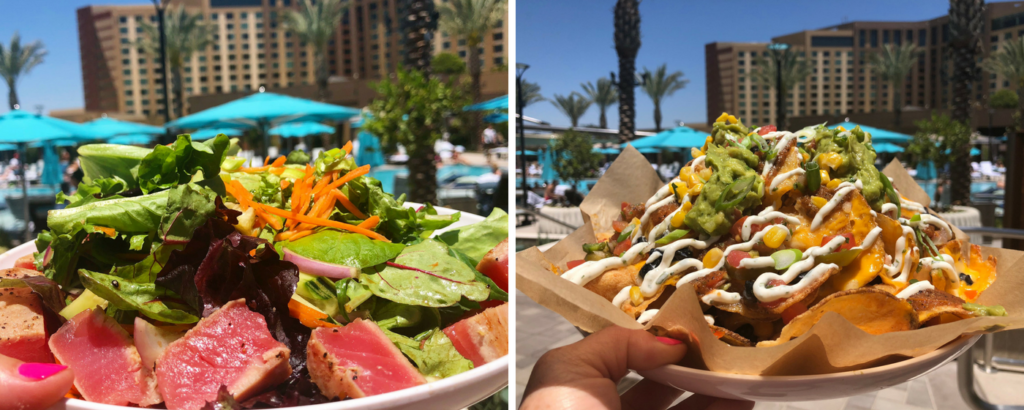 Our favorite dining choice was at Coveside Grill. This is the restaurant/Bar inside the Cove (pool area). They serve up casual american fare and we enjoyed such things as potato chip nachos, ahi salad, chicken wings, pulled pork sandwiches, salads and more! There is a ton of shade at the restaurant and the views are stunning! Half of my family eats a gluten-free diet and we had no issues at all. Everything was tasty, served warm and the drinks were very refreshing. Try the margaritas!
I personally liked that I was able to just throw on a cover up and have lunch with my bathing suit on and not have to go back to the room to fully change for a meal.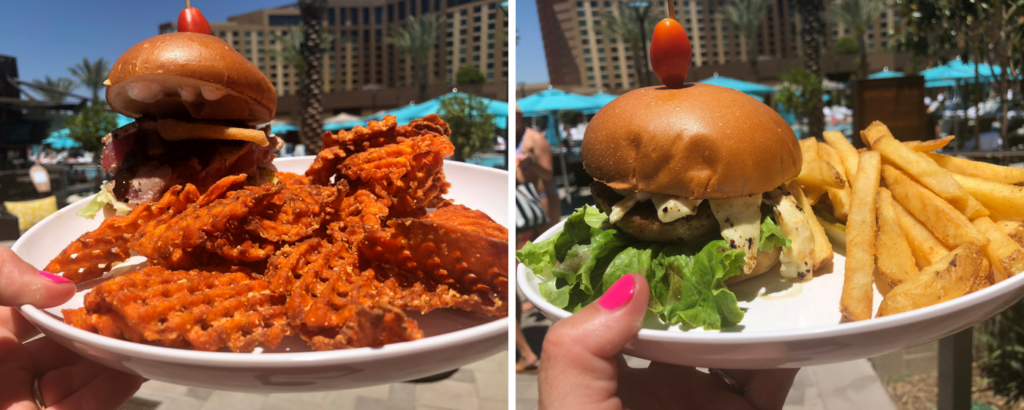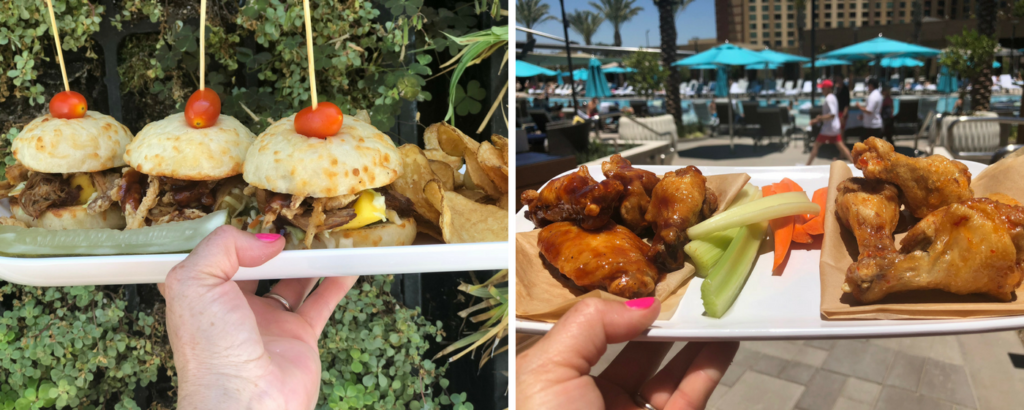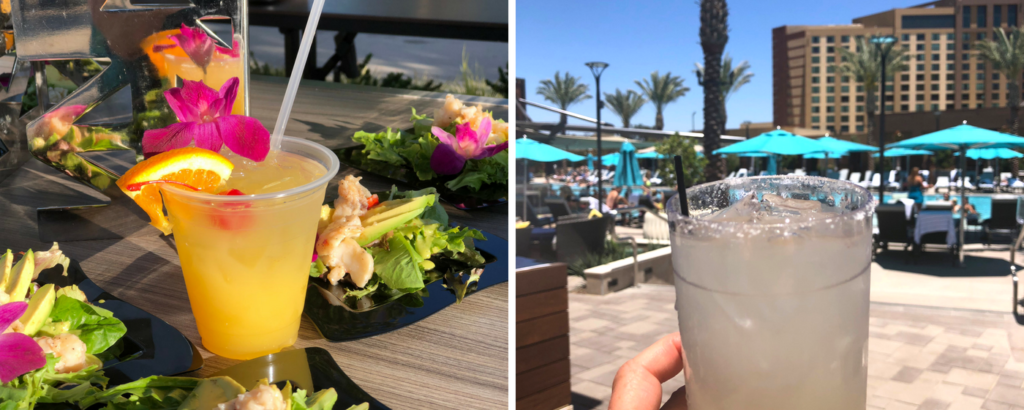 The Lobby Bar And Grill
The Lobby Bar and Grill is another great choice for dinner. When you first walk up you will be greeted by live music and a cool, calm ambiance. They serve fresh, sustainable, locally sourced ingredients. They are all blended together into a flavorful fusion of American, Mexican and Asian-inspired fare that pleases the palate and stimulates the sense. My kids enjoy seafood so we indulged in seafood dishes like calamari, ahi poke, sea bass and salmon.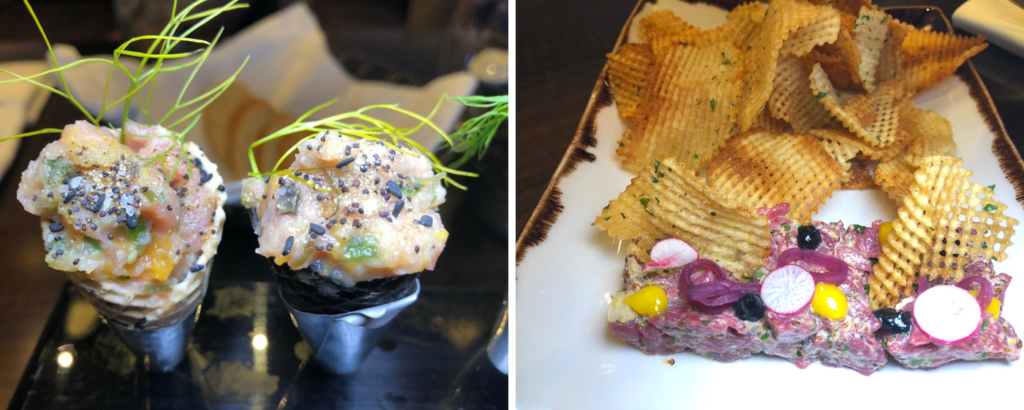 The Beef Tartare was a favorite of mine and my husband enjoyed the green deviled eggs and ham.  I always think it's fun to try new things on vacation and the restaurant did not disappoint. If you are vegetarian you are in luck because they have a bunch of vegetarian choices on the menu like pasta, beets and hummus.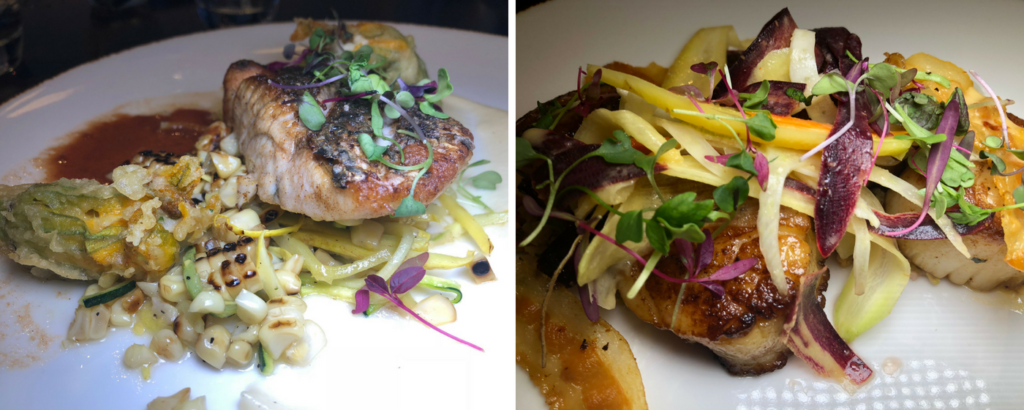 The Cove
Nothing says relax like The Cove at Pechanga! The Cove is their 4.5-acre tropical oasis that brings comfort, cool and the ultimate tropical chill to Pechanga. It features three pools, including a zero-edge Main Pool that has a swim-up bar, a Family Pool with two water slides and a splash pad and five spas. The Cove also features an emerald-green grassy area perfect for gatherings, parties or small weddings under the Southern California sun.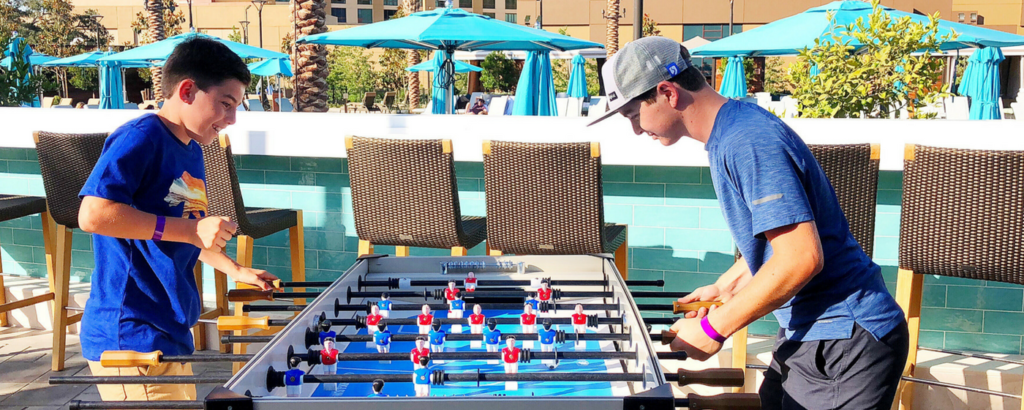 My kids were fully entertained with the foosball table, the shuffleboard table as well as the giant water slide! Plus there are giant sofas and comfy chairs you can sit on underneath the shade. There are also family bathrooms, outside showers and an area to get organized, as well as lockers. I also saw a lot of water bottle filling stations with filtered water.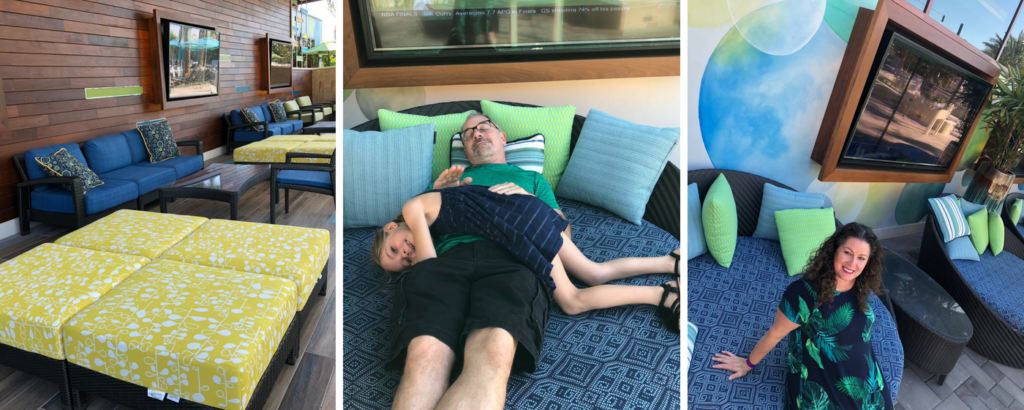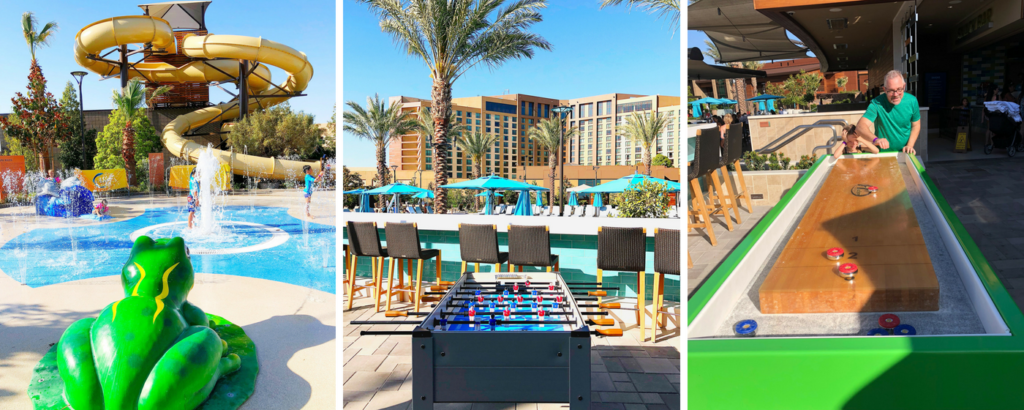 The pop jet area was a blast, but keep in mind that the water slide has a height minimum of 48 inches. I have a very small 7 year old who is only 44 inches and she was super sad about it. Other than that the whole pool area is an oasis with a swim up bar, comfortable chairs and plenty of shade to unwind and relax.
Things to know:
Absolutely no food or drink is allowed in the cove.
They will do a bag check
You will need to get a wristband to enter the Cove
Junior Golf Lessons
If you are a golf family, or even if you just want to try the sport out, Pechanga has Jr. Golf lessons for your little ones and even your teenagers. The Randy Chang Junior Golf School offers movement skills that influence on overall golf performance along with golf related stories. All 3 of my kids and my husband had a great time and they didn't even have to wear golf clothes. (however a collared shirt is recommended)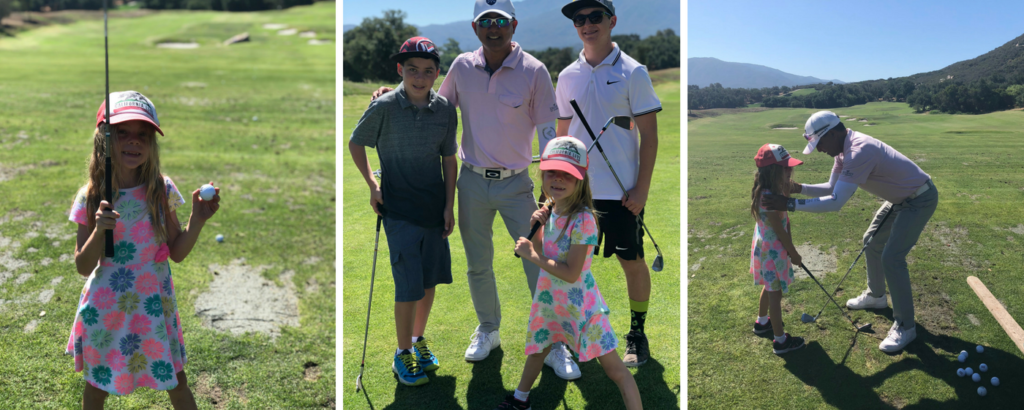 Mommy and Me Manicures At Spa Pechanga
Spas are a HUGE draw for me on vacation. I mean, after all my nails have to look good by the pool, right? So when i learned that they had mommy and me manicures I couldn't wait to bring my daughter for an afternoon of fun and pampering. The lady who worked on my daughters nails was very lovely and chatted with her the whole time. At 7, she isn't the most talkative thing so I appreciated social aspect of it.
The Spa at Pechanga is a 25,000-square foot sanctuary of luxury, wellness and serenity designed for year-round rejuvenation of the mind, body and spirit. They offer luxurious treatment rooms and relaxation areas with panoramic views of the surrounding hillside. They offer numerous amenities, such as steam rooms, saunas, whirlpools, a fitness facility and outdoor patios, are specifically created to offer an intimate escape into wellness and tranquility.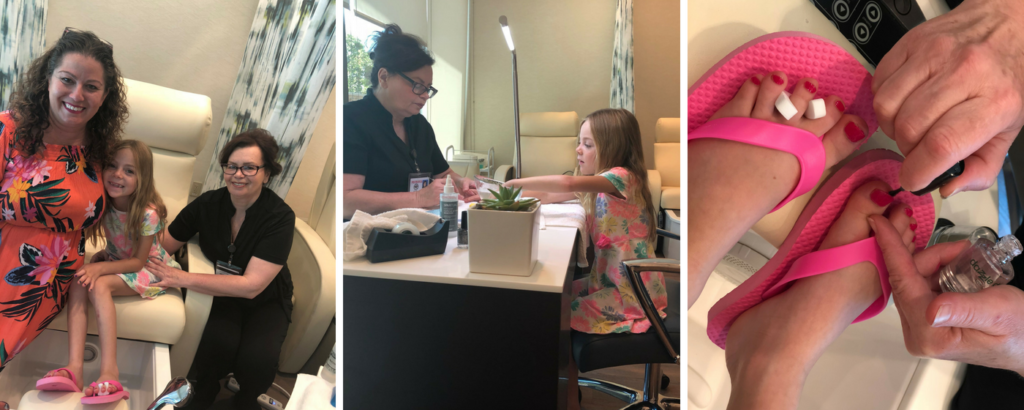 After I got my nails done I dropped my daughter off with my oldest son for some time at the pool and my husband and i hit up to co-ed section of the spa! The waters were so tranquil and blue and they played nice music that we listened too in an out of our naps. There is a waterfall rock spa for those of you who enjoy a warm soak. After, I took a shower in the  locker room and they had every single thing I needed! A loofah sponge, a razor, shaving cream, body wash, shampoo, conditioner and the showers were huge!! I cleaned up and went straight to dinner!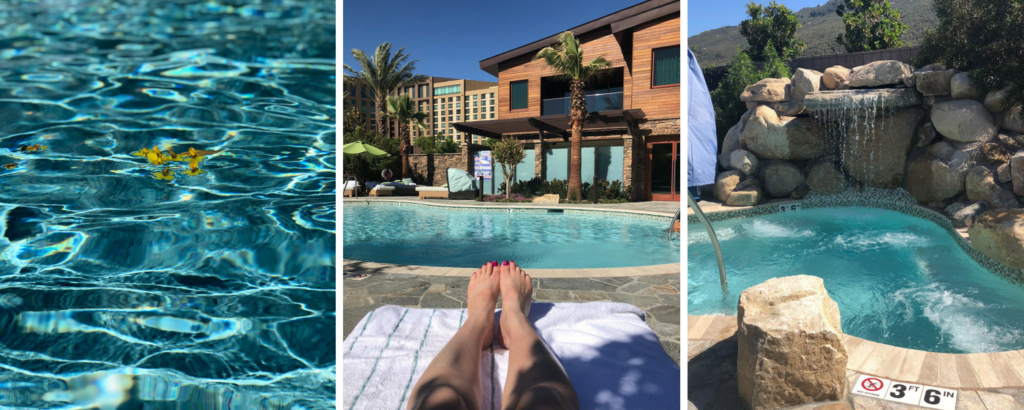 Comedy Club
Who doesn't love to laugh? The comedy club at Pechanga is awesome and totally reminds me of the Irvine Improve at the Irvine Spectrum.  They host comedians with the most hilarious and original voices, the brightest stars, as well as the up-and-comers. We heard three comedians on the evening we went and laughed the entire time. You can purchase food and beverage inside (bar food) and you do not need to dress up fancy to attend.
Things To Know: Security is heavy at the door.
Final Thoughts?
We thoroughly enjoyed our vacation at Pechanga! While we did not gamble in the Casino, there was plenty for us to do with the kids. We even went on a hot air balloon ride from A Grape Escape. Saying that, I cannot see spending more than 2 days there if you have kids, but as just an adults only vacation I could spend the whole week there simply lying by the pool and eating. Also, the Resort has slots, table games, bingo, poker, high limit, and off-track betting. We can't wait to come back!!
For more information visit Pechanga on Facebook and Twitter.
To learn more about our Grape Escape Hot Air Balloon Ride in Temecula California please click on the Hot Air Balloon.