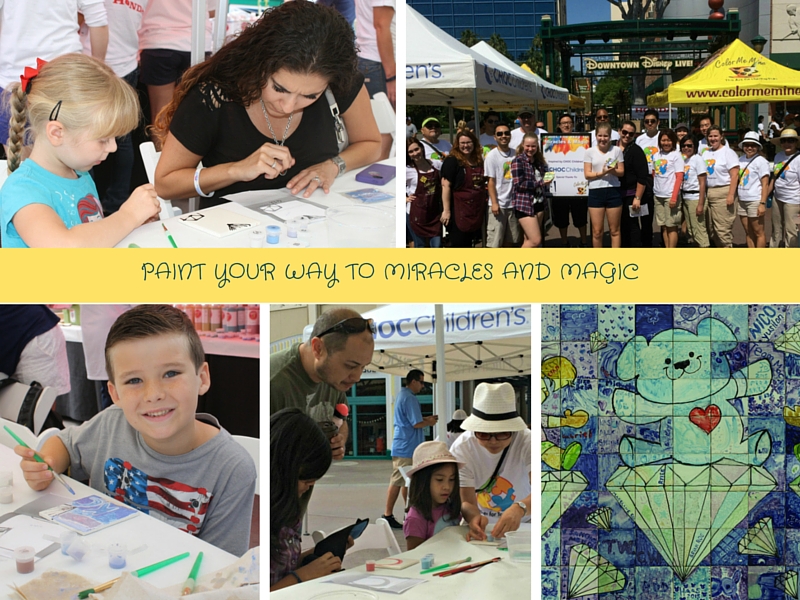 Have you ever heard of the CHOC walk? I have done 3 times now and it is always such an emotional yet empowering event. I have a friend whose son is a brain cancer survivor and we walk for him every year!
Paint Your Way To Miracles and Magic
On June 25, 2016, young artists and families from throughout Southern California will come together for a one-of-a-kind fundraising event benefitting CHOC Children's Hospital. At the Paint Your Way to Miracles and Magic event at the Downtown Disney® District, children have the opportunity to hand paint a custom ceramic tile that will be part of a larger mosaic to be displayed between the Downtown Disney® District and the Disneyland® Hotel. Family, friends and thousands of Disneyland® Resort guests will be able to view the complete mosaic for the following year. Paint Your Way to Miracles and Magic is generously sponsored by the Downtown Disney® District, American Honda Motor Company, Kaman's Art Shoppes, and Color Me Mine.
This fun-filled fundraiser is limited to only 191 tiles, so it is important to register early and reserve tiles as soon as possible. A $60 donation is required for each tile, and registrants must sign up for a specific 45-minute session. The first session begins at 9 a.m. with the last session beginning at 2 p.m. Adults accompanying children will be able to watch as children paint. When each session is over, all the food, shopping and fun of Downtown Disney® awaits!
The Paint Your Way to Miracle and Magic events officially kicks off the 2016 CHOC Walk in the Park fundraising season. The CHOC Walk in the Park is CHOC Children's Hospital's annual 5K walk through the Disneyland® Resort. Last year's Walk raised more than $2.5 million for the hospital's Kids' Care Fund. This fund provides funding to the programs and services in the greatest need both at the hospital and in the community—from mental health services to an expanded neonatal intensive care unit to care for children and families who cannot afford to pay.
Registration for the Paint Your Way to Miracles and Magic event can be found here: http://choc.convio.net/site/Calendar?id=100541&view=Detail
Learn more about or register for the 26th annual CHOC Walk in the Park here: chocwalk.org.