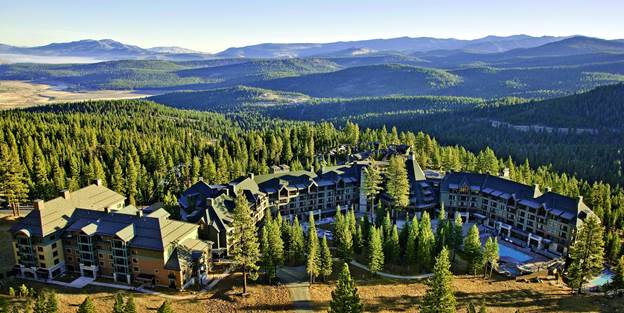 Do you have vacation plans this summer? If you don't, here is an idea for you!
The Ritz Carlton in Lake Tahoe is offering seem fun summer options like hikes and  mountainside Yoga.
 Private Guided Hikes ($50 per person) suitable for hikers of all levels.
Alpenglow Yoga ($30 per person) focusing on lengthening, strengthening and toning the body
Mountainside Yoga ($20 per person) centered on breath and gentle, meditative movements.
Swimming at The Ritz
The resort features two-outdoor swimming pools, allowing guests the options to swim laps or relax slopeside. New this summer, the resort is offering four cabana packages priced from $150 – $350 per day, including personalized service for poolside bliss.
The standard relaxing Cabana package includes sunscreen, a refreshing sliced fruit platter, snacks, water, soft drinks and juice for two.
The Fun & Games package features two small pool toys, two large pool toys, two pool games and a s'mores kit for four people.
The Champagne package includes two chilled bottles of champagne, sunglasses, beach towels and a floating tray of 12 chocolate covered strawberries.
The Relaxation package includes a tote bag, Fiji water on ice, Coola spray sunscreen and aftercare cream, a fresh fruit platter, a pitcher of blackberry mint mojitos, and a number of rejuvenating add-ons, such as aromatherapy mist.
Happy/Yappy Hour and BBQ's
Quench your thirst with Happy Hour every Sunday through Thursday from 3:00 pm – 5:00 pm at The Backyard Bar & BBQ, featuring $5 draft beers and $9 signature cocktails alongside lawn games such as bocce ball, corn hole, giant jenga and more.
For four-legged friends, Yappy Hour is offered on Sundays starting July 10 from 2:00 pm – 4:00 pm, presenting drink specials designed for canines and their companions.
Every Friday evening starting July 1, a Backyard BBQ Family Cookout ($39 per adult, $20 per child) will take place from 5:00 pm – 8:00 pm, featuring live entertainment and traditional barbeque favorites such as tender, juicy burgers, ribs, chicken, pulled pork and house-made desserts.
Brunch enthusiasts will love Sunday Brunch ($59 per adult, $29 per child, $19 unlimited sparkling wine and mimosas) at Manzanita from 11:30 am – 2:30 pm boasting a chilled seafood display, a carving station, salads, cheese and charcuterie alongside breakfast favorites and desserts. Elevating the experience, The Ritz-Carlton, Lake Tahoe also recently introduced new monthly brunch themes including Seafood Fare for June, Summer Melon for July and Tomato for August, featuring a Bloody Mary bar.
Star Gazing
For a unique summer evening activity, Mountainside Tahoe Stargazing with Tahoe with Tahoe Star Tours ($35 per adult, $20 per child) are available on Fridays from 8:15 pm – 10:30 pm to view the cosmos with star guide and poet Tony Berendsen in an educational night that includes a laser tour of the constellations, telescopic viewing, a fun space quiz with prizes, poetry reading and more. On July 15 and August 12, resort guests can attend a Concert Tahoe Star Tour ($100 per person) featuring stargazing, a live performance, cheese and dessert stations and wine and champagne in correspondence with the Perseid Meteor Shower.
Kids Club at the Ritz
Ritz Kids program at the property offers summer activities throughout the week derived from four themes: Land, Water, Culture and Environmental Responsibility. Interactive sessions include: Forests, Biodiversity is Good, Who Needs Seeds?, Things We Eat, Water Wows, Myths & Legends and many more. A spin on hide-and-seek away from home, the resort also has two summer scavenger hunt programs that result in cool prizes, including "Where is The Bear?" a teddy bear hidden in the Living Room and The Backyard Scavenger Hunt featuring a scavenger map and hidden objects to be found in the backyard.
With a range of wonderful summer experiences to choose from, The Ritz-Carlton, Lake Tahoe remains the top destination for the ultimate relaxed California luxury experience year-round. To confirm hotel reservations at The Ritz-Carlton, Lake Tahoe, please contact your travel professional, visitwww.ritzcarlton.com/LakeTahoe or call reservations toll-free at 800-241-3333.