"This post is sponsored by Everywhere agency on behalf of OshKosh B'gosh; However, all thoughts and opinions are my own".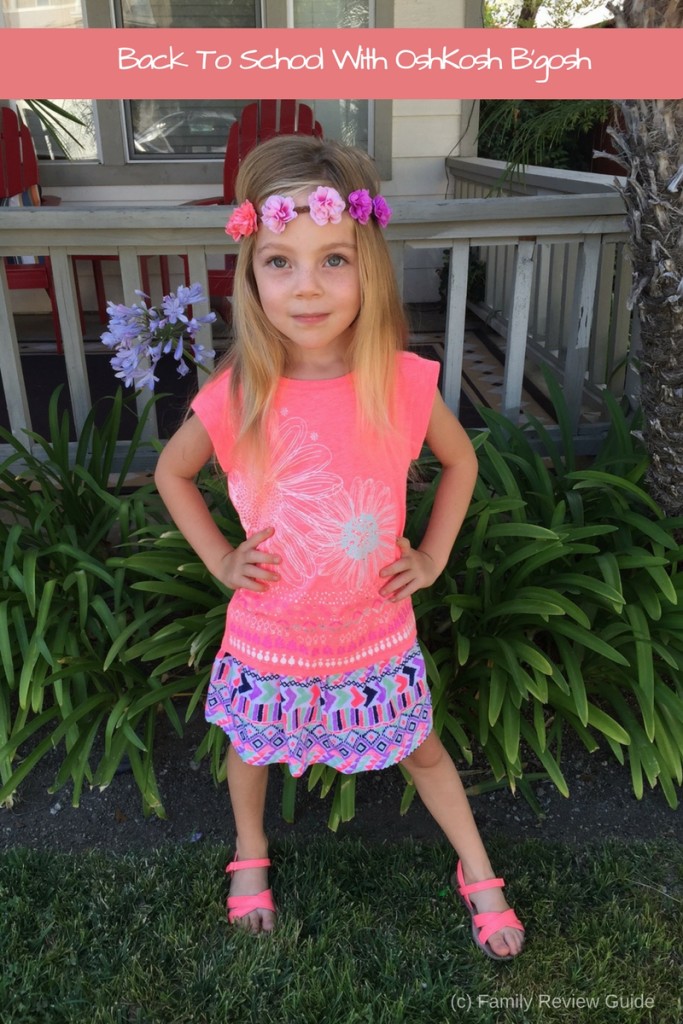 Going back to school is an exciting time for both kids and parents. Moms typically welcome the break and kids are excited to see their friends. This usually means clothes shopping is in order! So where does one shop when they need cute, trendy clothes at affordable prices?  OshKosh B'gosh, of course! My daughter is 5 years old and I just discovered this store last month.
One of the first things that captured my eye when I was shopping was the store is brightly lit, and they carry lots of cheerful and colorful patterns, and solids. I also noticed that they group pieces together. (i.e. all shoes are together, skirts are all together,  shorts are together, and so on). Plus they give examples of whole put together outfits. I really like that because sometimes I never know what to pair an item with.
Mix and Match Styles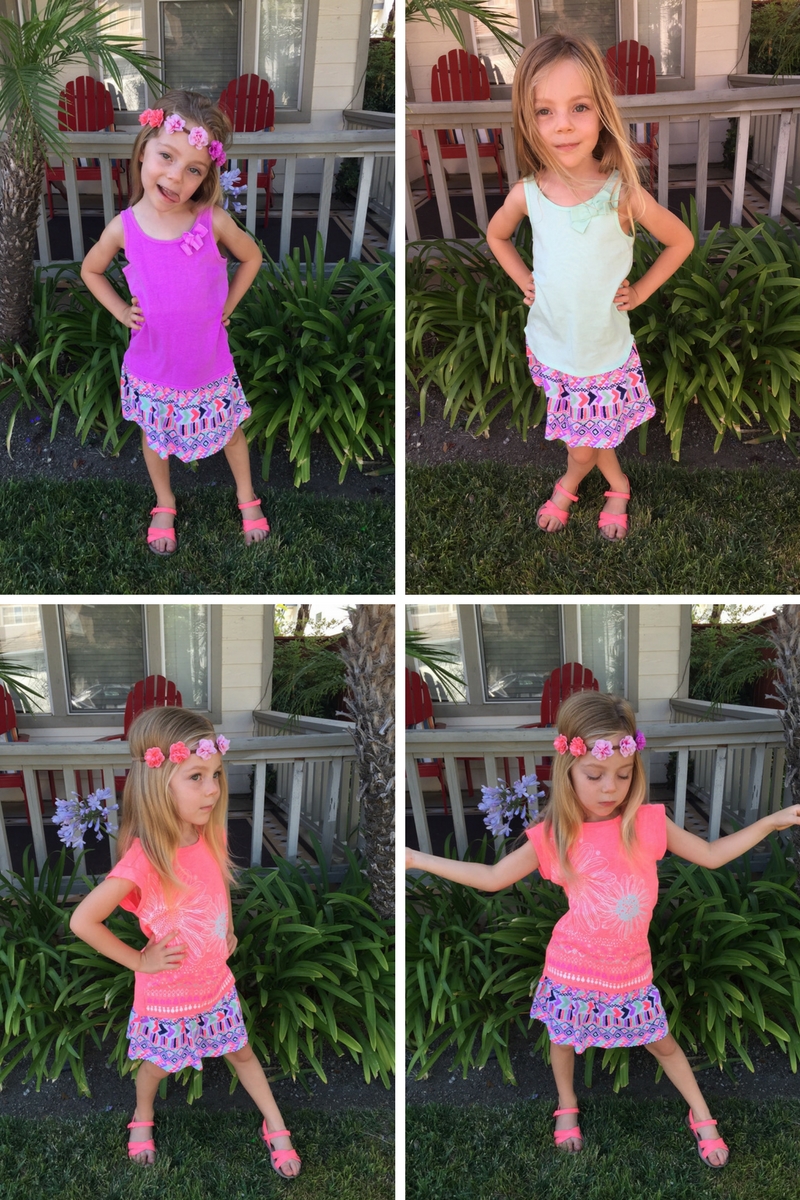 One outfit we picked was a cute skate skirt and matching top. The great thing about OshKosh B'gosh is that you can mix and match with so many pieces. We found two more tank tops that match with the skirt as well as an adorable flower headband that pulled the entire outfit together.
Athletic Wear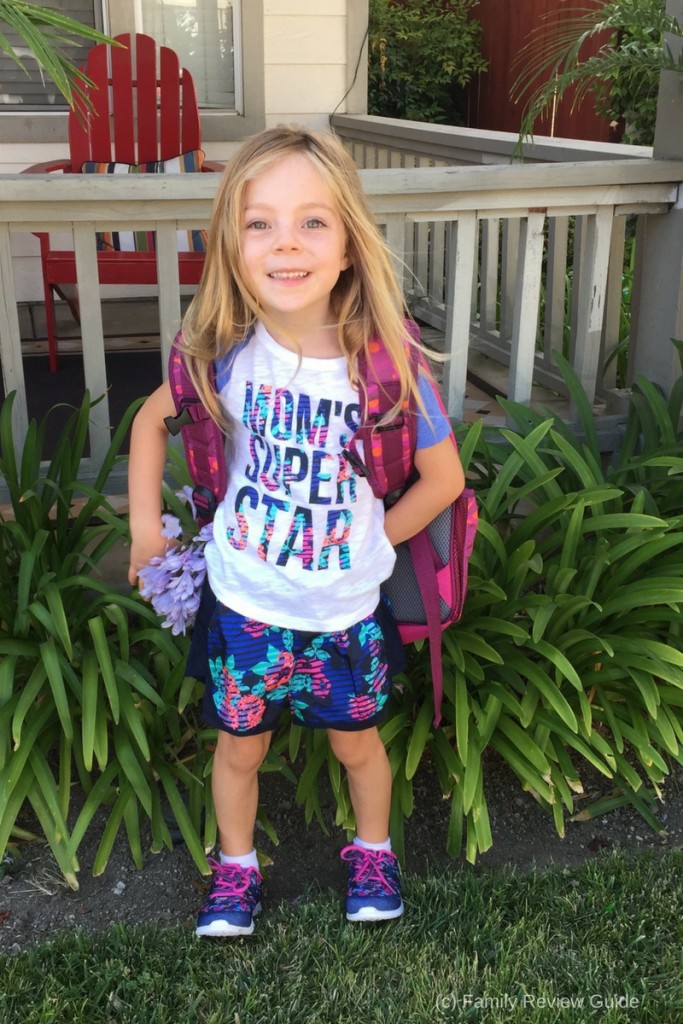 OshKosh B'gosh also carries a good variety of athletic wear. My daughter spotted some really cute floral sneakers she wanted and we ended up pairing them with some matching shorts and a t-shirt. She can wear this not only to school (perhaps the first day) but also to soccer practice or tennis!
Pretty Patterns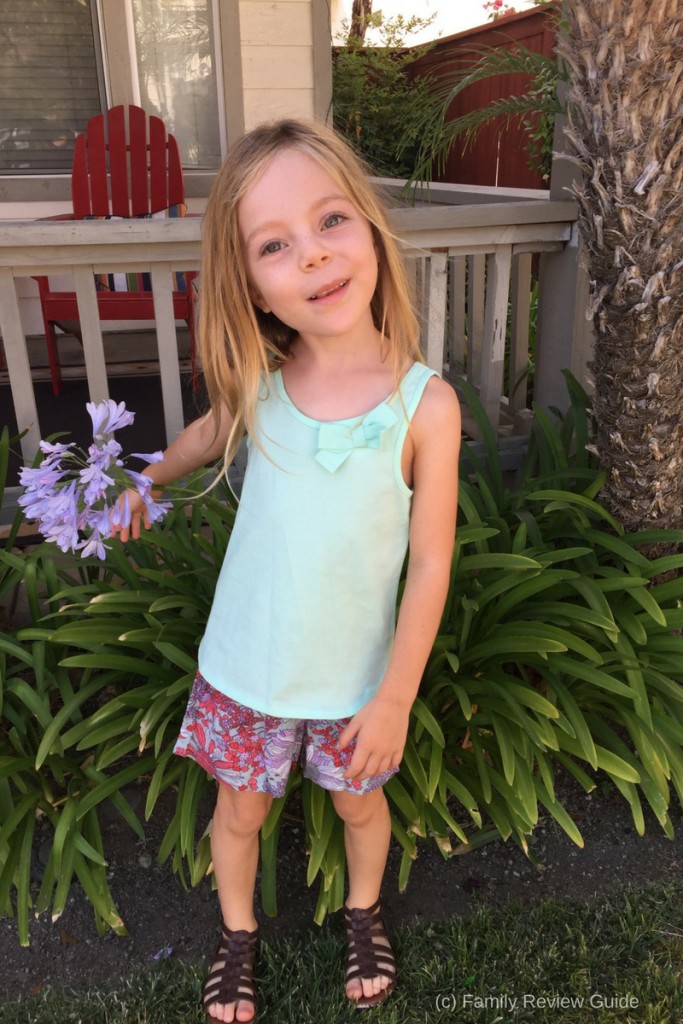 Remember that cute tank top you saw on my daughter in the second group of photos? Well, it also match up with some light and flowy culotte shorts! I love that OshKosh offers a variety of elastic shorts because they tend to stay on my daughter, who is a bit on the smaller side. All of their clothes are so versatile and pretty much any pair of shoes will match.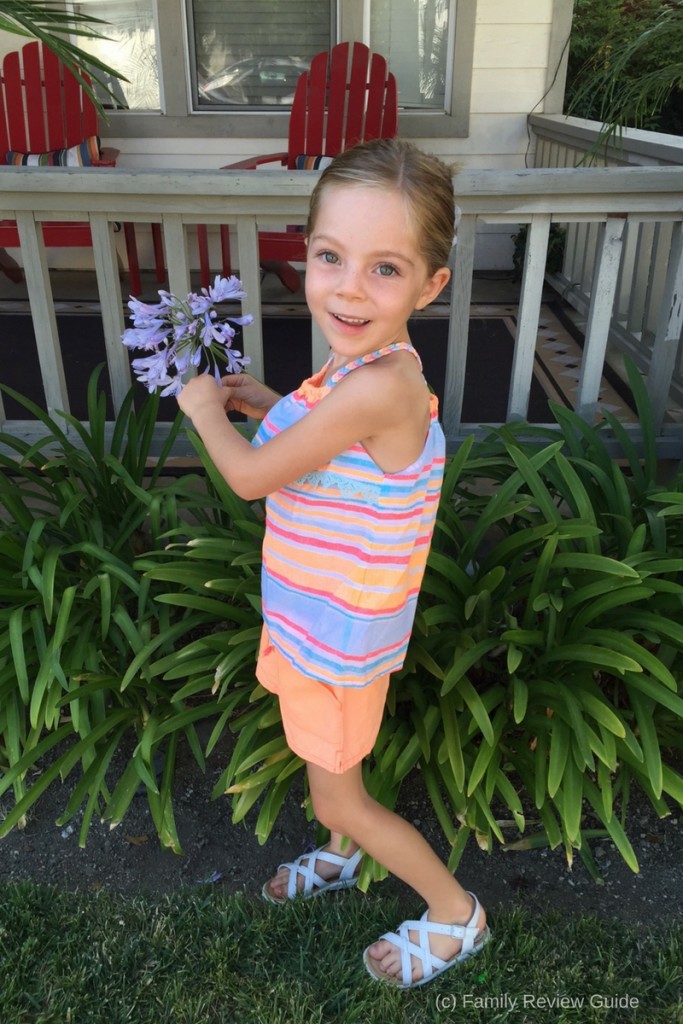 Here in California we have been having some serious heat waves and my daughter prefers to be comfortable, so we also picked out some cool, strappy tops and pull on elastic shorts. The neon colors are big right now and she loved how this looked. This top looks great if you put their hair up and off their shoulders.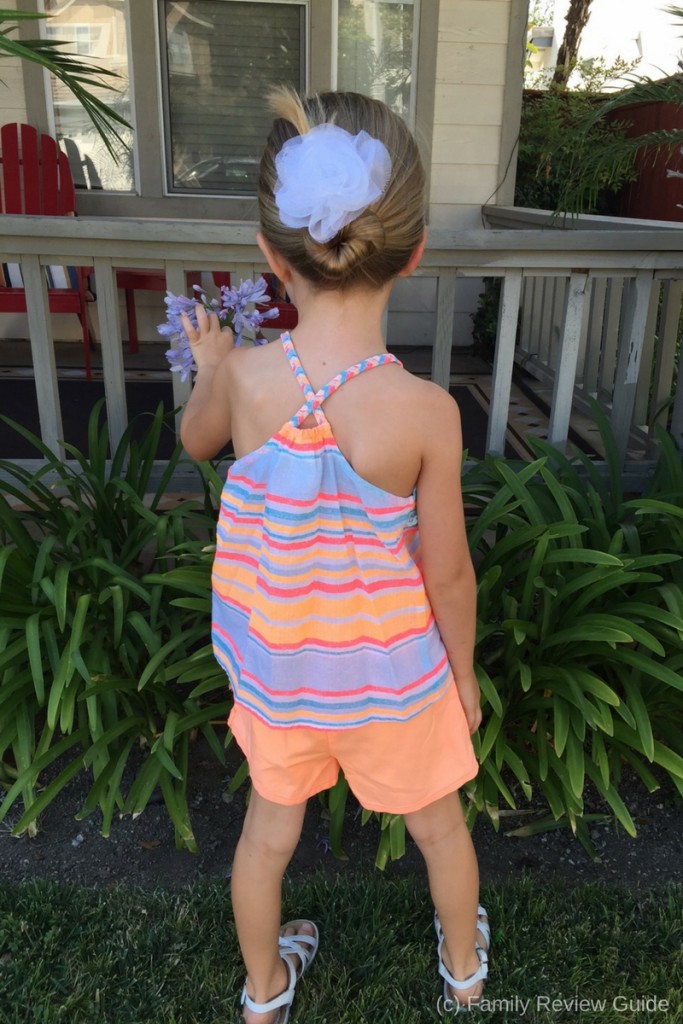 Mint green seems to be a popular color right now and these mint green twill shorts and matching tank top are simple, yet add a subtle pop of color with a cute bow to catch the eye.

Skirts
Skirts a big in this girls closet because they are so easy to get on and take off. This adorable maxi skirt runs a bit large but is perfect for my little peanut. We matched it with an embellished graphic tee that will also match some other shorts we bought. That is the beauty of OshKosh B'gosh clothing. Your kids will never get bored with your clothes!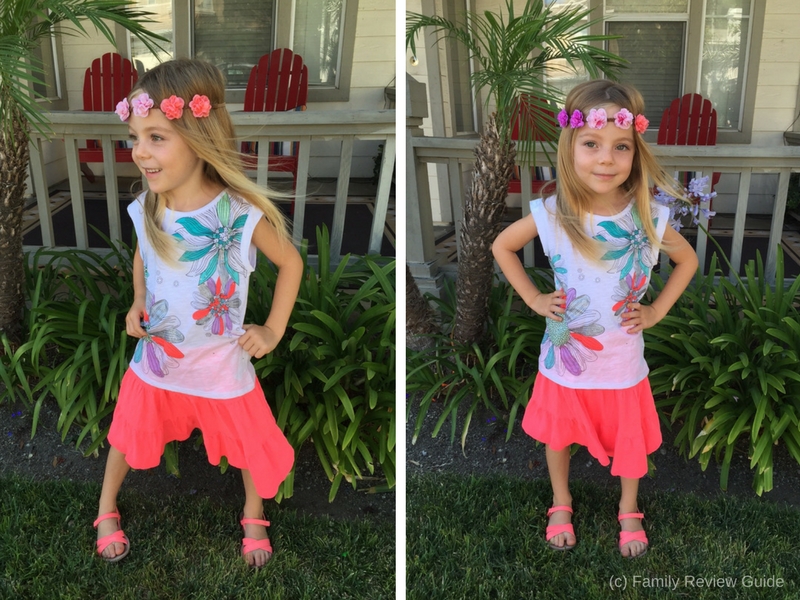 Comfy Clothes That feel Good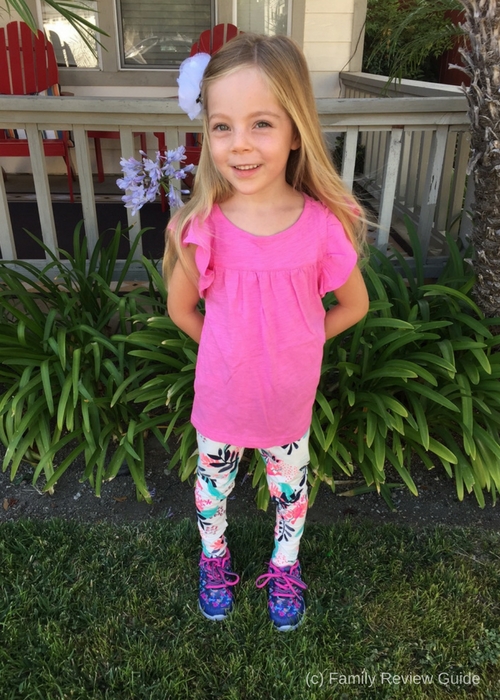 For our last outfit, we chose some leggings just incase we get some cooler weather in the fall. Oshkosh B'gosh has a variety of cute leggings and we chose these floral ones with a pink puffy sleeved shirt. They are comfy, stretchy and perfect for kindergarten!
Where Can I Find The Nearest OshKosh Store?
Use their store locater to find the nearest OshKosh B'gosh store near you.
Are there any OshKosh Coupons Available?
Yes! We have an exclusive coupon code just for you!! Save 25% off your purchase of $30 or more. So what are you waiting for? Head over to OshKosh and check out the latest in kids fashion and kids style. You won't be disappointed!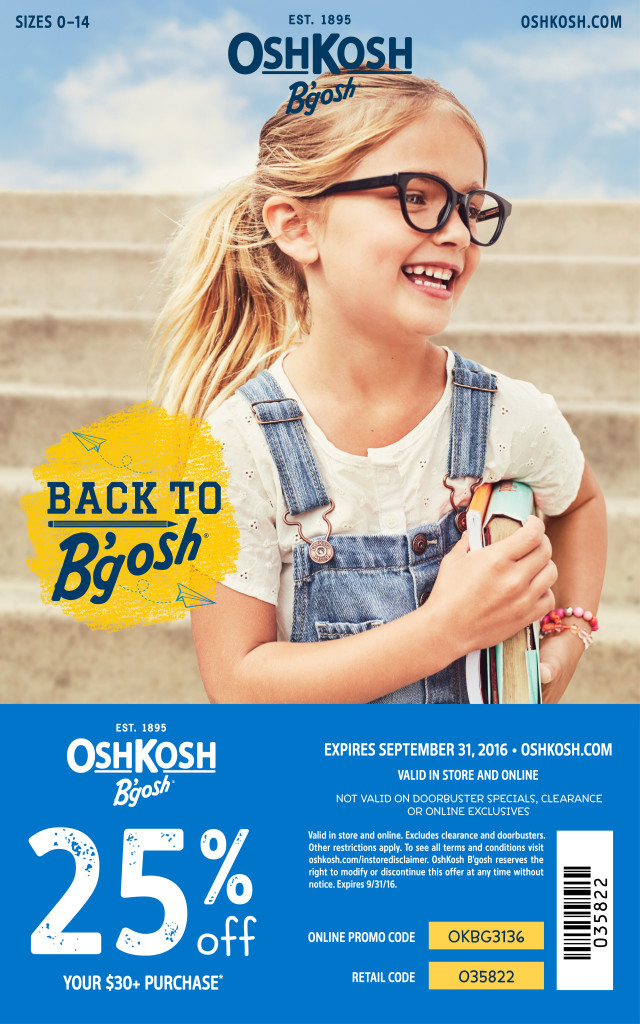 For more information visit OshKosh on Facebook and on Twitter.
Win a $25 Gift Card To OshKosh B'gosh