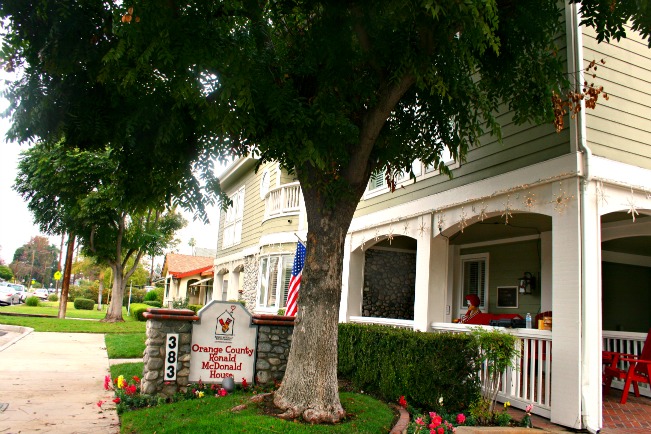 OC Ronald McDonald House Celebrates 25 Years of Helping Families Heal Together
Have you or your family ever experienced an unimaginable time in your life where a support system was the only thing that got you through? For many families, support is not always readily available. However, an amazing organization called The Orange County Ronald McDonald House is a home-away-from home for numerous families with critically ill children. The house plays a vital role in supporting and caring for these families in times of crises.
Recently I had the opportunity to visit the house to celebrate 25 years of  The Orange County Ronald McDonald House helping families heal together. To say that it was an inspiring day would most definitely be an understatement. It was one of the most emotionally charged days I have experienced in years.
We started out meeting an amazing girl from Mexico. She has a 4 month old baby boy at CHOC hospital who has been there since birth. She was kind enough to share her story with us and we all cried as we listened to the anguish she has been dealing with and the overwhelming love she has for the Orange County Ronald McDonald House.

The we took a grand tour of the house. If you can picture your dream house then you have just seen the RMH. It was actually built from the ground up to be a RMH and not converted from an existing building. The kitchen was stunning. Families get 1-2 meals per day and can help themselves to various snacks.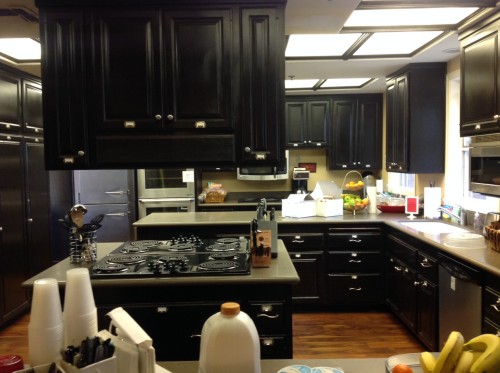 There is also a family room full of toys where kids can play. An adorable mural on the wall sets the tone for the room. It's impossible not to smile when you walk in here.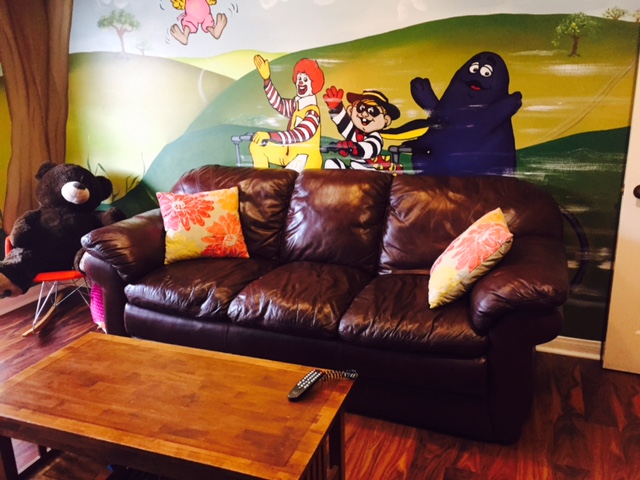 The family room is in the front of the house and it is atrium style with large vaulted ceilings. I love how the house gets into the holiday spirit by decorating a tree and putting up lights on the front of the house. It felt like a warm cozy lodge.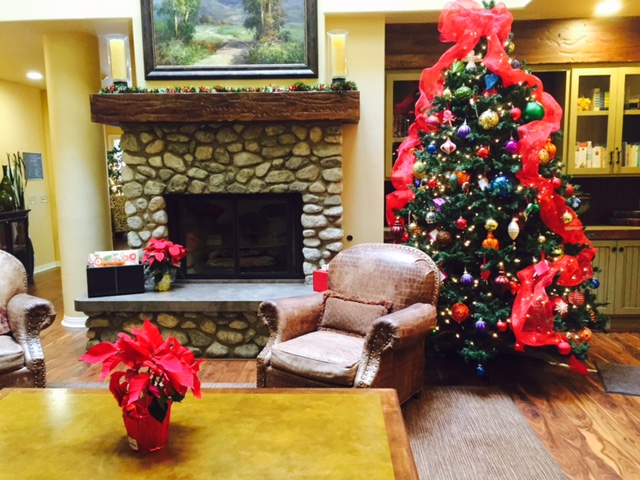 If kids need to be entertained there are tons of movies and a TV.  If parents need a computer to research or do work there is a cozy nook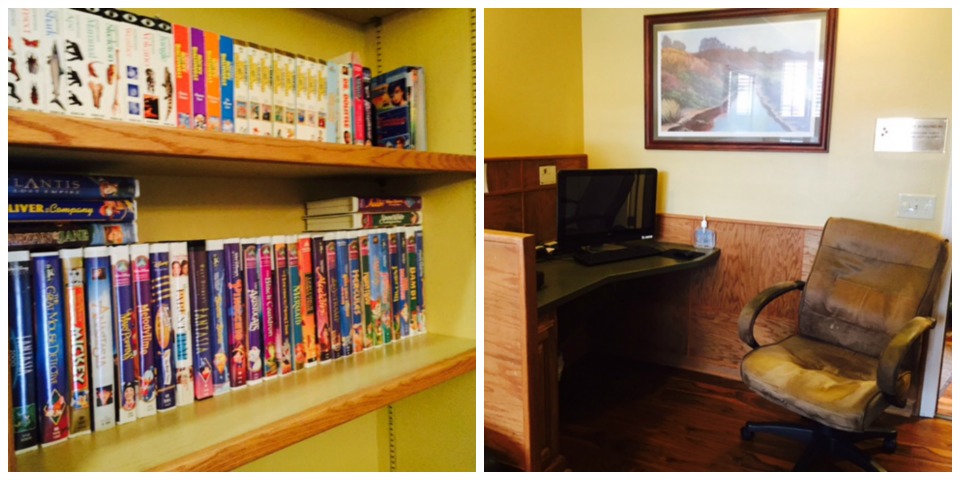 Donations are a huge part of the Orange County Ronald McDonald house. This is a donation tree where the leaves are plaques of people who have donated. Fund raising is also vital to the house. If a family comes to the house and they are at capacity, they will not be turned away. Instead they will be put up at a local hotel. It is called share a night.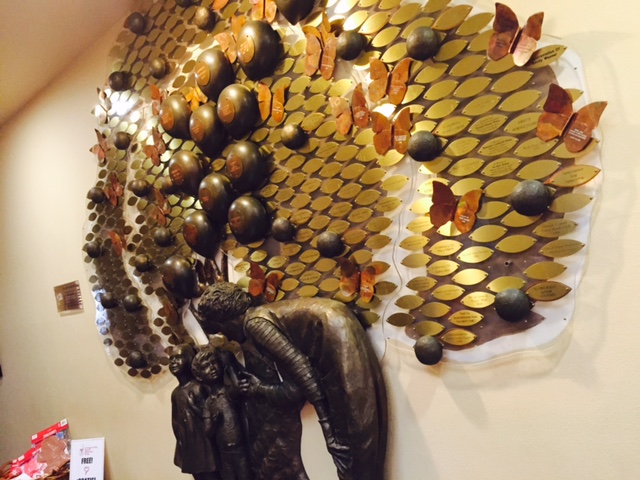 There is also a gorgeous patio out in the backyard with a serenity waterfall and comfortable seating. I can imagine how comforting this must be to be able to step outside and collect yourself after a long day.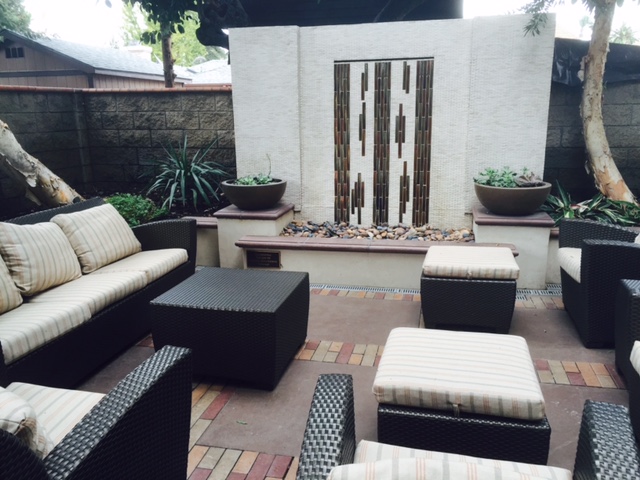 After we toured the upstairs of the house (There are 20 bedrooms) we all came downstairs to make some ornaments for the house tree. We met another resident who was very happy to join us. While we were working a large group from a nearby church came in to bake dozens of homemade cookies for everyone. As they say it takes a village.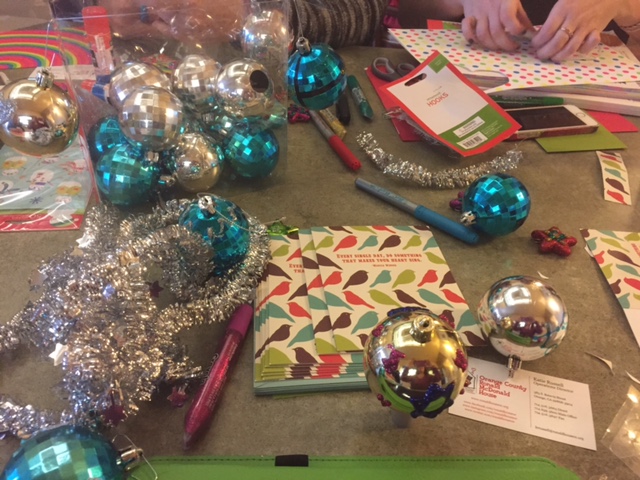 There was even a lady who came in to drop off these adorable gingerbread houses for the families.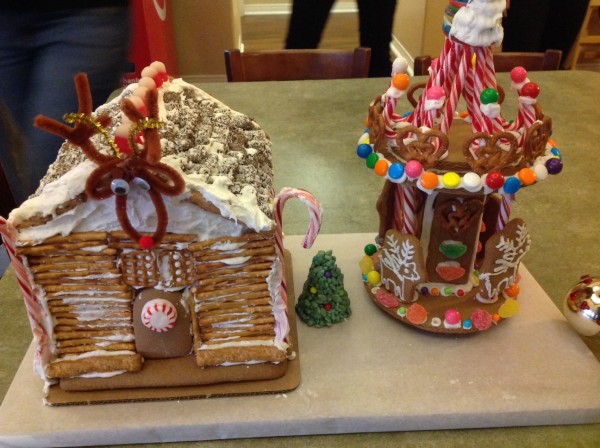 After we cleaned up we celebrated with cake. What a wonderful event to celebrate!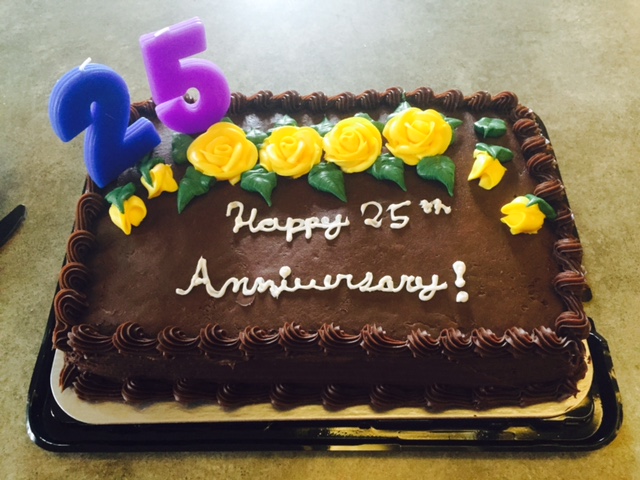 There was a point where I got up to use the restroom and came across these adorable tiles on the bathroom walls? I couldn't help but smile as I looked at them because they portrayed such happiness and hope.

Orange County Ronald McDonald House Facts
The 20-room house opened in November 1989
The house receives an average of 2,500 visitors each year and the average families stay is 10 nights.
Nearly 80% of families have children being treated at CHOC hospital
The house operates two Ronald McDonald family rooms in CHOC hospital in Orange and CHOC hospital at Mission Hospital in Mission Viejo. The rooms provide an oasis where families can rest and relax inside the hospital without being away from their child.
There is an Ronald McDonald camp in Idyllwild that works on team building.
 The Orange County Ronald McDonald house is the largest chapter in the world.
The house is 12,500 square feet
They have an oncology nurse that comes into educate the staff and talk to them about the journey's that the families go through.
There is a bone marrow transplant room
The Orange County RMH has land next door and they plan to expand in the near future.
There is so much value in volunteering and I hope that my children will have the chance to volunteer at a RMH. It can provide meaningful support to families and encourage bonding and new friendships.