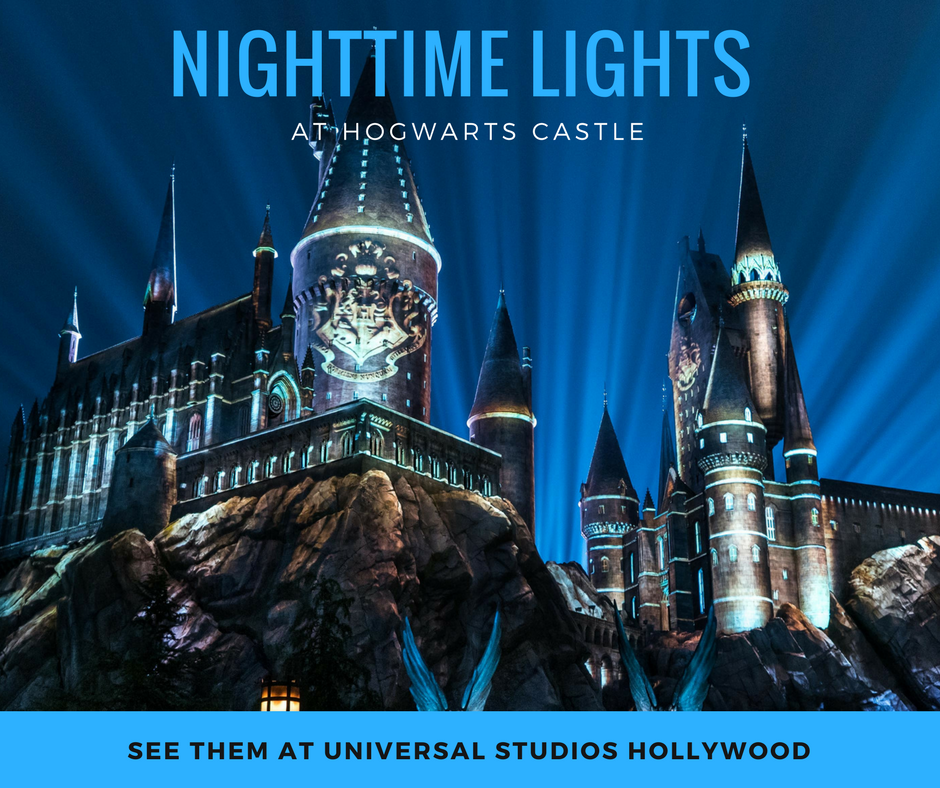 Have you heard the latest buzz going around? Universal Studios has a brand new evening show called "The Nighttime Lights at Hogwarts TM Castle". We got a first hand look at the show and it is absolutely spell-bounding. This unique and mesmerizing show features a dazzling light projection experience against the backdrop of Hogwarts™ School of Witchcraft and Wizardry. The entire production is about 5 minutes long and showcases the four houses of Hogwarts: Gryffindor, Ravenclaw, Hufflepuff and Slytherin and culminates with awesome beams of lights that fan into the night sky.
Blogger Tip – The best viewing spot is right in front the of stage where the Frog Choir and Tri-Wizard Spirit Rally perform. However, you will have a different experience every time you see it depending on where you stand.
Is There Music?
Yes! The colorful state-of-the-art light display and special effects projection, designed to dance across the stunning Hogwarts castle, will be accompanied by a special musical arrangement created by Academy Award-winning composer John Williams based on his original scores composed for the film series. The musical arrangement that will emanate in a surround sound environment was conducted by prolific arranger William Ross and recorded by the London Symphony Orchestra in London.
Watch The Show
How Often Does The Show Run?
 "The Nighttime Lights at Hogwarts Castle" will take place multiple times a night during its summertime run. Usually they start at 9:00pm and there are between 4 or 5 shows until 10:00pm. (It depends on when the sun goes down)
Are there restaurants nearby To Have  A bite Before The Show?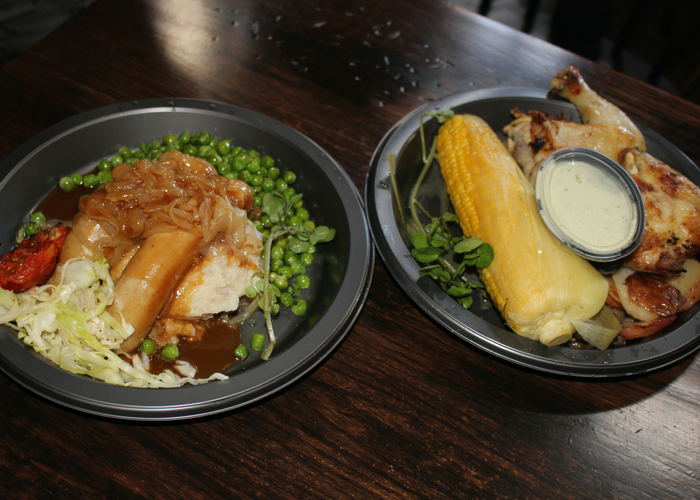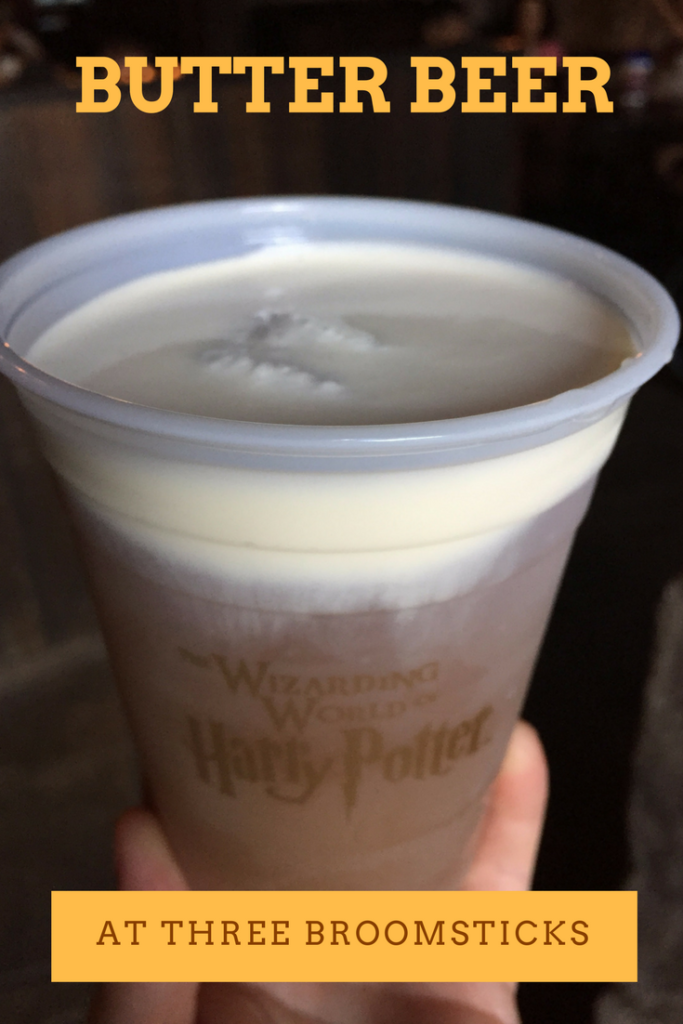 Our Favorite restaurant in the whole park is called "Three Broomsticks" and it's adjacent to the castle. The food here is nothing at al like typical amusement park food. It's flavorful, the portions are huge and you can order unique things you won't find anywhere else like an asparugus platter and Cornish Pasties. This rustic tavern is also thee place to order a Butterbeer.  There is nothing quite like the rich butterscotch taste of a frosty butter beer. The cosy, snow-capped inn is the place where Harry Potter had his first taste of the sweet wizarding drink.
The ordering process is very detailed. You start by standing in one line, then you move to another line to order your food. After you order your food, you stand in a waiting area to pick up your food. Grab your utensils and now you can sit down.
Inside you'll notice details such as cast-iron chandeliers, weathered wood beams, and balconies brimming with curious bric-a-brac. I highly recommend the chicken and ribs platter. The chicken is so tender and juicy and the potatoes are to die for!
Go Shopping For Your Favorite Harry Potter Merchandise

Looking for your favorite Harry Potter Merchandise? No problem. The Wizarding World Of Harry Potter has a foray of shops. There are eight retail venues and locations, including Honeydukes, Ollivanders, Owl Post™, Zonko's Joke Shop, Wiseacre's Wizarding Equipment, Dervish and Banges, Gladrags Wizardwear and Filch's Emporium of Confiscated Goods.
You can also pick up some interactive wands that work in some of the stores. Kids love these!!
Ride Harry Potter And The Forbidden Journey
Fun Facts About Nighttime Lights at Hogwarts Castle
There are over 20 projectors in the show
Academy Award-winning composer John Williams recorded the score with the London Symphony Orchestra
Steven Siercks, senior director of entertainment said it took a team of designers, producers, technical managers and more about a year to figure out how to translate the four houses of Hogwarts and pull all the pieces together to create a seamless light show using projection mapping technology.
More information is available at www.UniversalStudiosHollywood.com. Join the conversation online using #WizardingWorldHollywood. Like Universal Studios Hollywood on Facebook and follow @UniStudios on Instagram and Twitter.