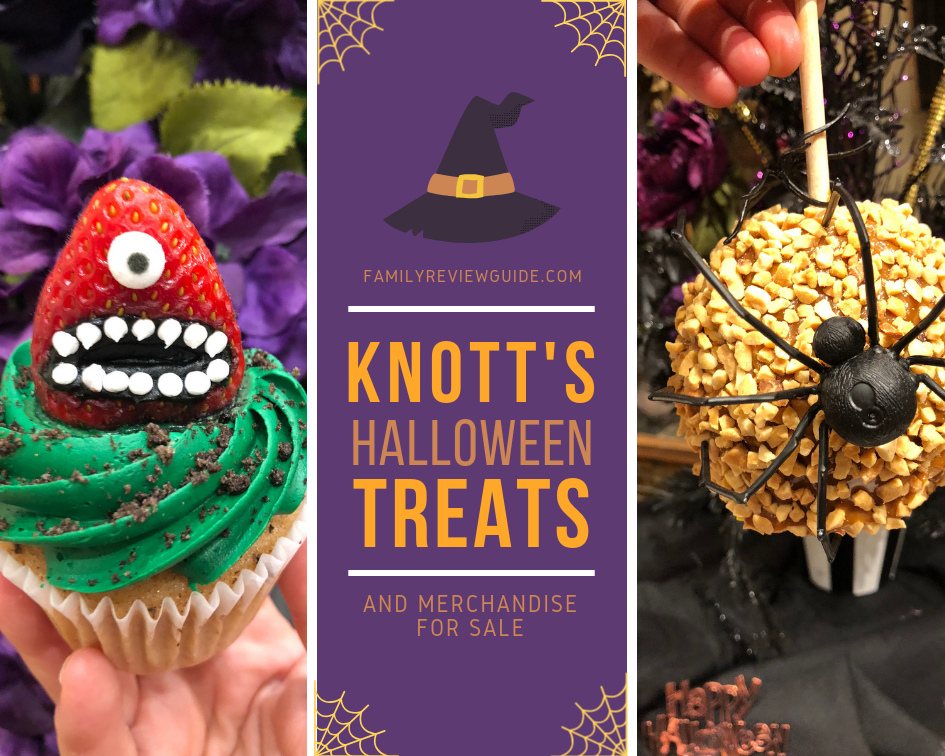 Halloween is my favorite holiday of the year! I love dressing up in fun/horrific costumes, I love the candy, the Halloween parties, the pumpkin patches, the haunted houses, the corn mazes, the cooler weather and so much more. But most of all I love Halloween at Knott's Berry Farm. Between Scary Farm and Spooky Farm I could spend every day of the month there and never get bored! Here are some of the delicious food and beverage options available throughout the park as well as some spooktacular merchandise you can buy.
Lights-Out Monster Burger  ($9.99/Ghost Town Grill)

Located exclusively at Ghost Town Grill, there's a creepy burger with a black bun made from squid ink waiting for you to sink your teeth into. For a limited time, you can try Knott's Monster Burger, with angus beef, cheddar cheese, lettuce, tomato, spicy sausage, and a burger patty, held together with a steak knife. This burger will feed the monster that's inside of you. As mentioned, this burger will leave us once again on October 31st.
Ghostly Bundt Cake ($3.99/Coffee Hut)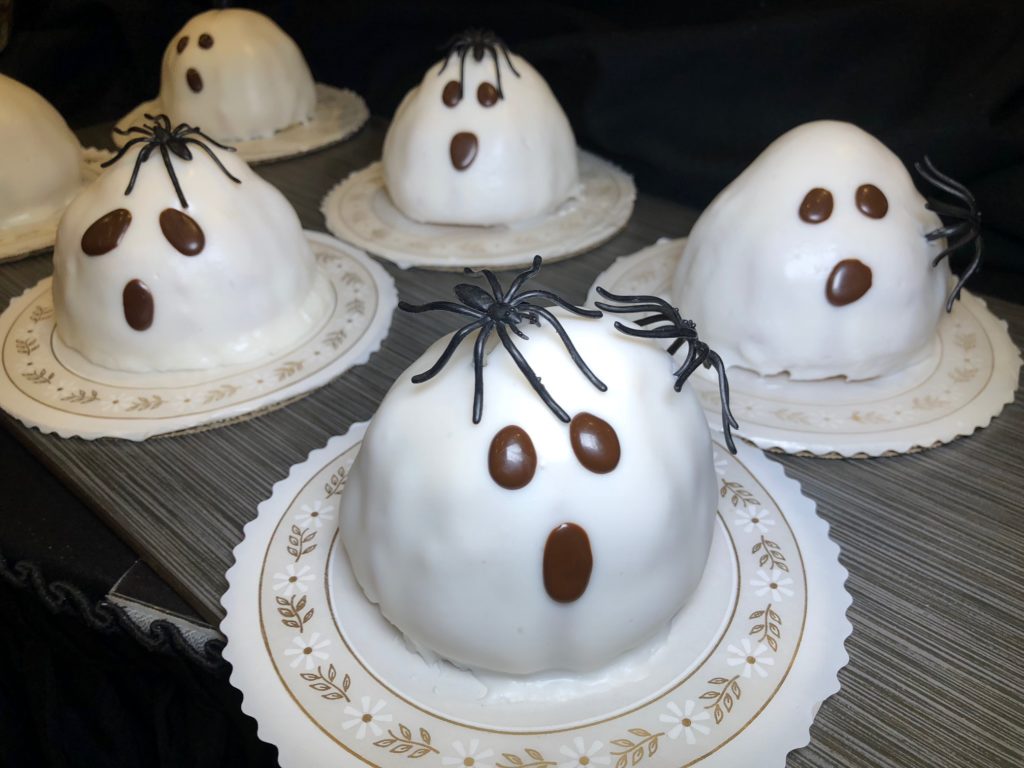 These cute little ghosts are looking to fly right into your mouth. Get them at the Coffee hut for $3.99
Beneath the Surface Popping Boba  ($7.99/ Mrs. Knott's Bakery Express)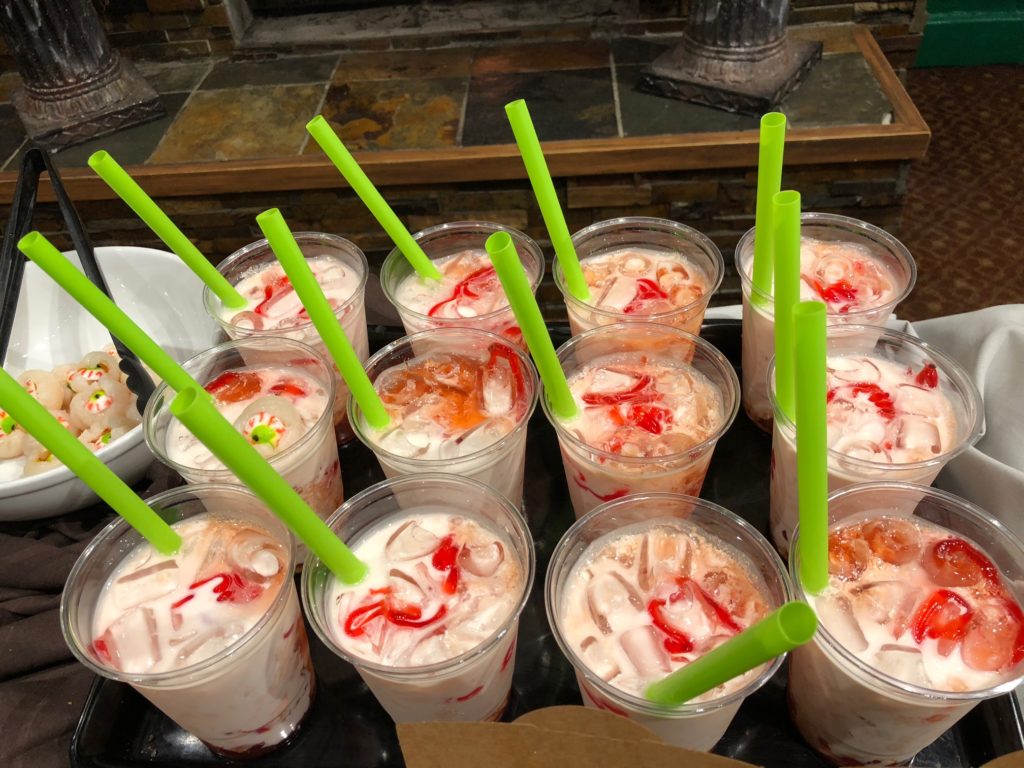 Lychee eye balls and big pieces of boba will surely quench your thirst while running away from Monsters. Find these drinks in Mrs. Knott's bakery express.
Cuckoo Nest's Candy Corn Funnel Cake ($ 12.49/Cable Car Kitchen)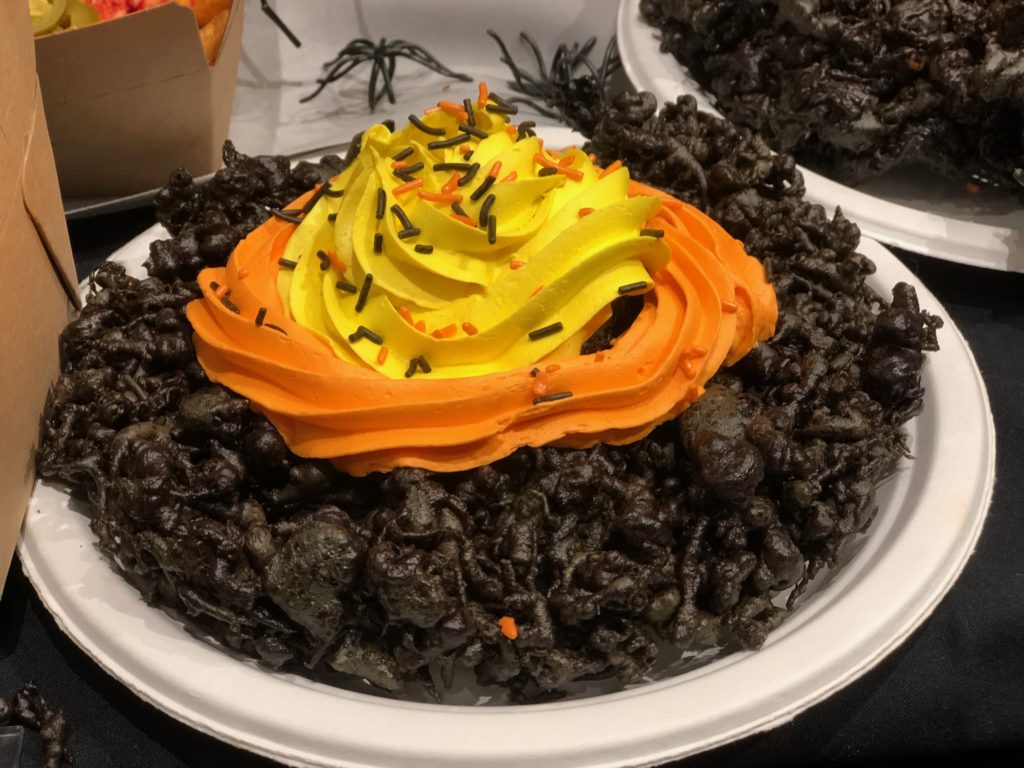 You have never tasted a funnel cake as delicious as this. It has candy corn flavored frosting and a crunchy, crispy, airy shell. Find it at Cable Car kitchen.
Inferno Churro ($6.59/Churro Factory)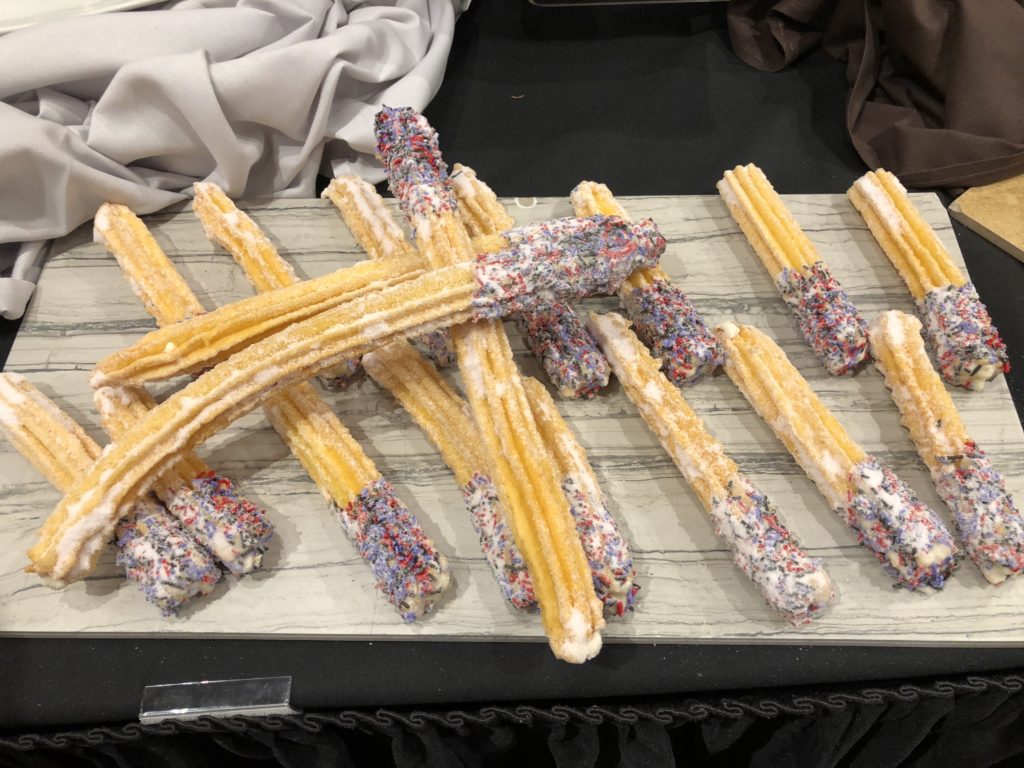 Cream Filled and coated with a spicy sugar and sprinkles these churros are sure to leave a lasting impression. Find them at the Churro Factory.
Dante's Asada Fries ($9.99 /Papa Loca)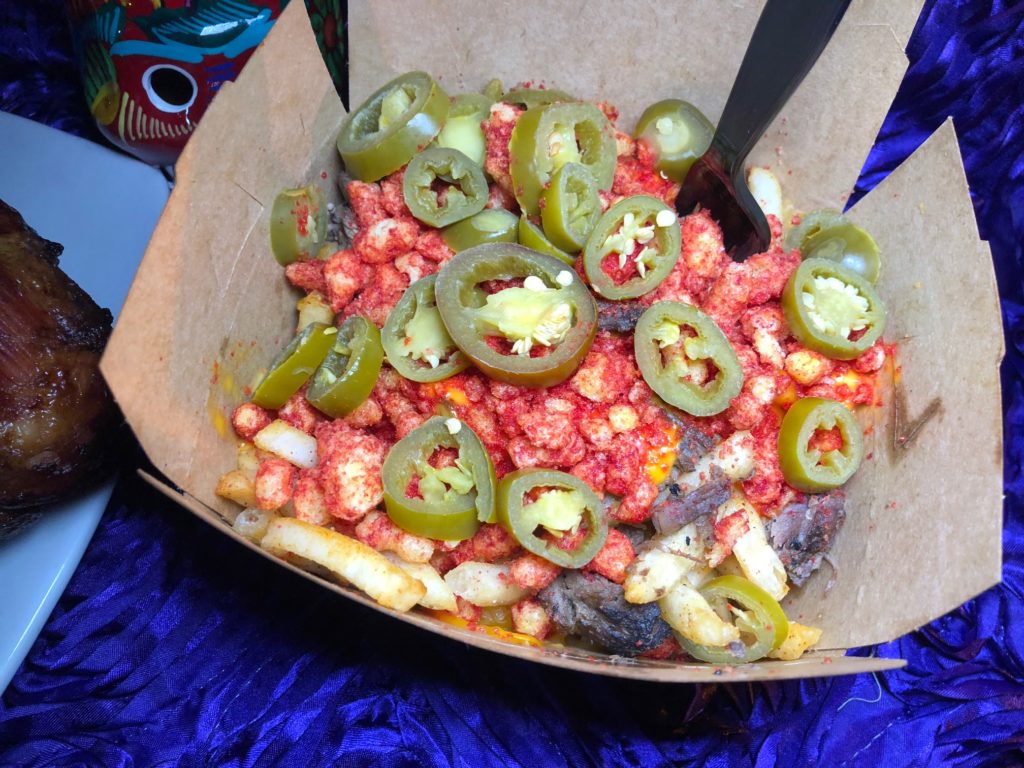 Shoe string fries are topped with tender pieces of carne asada, then adorned with hot cheetos, jalapenos, sour cream or guacamole. Located at Papa Loca across from WaveSwinger in Fiesta Village, you can't miss this unique play on their regular asada fries.  Don't forget a cold bottled water!
Goblin's Grub  ($7.59/Strictly on a Stick across from Log Ride)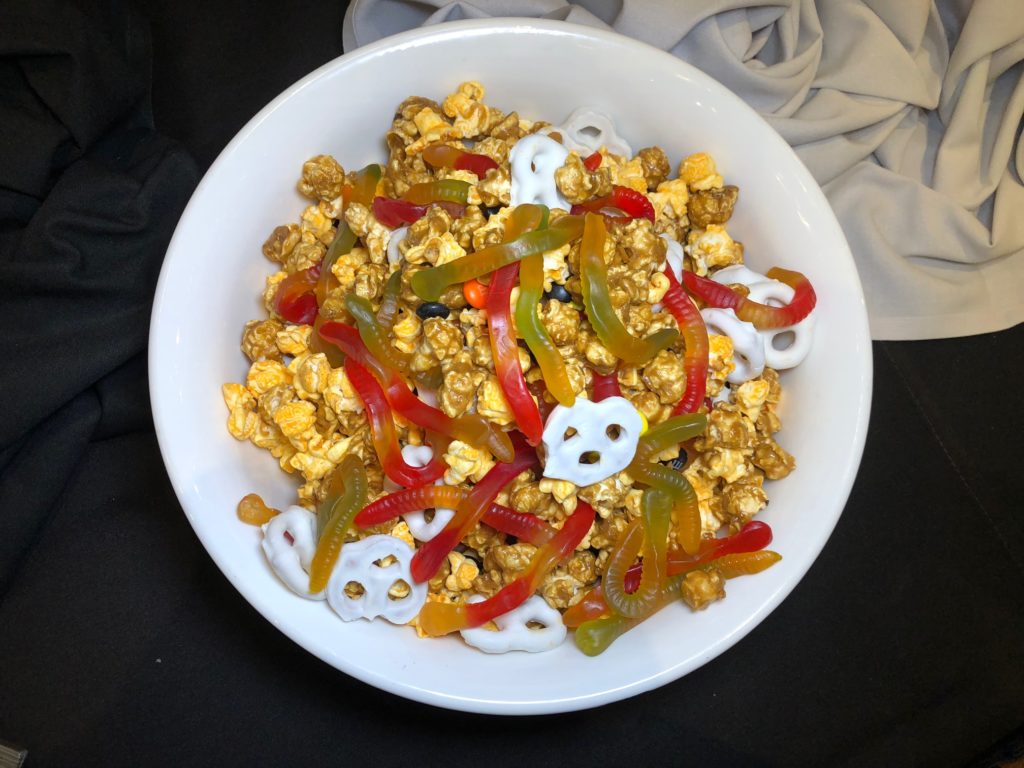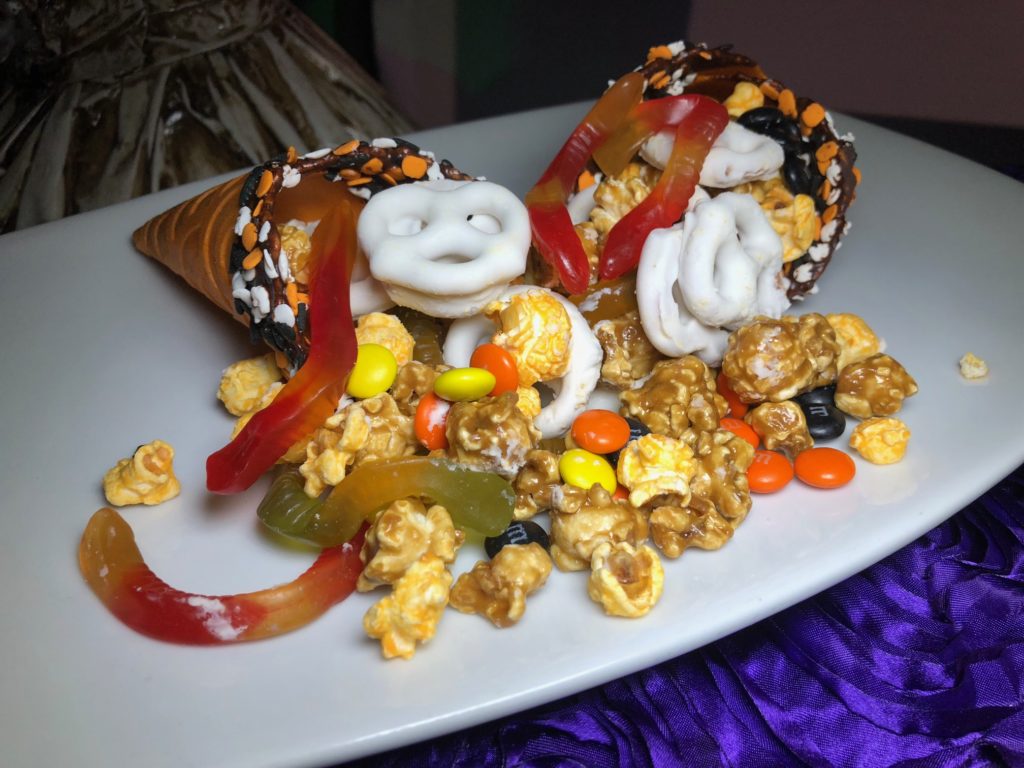 Caramel popcorn, yogurt pretzels, gummy worms, and m&m's all stuffed in a delicious chocolate coated waffle cone with a sprinkle rim.
Chaos Carmel Apple Shake  ($7.59/Coasters)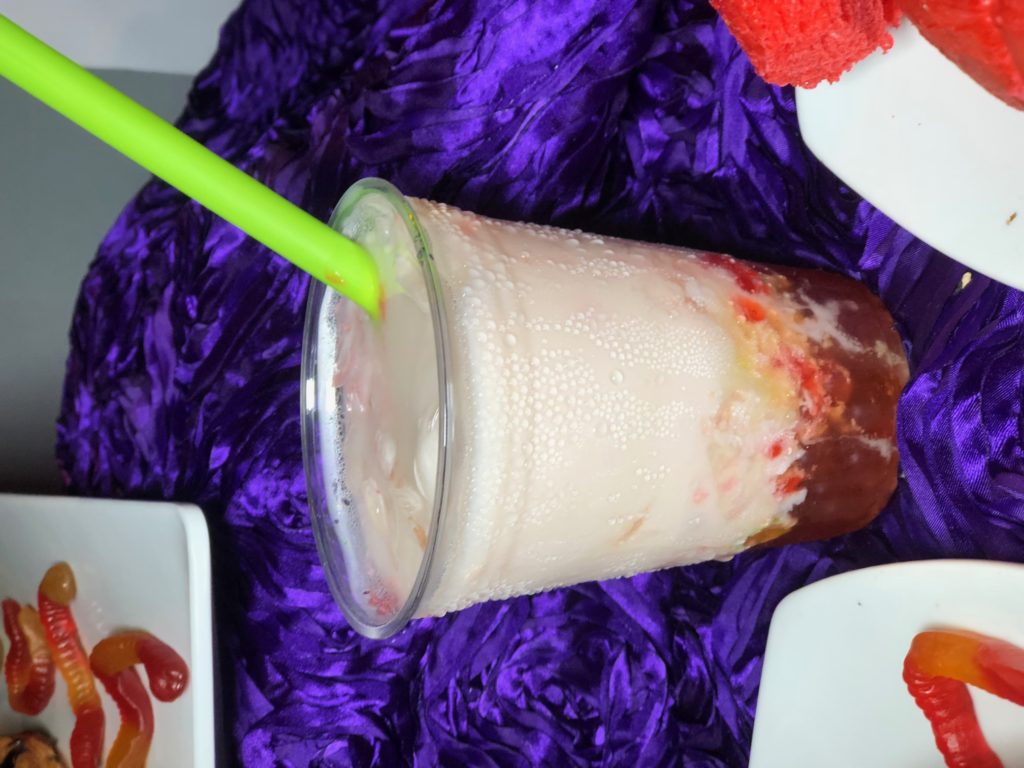 Peter Pumpkin Eater Chili  ($11.99/Ghost Town Bakery)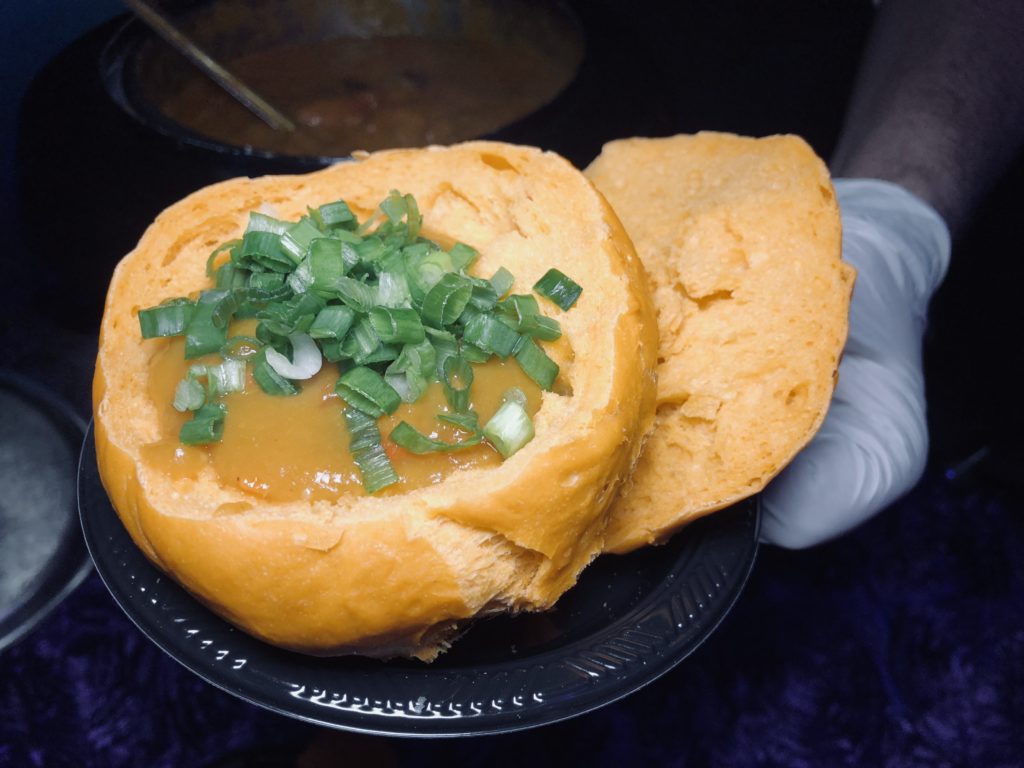 Pumpkin flavored chili  served in a pumpkin flavored bread bowl! It doesn't get more orange than this!
CarnEvil Sausage  ($9.99 /Boardwalk BBQ)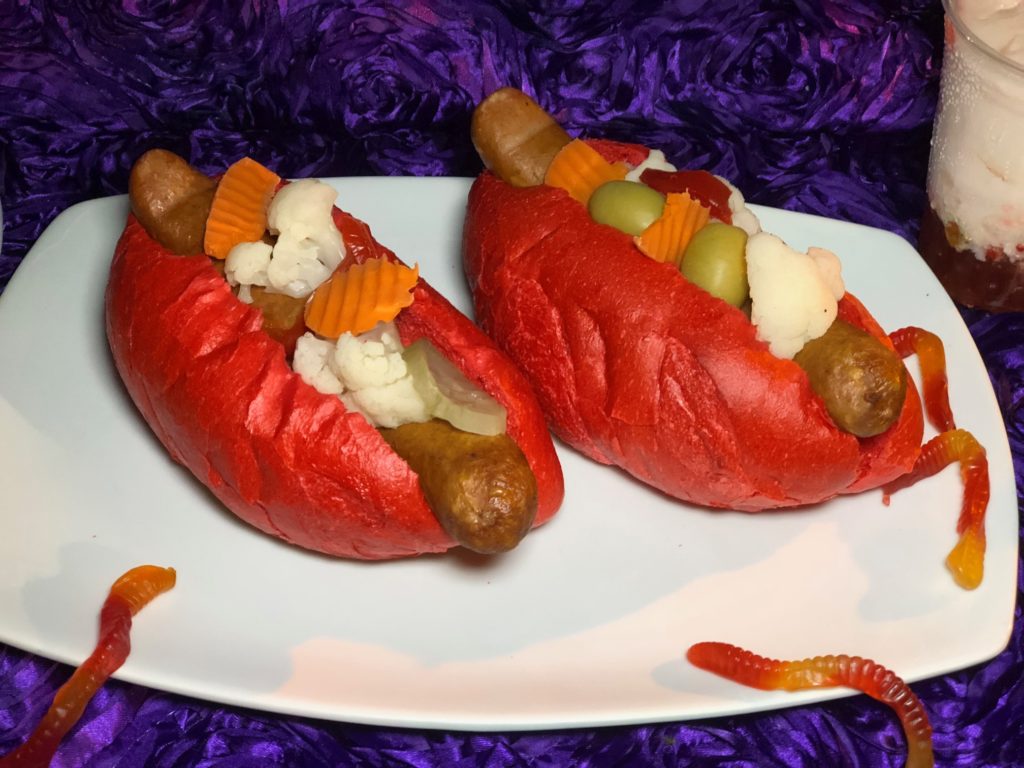 Sausage stuffed in a red bun topped with pickled cauliflower, carrots, pickles and olives.
Paranormal Chicken & Carne Asada Burritos ($9.99/Ghost Town Food Cart)
Dark Entities Dole Whip  ($7.99/ Beachy Keen Pizza)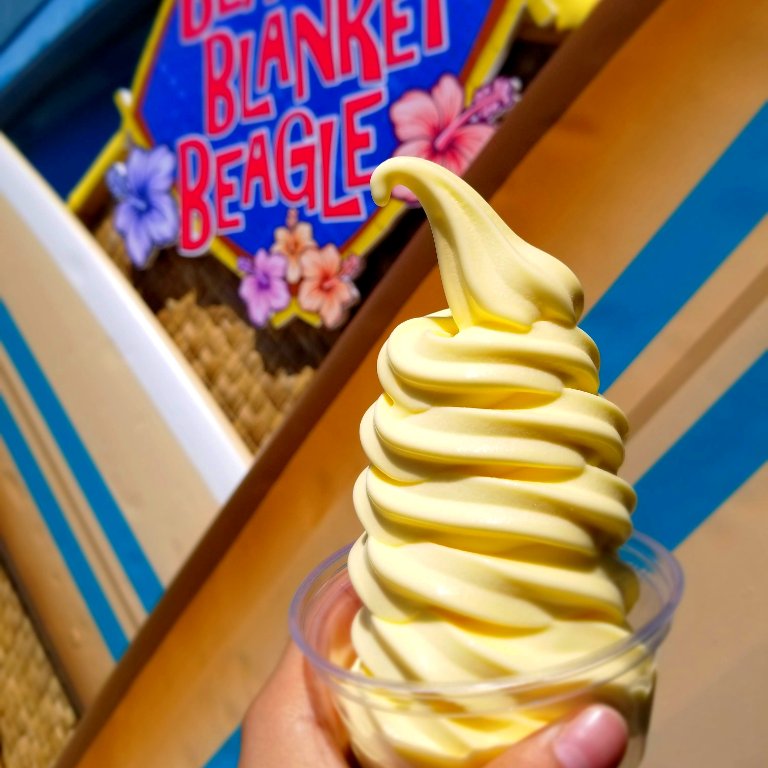 ---

Click To Play
There are so many cool and unique pieces of merchandise to buy this year. Stop in the bizarre bazar for some really interesting pieces like an Elvira mousepad, and Mars Attacks bags. Below are some of the featured popular items throughout the park:
---
Knott's Spooky Farm T-Shirt (New!)                                        Retail: $9.99                        Located in various locations through the park (Camp Snoopy Store, General Store, Virginia's, Gold Trails, Casa, Cordy's, etc.)
Snoopy Mummy Mug (New!)                                                    Retail: $9.99                        Located in the Camp Store
Waiting for the Great Pumpkin                                                 Retail: $9.99                        Located in the Camp Snoopy Store and Peanut's Headquarters
Knott's Spooky Farm Cotton Candy Bucket (New!)              Retail: $5.00                        Located in various locations through the park (General Store, Virginia's, Gold Trails, Camp Snoopy Store,
Knott's Scary Farm Pin and Patch Set (New!)                       Retail: $9.99                         Located in Bizarre Bazaar (Formerly known as Nautilus next to Iron Reef)
Knott's Scary Farm Logo Hat                                                  Retail: $16.99                       Located in Bizarre Bazaar
Knott's Scary Farm Ghost Town Tumbler (New!)                 Retail: $19.99                        Located in Bizarre Bazaar