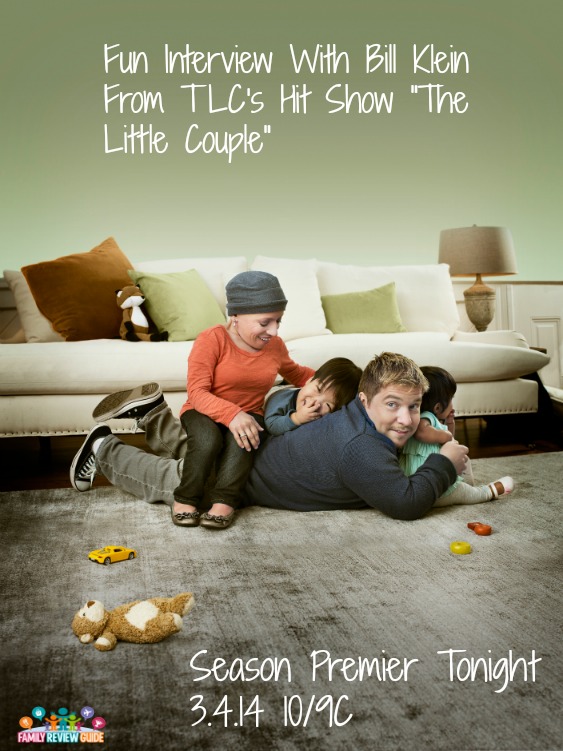 Photo Credit: TLC
Tonight is a VERY exciting night!  My favorite show in the world "The Little Couple" is having their series premier tonight on TLC at 10/9 central. Not only do we get to see more of the cute and curious Will, but we get to meet their new daughter Zoey as well as get a glimpse into Jen's latest battle with cancer. Judging from the promos I have a feeling we are all going to need some tissues.
Note: Bill and Jen will be live tweeting during the premiere (@JenArnoldMD + @ReallyBillKlein)– engaging with fans and sharing behind the scenes moments! Viewers can join the conversation using the hashtag #LittleCouple and welcome Zoey to the family using hashtag #WelcomeZoey.
We had the opportunity to Interview Bill about his life on the show and I am excited to share it with you here on Family Review Guide. He has the BEST sense of humor and I hope you will smile as much as we did when you read it. Jen went back to work this week, so we're looking forward to catching up with her in the next few weeks. In the meantime please enjoy our interview with the ever charming Bill.
 Q & A With Bill Klein
Family Review Guide: What misconceptions or myths would you like to dispel concerning the lives of Little People?
Bill Klein: It would be nice to remove the negative labels that are often reserved for people of short stature. That having been born with dwarfism, as random as whether you are born color blind or a predisposition for baldness, has been the root of negative comments, stares, lack of opportunity or bullying is disappointing. Many people with dwarfism fight all of their lives to prove they are willing and able to take on the challenges of an average person. Sadly, just as many have heard they aren't good enough and have begun to believe what they've heard.
Family Review Guide: Toddler adoption and post-institutionalized child adjustment can be very trying in the best circumstances. What extra steps are you taking to help your kids bond/feel secure with all that is going on around them.
Bill Klein: We spend a lot of time with our kids. Our bonding time post-adoption with each of our children has been sacred time. We have stood by our request for cameras as well as friends and even family to keep their distance in the short-term. Today, William is as adjusted to being home as if he were here all along. Zoey is coming along very well. Her transition was met with some more initial fears than William, but she has come around nicely
Family Review Guide: Do you still have a good relationship with the surrogate?
Bill Klein: Sure. We keep in touch from time to time.
Family Review Guide: How have you been hiding  Zoey this whole time from the public eye?
Bill Klein: We made her wear a Groucho Marx mustache.
Family Review Guide: How did you go about keeping her from being photographed?
Bill Klein:  We were in lockdown mode with Jen's immune-compromised situation and Zoey's bonding period… not to mention it was pretty cold this winter even in Houston! That said, we didn't run into too many photogs and when we did, we asked nicely.
Family Review Guide: What advice would you and Jen give to those who are looking into international adoptions. Also was it difficult as a couple with limitations to adopt internationally?
Bill Klein: As far as advice goes – I would say that if you are ready – do it, please. It's a fantastic experience that will truly change everything for you. Only going through the process will awaken you to what you almost missed experiencing. As for difficulty adopting – there wasn't as much as you might expect. We passed our physicals, we have no illness that made anyone assume we wouldn't be able to care for children (especially since Jen takes care of them by the dozen at work) and our other requirements were met, be it financial, household situation and our international home study review.
Family Review Guide: Bill, How is the pet store doing?
Bill Klein:  Great. We've been open for 2 years now and are operating in the black! We expanded last year to offer grooming and now have a staff of 7 employees and hope to expand more in the future!
Family Review Guide: How are your lives different now than before the TV show?
Bill Klein: Private jets, Ferraris in the drive, weekly botox, lake house on Lake Como… all things we didn't have before and don't have today. While we have enjoyed some benefits from the program like the occasional good seat at a restaurant, our lives haven't changed all that much. We still work every day. We still do the dishes, (most) of the laundry, and the soon to be dreaded spring cleaning! I think our focus on keeping the things we have earned over the years (careers, relationships that count) have kept us grounded.
Family Review Guide: Thank you so much for your time. We are excited to watch the show!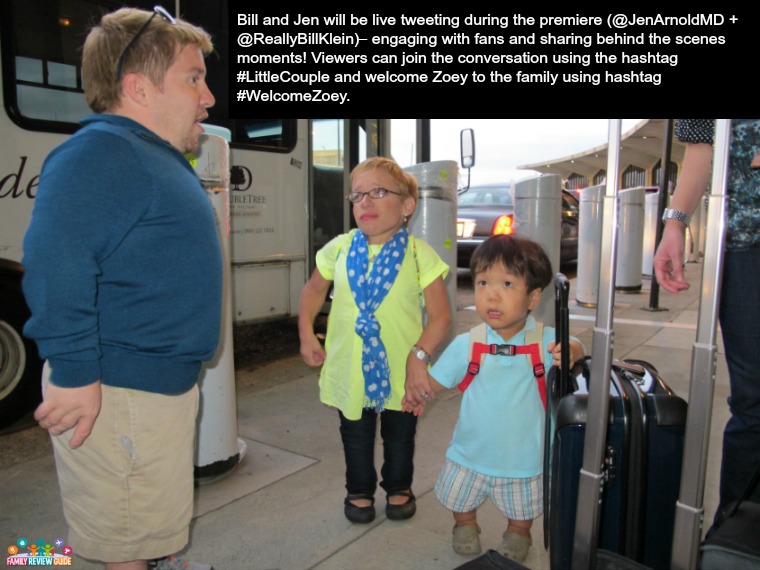 Photo Credit: TLC
Like this Interview? See our Interview with Doogie from the hit show "Ghost Asylum"