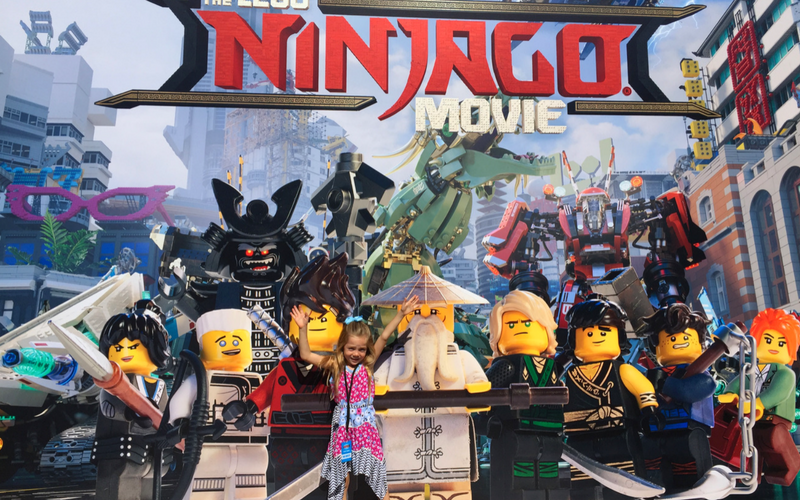 3 Reasons You Must See The New Lego Ninjago Movie
Last week my daughter and I went to an awesome press junket at Legoland for the new Lego Ninjago Movie which lands in theaters on September 22nd.  Not only was the movie great but the cast of the movie was so much fun to watch in real life. If you are an adult and asking yourself if you might like this movie the answer is a hard "YES".
Why am I so emphatic about it? Because the writers in this movie did a fantastic job appealing to both kids and adults. Here are 3 reasons you should go see this movie!
1. The Cast 
Warner Bros. managed to select a great group of celebrities to cast in the movie. Each one of them had such distinct characteristics that really played out in the movie. It was fun to identify with the ones I related to and hilarious to laugh at the silliness of others. Jacki Chan was so awesome!
Cast
Jackie Chan -Master Wu / Mr. Liu
Dave Franco – Lloyd (voice)
Fred Armisen – Cole (voice)
Kumail Nanjiani – Jay (voice)
Michael Peña – Kai (voice)
Abbi Jacobson –Nya (voice)
Zach Woods – Zane (voice)
Lord Garmadon – Justin Theroux
Trailer
2. The Humor
The writers of Lego Ninjago Movie made sure to use a lot of pop culture references and innuendos that adults would surely get but that were way more subtle to kids. For example there was a clip of Good Morning "Ninjago" with Lego Michael Strahan and Lego Robin Roberts that all of the adults could get a good chuckle out of. And the jokes that were made from Lloyds relationship with his father were quite amusing.
3. The Special Effects 
In my opinion the giant cat was the best part of the whole movie. They added real life images/video into the movie like fire and ice, so it gave us viewers a dynamic visual experience.
The Legoland Hotel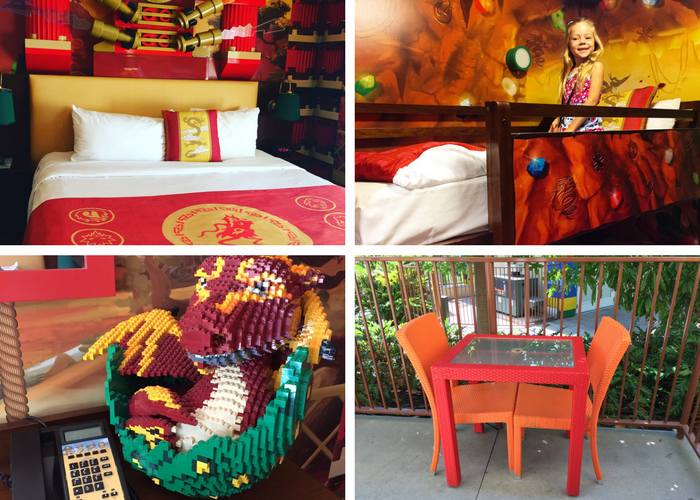 During the junket we also spent the night at the Legoland Hotel. This was our first time and I can guarantee it won't be our last! This hotel caters to every child's dream (and even your inner child). From you moment you walk in your kids will be continuously entertained. there is a giant pirate ship filled with Legos that kids can build with while you check-in at the lobby.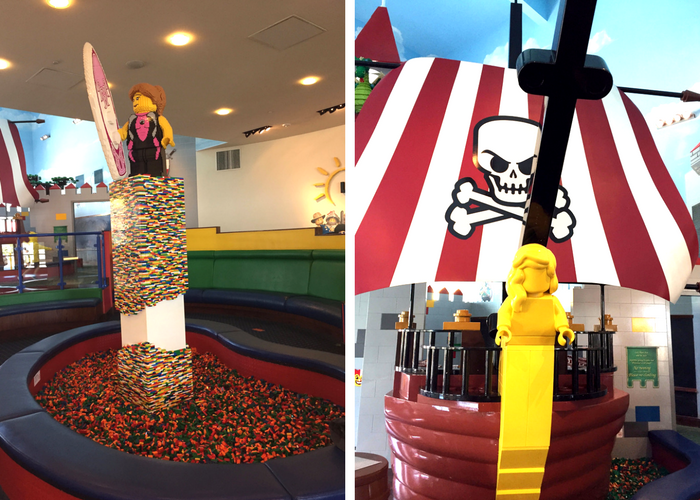 Ninjoga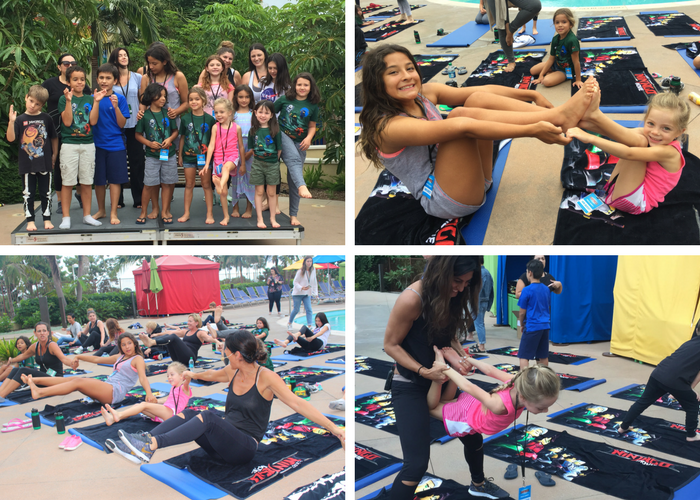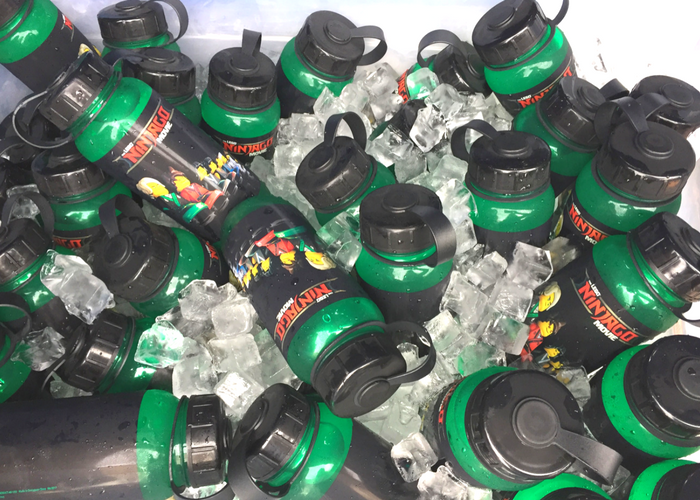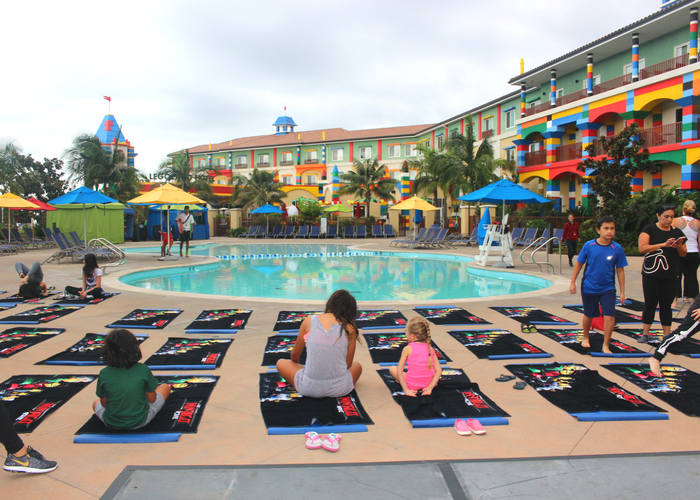 We also participated in some Ninjoga by the pool. It's yoga, ninja style! We learned how to move our bodies and center our minds. The pool at Legoland is great because it has a zero entry and all kids under 48-inches must wear a life jacket. The lifeguards were also very vigilant.
Master Builders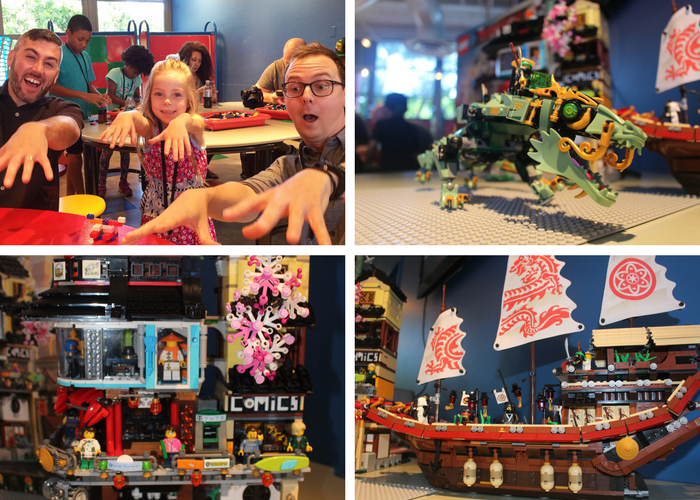 During our junket experience we met master Lego builders Chris and Simon (who came all the way from Denmark) who told us all about the New Lego Ninjago city set now available.  All the kids built things associated with Ninjago city and they put them out for display.
Who is your favorite Ninjago character?