I received a complimentary outfit to facilitate this review. All thoughts and opinions are my own.

Dressing up my daughter in cute clothes has to be one of my favorite hobbies ever! She is three now and is just now learning how to dress herself. She is very strong-willed and likes to do things on her terms. That includes getting dressed. Recently we received an adorable outfit from Matilda Jane who seriously makes the worlds cutest clothes! Even the way they package it is cute!
Matilda Jane Clothing

This was her first time wearing MJ so she was unsure how to get her arms through the top since you are supposed to tie knots in the front. She decided she did not want to wear it the correct way so I allowed her to wear it the way she wanted first and then we turned the top around the correct way. The shirt and the pants were a cinch for her to get on. The particular set she is wearing is:
Love Bug Knit Top
Cloudy Puffer Tee
Sweetheart Ruffled Leggings
I love how eclectic this outfit is! The bright colors are so cheerful and the sleeves on the puffer tee are simply adorable! The leggings are super soft and made of 95% cotton. The best part of this MJ outfit is that since there are no buttons on the top you can adjust the knots to the size you need. My daughter is very petite and I made the knots comfortable enough so that the straps were not falling off of her shoulders.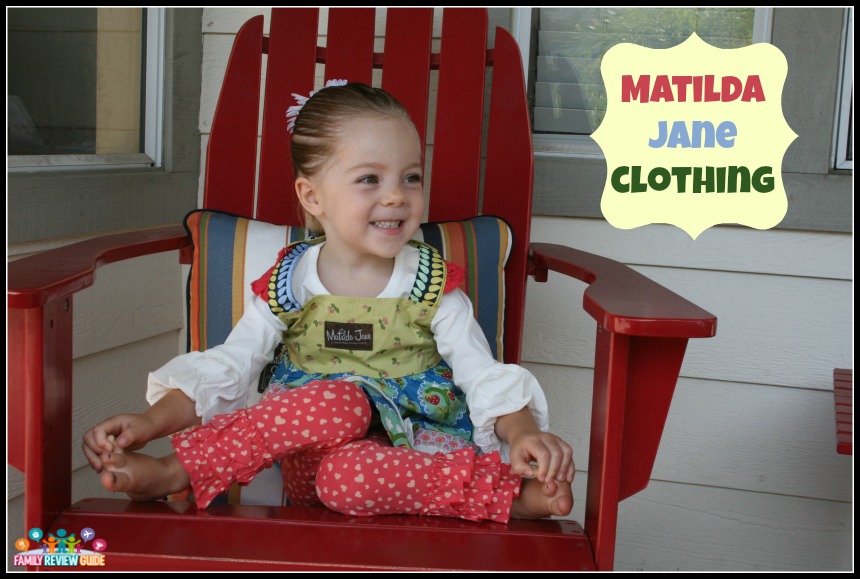 And while I realize the top is on backwards you have to admit it looks very cute on from the back! The Red flutter sleeves and dainty eyelet lace trim make this green beauty simply unforgettable.
After a few pictures she asked to turn the top around. Look how sweet the ruffles on the leggings are! They really stand out!
There is a tie in the back of the top that makes perfect bows! I showed her before I put it on how to make a bow and while I know she won't learn it for a long time it is still nice that I could teach her.
 Matilda Jane Clothing Facts
Twice a year, Matilda Jane Clothing introduces a new line. These collections roll out in the Spring and Fall, and are available exclusively from our Trunk Keepers.
Once you've found your Trunk Keeper, you can order items from our one-of-a-kind collections by attending or hosting an in-home Trunk Show, or by directly contacting a Trunk Keeper with your online Wish List.
Hosting a Trunk Show—and becoming a Jane—is easy peasy! A Matilda Jane Trunk Keeper will provide invitations and her total support for your big day.
For a chance to win a $50 gift Card to Matilda Jane enter my giveaway by clicking here.
For more information visit MJ on Facebook on Twitter or on Instagram.