There is a whole lot of fun to be had this spring at Knott's Berry Farm. During April 12 – 27, Larger-Than-Life Décor, Entertainment and Boysenberries Galore Will Fill the Park transforming it into" Knott's Berry Bloom".
 This will be the second annual Knott's Berry Bloom with huge displays of beautiful spring colors, interactive family-friendly activities, expanded gourmet food and wine tasting opportunities, and more! This year there will be a Boysenberry Festival in Ghost Town.  This festival honors the delectable berry that started it all.
Guests can wine, dine, and buy boysenberry inspired products throughout the windings streets of the Old West.  Festival entrances feature rustic banners and oversized boysenberries, just ripe for taking that special photo. Walter & Cordelia Knott's Original Roadside Boysenberry Stand will be recreated for the special event, from which guests can purchase authentic boysenberry plants.
As part of the festival, inside Wilderness Dance Hall guests will find a variety of boysenberry inspired gourmet food and wine offerings from around the world. 
 Just outside of the Dance Hall, towering sculpted topiaries provide shade during warm April days and twinkle brighter than stars at night.
Ghost Town will be filled with the mouthwatering aroma of ribs, chicken, alligator and other charbroiled treats smothered with boysenberry glaze and cooked on open-air barbeques throughout the streets of the festival.

There will also be western themed games and a pie eating contest. Daily boysenberry pie eating contests will also take place in front of the Bird Cage Theatre.
While strolling the streets of Ghost Town, guests can capture the moment and the memories at boysenberry themed stand-in cutouts, each featuring fun historical facts and special moments from Knott's history.  Some will resemble original photo ops from the historic Pitchur Gallery on Main Street.  While enjoying the festival, guests may meet Logan Berry, the mayor of Ghost Town, presiding over the Boysenberry Festival.  But watch out for bandits hankerin' to steal a piece of boysenberry pie. From day to night, Ghost Town has never looked so deliciously fun.
When the sun sets, things get krazy when Krazy Kirk and the Hillbillies mount their toe tappin', knee-slappin', gut-bustin' country comedy show in front of the Bird Cage Theatre that has Knott's audiences clamoring for more!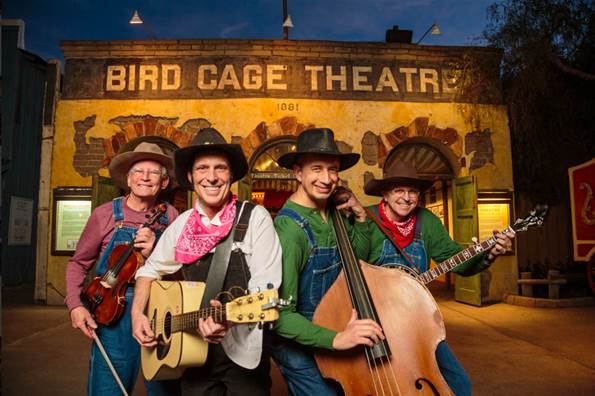 Knott's Berry Bloom also features an extensive line up of live and interactive entertainment. The iconic Charleston Circle fountain transforms into a beautiful floral fountain, adorned with colorful flowers creating an iconic centerpiece for Bloom.  Located in the Boardwalk area, the stunning monument will serve as a dramatic backdrop for two spectacular interactive shows.
And let's not forget about music! Peanuts Party in the Park returns bigger and more interactive than ever with an all-new rockin' set list, more Peanuts characters, and tons of fun surprises in Charleston Circle.  And this year Knott's debuts a new nighttime dance party, Bloomination!  After sundown, larger-than-life flowers and vines affixed to the Charleston fountain light the night with LED lighting effects; butterfly stilt walkers prance among the crowd, and a DJ spins the hottest dance music for all ages.
Last year's guest favorite, the Search for the Easter Beagle returns this year as the Easter Beagle's ENORMOUS Egg Hunt.  This year, all five of the interactive Easter Beagle locations will also be prize locations for kids 3-11 years old who are on the hunt for spring time fun. The path will lead explorers to a grand finale meet and greet location with the one and only Snoopy, himself in an area of Camp Snoopy created just for this experience!

Near Xcelerator, challenge one another to an oversized game of shuffle board, giant tic tac toe, larger than life bowling, and more at Big Boardwalk Games.  This season, Big Boardwalk Games has sprouted new and exciting games, and throughout the day, Sally and Peppermint Patty come out to play along and challenge park guests to some friendly competition.  Let the good times roll!
In the Camp Snoopy Theatre, Lucy's Really BIG Show, will showcase the Peanuts pals singing, dancing, and celebrating springtime to cheerful tunes – and they just might invite little ones on stage to celebrate with them! As part of the 30th celebration of Camp Snoopy and renovation of the entire land dedicated to kids, guests will enjoy the show in the comfort of the new audience shade structure!
Guests don't have to be experts at the cha-cha-cha to enjoy Salsa Dancing in Fiesta Village, where everyone can to take to the floor with some of their favorite dance music.
Most of the exciting Knott's Berry Bloom activities are included with admission to Knott's Berry Farm, which also offers a full day of thrilling coasters and family fun rides, like the all-new Boardwalk attractions and the beautifully restored Timber Mountain Log Ride.  Knott's is open extended hours from 10am to 10pm during Knott's Berry Bloom, April 12 – 27, 2014 allowing guests extra time to take advantage of all of the limited-time offerings.
So what are you waiting for? Mark your calendars and go celebrate spring at Knott's Berry Farm!
For information about the day you plan to visit and available discounts, visit www.knotts.com, call (714) 220-5200, or download the Knott's Berry Farm mobile app for your smartphone.