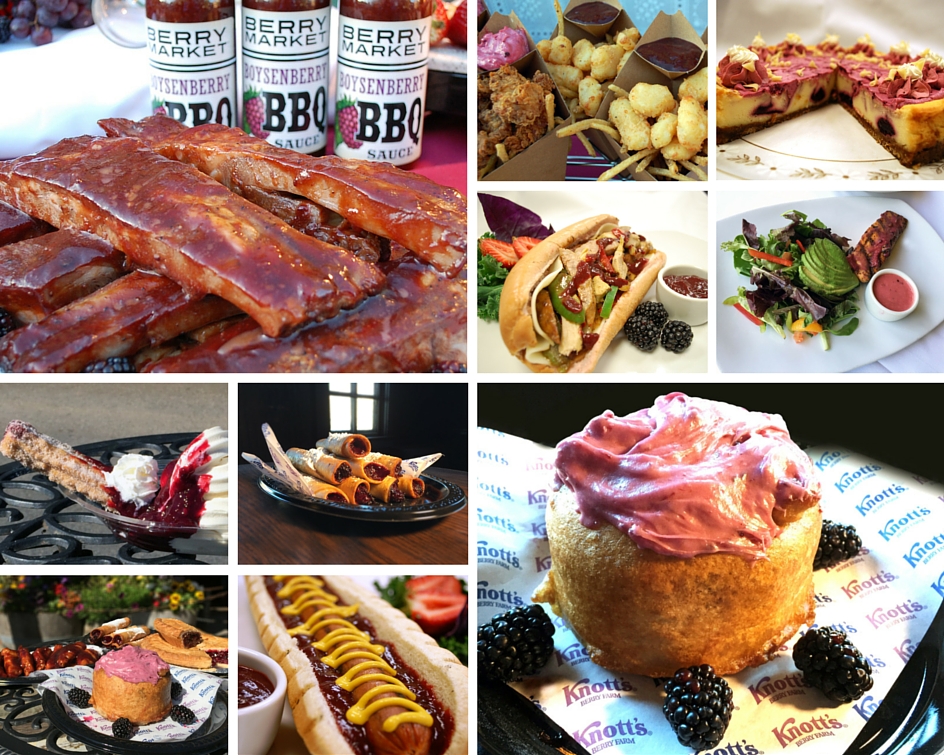 Get your Boysenberry on at Knott's Berry Farm
It's Baaaaaack! The 2018 Boysenberry festival is coming to Knott's March, 16 – April, 8.  The 24-day festival returns with over 70, one-of-a-kind boysenberry inspired fare, drinks and more, the Wine and Craft Brew Tasting Garden, plus live entertainment and fun the whole family will love!
Eat Your Way Through The Boysenberry With:
Fun Bun – the widely acclaimed culinary creation is a deep fried cinnamon roll with boysenberry cheese topping that will not disappoint
Deep fried alligator bites& fries with boysenberry aioli
Fried cheese curds paired with a spicy boysenberry dipping sauce
Craft beer and wine vendors – boysenberry wine, boysenberry cider and Belgium boysenberry beer
Boysenberry trifle (vanilla cake piece, frozen boysenberry, soft serve ice cream, and whipped cream)
Berry Market™ Boysenberry BBQ Sauce smothered on an assortment of other delectable treats (an original Knott's Berry Farm creation)
Boysenberry meatballs
Boysenberry BBQ short ribs
Boysenberry panna cotta
And more

Some of the tastiest and most unique food items are rolled out exclusively during the Knott's Boysenberry Festival. This year Knott's is introducing new and exciting additions to the Boysenberry Festival Menu. Appetizing lineup includes:
Boysenberry quesadilla made with a boysenberry – infused flour tortilla, prepared with boysenberry salsa, boysenberry sour cream, sprinkled with cotija and mozzarella cheese.
Boysenberry pierogies with onions, bacon and boysenberry sour cream will be bursting with a combination of sweet and savory flavors.
Slow cooked boysenberry short ribs –

 

the juicy meat is 

smothered in 

boysenberry hoisin sauce served over 

butter basmati rice and 

complete 

with 

chopped green 

onions will 

leave guest

s 

asking for 

more

. 

Boysenberry 

chicken 

wings- Chicken 

wings are 

smothered in the 

delicious and 

popular 

boysenberry BBQ 

sauce 

which is made exclusively at the Farm

. 

Boysenberry 

g

rilled sausage 

on 

a 

bun 

prepared with a freshly 

farm 

– 

baked roll 

and topped 

with boysenberry ketchup, relish 

and mustard. 

All 

– 

new 

boysenberry 

b

oba 

t

ea 

which 

consists of 

boysenberry milk tea 

and chewy berry 

– 

soaked 

tapioca balls 

served 

over ice. 

The 

b

oysenberry 

elote 

is one of the 

satisfying 

treat

s 

guest

s 

will 

be able to find in the 

streets of Ghost Town

. T

he lightly 

grilled 

corn is 

smothered 

in fresh 

boysenberry butter, mayo 

and perfectly topped off 

with 

cotija cheese

. 

New vegetarian

/vegan option like the 

highly enjoyable 

boysenberry 

hummus 

served with pita bread and prepared with garden 

– 

fresh boysenberries

.

Bite 

– 

sized 

boysenberry coconut macaroons

, 

dipped in 

a decadent 

chocolate ganache, which are great to enjoy while strolling t

hrough the 

park.
Live Entertainment
From sun up to sun down, the festival features dueling fiddlers, Peanuts Party in the Park, vine dancing, Jammin'in the Dark (a nighttime dance party), live music, and other live entertainment. The limited-time Festival is included with admission to Knott's Berry Farm.
Krazy Kirk and the Hillbillies
Daily pie eating contests
Dueling Fiddlers
Dueling Banjos
Peanuts Party in the Park
Jammin' in the Dark (nighttime dance party)
Salsa dancing
Watch a Clip of the Boysenberry Festival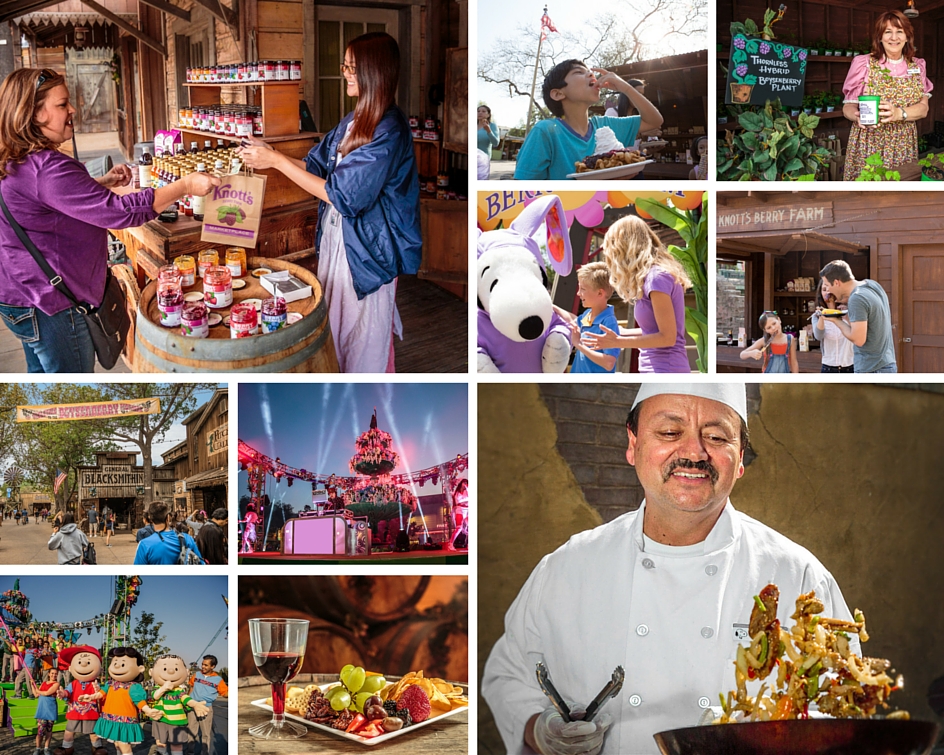 Join the conversation and share your day of boysenberry fun by using #BoysenberryFestival on Twitter and Instagram. For information about the day you plan to visit.