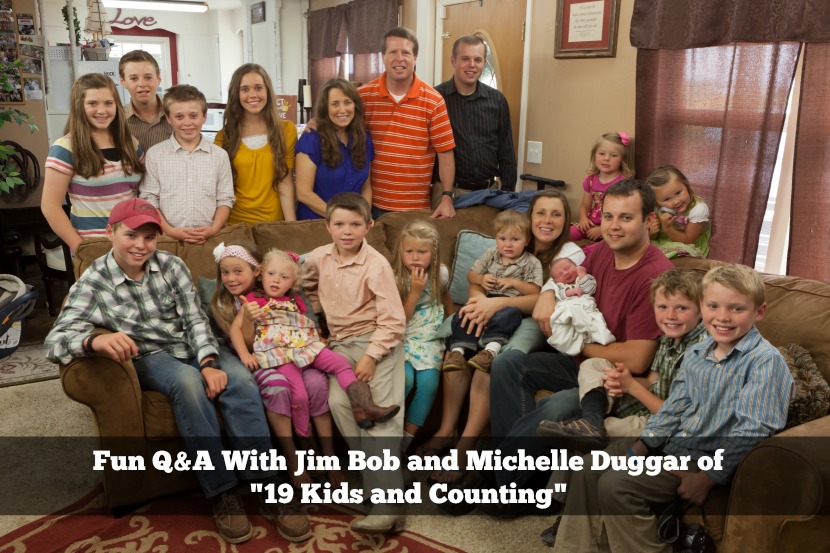 Photo Courtesy of TLC
Tonight is the Season Premier of The Duggar Family show "19 Kids and Counting".  If you are wondering who the Duggar's are they aren't your average family. In fact, they're almost 7 times the size of an average family. And while raising 19 kids can be a challenge, for the Duggars, it comes with more than its share of rewards. Tonight's episode will feature Jessa and Ben  and their official courtship. The Duggar boys grill Ben to make sure he's ready to take care of their sister and Later Jessa has the tables turned by Ben's parents.  Tonight's episode airs at 9PM (ET/PT).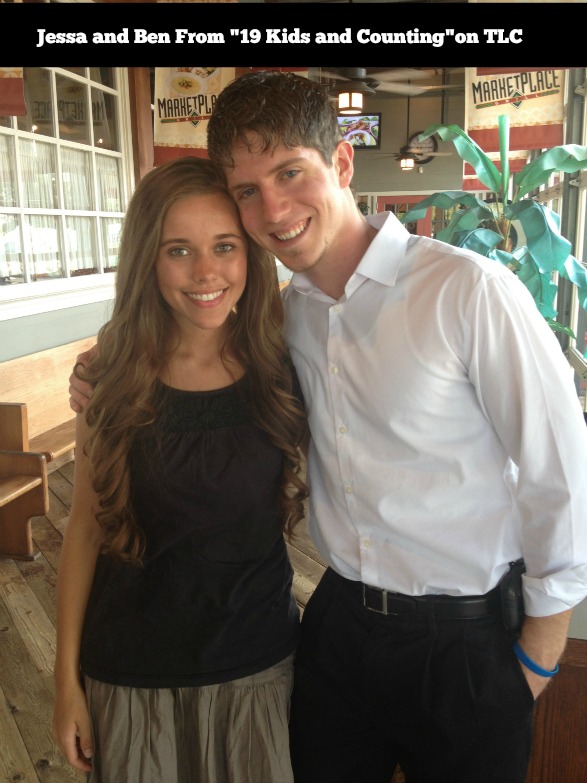 Photo Courtesy of Jim Bob Duggar
Family Review Guide had an opportunity for a Q&A with Jim Bob and Michelle Duggar and we are excited to share it with you. Jessica Ballard, from the blog Begin To Craft was our interviewer and she was able to ask a variety of questions.  We have also included the audio to the interview in the link below. Enjoy!
FRG = Family Review Guide | JB = Jim Bob Duggar | M = Michelle Duggar
Duggar Q&A
FRG:  Well this is a very exciting time for me!  I want to let everybody know, in case you don't know, Jim Bob and Michelle Duggar are from the tv show "19 Kids and Counting" and we're excited to have an opportunity to talk with them and ask them a few questions and hear about the upcoming season.
JB: Yeah, glad to be on here with you.
FRG: So, I hear you guys have some big changes this season.
JB: There are going to be a lot of surprises for the viewers. Just neat things our family's done and different things going on in our kids' lives that I think are really going to touch the viewers' hearts.
FRG: That sounds wonderful, I hear. So we have a courtship coming up?
JB: Yes, Ben and Jessa have started a courtship and hopefully a relationship made in heaven.
FRG: Aww, how sweet. Now how is this different from having a courtship with your daughter versus a son?
JB: I tell you, it is a big difference, especially for, I think, for the dad who's the protector. With Josh and Anna, Anna's dad had kind of helped with the guidelines and stuff of Josh and Anna's courtship because he had already had several other older daughters that had gone through that, that married, and so we just kind of agreed with what—with what he had came forth with as—as some principles of stuff for them. So with this, this is all new territory for us, and—and we've—we've asked Ben and Jessa to just kind of set their own boundaries. We knew that they would really have a spiritual focus and they are just a—such a delightful couple and they came back and said they would really—have really desired to wait for their first kiss until marriage, which was good news—you know, I think just setting an example for all the family.
FRG: That is! I've got two daughters and a son myself, but we're still very young. We're in the seven and under stage, so I'm watching to get great ideas for what I want to do, but I think my husband's watching even more so. He's looking forward to this season to see what he can do to help set boundaries.
JB: Yes. Well, it's an exciting time and we're really thrilled for Jessa and Ben and how God's working. Ben really has a heart to minister to others and encourage them spiritually, and so does Jessa, and so I think they're going to make a dynamic team.
FRG: That's exciting. Now, we have a couple of questions that some of our readers have asked, and one of them that we felt was very interesting was how do you guys go through in finding out your children's passions and trying to nurture those? You have different things that they're involved with, from midwifery to photography to missionary work and small business. How are you able to discern those gifts that they have?
JB: Well, I think that from the time that they are young we encourage them to follow their dreams, and then we try to support them in that, and if there's things that they're interested in. Like Jinger had interest—interested in photography and over the years we bought cameras, different things and she's taken family pictures for us and done weddings, and—and just tried to foster that—that interest. And then with the girls—well, all the kids, from the time that they were young, we really desired for all of them to—to learn music, and so we've given them music lessons, like piano lessons and violin lessons, and then, as they got older, they branched out. Like, Jessa plays the guitar, Jana really wanted to play the harp, and some of the other girls after she started playing the harp, wanted to play the harp. And so we've found like a harp at auction one time and—and we've—we've just—anyway, tried to encourage our kids to follow their dreams, and then also, as they're getting older, like—Jill and Jana had attended some of Michelle's births of some of the younger siblings, and they both took an interest in the midwifery and so Jana's done more of the doula stuff, which is actually like communicating with the mom during the birth and coaching her through. And then Jill's had more of an interest in the medical side and so Jill's been taking training to work towards getting her national certification to be actually a certified midwife. And then so—and then John-David's been a fireman and now Joseph is also a fireman. And some of the girls have done some of the fire work and responded to emergency medical calls, and fires, and wrecks, and different things and so. We've told our kids it's good to get as much training as you can when you're young and you have time, and then to see where the Lord leads.
FRG: That's a very good point. I don't understand how you guys do some of those things.
M: In that same category is getting to know the hearts of each of our children. And I think Jim and I, would both agree, we would say right up front, we do not have a perfect family. We struggle every day, you just multiply it 19 times over versus, you know, what your family might be going through.
FRG: [laughing]
M: And that gives you a picture of, you know, the dynamics of just—we want to connect with each one of our children's hearts and really just find out where they're at, and what they're thinking, where they're wanting to head in their life and direction.  And so, we say that's probably the greatest challenge with, you know, raising a family, that we see, is just really staying connected with each one, and so—and that can be if you have two children. It doesn't mean, you know, just because we've got 19, and so it's purposeful communicating with them and so a lot of times, you know, we would take Saturday and make that our family day and we would just talk heart to heart with each one of our children, starting, you know, starting out with one of them, and working our way through all of them. And just praying with them and, you know, asking them questions and then—I, a lot of times, will go and—like, if I'm running an errand, I'll take one with me. I'm fixing to do that at 2 o'clock. I'm going to go and take my little Jennie, and we've got to run some errands, and I'm just going to talk with her and say, "Hey Jennie, what can Mommy being praying for you about? Are there any things that have, you know, that are on your heart that you really want to share with Momma?" And then—even the deeper portions, like, "Are there any struggles or temptations in your mind that you just really want to share, and are there any secrets that Mommy and Daddy might not know that you want—you need to get out?" and "What's your favorite book that you've been reading?" You know because I already know anyway because I'm the one that gives out the book reports.
FRG: [laughing]
M: "Tell me why that's your favorite book and how has it impacted your life, and what—if you were to—would you be wanting to write a book some day? What would you write about?" and so I've got a list of questions on our website duggarfamily.com/mom and I have, like—for years I've been, you know, asking my kids questions and some of them are just their favorites. Like, "What's your favorite food" and "What's your favorite coffee", "What's your"—for my older ones, of course. "What's your favorite ice cream flavor, what's your favorite candy bar, what's your favorite fruit, what's your"— you know, all their favorite restaurants so when their birthday comes around, we know pretty much where they're going to want to go, what they're going to eat. By doing that, we really get to know our children and who they are as a person. We know what their strengths are, what their goals and their dreams are, so that we can direct them that direction, so that it's fun to see each one of them. They're so different, so unique. There's a great book that I love, entitled "The Five Love Languages". We've gone through that together, and I've found out what each one of their love languages are, and so I will ask them that again as I'm going down that list of questions, "What's your love language now? Are you sure? You know, because I'm kind of thinking that you might be a little bit more, you know, words of affirmation", and whatever. And so it's just fun in that regard, but it's a challenge because, you know, when they hit that 11, 12, 13, 14 years of age, you know, we are really connecting with them and realizing, you know, telling them, "Your whole body is changing, not only your mind, but physically in every way". And just telling them, "You're normal, you're going to wake up and realize 'hey, the opposite gender, there's something different now'. I'm like, I'm noticing attraction there and 'what is going on?'". And all of that is part of parenting that is a joy, but is also purposeful communication with each one of them.
FRG: Absolutely, that's wonderful. Now, so that's a lot of dynamics, a lot of changes happened with your family as the kids are growing older, and you have more older, independent children, and grand kids now. How does that change the dynamic of your family, or does it?
M: Well it does, and it's exciting because our family is growing. You know, we—we were so thrilled when Josh married Anna because we got another daughter. I call her my daughter-in-love, and what a joy it is to have her in our family and now we have sweet little Mackynzie, Michael, and Marcus, and of course they're their own family, and yet when we get together it's so much fun. So now we're at this stage in life where we've got our adult children that are, you know, marrying age and it's exciting to see Jessa in this relationship now and getting to know Ben, and he is such a sweet guy.
FRG: Ohh. Now Michelle, I've got a question for you that several moms asked. You, seem to be so calm. There seems to be the normal kid chaos, but overall your parenting style is very calm and peaceful. How are you able to stay positive and not get so overwhelmed when the kids are younger, or even when the older ones were younger? My three, I feel so overwhelmed sometimes but I try to focus on being calm and being in the moment with them. The fifth time they haven't heard what I'm saying and were running circles around me, I feel like I'm losing my temper.
M: [laughing] Oh yes, and you know what, I have written on our website at duggarfamily.com, I put a message to moms on there because my heart really is, at this season in my life, to really speak into the lives of moms. Especially those mothers with young children because I was there, and sometimes I'm still there, right now. [laughing]
FRG: [laughing]
M: Because I've got Josie, who's four, Jordyn, who's five, Johannah and Jennie. Those—those four little girls, and—and yet, I know there was that point in my life way back when, when I had seven under the age of like eight, or ten, nine years old.
FRG: [laughing]
M: You know, I had a bunch who were—when they were in that category where everything is urgent. You know, nothing is not urgent for a child that's under the age of six. And I just, you know, I was feeling all of those emotions. I'm overwhelmed. I can't do this. This is impossible. I—I want to love, and kiss, and snuggle, and fix boo boos, and do the meal, and get the laundry caught up, and catch up on the dishes, and you know, life is just overwhelming when you're in that place, and I remember just standing in the laundry room at one AM crying out to God, saying, "Lord, surely you've picked the wrong person to mother all of these precious little gifts, I feel so inadequate". And my Lord said to me, He said, "You're right Michelle, that's right where—you know, you are right, you are not able, but when you are weak, that's when I'm strong, in and through you" and God really gave me grace, and that was my life verse, the Second Corinthians 12:9. That's when it became my life verse, literally. And—and He said unto me, "My grace is sufficient for you, for my strength is made perfect in weakness." So then I said back to Him, "Most gladly, therefore, will I glory in my infirmities that the power of Christ may rest upon me" and I remember my whole view of parenting took on a whole different perspective. I remember, you know, I struggled with raising my voice and, you know, you tell them once and they wouldn't listen. And then you tell them again, and you think, "Well, if I just said it a little louder, surely they'd get the point and they'd obey," you know?
FRG: [laughing]
JB: [laughing]
M: And I was so grieved and I remember crying, and telling my kids, "I'm so sorry, your mommy really is a sweet person, I want you to remember me as a nice mommy, I'm not a frustrated mommy all the time", you know? [laughing] And I just remember thinking—I remember standing at the table one afternoon, because I normally would do practice, singing songs, memorizing scripture, memorizing the character qualities, which is another great resource on our website at duggarfamily.com. Those 49 character qualities, we would memorize those because I wanted us to build good character, like self-control and all that into our lives.  And I remember, I had to get onto them because they were just squirming and not paying attention and just (inaudible) and finally I just cried. I stood there and I said, "Guys, listen, your mommy loves you and I want you to do what's right and I want you to obey but Mommy has been so wrong in raising my voice and by God's grace right now, I purpose to overcome this and get victory. I am not going to raise my voice. The first time I say it, you obey it."  And that began the rule. I asked them, "Would you please forgive Mommy", you know, "and what I'm going to do from now on, I want you to hold me accountable. If I'm going to purpose to lower my voice, instead of raise it. So if I am really noticing that maybe you're not minding Mommy, and maybe I said it one time, I'm going to quietly whisper and we're going to—you know, we're going to talk about it, and we're going to have a separate time where, you know, we go aside and we're going to purpose this, instantly obey. The first time I say it, you obey it." And they all agreed, "Mommy, we forgive you- you know, I was feeling so guilty and—and yet the whole dynamic changed in our home because I remembered to myself, "Lord, if I'm going to say it, I better mean it. The first time I say it, I do expect them to obey it, and I'm not going to raise my voice.  You're going to help me to stay calm and not get angry." And it was just like God gave grace, and—and the peace in our home and the harmony, it all changed because I gave them permission—and then Dad had gone to a men's—to a conference and heard a father say about, you know, his anger. His daughter said "Dad, would you please pray about your anger," and he was so broken about this little daughter coming up and telling him that, and he said "yes, I will." So he gave his family—not only did he ask God to forgive him, but he gave his family permission to come up, put their arm on his arm and say, "Dad, I think you're kind of getting angry." And so all of that kind of came about the same time. So that when we give in our children permission to come up and say, with a respectful, you know, way of saying it, we taught them how to say it. You know, "Mommy, Daddy, I think you're kind of getting upset, I think you're kind of getting angry." "You're right, you're right, you're right, thank you, thank you, okay," you know? And so we are keeping each other accountable on a daily basis for not raising our voice, not getting angry, and it has made the difference between night and day in our home.
FRG: That's very helpful to hear. There's hope, and there's peace, and there's grace there.
M: There is hope, there is hope.
FRG: And that is a good reminder.
M: Yes, and I think the neat thing there is to—is always remembering none of us are going to be perfect, we will fail but—but humility is a good thing. God tells us that He will give us grace if we will humble ourselves and so going back and asking forgiveness the day that we offend or make, you know, raise our voice or whatever. Just being quick to humble ourselves and go back and ask for forgiveness. And I think as we do that, as a parent, then it teaches our children that we can help them in their relationships with their siblings, with their friends and to humble themselves and ask for forgiveness, and make things right the day that it happens. Don't– you know, I tell my kids, "In the scriptures, they tell you don't go to bed angry, don't go to bed bitter, you know. If you've been offended or you have offended someone else, you be quick to make it right. Before your head hits the pillow, you begin working on that and getting that corrected."
FRG: Now, okay, we'll do a lighthearted one, a question somebody had. How much food does it take to feed a family your size and what did you do in the early years?
JB: It probably takes over a thousand dollars per month of food now. It's relatively—the kids are getting bigger and the food costs are going up and it feels like everything's just more expensive nowadays. Over 30 years, and the purpose, back about 24 years or so ago, to get out of debt and stay out of debt, and so we went through a financial seminar that was so life changing for us. It's very similar to Dave Ramsey's "Financial Peace", and so we encourage people to go through that and purposefully get out of debt. And I really don't – a lot of people say, "How can you make it without debt?" and I ask families, "How can you make it with debt, because you're paying 10-12% more for everything that you buy every year, and I can't afford to pay the interest."
FRG: That's right. That's very true.
JB: Yeah.
M: Yes, and I think that you know, feeding a family our size is so expensive so you try to be frugal because, of all families, we need to cut corners and that's one of the necessities of life, but yet at the same time we buy in bulk. We go to a great place here where we live, it's called Aldi, and we can get—we literally can save thousands of dollars shopping at Aldi, and we buy, you know, a case of butter and stick it down in the freezer, if—if funds are available to do that, and so it saves you know on trips continuously for the same thing, if we can do that. And—and then, trying to make things healthy but, as much as possible from scratch, and so I think, though we are so not where we should be in that right now. [laughing] But, the good thing is that the kids love veggies, and they love fruit and they love salads, and so by always purposing to stay away from the higher—like chips, and junk food. We don't buy, you know, cookies and chips a lot to just have. Now, I'll buy corn tortilla chips or something like that for meals but just to eat all the time, we don't do that. And we'll just have like, fresh fruit and frozen fruit around, and veggies to snack on for snacks. So, as much as possible, we try to get the stuff in season and freeze it and keep, you know, things on hand that are healthy for the kids to eat on.
FRG: I want to thank you so much for your time. It's been such a pleasure speaking with you both. I don't want to take up any more of your time and I know you guys are very busy, and we look forward to seeing this new season coming up.
JB: Oh great, well thank you so much for the interview and then also of course our girls did a book, "Growing Up Duggar", it's just out, that hopefully will encourage a lot of young ladies and young moms, and then—and then also, of course, the new season being out April 1st.
FRG: We're so excited. Thank you so much, you guys are such an inspiration to families of faith and families that try to live a more natural and Godly life.
JB: Well thank you so much.
M: Well thank you and you have a great day.
The  four eldest Duggar girls Jana, Jill, Jessa and Jinger  have released a book called "Growing Up Duggar". The book shares never-before-told stories of life in a large family, the qualities they're looking for in a man, their passion for making a difference in the world through politics, navigating the difficult years from being a little girl to becoming a young lady, their dreams for the future and more. For more information on GROWING UP DUGGAR, please visit: http://books.simonandschuster.com/Growing-Up-Duggar/Jill-Duggar/9781451679168