This post was sponsored by Samsung as part of an Influencer Activation for Influence Central and all opinions expressed in my post are my own.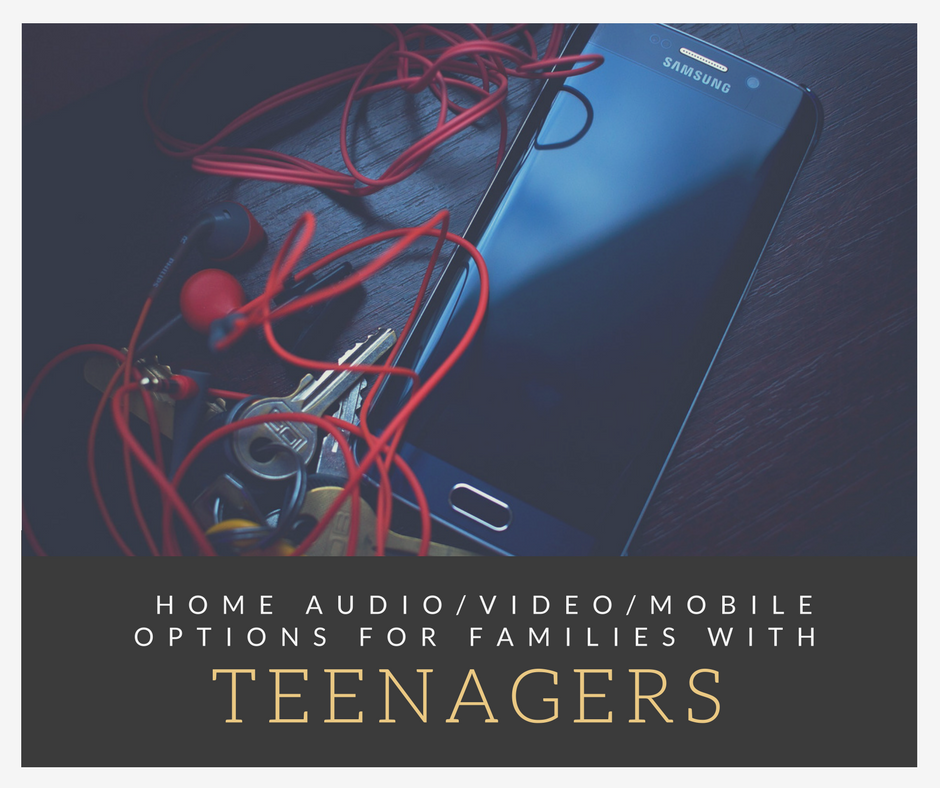 Home Audio/Video/Mobile Options For Families With Teenagers
Raising a teenager is like is like nailing Jell-O to a tree. Fortunately I only have one right now, but another one will become a teenager in two more years so I am trying to balance our parenting choices between using practical decisions while understanding a typical teens self-indulgent desires. Currently, our teenager wants ever piece of technology under the sun and while we try to monitor his usage he is very responsible and respectful and we think allowing a targeted amount of media access is reasonable and normal.
We are considering turning our living room into a more practical and useful sitting area by putting a big screen TV and sound system in place of a mirror so that he catch watch the shows he wants while his little brother and sister can watch the shows they want. We have a large age gap between all of the kids so pleasing everyone can be tricky at times.

A big screen TV and a sound system can be quite expensive, but lucky for us, tax refund season is right around the corner and we trust Samsung at Walmart to make that extra cash in our pockets go the extra mile. We currently have a Samsung TV hanging in our family room and have never had a problem with it so we are partial to the Samsung brand.
I am also thinking in the future for when he leaves for college he will need a new tablet and phone. And with all of the latest improvements in technology, users can turn their smart phones into a TV remote so I suppose we will add that to the list. Walmart carries the following brands of Mobile Phones at amazingly low prices:
The Straight Talk Galaxy S7 G930VL LTE is a teenagers dream come true!! It's water-resistant
and it has a
dual pixel camera that
makes capturing low-light photos a breeze. Charging is also lightning fast and you will never have to worry about memory since there is
expandable memory you can add up to 200GB.
Set Up your Mobile Galaxy Device To Act As A TV Remote
Did you know you can use your mobile device as a TV remote? By using an application called WatchOn. Samsung WatchOn will use the IR blasters of your Samsung Galaxy device to convert it into a remote control. WatchOn gives you full control over your TV and movie-viewing experience.
Get great Samsung devices at a low price at Walmart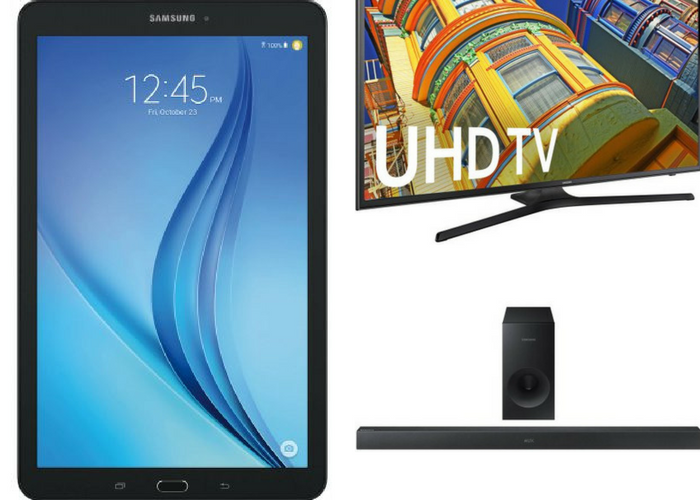 Walmart has always been known as the low price leader and that stands true especially when it comes to Audio/Visual devices. Tablets are a great because they are portable and easy to use and Walmart has the Samsung Tab E 9.6" available at a low price so you can catch up on shows, check your social media and snap photos from wherever you go. This cool device has a microSD™ card that expands your tablet's memory from 16GB to up to an additional 128GB.
The UHD TV has i
ncredible picture and dramatic detail
with UHD. It has 4K resolution which means everything you watch looks 4x
sharper than Full HD. plus it has a
Slim Design
Need a sound system for your new TV? No problem, Walmart carries the
HW-KM36 Samsung Sound Bar which has blue tooth and a wireless
Subwoofer.
You can connect
wirelessly with no clutter.
So families, this tax season make sure you head over to Walmart for all of the essential teen technology at a low price!