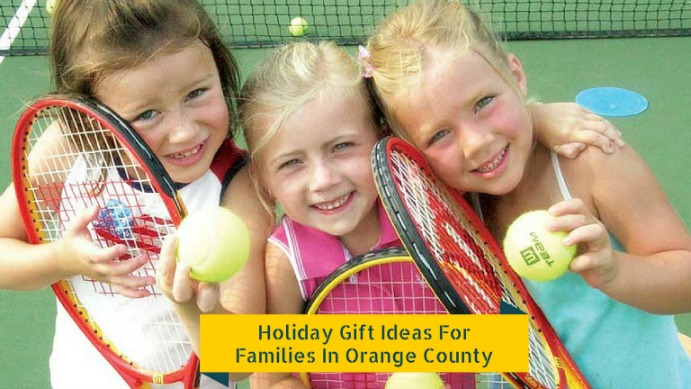 The holiday season can be stressful enough without having to worry about gifts.  To ease the stress of the season, Family Review Guide  has compiled a list of unique gift-giving ideas for the holiday season.
The Gift of Music
Give your friends and family gifts that create memories rather than clutter. This is one of the gifts that keeps on giving – THE GIFT OF MUSIC. Gift certificates are available at the Music Vault Academy. Surprise your loved ones with lessons for piano, guitar, voice, violin, DJing, music production… You name it….Call them at 949-257-2744 or email [email protected]
The Gift of Sports
Staying active as both a kid and an adult is important to lead a healthy lifestyle. For anyone wanting to learn how to play tennis, The French Junior Tennis  program in Aliso Viejo is Orange County's premiere academy to learn the sport. Their teaching method has been proven all over the world, ranking France as one of the best tennis nations to develop and produce the most top players in the world. Sign up today by calling (949) 357-8441 or visiting www.frenchjuniortennis.com.
The Gift of Cooking
introduce your child to the art of cooking. These classes and camps allow children to be creative and explore the Culinary Arts experience.  It also encourages them to try new foods.  They are more likely to try something that they have created which broadens their pallet and introduces them to new textures through feel and taste. Lil' Chef School offers a fun, educational and a valuable unique experience that children savor for their rest of their lives.  Sign up by calling 949-679-8390 or visiting http://lilchefschool.com
The Gift of Art
At Mission Renaissance classes are purposely kept small to favor individualized instruction and maximum progress. Students learn at their own pace in a non-competitive and encouraging atmosphere. The results are, quite frankly, unprecedented. It is not uncommon for an adult student to progress from beginning drawing to oils within 20 classes. Nor is it uncommon for children to sell their work and to routinely win art competitions. Visit http://www.fineartclasses.com/mission-renaissance-studio-locations/ to find a class near you!
The Gift of Exercise
Having a teen myself, I know firsthand how much kids are interested in the gym. At Renaissance Club Sport our membership allows my teenager to stay on top of his fitness to help him excel in his sports. Fitness helps keep teenagers productive, engaged and out of trouble. At Renaissance Club sport, their fitness programs help sharpen teenagers' athletic skills while directing them towards a healthy, productive lifestyle. After completing a complimentary one-hour TeenFit Certification class, teens can use the fitness center without parental supervision. Call 949-643-6700 or visit https://www.renaissanceclubsport.com/aliso-viejo/teens.
The Gift of Dance
Dancing is a great way for your child to get active and develop physical co-ordination skills, strength and concentration. It's also great fun and a good way to meet other children and their parents. Furthermore, dancing can become a much-loved hobby your child could carry on enjoying well into adulthood, for fun or even at a more professional level. Impulse Dance Studio in Aliso Viejo was voted BEST DANCE STUDIO IN ALL OF ORANGE COUNTY! The goal at IMPULSE Dance Center is that students grow within the program, and will continue to build self-confidence in all areas of their lives, as well as help them become creative artists and members in our community. Call (949)831-8589 or send an e-mail to  [email protected] or visit them on the web at www.ImpulseDanceOC.com